Africa is home to some of the world's largest lakes, and their beauty definitely adds to the list of reasons why you should visit Africa. The scenery is breath-taking, and you only need to cross your legs by the shore, or on a boat, to take in the stunning views. And, if you think that nothing can beat those views, then a scuba diving or snorkelling adventure will prove you wrong. Here are some stunning lakes of Africa that will stay with you for a lifetime:
1. Lake Malawi
Photo Source: Ismail Mia on Flickr
Lake Malawi (aka Lake Nyasa) is one of Africa's largest lakes and it appears in many lists featuring the world's most beautiful lakes. Lake Malawi touches Malawi, Mozambique and Tanzania and you can enjoy the beautiful scenery or swim or snorkel in the aquamarine waters that host numerous fish species.
2. Lake Bunyonyi, Uganda
Lake Bunyonyi in the south western part of Uganda is very beautiful, and it gets extra point for the fact that it is safe to swim in. In addition, there are over 25 islands that scatter around the lake waters, and the scenery around includes lush green hills that make the area such a beauty to behold.
3. Lake Tanyanyika
Lake Tanganyika, the longest lake in the work, is ranked second in the list of world's deepest lakes. The fact that it touches Tanzania, Zambia, Burundi and DRC gives visitors or residents of all these countries the opportunity to experience the beauty that extends to the horizon.
4. Pink Lake of Senegal, Lake Retba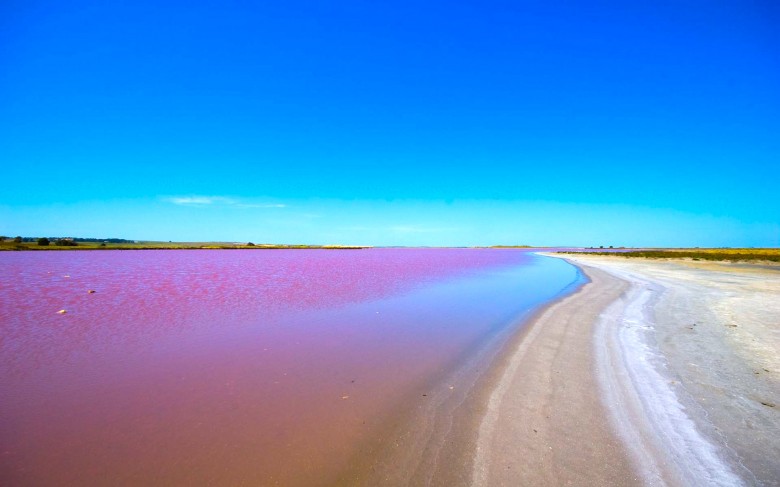 Well, we know lakes to have blue or turquoise waters, but Lake Retba (Lac Rose) is the renowned Pink Lake of Senegal. The lake gets its pink colour from Dunaliella salina bacteria which are attracted by the high salinity content of the Lake. The pink hues and the views on this lake are unlike any other in Africa.
5. Lake Kariba, Zimbabwe

Lake Kariba in Zimbabwe is one of the spots you need to visit while in the country. It is beautiful and it makes such a great destination especially for those who love nature. The scenery is amazing and you get to engage in various activities in the different lodges by the lake.
6. Lake Kivu, Rwanda
Lake Kivu is found on the border of Rwanda and DR Congo. This Lake is part of the reason why Rwanda does not really feel landlocked, because on the good spots, you will get the sandy beaches and turquoise waters that other countries boat about. There are plenty of decent lodges from which you can enjoy the views, sunsets and other water activities.
7. Lake Assal, Djibouti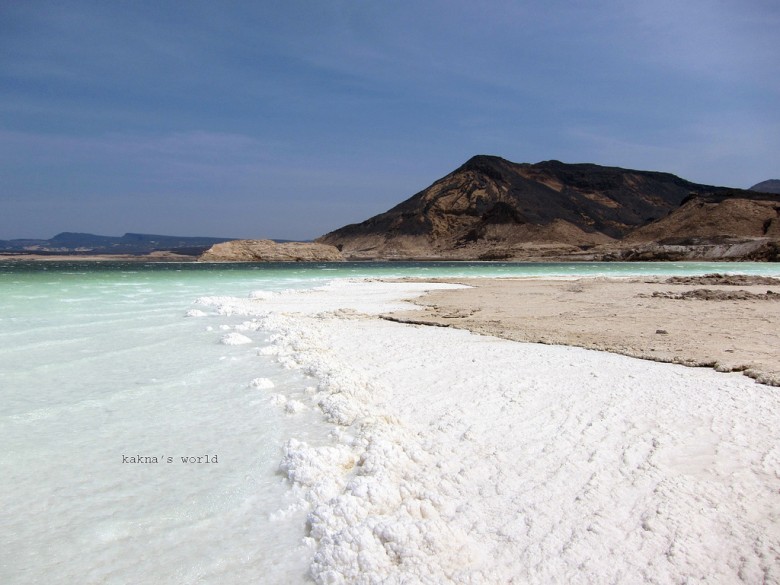 Lake Assal, is described by some as one of the best spots for tourists in Djibouti and is a must visit when you are in the country. Though the lake is pretty shallow, what it lacks in depth, it makes up for in beauty.
8. Lake Alice and Lake Rutundu, Kenya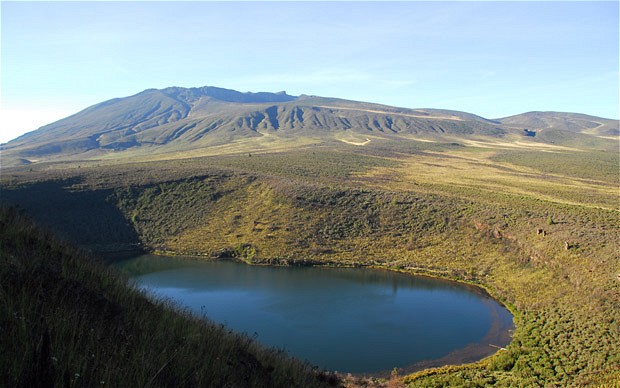 These 2 lakes are grouped together by virtue of their location above 10,000 feet on the slopes of Mount Kenya. You will not find the beauty and tranquillity on Mt Kenya in many places, and these lakes only emphasize why you should go. You can hike up when the weather is good, or get there via a helicopter ride- either way, these lakes will make your trip extra special.
9. Lake Victoria
Lake Victoria is Africa's largest lake by area and the world's largest Tropical Lake. Its shores span through Kenya, Uganda and Tanzania, and it drains solely into the Nile River. Locations by the lake are amazing for the incredible views of sunsets and sunrises and boat rides in waters that flow out into the horizon are tranquil. Though largely affected by water hyacinth, there are many spots in all the 3 countries that make Lake Victoria one of Africa's stunning lakes.
10. Umm-al-Maa Lake, Libya
Umm-al-Maa Lake is a lake oasis found amidst sand dunes in the desert region of Libya. Part of what makes it so stunning is the surrounding desert landscape, which is reflected in the Lake waters. The warm waters make for a great swim but there are not too many other facilities around the lake.
11. Lake Sale, Comoros
Lake Sale (Lac Sale) in Comoros is also referred to as a bottomless salt lake and it is set in a great location with beautiful surroundings. The landscape is stunning and blends in so well with the turquoise waters.
12. Lake Naverone, South Africa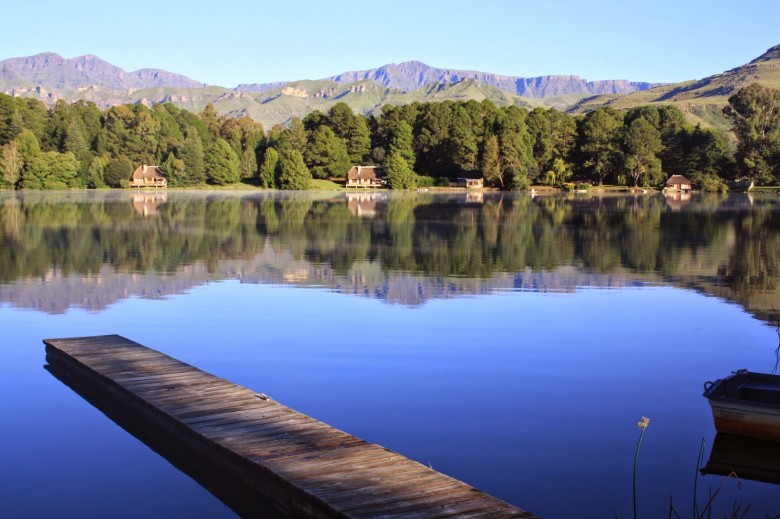 Lake Naverone is located on the foot of Southern Drakensberg in South Africa. There are various cottages and lodges around that offer amazing views of the lake, unmatched serenity and overall great vacation spot.
13. Lake Nakuru, Kenya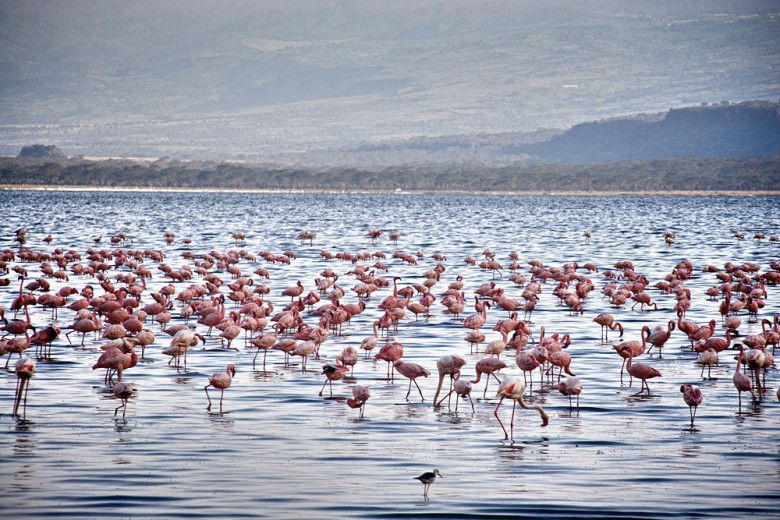 Lake Nakuru in Kenya's Rift Valley region is renowned for flamingos which give it a pink hue when viewed from afar. The location and surrounding landscape are a nature lover's paradise, and it is easy to see why birds flock this lake as well. This lake should be in the list of places to visit in Kenya's Rift Valley region
14. Lake Bogoria, Kenya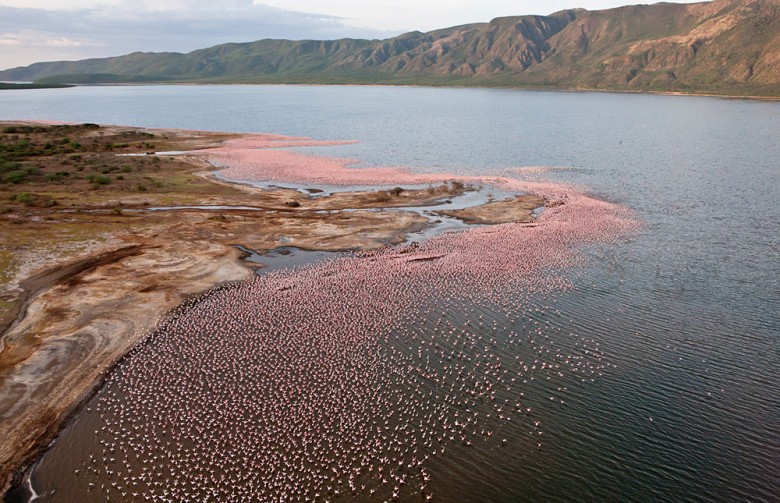 Kenya's Lake Bogoria is known for the bubbling geysers that bring attract people from all over the world. The surrounding is rough, but beautiful, and the flamingos add to the list of things that make the Lake one of Kenya's most stunning.
What stunning lakes have you visited in Africa? Let us know in the comments section below.