Nairobians love to have pizza, which would explain the many dining establishments that sell pizza in Nairobi. For convenience, most of these restaurants offer delivery services so you get to enjoy pizza in the comfort of your home or office. Here are 10 best pizza restaurants in Nairobi:
1. 360 Degrees Artisan Pizza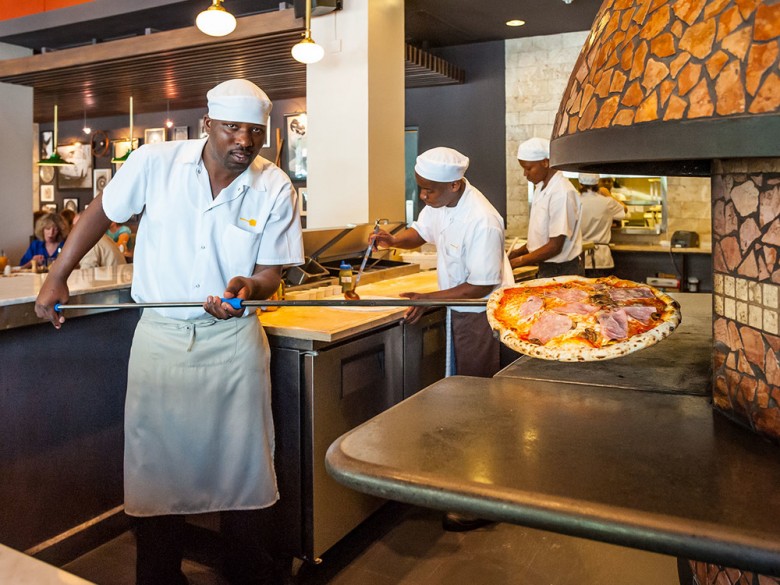 360 Degrees Artisan Pizza is located on Waiyaki way at ABC Place. This establishment gets its name from the fact that the pizzas are cooked in wood burning ovens at over 360 degrees Celsius. The handmade crust is medium sized and crisp with fresh natural ingredients for toppings. There is a variety even for vegetarians and guests can choose from a selection of starters, pasta and desserts in addition to the pizza. The ambiance makes dining at 360 Degrees such a delight, but you can opt to enjoy the delicious Neapolitan Pizza from home if you live in parts of Westlands, Lower Kabete Road, Waiyaki Way, Riverside Drive, Valley Arcade or Spring Valley.
Website: 360degreespizza.com | Location: ABC Place, Waiyaki Way
2. Que Pasa Bar & Bistro
Que Pasa is a dainty Bar and Bistro in Karen Shopping Centre that offers some of the best Pizzas in Nairobi. The Pizzas have thin crusts and are tasteful and the pizza menu is extensive. You will get most of the popular Pizza types at Que Pasa, with a wide range of others including smoked salmon, German sausage, Mexicano and even kids pizzas. The pizzas are simply amazing, the place is cosy and there is a decent selection of other foods to choose from the continental menu as well.
Website: quepasa.co.ke | Location: Karen Shopping Centre, Karen, Nairobi
3. Mambo Italia
Mambo Italia is an Italian Restaurant in Nairobi's Lavington and it is famed for delectable pizzas and pastas. The ambiance is great and the pizzas are incredible, with the options including sea food toppings. The pizzas are delicious, tasty and crisp and they are some of the best in Nairobi. 
Website: Mambo-italia.com| Location: Lavington Curve, James Gichuru Rd., Nairobi
4. Flame Tree Restaurant
Flame Tree Restaurant is located in Nairobi's Sarova Panafric Hotel and it offers a wide range of delicious meals in addition to amazing pizzas. The choice of pizzas is decent and the pizzas are full of flavour. Service is excellent and you get to interact with chefs at the cooking stations.
Website: Sarovahotels.com/panafric/flameTree.aspx| Location: Sarova Panafric, Kenyatta Ave, Nairobi
5. Osteria del Chianti
Photo Source: Osteria on Facebook
Osteria's specialty is Italian food, which could be part of the reason why the pizzas there are so good. There are a number of different kinds of pizzas to choose from and they are all made delicious to a fault. Osteria on Lenana road in Kilimani is really good and there is Osteria Karen and Osteria Gigiri as well. They offer delivery to various parts of Nairobi so you get to enjoy the pizza in the comfort of your home.
Website: Osteriadelchianti.com | Location: Lenana Rd, Nairobi City, Kenya
6. Dominos Pizza
Domino's is famous for its delicious pizzas; the restaurant is a trendsetter in pizza making. The dining establishment is noted for some of the best treats using delicious ingredients and unique recipes. Domino's Kenya recently introduced the pan pizza, a notable specialty which has tasty ingredients and delicious toppings. Whether you are longing for chicken barbecue or pepperoni pizza, you will always find that Domino's will satisfy your craving.
Website: Dominos.co.ke | Location: Limuru Road / Woodvale Grove Westlands, Nairobi
7. Debonairs
Photo Source: Debonairs on Facebook
Debonairs is a popular pizza restaurant and has also been recognised as one of the best in Kenya. The dining establishment serves pizzas that are enticing and tasty. Kenyans have never gotten enough of their finger-linking pizza varieties and toppings. Debonairs pizzas are amazingly authentic, chewy and palatable.
Website: Debonairs.co.ke | Location: Muindi Mbingu St, Nairobi, Kenya
8. Pizza Inn
Pizza Inn is probably one of the most popular Pizza joints in Nairobi. It has many branches all around Nairobi and you only need to find one near you for a walk in, or call to place an order. The selection of Pizzas is pretty decent, with a variety of chicken, beef and vegetarian pizzas on offer. The Hawaiian, Barbecue Steak and Peri- Peri Chicken pizzas in particular are very popular. Pizza pies, barbecue wings and subs are also available and the menu is available online.
Pizza Inn is renowned for the Terrific Tuesday offer where customers get two Pizzas for the price of one. While it is a good deal, the quality of Pizzas is sometimes below par considering the throngs that flock the joints on Tuesdays. You can still get value for money especially if you go to a joint that's not crowded, or better still, buy during other days of the week.
 Website: dialadeliverykenya.co.ke 
9. Sundeck Pizzeria and Grill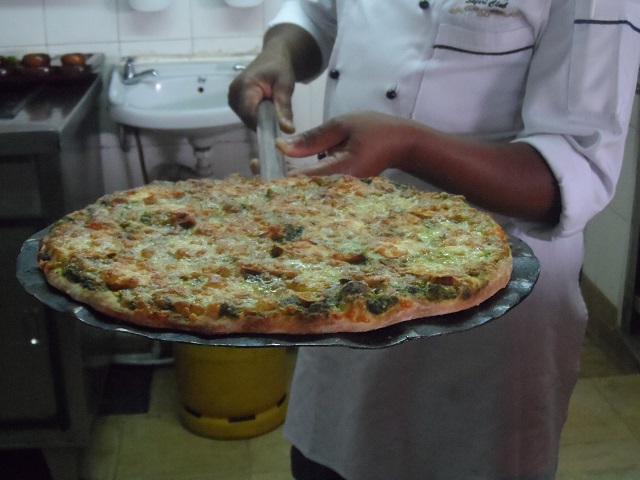 Sundeck Pizzeria and Grill is one of the food joints at Nairobi Safari Club, on the junction of University Way and Koinange Street. The pizza menu at Sundeck is extensive and the prices are affordable. The selection of Pizzas at Sundeck is different from most joints and so you get to enjoy beef, chicken or vegetarian pizzas with a delightful twist. Some like the crunchy and delicious Calzone Chicken Curry pizza have the dough stretched to cover the toppings. The blend of fresh ingredients makes for a delightful meal served in a cool and relaxed atmosphere.
Location: Lillian Towers, University Way, CBD, Nairobi
10. Naked Pizza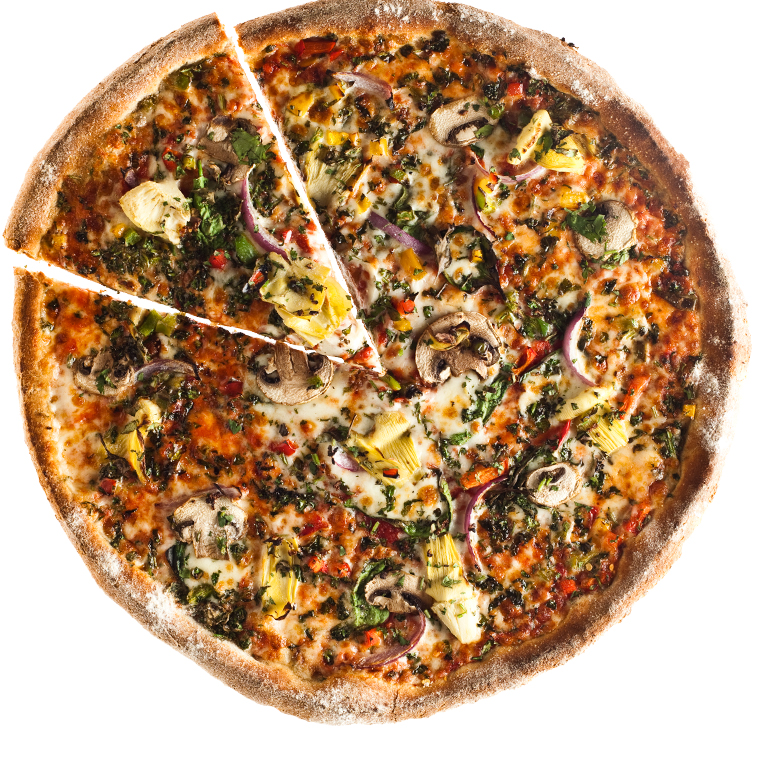 Naked Pizza is the place to go if you're thinking about your health but still want to indulge. Pizzas at Naked pizza are made from natural ingredients, with the crust being made from a blend of 10 grains and without additives like sugar or citric acid in the sauces. The Pizzas are made delicious and affordable with the superbiotic and Mediterranean pizzas being especially popular. Naked Pizza beats a couple of other joints by offering fast delivery and excellent service. Oh, and if you hear someone talking about getting Naked* on social media, they probably have Naked Pizza in mind. Check out the Naked Pizza joint in Fedha Plaza on Mpaka road, Westlands, or on Mombasa road at Parkside Towers.
Website: Nakedpizza.co.ke | Location: Westlands, Nairobi
Let us know of any other joints in Nairobi that have excellent pizza in the comments section below: