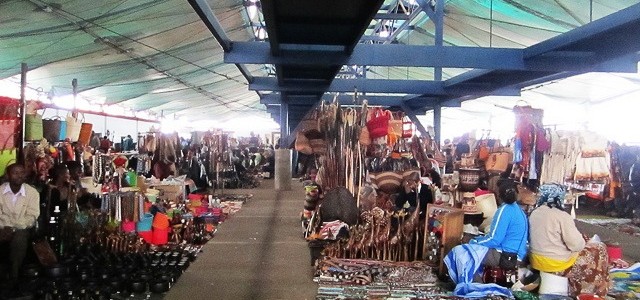 There are very few things as exciting as walking through the street markets in any foreign country. This is, without a doubt, one of the best ways to get a first hand experience in how the natives actually live and do business. Not only will you mingle with the most authentic locals, but you will also get to see some of the most indigenous products, foods and haggling tactics that you simply cannot get anywhere else. It is truly eye opening to see indigenous people in their element.
Additionally, these street markets tend to hold some of the rarest of products. Things such as artefacts created by local artists who are inspired by their surroundings and made for great souvenirs. That being said, here are 15 street markets you must visit in Africa:
1. Maasai Market in Nairobi, Kenya
If you know anything about Kenya, you know that the Maasai are one of the few remaining tribes that have stuck to their culture throughout the years. This has elevated them to iconic levels with people around the world wanting to learn from/about and interact with them whenever they visit the country. Well, one of the best places to experience the Maasai culture, as well as purchase some of their more exotic artefacts and products is the Maasai market in Nairobi, Kenya.
This is a mobile market that is held in different parts of the city on different days:
* Tuesdays – Kijabe Street, opposite 'The Norfolk Hotel'
* Wednesdays – Capital Center on Mombasa Road. This is very close to JKIA
* Thursdays – Nakumatt Junction Mall on Ngong Road
* Friday – The Village Market, Gigiri.
* Saturday – The High Court Parking lot, CBD (just behind The Nairobi Hilton)
* Sunday – The Yaya Center in Hurlingham
The Maasai Market is typically open between 8 am – 6 pm on these days.
2. Medina of Fes in Morocco
Anyone who has been to Morocco will tell you that the Medina of Fez is truly its own world. This walled city that was born around 9AD, is one of Morocco's most enchanting places. The people in it live a life that is completely detached from the Western world. The city has a myriad of winding passages, countless shops and a host of local artisans making and selling their crafts. Be ready to bargain your heart out for the most exotic of Moroccan artefacts, carpets and products you have never even heard of, but simply cannot resist. Being a Muslim city, ladies are advised to dress conservatively and cover their knees and elbows.
3. Makola Market, Accra, Ghana
This is one of the most hectic places in Accra, Ghana. Makola Market is simply bustling with life. If there is anything that can be sold and bought in the world, it can be found here. You are, however, advised to leave your valuables in your hotel room, for Makola Market also has its fair share of pickpockets and thieves, much like any other market. The best part is that women are highly welcome here and the bargaining is absolutely hilarious.
4. The Souks of Marrakech, Morocco
Marrakech, and Morocco as a whole, is just a place straight out of an 'Arabian Nights' tale. It is absolutely enchanting. One of the most beautiful yet hectic places to visit are the Souks of Marrakech. With very narrow alleyways, a world of spices, local artisans selling their wares, bicycles being fixed, carpet sellers following you around and skinned goats hanging from high-strung hooks, the souks of Marrakech will stimulate every fibre in your being. Here, haggling is the currency.
5. Khan el-Khalili, Islamic Cairo, Egypt
One of the most breathtaking places in Egypt. As a whole, Egypt is just off-the-charts beautiful. So, for a place to make it as one of the most attractive in this land, says something about that particular place. Islamic Cairo has anything and everything, In Khan el-Khalili is the major souk in Islamic Cairo; on its narrow streets you will find a variety of beautiful souvenirs including shiny baubles. Bring your haggling skills and buy an authentic belly-dancers costume and much more in this colourful and exciting market.
6. Merkato, Addis Ababa, Ethiopia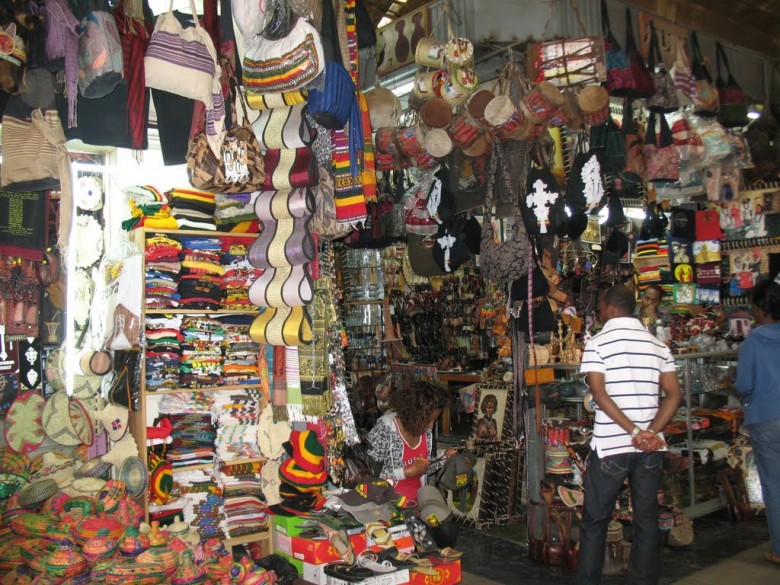 This is one of the biggest open-air markets in the world. In Merkato, you will find everything African, more so Ethiopian. From flip-flops, jewellries, to spices and incense. You will even find semi and automatic weapons if you know where to look.
7. Darajani Market, Zanzibar
                        Photo Source: YY on Flickr
If you are looking for a wide-ranging shopping experience while vacationing in Zanzibar, ensure you visit Darajani Market, located along Darajani Road, all around the Anglican Cathedral of Christ. Darajani Market is a popular market for the locals,The market stalls are filled with a variety of stuff such as spices, household and food items, shoes, clothes and many others. If you want to enjoy shopping in Darajani, it is best to go in the morning before it gets crowded. 
8. Kejetia Market, Kumasi, Ghana
                           Photo Source: Adam Cohn on Flickr
This is one of the best markets in West Africa. You can find almost everything here, from gorgeous Kente clothing, to Ashanti crafts and dried chameleon. This market place is huge and teeming with locals.
9. The Roque Santeiro Market, Luanda, Angola
The Roque Santeiro Market rivals Merkato in Ethiopia for size and the variety of goods and artefacts held here. It is considered to be one of the biggest, if not THE biggest open air market in Africa. 'The Rock' as the locals call it, is the size of 500 soccer fields and has everything that can be sold.
10. African Craft Market, Rosebank, South Africa
                        Photo Source: Jarredcinman on Flickr
Right on the corner of Cradock Avenue and Baker Street, you will find one of the most diverse craft markets South Africa has to offer. In the African Craft Market, there are all kinds of wares to be found. These wares come from all over Africa.
11. Johannesburg Rooftop Market, Rosebank, South Africa
                         Photo Source: Chris Eason on Flickr
In the same location as the African Craft Market, the Rooftop Market is only open on Sundays. It is also the best flea market in all of South Africa. Here, you will find, exotic clothing, arts and crafts, ceramics, collectibles and antiques. The market also has a food court teeming with both local and international cuisines.
12. Greenmarket Square, Cape Town, South Africa
                        Photo Source: Danie van der Merwe on Flickr
Shopping at Greenmarket Square is a great experience. Strolling through the market and finding fantastic stuff such as local art, fabrics, jewellery, crafts and artefacts fro different part of the world, most especially African artefacts. It is the perfect shopping place if you are looking for souvenirs and gifts for your friends back home.
13. Durban Victoria Street Market, South Africa
                       Photo Source: Thomas
It is always a great pleasure to find a variety of beautiful things in one place at affordable prices. Victoria Street Market is a fabulous place to shop for Indian spices and incense, clothes and shoes and every other stuff that depicts Durban's rich culture. If you have been looking forward to buying the Indian wears, you don't need to go to Mumbai, everything is available at this market.
14. Medina of Tunis, Tunisia
The market is located in the bustling part of Tunis, along puzzling walkways and narrow streets. This is a market that offers you unique things such as carpets, leather goods, pottery and amazing souvenirs. If you'll like to experience the unique Tunis experience, the Medina of Tunis is a place to visit. 
15. Hillfox Market, Weltevreden Park, South Africa
This is not a market place fraught with only local trinkets. It is, however, a market place that has over 250 traders all competing for your business with a variety of goods such as clothing, fashion accessories, arts and crafts, electronics and food. Here you will find top brand items selling for up to 50% less than their recommended retail price. 
When you come to Africa, you have to visit some of these markets. There are very few places that will give you that genuine view and insight into how the locals actually live and relate with one another. Additionally, you will get great bargains on trinkets that cannot be found anywhere else in the world.
Have you visited any of these markets? Share your experience with us in the comment below: 
Related articles across the web