There is one thing we Travelstarters take special, it is African foods. Don't blame us; one of the best travel experiences is food and there are a lot of delicious foods in Africa.  From the best staple foods in East Africa to Barbecued meats – Suya in West Africa and all other savoury dishes in North, South and Central Africa, which are made with love and we treat these foods with appreciation.
Africa cuisine is a voyage of discovery as the foods are actual reflection of African history and culture. If you want to get acquainted with an African country, the best thing to do is to taste your way through the country.
As you travel across the African countries, you will discover that there are regional likenesses in most neighbouring countries but each country has an exceptional culinary signature. Here are our 20 must-try foods across Africa:
1. Braaivleis
     Photo Source: Steve Crane on Flickr
Braaivleis is a popular food in Namibia, it's a dish where you have different kinds of protein-packed meats, spiked on wooden sticks and then grilled in an open fire. Braaivleis is known as Barbecue to the Americans, Suya to Nigerians, Nyama Choma to Kenyans. Braaivleis is flavourful and will fire up your taste bud. The Namibians love their Braaivleis and we have a special place in our heart for Braaivleis!
2. Ugali or Nshima
Ugali (Kenya), Nshima (Zambia), Nsima (Malawi), Sadza (Zimbabwe) and Fufu in some West African countries. The food is a corn flour food, usually cooked with water to form a dough or porridge. It is a popular staple food in Eastern and Southern Africa. The foods are normally served with stews or sauces. In Kenya, Ugali is served with cabbage or collard green, sometimes with beef and sauce. In Zambia, Nshima is served with ndiwo while Fufu is served with Vegetable soup in Nigeria. So whenever you travel to any of these countries, make sure you have a taste of Ugali or Nshima and you'll certainly enjoy it. The food is delicious and we always look forward to eating it whenever we visit Zambia or Malawi.
3. Jollof Rice
     Photo Source: Pappjeff on Flickr
Jollof Rice is the traditional West African food and a favourite food for Nigerians. The food is an unparalleled delicious food that will temp your taste bud. It is a gorgeous union of rice and spices, always complemented by fried chicken or beef. Don't leave West Africa without sampling Jollof Rice, it is a perfect meal for lunch. Nigerians love their jollof rice anytime anyday!
4. Biltong
No culinary trip to South Africa is complete unless you have a taste of Biltong. If you are a meat lover, you will love Biltong, a special kind of all-meat product which originated in South Africa. Biltong is produced by drying and spicing up the meat in strips. When next you are in South Africa, try Biltong and enjoy the delightful spiced meat snack. It's always delicious!
5. Alloco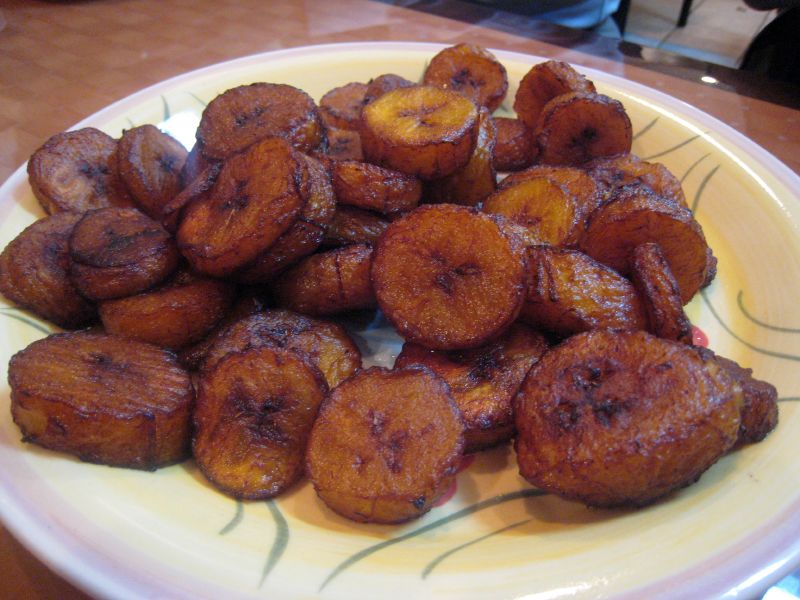 Alloco is an Ivory Coast native meal with a sweet taste. It is also a popular food in West Africa; the meal is made from plantain and served with pepper sauce and onions. The plantain is sliced and fried in hot oil. In Nigeria, fried plantain is known as Dodo and it's normally served with fried egg, egg stew or sauce. It is a perfect meal and can be taken at any time of the day.
6. Bunny Chow
     Photo Source: Alex K
Bunny Chow is an original South African dish, consisting of a burrowed piece of bread, full or half loaf, filled with bean curry and sometimes beef, mutton or water lily stew. If you haven't visited to South Africa yet, you should make a trip there and when you have had a taste of Bunny Chow, you will wonder why you didn't visit sooner.
7. Shakshouka
     Photo Source: A_b_normal123 on Flickr
Shakshouka is a delicious dish made with basically eggs, parsley, onions, garlic and tomatoes. The eggs are poached in the sauce made with other ingredients and spiced with cumin. The food is believed to have been originated from Tunisia but the Libyans, Algerians and Egyptians love it. Shakshouka is something we always look forward to enjoying whenever we visit Egypt.
8. Asida
     Photo Source: Rusty Clark on Flickr
Asida is a simple but delicious meal made up of cooked wheat flour dough mixed with honey or butter. It is eaten in North African countries, particularly popular in Libya, Tunisia, Sudan and Algeria. It is often served during special occasions. It is usually eaten by hand. After you have eaten Asida, you'll have a time finding any food more tasty and comforting.
9. Cachupa
     Photo Source: Kris Haamer on Flickr
Visiting Cape Verde any time soon? You should have a taste of their famous dish called Cachupa. The meal is cooked with hominy corn, beans, vegetables, fish or meat – beef, goat, chicken or marinated pork. Cachupa is one of the traditional and staple foods in Cape Verde. It is served on special occasions such as weddings, funerals and birthday ceremonies. Cachupa is really delicious that you'll wish to eat it for breakfast every day.
10. Cholent
Cholent is a traditional Jewish dish usually made with sliced potatoes, beans, meat stew, barley, onions and flavourful seasoning. Sometimes, barley is replaced with brown rice. The food is cooked overnight for close to 12 hours and eaten on Shabbat for lunch. You will find this delicious dish in Morocco. Don't leave Morocco without sampling Cholent, you will definitely come back home with a new palate after you have tasted the meal.
11. Moi Moi
Moi Moi is a popular food in Nigeria – beans pudding made from peeled beans, which are grounded with onions and red pepper. It is a staple Nigerian meal, rich in protein. Moi Moi is served along with rice – with Jollof or Fried rice; some people prefer eating it with Garri – made from Cassava. It is a very delicious meal; try to have a taste when next you visit Lagos.
12. Lahoh
Lahoh is a popular food in Djibouti, Somalia and Ethiopia. It is made with plain flour, rising flour, yeast and salt; sometimes made with eggs. Lahoh is a spongy flatbread traditionally baked on a circular stove called daawo and nowadays, it can be baked in an ordinary pan. In Somalia, it's a popular breakfast meal, eaten along with honey or a cup of tea. Lahoh is sometimes eaten with curry stew. It is a delicious meal that brings everyone to the table.
13. Ndole
Ndole is our favourite Cameroonian meal, it is made with peanuts, bitter leaves, beef or seafood – fish or prawn. If you attend any party in Cameroon, you will definitely find Ndole present in their menu. Ndole is a thick soup and can be eaten with rice or plantain and sometimes with bobolo, the local Cameroon staple meal. If you find the time, a visit to Cameroon just to have a taste of Ndole is worth it.
14. Matoke
     Photo Source: Michele Zanin on Flickr
Matoke is a popular food in Uganda. It is a kind of banana you can't find anywhere else. Matoke banana is soft and has a neutral taste. The dish is prepared in banana leaves; it is peeled, wrapped in banana leaves and steamed. The leaves give it a rich yellow colour and makes it taste yummy. It is eaten with meat, fish and vegetable sauces. If you are anywhere in Uganda, you must try Matoke!
15. Ful Medames
Ful Medames is a popular food in Egypt and Sudan. It's usually eaten for breakfast in Egypt; it is a nourishing stew of heated fava beans mixed with olive oil, lemon juice and garlic. Other ingredients include cayenne, cumin, black pepper, hard-boiled eggs and parsley. It is usually served with pita bread. Visit Egypt or Sudan and make the most of your experience by enjoying Ful Medames, a very scrumptious meal.
16. Pilaf


Pilaf also known as Pilau in East Africa (especially in Kenya and Tanzania) is a delicious delicacy cooked in a spiced broth. Pilau is prepared with rice – by browning the rice in oil and mixing it with stock ingredient such as meat, seafood, chicken, vegetables, herbs and some spices. The rice can be medium or long grain but some people cook it with basmati rice. It is a delicacy enjoyed by everyone.
17. Lablabi
Lablabi is a well-known Tunis meal made with chick peas, bread, garlic, lemon juice, cumin, oilive oil and harrisa – Tunisia's popular hot sauce. It is usually garnished with cilantro, parsley, scallions or hergma. If you'll love to have a taste of Lablabi, visit Tunisia if you ever have the chance.
18. Kachumbari
     Photo Source: Charles Haynes on Flickr
Kachumbari is a famous salad dish in Eastern and Central Africa. It is usually uncooked, a mixture of chopped tomatoes, onions and peppers. Kachumbari is usually eaten with Pilaf Rice or Ugali in Kenya, and Biryani in Tanzania. Just take a bite and you'll be hooked forever!
19. Thieboudienne
     Photo Source: Egseah on Flickr
Thieboudienne is a Senegalese traditional dish, made with fish, rice and tomato sauce. Other ingredients include potatoes, squash, plantains and cassava. Thieboudienne is a staple rice dish and Senegalese's favourite food. The meal delivers good flavours and once you've tried eating it, then you'll understand why we want you to try it.
20. Ghanaian Oto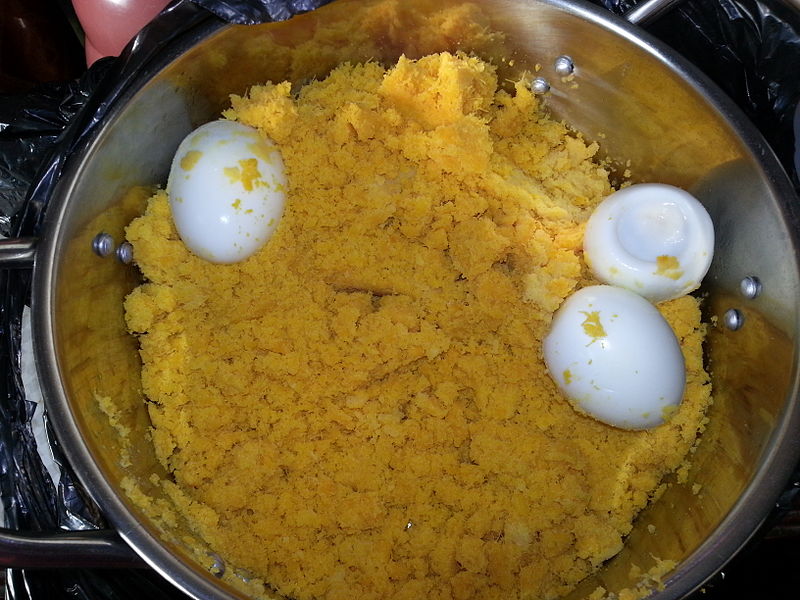 Oto is a hearty and tasty Ghanaian dish which consists of boiled mashed yam mixed with onion-infused palm-oil. The palm oil gives the mashed yam a saffron colour and an African taste. Oto is a well-known traditional food, usually served at Ghanaian events such as naming ceremonies, birthdays and other occasions. It is a fantastic meal and very tasty!
What is your favourite African dish? Let us know in the comments.