Located on the shores of Lake Victoria lies Kisumu, a city that offers a striking range of iconic scenery, exotic wildlife and unspoiled beaches. Most people always opt to travel to Mombasa or Naivasha for their holidays, without knowing that Kisumu is an enchanting paradise where they can shy away from crowds and discover a wealth of secrets the city holds. Take a vacation and head off to Kisumu, where you will find serenity and a chance to feel utterly lost in nature.
Kisumu offers great sights and experiences to those who know where to find them. We present to you the 8 best secrets of Kisumu, all waiting to be discovered:
1. Breathtaking sunsets
There's something about sunsets in Kisumu that will absolutely take your breath away. The clouds culminating in orange rays, as the sun sets in the horizon to welcome the dark is simply sublime. It's really a sight to behold!
2. Kisumu Museum
The museum offers you a wide range of things to see, especially with its outdoor pavilions where you get to see a variety of live animals. For fish lovers, be sure to check out one of the pavilions that will indulge you in the wide variety of fishes found in Lake Victoria, as well as other reptiles found in Kenya.
3. Kisumu Impala Sanctuary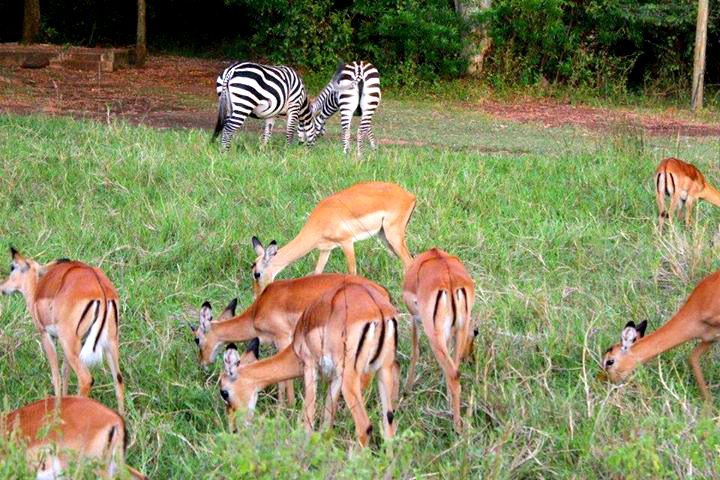 A favourite among many, with the lovely Lake views you can enjoy a picnic with family or friends while viewing the many species of birds and reptiles found in this park. Follow the nature trail along the park and get entwined with nature. If you love watching birds, then this is the place to be. The sanctuary boasts of hundreds of different birds and you're likely to spot rare species of birds here, while getting a chance to bond with what nature has to offer. For a romantic dining experience, be sure to visit Impala Eco-lodge, which offers an amazing panoramic view of the lake; get immersed in the moment while watching the captivating sunsets.
4. Lwang'Ni Beach
You cannot visit Kisumu without visiting this favourite fish spot. Kisumu is famous for fresh, tasty Tilapia fish and Lwang'Ni Beach offers you the delicious fish dishes. You can nibble some mouth-watering fish with Ugali and end it all with a boat ride. If Lwang'Ni beach doesn't tickle your fancy, you can drive a few kilometres away to Dunga beach and sail away to the horizon.
5. Hippo Point
I can't emphasize enough how mesmerizing the sunsets in Kisumu are, but Hippo point offers you a chance to experience just that. Located a few kilometres away from the city, get a chance to experience amazing wildlife, spot hippos and sleep in the wild at one of the camping sites within the area.
6. Ndere Island National Park
Ideal for game viewing and nature trails, this park has a way of making you appreciate nature. Home to Nile crocodiles, impalas, hippos and a variety of birds, this park is worth exploring as you enjoy the scenic view around.
7. Kisumu Markets
We all love bargains, especially when it comes to fresh food and vegetables, and the markets in Kisumu offer you just that. Although they always tend to be crowded, you can get to wiggle your way through and shop for nice things such as handmade bags and carvings made from water hyacinth plants surrounding Lake Victoria.
8. Kit Mikayi
There's really not much to see here, apart from a large rock that has three rocks placed on top but the view is really captivating. The locals say that it is a weeping rock and it is believed that Mikayi (which means first wife in Luo) went up the hill to the stones when her husband took a second wife and has been weeping ever since. Get a chance to marvel at this unusual rock formation.
The sun in Kisumu can be quite unforgiving, you can jump into Boda Boda and explore the city, or take a drive along the Kisumu- Busia highway and discover the nearby towns while you savour the scenic surroundings along the way. You will definitely discover more lovely secrets this lake-side city offers.