Stay strong, the weekend is coming! Is there anything more exhilarating than spending your weekend for a quick getaway to a stunning destination?
Zanzibar is one of the most preferred getaway destinations for Kenyans due to its proximity and in fact, many people all over the world choose this destination to relax and have a bite of its diversity. It's not difficult to understand why, as Zanzibar is a slice of paradise which offers all types of activities from snorkelling to romantic sea safaris, from dolphin watching to getting lost in its old cobblestone streets. Its key location as a trade centre and various cultural influences gave Zanzibar a unique flavour, and it's being small and easy to move around makes it great for weekend escapades.
The weekend is as short as a few days, unfortunately, so you should plan it well. If you are planning to visit Zanzibar during the high season that is from mid-June to mid-December, you should book your flight just now and make your hotel reservations as well. Here's a compilation of what you can add on your travel itinerary:
Historical and cultural attractions
Stone Town is the cultural and historical heart of the island where you experience the soul of the country. You get lost between the old Arabic-style buildings, smelling hot brewed coffee at every corner. It's a World Heritage Site and there's a lot to explore here. You can start with the must-see "the Palace of Wonders". As its name reveals, its a former Sultan's palace, now a museum, which exhibits on Swahili civilization and the wonders of the Indian Ocean. Next to the palace, four-hundred-year-old "Old Fort" stands. It hosts artisan shops, exhibitions and various events such as the Zanzibar International Film Festival. The Old Dispensary from the 19th century marks the waterfront with its architectural intricacy. Its peppermint-green colour makes it easy to spot.
Darajani Market at the centre of Stone Town is where you have a truly authentic shopping experience. Here you'll find many stalls selling souvenirs and packs of spices, colourful local prints and fabrics, jewellery, wooden carvings, Zanzibar chests and anything you can imagine.
Wildlife experiences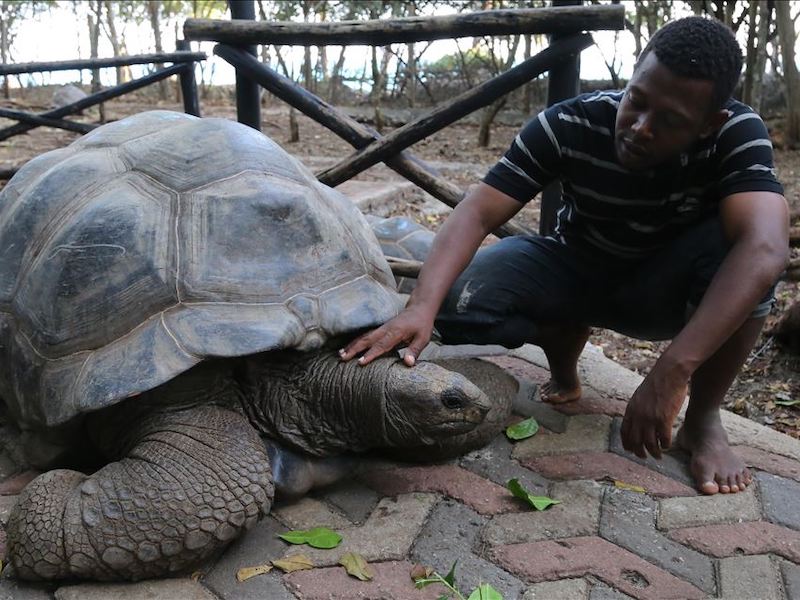 Changu Island is half an hour away from Stone Town. You can visit this island to meet giant tortoises as old as 190 years and observe fish-farming. Another option is that you can visit Kidike Flying Fox Sanctuary near Kangagani Village to see a spectacular colony of Pemba flying foxes. This large bat is indigenous to Pemba.
Go on a spice tour
The spice farm tour is an educational and entertaining option to spend your day. You'll discover what a vanilla plant looks like, or how and how much turmeric and cinnamon to use. You smell and taste different varieties of spices, learn about how they are used for their medicinal properties, also how to use them when preparing your meal at home. Your guide gives you samples of plants you can take back home with you.
Try local food and relax at Forodhani Gardens
Vendors set up their stalls selling seafood, samosas, pizzas and more each evening at this waterfront public space. You can relax here in the morning and enjoy the buzz and energy of the bazaar while trying different types of freshly grilled fish which are mostly served with potato balls, samosas or naan bread in the evening.
Take a sea safari or a sunset cruise
You can go for a sea adventure safari by taking a daily boat tour. While enjoying the crystal clear waters of Zanzibar, you might even get the chance to swim with the dolphins. Sailing on a traditional hand-built sailing dhow, snorkelling and exploring the incredible coral reefs, sunbathing and enjoying a delicious seafood lunch is a great and alluring way of spending your weekend. You can choose to go for a Sunset Dhow Cruise as well. Seeing the sunset on the water is one of the most romantic options of experiencing Zanzibar with your sweetheart. Most of the dhows depart from the West of the Island and most include drinks and foods.
Water sports for adventurers
Zanzibar is generous when it comes to water sports. Taking a trip out to the Mnemba Atoll to snorkel or scuba diving is a must-do.
Zanzibar offers kiteboarding, surfing, paddleboarding (SUP), waterskiing, parasailing, jet-skiing, kayaking and swimming with the dolphins. We'll tell you the secret. The most popular dolphin spotting location is on the South coast where you can swim in their natural habitat. You'll be jumping on and off the boat as dolphins are always on the move!
Relax on the Beaches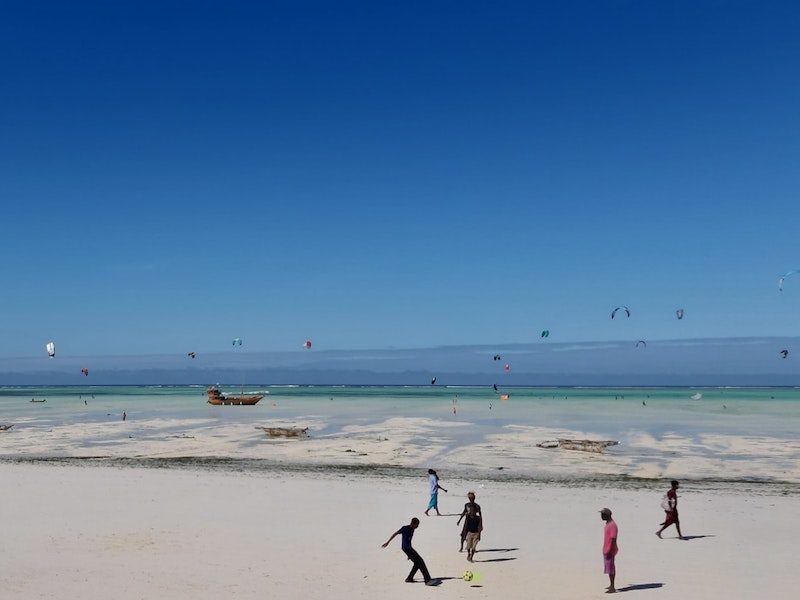 After all these activities, just to laze around and unwind on the beach with a cold local beer or a tasty cocktail in your hand sounds like a great idea. Though Zanzibar's waters have to be explored to get the full taste of it, we don't blame you if you choose simply to relax on the world-famous beaches of Zanzibar. There are a plethora of activities to engage in. You can go for a Full Moon Party at Kendwa beach to meet other travellers, enjoy the village life in Nungwi or Matemwe beaches or see the sunset at the very quiet Michamwi beach. Combine your relaxation with partying at Bwejuu and Paje beaches or enjoy Monday night jam sessions and watersports at Jambiani beach. All the troubles of the week are left behind and always remember, there's nothing a few beaches and cocktails can't fix.
Delicious cuisine of Zanzibar
Zanzibar has been the melting pot of cultures and the result is this marvellous mixture of influences. Middle Eastern and Indian flavours inspire recipe combinations incorporating wonderful natural ingredients and seafood from Zanzibar. You can try octopus in mishkaki (meat skewers) which is a famous Zanzibarian snack. Octopus curry cooked with spices like turmeric and simmered in coconut cream is another way of tasting it. Calamari, lobster, tuna, marlin, prawns, kingfish, snapper and barracuda are other seafood delicacies.
Urojo soup is a must-try, it's a bowl of tangy, flour-based soup full of crispy bhajis, mashed potatoes and topped with coconut chutney and chilli. Mandazi and samosas are Swahili doughnuts, biryani and pilau from Indian continent are rice dishes cooked with spices. Have you ever heard of Zanzibar pizza? It's more of a savoury crepe and it's yummy.
Have some Zanzibar chocolate, a tasty sesame bar made with toasted seeds and honey and a cup of coffee at Jaws corner while socializing with locals. Without having a cardamom-spiced Arabic coffee at Jaws Corner your trip to Zanzibar is not complete. It's our responsibility to tell you that Zanzibar is very addictive for foodies.
Zanzibar's vicinity makes it a popular hangout. Once you visit Zanzibar, you can't help visiting it again, to share your experience with your family, your valentine or a friend. Book your flight now at a cheap rate so that you don't have to think "what to do this weekend". "Kwaheri" is goodbye in Kiswahili, so Kwaheri for now! Don't hesitate to share your experiences of Zanzibar with us. Have a nice weekend!