Situated on the edge of the Arabian Gulf, Dubai is not only one of the fastest-growing cities on the planet, but it's also become a hot travel destination. The city's sunshine and eye-grabbing locations are indeed something else. From countless activities to great quality accommodation, from yummy food to its cultural heritage, Dubai offers an unforgettable experience to its visitors.
Located between the Persian Gulf and the desert, Dubai offers an unforgettable holiday to its visitors. Dubai is indeed an oasis in the desert. Everything about Dubai dazzles, inspires and entices those who come to its shores seeking a memorable and exciting holiday.
Let's take a look at our compilation to get you inspired and take the first step:
Dubai is a beachgoer's paradise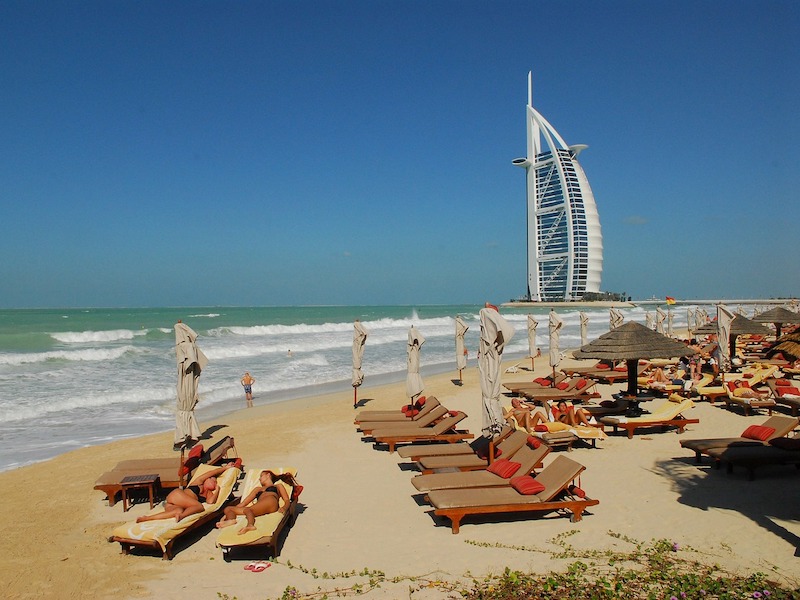 More than sand dunes and skyscrapers, Dubai has some of the most beautiful beaches in the world to enhance your holiday experience. When winter comes with its melancholy to one part of the world, Dubai keeps shining with its sun-kissed beaches.
No wonder why so many tourists from all around the world gather in Dubai. Some beaches welcome the families with gentle waves and some other beaches are great spots for surfers and watersports.
Would you like to enjoy the spectacular view of the Persian Gulf? Then choose Jumeirah Beach which is one of the most famous for its white and soft sand to sink your feet in while sipping a refreshing drink. The spectacular view of Burj-Al-Arab, Dubai's iconic hotel, is a sight to marvel at and will be the background of your amazing selfies.
Kite Beach is another option for you to enjoy crystal clear waters, seaside dining with your family or friends, to play volleyball or try your balance at stand-up paddle-boarding and kayaking. There are plenty of non-aqua activities you can enjoy with your family too, including a skatepark, an outdoor trampoline and a toddler-friendly area. Post-swim, don't forget to try the beach canteens for some drinks and snacks.
The newest beachside destination "La Mer" is filled with exceptional cafes and restaurants, boutiques and a great spot to spend the entire day. Want to walk or jog along the coastline? Kite Beach's 14km track is the best to exercise. You can try paddleboarding and water skiing as well if you want to add some adventure to your holiday. Stay hydrated!
How will foodies have fun in Dubai?
After a day of swimming and chilling at the beach, trying new flavours of Emirati cuisine will sound like an amazing idea. Even the smell of the sea is enough to make us hungry, don't you think? An increasing number of Emirati restaurants are opening across the city serving cuisine from delicious Arabic pastries to camel burgers, from Arabic coffee to tasty slices of bread.
We suggest you try "Margoogat" which is a meaty dish coupled with a tomato-based stew cooked with turmeric, cumin and bezar (yes a mixture of masalas!). You can find different variations of it around the city, made with chicken or lamb, and some simply made with baby marrow and potato.
Machboos is another dish you can try from Emirati cuisine. It's a rice dish made with whole local spices such as cardamom, cinnamon and mixed with dried lemon. It's made with locally caught shrimp, lamb or chicken which means it's going to be perfectly fresh and yummy!
Camel burgers might not so usual, it is not eaten by Emiratis traditionally, but modern chefs in the city are trying their hand at cooking everything from camel biryani, burgers and stews. Camel milk is, in fact, healthier than cow's milk, that has more protein and is lower in cholesterol. We suggest you try camel milk ice cream, there are different flavours, including pistachio, chocolate and date, which is very rich in Vitamin C.
What about some sweets for breakfast? Chebab is a delicious Emirati-style pancake that is normally served at breakfast time. They are crammed full of sour cheese and sweet date syrup, then heated. When heated, sour and sweet elements combine and create a unique flavour that you will miss after you are back home.
Did somebody say shopping?
Some of us are shopaholics and we can't hide it. Hey, why should we? When it comes to shopping in Dubai, make sure you will be spoiled. From traditional open-air markets to vast modern shopping malls, visitors are not disappointed. The Dubai Mall is the world's largest shopping mall and is endowed with over 1200 luxury and premium brand stores, an Underwater Zoo, Dubai Aquarium, Ice rink, Reel Cinema, Theme park, Dubai fountains and numerous restaurants.
Wafi Mall offers a shopping a unique experience with its famous pyramid-shaped façade structure, collection of artwork and Egyptian theme throughout the area. The mall has almost 350 stores of apparels, crafts, décor and accessories. Don't forget to try Cleopatra's Spa for a close-Cleopatra beauty experience!
Beneath the city's ultra-modern exterior is a rich tradition of souks, or open-air markets selling everything from Emirati jewellery, antique objects, local sweets and all types of souvenirs. Check The Outlet Village, Retold and Garderobe for luxury fashion, we guarantee you'll get mind-blowing discounts. This shopping haven truly has it all for all kinds of tastes.
What about the most Instagrammable spots in Dubai?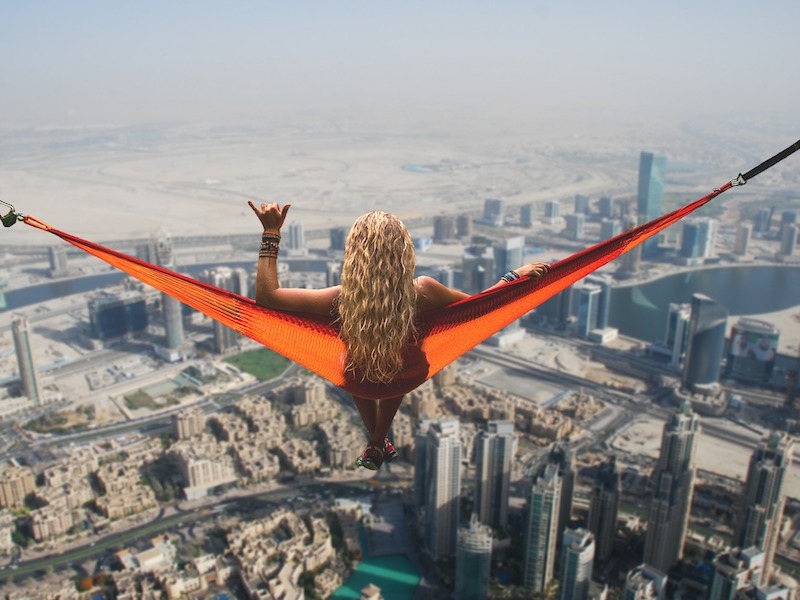 Dubai is one of the most glamorous destinations you'll ever visit, make sure your phone and camera are charged at all times.
Burj Al Arab Jumeirah is the world's most Instagrammable hotel, also the most luxurious. With over 500,000 followers on both Instagram and Facebook, we believe it is the spot to give you the best selfies in Dubai.
Dubai is the city of records, and the fact that here is the tallest building in the world is just one of them: Burj Khalifa. It is too big to fit in the frame, it's even difficult with 4: 5 scale that Instagram allows, so you'll need to crop a bit the bottom of the image. This is the part of the fun, do your best! Its interior is as interesting as its exterior, the photographs you take from such height will leave you breathless.
Dubai Miracle Garden is another magical spot for your Instagram shots. This garden with stunning flowers is in the middle of the desert. It has the largest collection of flowers in the world arranged under all sorts of shapes and sizes. Where else will you get such colourful photographs?
Dubai Marina is another breath-taking spot and the most vibrant area of the town. This complex is built around an artificial river connected to the Arabian Gulf. Brilliant towers with complex shapes, palm trees, terraces, water cruises are all to be found in the same place. You can take amazing shots here during the day and night. A true Dubai experience.
Time travel to the heart of Dubai
Away from the modern Emirate's shiny scrapers! Why not take a trip back in time, to old Dubai? The cheapest way to have authentic travel along the water is to take a water taxi that costs one dirhem (28,23KES). You can hop aboard one of many traditional boats or abra to cross the creek that separates Bur Dubai from Deira, Dubai's city centre. You can truly admire the spectacle of old and new Dubai from the traditional houses, towers and minarets that you pass by on an abra.
Good old souk, also known as the Textile Souk or Bur Dubai Souk, is a traditional souk where you can find a large number of stores selling fabrics, clothes, spices, footwear and souvenirs. It's an amazing spot for the curious spirits, for the ones who enjoy antiquity, artisans and artworks. This souk is a playground for curious photographers who like to get lost, find interesting artefacts, chat with local artists and traders, chase after local and historical stories, discover second-hand objects. Old souks are the bazaars where you can run into the ghosts of ancient travellers, philosophers and feel the essence of life and hear the heartbeats of the past and present. It is a joyful experience for dreamers. Also, many bars and pubs can be found in the city's historical neighbourhood.
Try extreme adventures for an adrenaline rush
What is the craziest extreme sport one could do, at least once in a lifetime? Skydiving! Even the idea of it gives you thrills, right? We can hear you say: "No, no, no way, not happening!". That's what we all say until we come to the point where we are about to jump. That one step you take and you are having the best experience of your life. It will costs around Dhs2,000 (56.469 KES) for tandem jumps with a videographer but you'll have to be a minimum of 18 years old and weigh no more than 100kgs or have a body mass index (BMI) of 30 to take part.
Have you ever imagined you could ski in the desert? Well, in Dubai you can. Skiing in Dubai is an almost surreal experience. You can experience winter's chill on real snow knowing that it is blazing hot out. Dubai never disappoints its visitors. Ski Dubai, located in the Mall of Emirates, is a wonderland. It is a world-famous legend which attracts many tourists and locals alike every year. This indoor ski park in the Mall of the Emirates has been featured on all the travel shows and magazines.
Are you ready to come face-to-face with the world's ultimate predator? You can experience the thrill of a lifetime by swimming with the largest collection of Sand Tiger sharks in Dubai. Thinking of the movie Jaws you saw when you were a child? It's not like that at all, it gives you more adrenaline.
Why not spend a night in the desert?
We have identified four main areas in Dubai that you could stay in: near Burj Khalifa – Dubai's downtown, Jumeirah Beach, Dubai Marina and The Palm Jumeirah. There are many accommodation options available which are both affordable and luxurious. There is another thing that can make your Dubai experience unforgettable.
What about a trip to the desert? Wouldn't it be amazing to stay in the desert for a few nights, travelling back in time, from cosmopolitan to urban? Sleeping under the clear starry sky, a priceless experience you can't miss when you are in Dubai.
We have given you a taste of Dubai where the sun always shines. If Dubai is not already on your bucket list, don't hesitate to add it, you won't regret it. Let us know about your experiences by leaving a comment in the comments section below.