Have you ever heard of a party so epic that, having not attended, you think to yourself, "there's just no way that party could be that good?" Such is the case with the legendary Full Moon Party on Thailand's Haad Rin beach in Ko Pha-Ngan.
Best known as a backpackers' paradise, the islands of Thailand such as Koh Samui and Ko Pha-Ngan are notoriously beautiful and quite popular. Every now and again, thousands (no less than 30,000) people attend an impossibly "happening" party on the beach of Haad Rin.
We are talking dancing, drinking, acrobatic shows, jumping or fire ropes and an all-around crazy fun night right out there on the sand. You simply must attend one of Thailand's Full Moon Parties if you are to fully appreciate just how good they can be.
A Small History of the Full Moon Party
There are several myths about how the Full Moon Party got started. Some say:
It was started by a bunch of tourists with nothing but a guitar and the knack for a good time.
It was started by a few friends who decided to celebrate the birthday of a travelling member on the beach – had so much fun that they decided to make a yearly thing.
The arrival of electricity on the islands prompted people to move out onto Ko Pha-Ngan (some thought that electricity was too commercialised an idea for their humble idyll lives)
It's difficult to ascertain how the Full Moon Party got started or even when. Most people agree that it all begun in the 1980s. What we do know is that it started long before social media was a thing and the only way people got to hear about it was through word of mouth.
Imagine that – something so good that every backpacker around the world has it on their bucket list simply because they heard about it from someone who heard about it from someone else who has been to one!?
Today, the party rages on as thousands of people celebrate different phases of the moon nearly every single month.
How to Get to Ko Pha-Ngan for the Full Moon Party
There is no way to prove this but one of the main reasons why the FMP (Full Moon Party) is so popular is probably because it's held in a formerly inaccessible island. There are no airports in Ko Pha-Ngan so you would have to come in by boat.
The best way to get there is to fly to Koh Samui. However, domestic flights to Koh Samui are a bit expensive being that it's one of Thailand's most visited destinations.
Since you are a good reader of our blog and a savvy traveller in your own right (respect!) we would advise you to fly in directly to Surat Thani airport instead.
From there you can easily catch a ferry from the coastal town of Donsak to Koh Samui – some three hours away. From Koh Samui, it's just another 30 minutes on the ferry to Ko Pha-Ngan.
What to Expect at a Full Moon Party?
This is an epic party spoken about across the globe. As you would expect, with the years, the event has developed some structures to deal with the huge influx of local and international partygoers. Here are some things you can expect at the FMP:
Entrance Fee: You will be expected to pay about 100 Thai Baht ($3.15) to get into Haad Rin Beach. You will be handed a red wristband once you have paid. This money goes towards beach cleanup activities after you crazy people have trashed the place all night long.
Drinks and party favours: From Songthaew terminal (where the ferry will drop you off) all the way to the beach, there will be hundreds of street vendors selling all sorts of drinks for about 250 Thai Baht per bucket. You can bring your own drinks into Haad Rin Beach for the party.
What to do at the party: Go as crazy as you want.
The FMP is so popular mostly because it's the one night (every month or so) when you can go wild. There are all kinds of things going on at the beach on that night but most people are just dancing, drinking and socializing.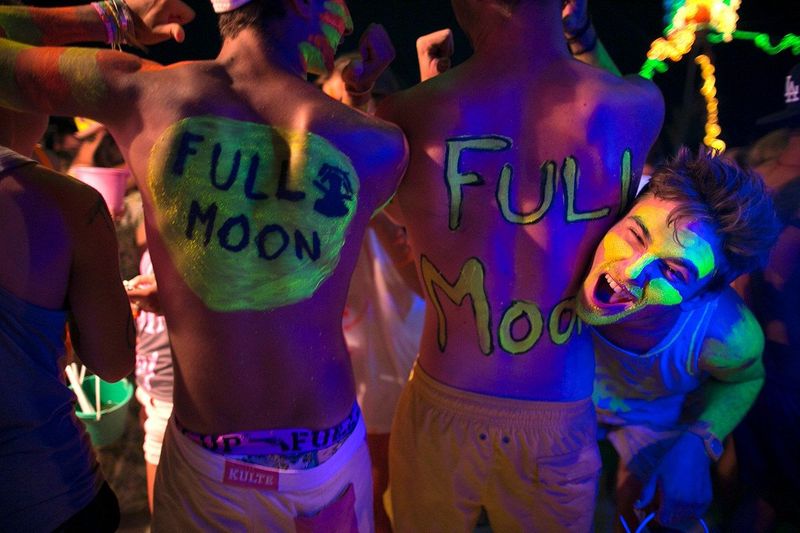 From light head bobbing to full-on acrobatic breakdancing – there are no limitations. The difference between a Thai FMP and most other beach parties is that the Thai FMP is not centred around a specific DJ. Instead, the music comes from a bunch of beachfront resorts and clubs that try to outdo each other by going as loud as possible and playing the most entertaining music on the night.
It's a buyer's market and you can walk up and down Haad Rin as you sample all that is on offer.
Where to Stay During the Full Moon Party
Prudence would dictate that you find yourself a room in any of the many beachfront accommodations available on Haad Rin but if you have ever hosted a house party you know that that is a terrible idea. For two main reasons:
The available accommodation will be crazy expensive during an FMP.
You will have rowdy party goers on your front door even after the party ends.
The best thing to do is to get your accommodation in nearby places such as Koh Samui. Just come to Haad Rin for the party and leave with the morning ferry so you can suffer your hangover in peace way out there on a distant island far away from the party aftermath.
The Best Time to go for the Full Moon Party
While there is no time like the present, the best time to go for the FMP is between February and April. This is when it's not too hot and it's not rainy yet. The rainy season starts in November all the way to January while April through to July is just way too hot for most people.
Here is a schedule for the next Full Moon Party.
Useful Tips on How to Enjoy the Full Moon Party
With thousands of people packed into a small patch of sand going crazy howling at the moon, you can reasonably expect a few things NOT to go according to plan. As such, it's always best to have a "game plan" of sorts to ensure that you attend and leave the party in one piece.
Here are some tips on how to safely bring down the proverbial roof at a Thai Full Moon Party:
Carry about 1000 Thai Baht and leave the rest in your hotel room.
Don't walk around with your travel papers.
Do come with trusted friends.
Do stick with those trusted friends throughout the evening.
One bucket of drinks is enough per person.
Hire a local driver to and from the beach (don't hire a scooter – you will be way too trashed and too tired for the morning ride back to the pier).
Don't accept drinks from strangers. There have been reports of drinks being spiked with date-rape drugs and people getting robbed.
Keep your feet covered with shoes or sandals at all times (even though the party is at the beach, by around 10 PM that beach will be full of broken glass and other forms of hazardous waste from people who party too hard).
Go on – try something new. Jump through that ring of fire or enter that fire limbo contest. Get some scars to remind you of how epic a night you had at the Thai FMP.
Have you ever been to the Full Moon Party on Haad Rin Beach in Ko Pha-Ngan? Share the experience with us in the comment section below.