Kenya is an ideal holiday destination for people to relax and enjoy the spectacular scenery it offers. The country has some coastal destinations you can visit for a Kenyan holiday. Tourists and vacationers travel to these places to enjoy its tropical beaches, sea breeze – relaxing atmosphere, peaceful islands, and indulge in water-sport activities. Kenya coastal destinations are drenched in culture and this reminds visitors of its charming history and heritage.
If you are looking for some peaceful time in the sun, Kenya has some beautiful destinations with scenic coastal views that will blow you away. Here are Kenya's most beautiful coastal destinations:
Tiwi
         Capricho Cottage near Tiwi Beach. Photo Source: Peter Steward
       Tiwi, Kenya Photo Source: Fagasam
Located north of Diani Beach and 17 Km south of Mombasa, Tiwi is a small settlement and pristine area that offers fantastic coastal views as well as interesting places to explore. Alongside colourful scenery, you can also engage in a range of activities and if you love nature, you could find this place perfect for your vacation. Fabulous accommodation are available here, nestled amongst the green trees are fantastic beach resorts and cottages which offer comfort and privacy. Take a stroll along the famous Tiwi beach or walk a mile into the ocean, feel the silvery sand under your feet and enjoy the beautiful coastal scenery.
Shela
    Shela Beach in Lamu. Photo Source: Xiaojun    Lamu Coastaline. Photo Source: Joseph Hill
Located on North Kenya coast, Shela houses the most beautiful beaches in Lamu. Lamu is an old scenic town with an enchanting waterfront, pristine beaches and great weather – watching the sun come up is priceless!
Diani
     Diani Beach, Mombasa. Photo Source: Davida
Diani Beach, located 30 km south of Mombasa, is one of the most beautiful beaches in Africa. Diani Beach is well known for its crystalline sands and its a good choice for those who wants to relax and chill out during their holidays. The water flows into a coral reef where you can indulge in water activities like snorkelling and get a chance to see at beautiful fishes and corals.
Watamu
    Photo Source: Flavio on Flickr
   Watamu Coastlines. Photo Source: Phil on Flickr
Watamu, located about 15km south of Malindi on the Indian Ocean coast of Kenya is a small coastal town with great natural beauty and it offers scenic coastal views that will take your breath away. If you are looking for a nice place to spend a relaxing day or weekend; you can satisfy your travel bug by heading to Watamu.
Kilifi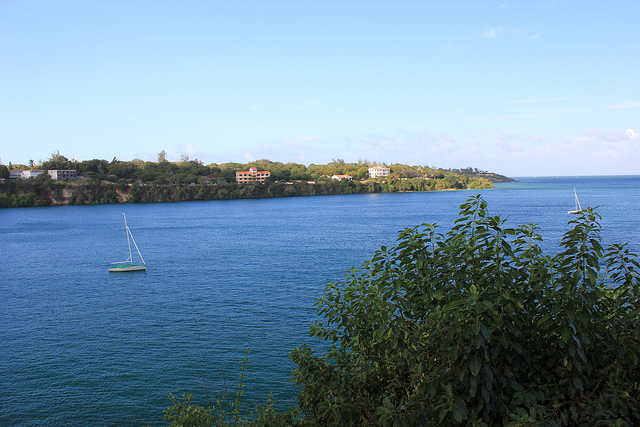 Kilifi Creek. Photo Source: Andree G on Flickr
Kilifi is located on the coast of Kenya, it's a resort town and it is sits on the estuary of Goshi River and lies on Kilifi Creek. The scenic town is famous for its beaches and it's a place to relax while you enjoy fantastic sea views and indulge in some water sports. There are a plethora of accommodation options here; you can choose a beach resort or lodges with sea views and enjoy the breaking waves and chilling offshore breeze.
Shimoni
 Shimoni coastal views. Photo Source: Fabcom on Flickr
Shimoni, located in South Kenya coast is a port town famed for its ocean side fascination and prevailing beauty. It's a destination that intrigues tourists by its coastal culture. If you love fishing, this is the best place to engage in deep sea fishing. Enjoy coastal fishing and cruising in Shimoni, a perfect destination for a short holiday.
Kiwayu
    Photo Source: Worth Baker on Flickr
Kiwayu is an exclusive island located in the east coast of Lamu Archipelago. The scenic island lies in the Kiunga Marine National Reserve. It's an unspoiled destination suitable for a comfortable, quiet and relaxing holiday – a perfect island getaway. Enjoy the beauty of the shoreline and engage in water sports including fishing on the island. The best way to experience the island's magical views and amazing surroundings is to take stroll along its tracks.
Nyali
Nyali Beach. Photo Source: Ruth
Nyali is a coastal area that offers a lot of fun and adventure for vacationers. Located close to Mombasa, the destination offers visitors a variety of attractions and secnic spots on the coast. You can opt for a relaxing picnic or explore the area on foot while you take in the scenery of your surroundings. Nyali offers an unspoiled coastline and sea views that will take your breath away.
We pulled this list because we are obsessed about Kenya's coastal destinations. Have you visited any of these destinations lately? Share your experience with us in the comment below.