Many of the exquisite and luxury Kenyan accommodation are found in Mombasa. No city or town in Kenya can match the supreme scope of cottages that we have in Mombasa. The cottages range from cute houses to beach retreats on the North and South coasts. These cottages are mind-blowing as well as seductive with natural beauty which surrounds them. You'll never stop smiling on your vacation because these cottages are beautifully designed with impeccable design and style which makes them feel more like a home than any hotel accommodation.
We present to you great cottages in Mombasa where you can have a good night's rest and wake up to a beautiful day:
1. Kusini Cottage
Kusini cottage is a magnificent masterpiece located along the Kenyan coast, in front of the ocean. This cottage is an ideal vacation home for families. This romantic cottage features 2 en suite bedrooms, a big kitchen, a veranda and a beautiful garden. Built with coral bricks and makuti – coconut palm tree leaves on the roof. There is a swimming pool which perfectly emerges from the beach and you'll enjoy water bay views that delight you and make you feel at home. Visit: Kusini Cottage
2. Kivulini Beach House
This beautiful beach house will give you a wonderful experience you will always cherish. Located on the south of Diano Beach in Mombasa, Kivulini Beach House is a home away from home cottage, ideal for family vacation. The house features fully air-conditioned four double bedrooms, sheltered living area, sitting room and dining area. The house is decorated for comfort and relaxation with traditional coastal style furniture and local fabrics. All the bedrooms have sea views and views of the surrounding coconut grove garden. You will sure enjoy your holiday at Kivulini Beach house and it will definitely be a memorable one. Visit: Kivulini Beach House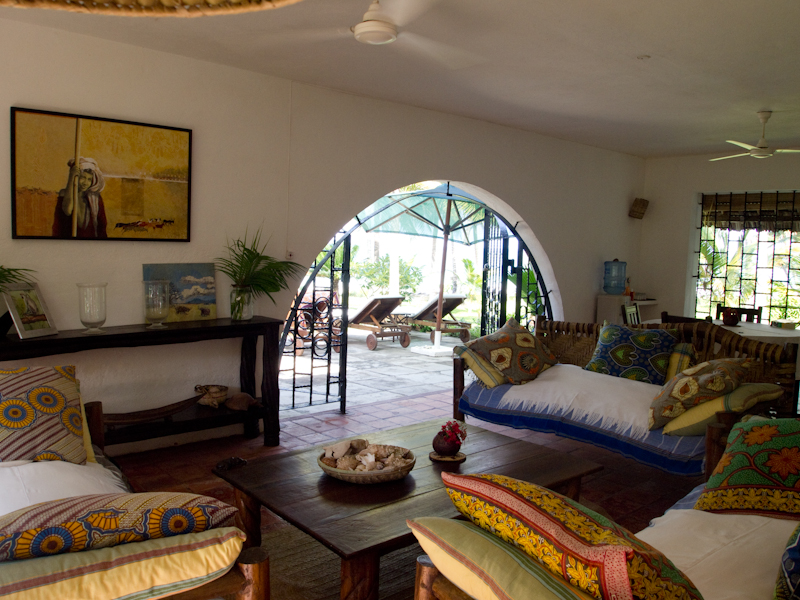 3. Takaungu Reach Beach House
Takaungu Reach is beautifully and strategically situated between the Takaungu Creek on Kilifi Plantation and Kilifi Creek, with a great view of the Indian Ocean, surrounded by baobab and sisal trees. Takaungu Reach is a romantic getaway for lovers and family. It is a two story courtyard that has a feel of the Spanish luxury buildings; equipped with a beautiful dining room, sitting room, veranda and kitchen. You have a private swimming pool all to yourself when you get accommodation here. Visit: Takaungu Reach
4. Villa Colobus
You wake up in a spacious room that is designed with the Swahili style of architecture in Villa Colobus, a cottage that magically translate accommodation into reality right on the Indian Ocean front, a private luxury cottage with a special surrounding that has been enhanced with stunning colourful Arabian lightening. There is a veranda where you can dine and watch the turquoise sea and people walk the white sands. Fully air conditioned, a modern kitchen, breakfast patio, lounge with bar and it is just the perfect place for you to sleep over. Visit: Villa Colobus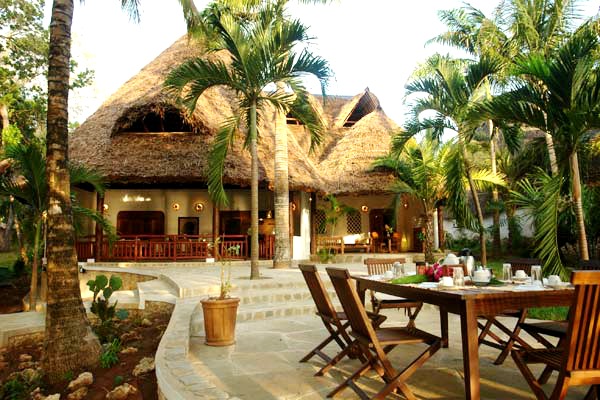 5. Waterside Villa
The Waterside Villa is a four spacious bedrooms with en-suite bathrooms, a mini kitchen with equipped fridge and a private jacuzzi, built around a swimming pool that has split level waterfalls. Interior is designed by Sabine Funk of Funzi Designs. To your left and right are secluded beaches and there are facilities for you to play golf, a stable for horses, even a provision for helicopter landings. It is one of the luxury cottages in Mombasa for a memorable vacation. Visit: Waterside Villa
6. Tiwani Cottages
Tiwani Cottages consists of two lovely cottages; the Sunrise and Sunset situated close to the Tiwi Beach. You are lodged in an environment that is peaceful with landscaped gardens and swimming pool. The bedrooms are en-suite with wash hand basin, shower and toilet and the sitting area can sit six people. Close to the cottages is the Leisure Lodge Golf course, area for kite surfing, diving and restaurants. Visit: Tiwani Cottage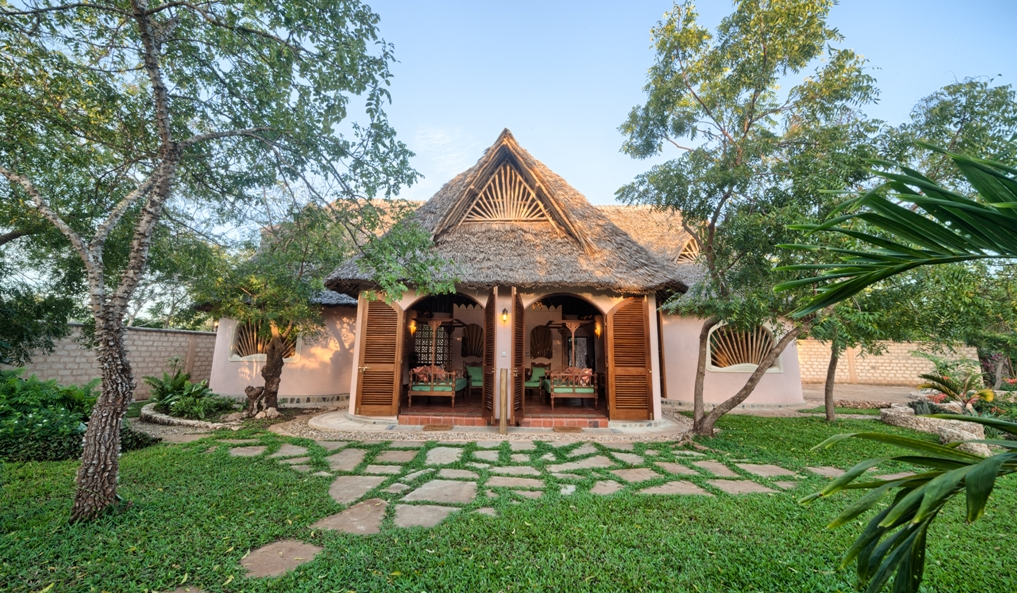 7. Bougain Villas
You find yourself mesmerized in this romantic little cottage paradise, located alongside a palm fringed beach with white sands on the shores of the Indian Ocean. The quietness, laid back rhythm that is experienced from the ocean is calming and captivating for a perfect holiday. Visit: Bougain Villas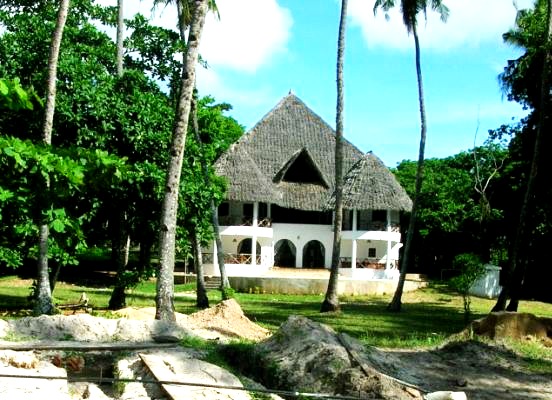 8. Villa Dora
Villa Dora is the perfect spot for honeymooners, singles and families who want a lush destination for their sleep over, with recluse and quiet white sand beaches to relax around. It can accommodate up to eight people with two bathrooms, one is en-suite, a well equipped kitchen, a collection of movies, a gated swimming pool and each room has mosquito nets on the windows, a chef service is available for you including a gardener, watchman and pool attendant. Visit: Villa Dora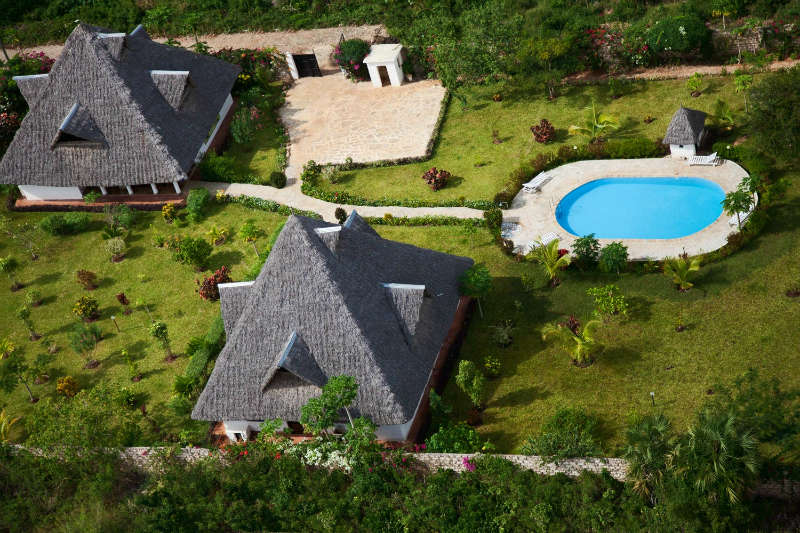 9. Taj Riviera House
You can experience a perfect view of the sun rise and sleep enveloped in the sounds of nature. Taj Riviera House is located where you can walk in a magnificent garden and have an unending experience in the different parks. It has three double bedrooms, with shower in the two bathrooms, condominium swimming pool, large veranda, equipped kitchen, patio and the Zanzibar Style of the wooden furniture gives a unique perfume to the surrounding and the warm breeze from the ocean blows the exquisite curtains, giving you that feel of a luxury accommodation. Visit: Taj Riviera House
10. Villa Punda Milia, Diani & South Coast
Villa Punda Milia got it all wrapped up for you when it comes to a dream sleep over place in Mombasa, a secure villa that is well ventilated and spacious. It is situated very close to Diana Beach and offers guests a tastefully surrounding that has the modern outlook of Africa. The villa is exotic with its palm tree leaves roof to make sure that you are never hot during harsh weather, equipped with a balcony outside to watch the environment, a love swing chair to relax with and surrounded with flowers and trees, with monkeys that are harmless playing around. Visit: Villa Punda Milia
11. Little Coconut Village, Diani Beach
Take a rest at this cottage that has a homely dining pavilion in the two mansions in Little Coconut Village, arranged for individuals, couples and families. Built with two cozy bedrooms that have double beds, bathroom with shower, toilet and a swimming pool where you can sunbath and connect to the world with your laptop. The beach is right in front of you to explore and the food here is inexpensive. Security here is tight and only authorized persons can have access to the cottage. Visit: Little Coconut Village
12. Tumaini Terrace Villa
Tumaini Terrace Villa brings home closer to you, with its double bedrooms, shower in the bathroom, a kitchen equipped with state of art facilities to make cooking enjoyable, WC and Veranda with the beach a stone throw, it is an hour drive to Mombasa International Airport and is a very beautiful place to sleep over. Visit: Tumaini Terrace Villa
13. Villa Malachite
Situated in Diani Beach with a spectacular view of the Indian Ocean and palm gardens, a master bedroom, two balconies and your living room leaves you to an unbelievable experience right from your bed. It has four spacious bathrooms that have a luxury shower, bathtub and two vanities that are placed on the granite counter, a separate guest toilet and private swimming pool. You have opportunity of playing around in the water activities at the Indian Ocean which is close such as kite surfing , jet skiing, diving and even playing golf.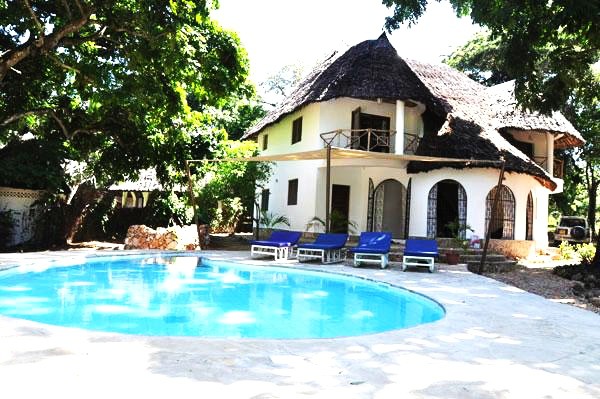 14. Senang Beach House
This cottage is beautifully designed in an Arab style. The house is located in Kilifi, north of Mombasa, in front of the ocean. The atmosphere is calm and cool due to the nice sea breezes. The house features 3 bedrooms, well-equipped kitchen, living room and a swimming pool shaded by palm trees. Senang Beach House is a special cottage that would give you that seclusion you need and also offer you closeness to fun and lots of activities. Visit: Senang Beach House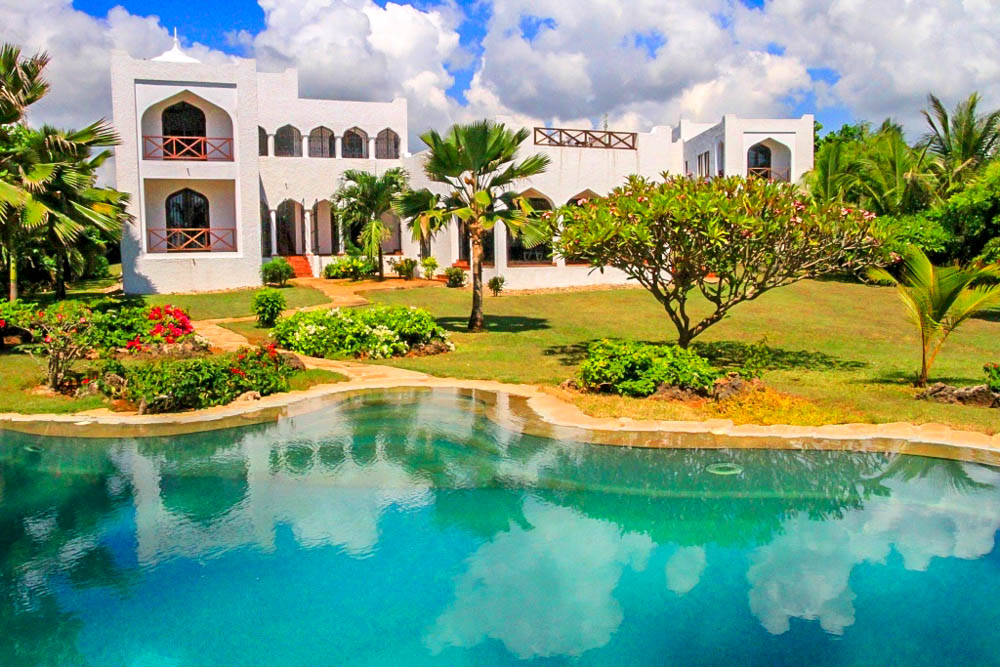 15. Villa Mapenzi, Diani Beach
Villa Mapenzi is a five star villa that is designed for travelers who love luxury and comfort, close to the beach and have a ten meter private swimming pool with security. It has three bedrooms, two bathrooms and can accommodate close to eight people with a provision of Maid service for you. A cottage where you can dine and relate with social activities is what Villa Mapenzi offers you, and the excitement around never seems to end. Visit: Villa Mapenzi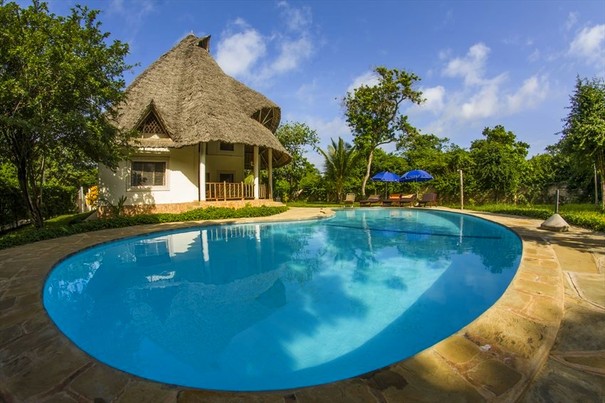 16. Takaungu House
Experience a colonial cottage that has this African charm attached to it with an amazing view of the sandy beach, it consists of two houses; The Private House and Takaungu House all in a well established beautiful garden. There is a double room that has en-suite bathroom and a veranda. There is the Tom's rooms that is furnished with Campaign or Arab furniture for the younger guests while the Master bedroom has en-suite bathroom, a huge Arab bed for any additional guest and morning veranda and perfect for families. Visit: Takaungu House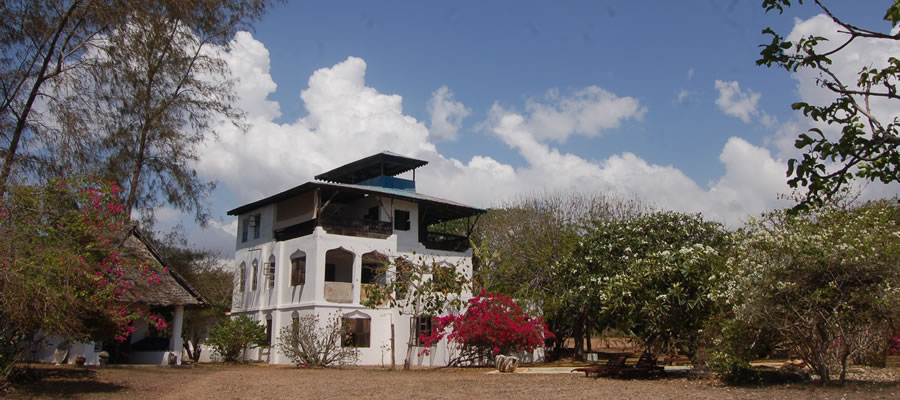 17. Asha Cottage
You have not seen it all when it comes to the Mombasa's cottages if you have not slept off in Asha Cottage, a charming home that is built according to the Swahili style, with a beachfront setting that stares at the Diana Beach, you gave a open air veranda that provides entrance to view of a swimming pool and the Indian Ocean. It has five rooms furnished with Afghan rugs, African fabrics, Swahili style Lamu ceilings, European art, and terra cotta floor tiles. There is a special treat of beauty and relaxation in its massage room. Visit: Asha Cottage
18. Villa Monique House
Built in the traditional marine style with a touch of the Western architecture, Villa Monique House has a roofed terrace that can be used as a dining and living area, its downstairs have a kitchen, two bedrooms that are air conditioned with a double bed and mosquito net windows and one bathroom with a WC and shower. Climb upstairs and feel the sea breeze and a view of the ocean. Visit: Villa Monique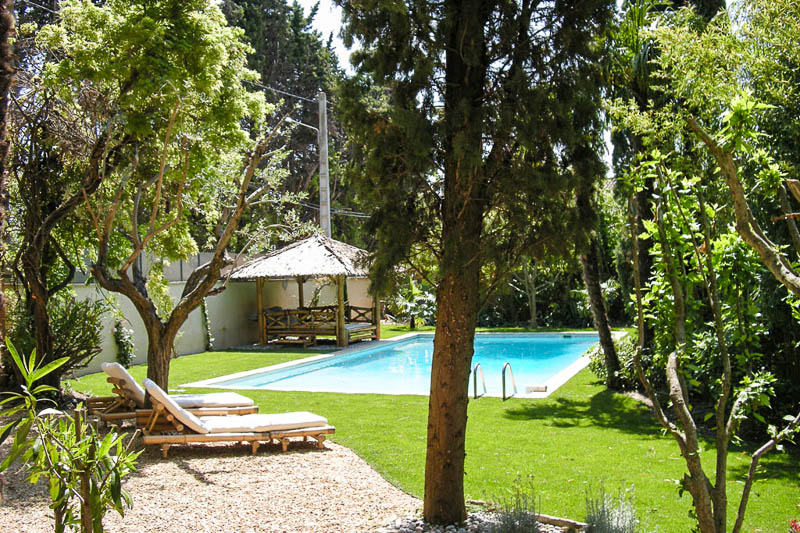 19. Divine Dove Villa, Diani Beach
Situated on the Galu Beach, which is more exclusive than the Diani Beach neighbourhood, Divine Dove villa is around some private homes, beach guest houses and boutique hotels that are along a pine fringed beach. A sleep over here offers you four bedrooms with lush double beds and air conditioned. Its master bed room have three beds, a single and one double and kids beds are provided on request, the balcony has a funzi bed that is ideal for siesta and afternoon rest. Visit: Divine Dove Villa
20. Watano House
This is a luxury beachfront villa that offers a seven en-suite bedrooms with the view of the Indian Ocean in each of the rooms. You have an infinity swimming pool and expansive gardens to relax with in Watano House. When you are here the outside world simple disappears and leaves you with a palm filled oasis that is meant to rejuvenate you in your relaxation. There is a dining and living area, an open air BBQ area, tight security and house staffs and gardeners who make your stay enjoyable and free of hassle. Visit: Watano House
You will definitely find the best Kenyan vacation cottage rentals in Mombasa, all at the best price available. These cottages will satisfy your longing for a real African holiday.
---
---