Kenya is a beautiful country with picturesque scenery and outstanding landscapes, some of which make it the ultimate wedding destination. The country has an amazing selection of wedding venues that will suit your nuptial dreams. A wedding in the wild, for instance, gets to appreciate the beauty of nature and wildlife as you recite your vows.  Beaches, on the other hand, are naturally just idyllic, with neat palm trees and a gentle breeze blowing across the white sandy beaches and sky blue ocean waters.
Lots of photographs are taken during any wedding and so it helps if the venue is picturesque. Some wedding destinations also come with the need to accommodate guests for the duration of the event. We present to you 14 best wedding destinations in Kenya that portray a touch of modern elegance and splendour for an unforgettable matrimony;
1. Hemingways Watamu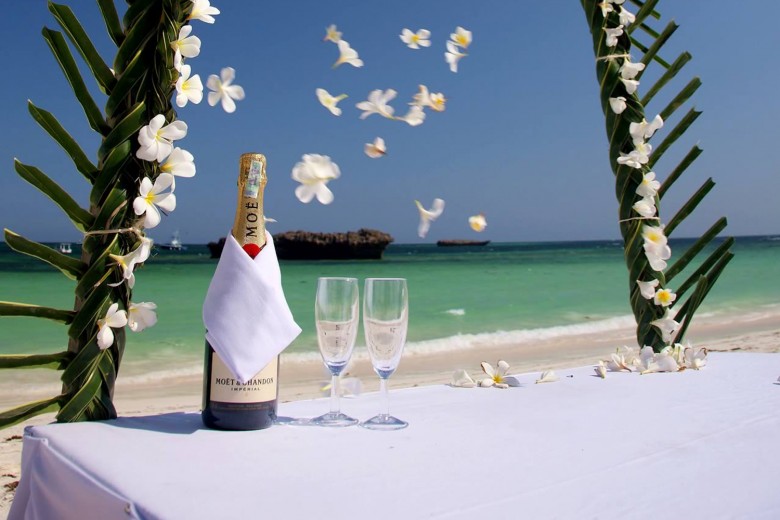 Few things beat a wedding by the beach, and more so if that beach is at the Hemmingways in Watamu. The luxurious beach resort is set by the Indian Ocean in Watamu where the aquamarine waters provide the perfect backdrop to your wedding, backed by the neatly- lined palm trees and white sands on the beach. There's the option of having the ceremony on the white sands by the beach or on the gardens in the shade of the neat palm trees, and Hemmingways goes all out, to ensure that your wedding by the beach is a dream come true.
The beachfront extends about 9 miles and guests accommodated in the posh rooms that open out to it, enjoy scenic views. The Resort also has a Spa where the bride and her party get to relax and prepare for the wedding since the hotel's wedding package takes care of everything relating to the wedding, including the cake and choir. If the weather allows, you get to sail around on a private Dhow as you toast to your new life together. And you will know for sure that the memories will last you a lifetime.
2. Maasai Mara
Platt and Woddy's wedding at Masai Mara | photo Source: Newlovetimes.com
If the wild means more to you than the beach, then by all means, have a wedding at the Mara. Maasai Mara is one Kenya's popular tourist destinations and it is famed for its selection of wildlife (and the Wildebeest Migration) and luxurious camps set amidst the extensive wilderness. A safari wedding will come with scenic views of the savannah and forest land, variety of cuisines and local cultural bits that will be topped by amazing sunset photos at the end of your day. Depending on the location or if you go on a game drive, an elephant or zebra or gazelle will appear on your wedding photos. And you can bet that you will always have a story to tell when your grand kids see your wedding photos.
3. Enashipai Resort & Spa
Enashipai is beautiful. It is located in Naivasha, by the shore of Lake Naivasha and it is a paradise that comes with incredible views of the Lake and Hills in the area. The posh resort is has expansive grounds with well-manicured lawns and trees that extend all the way to the lake. The wedding packages come with inclusive of beautiful setups and professional catering and the guests can use the grounds for the church service, photography session and reception. Couples also get Complimentary honeymoon night Full board accommodation in the Luxurious resort as well as a Classic massage at the Spa. Enashipai is an amazing place to honeymoon as well, and you can be sure to leave relaxed, with memories to last a lifetime.
Location: Moi South Lake Rd, Naivasha | Booking office: 5th Floor, Prosperity House, Westlands Rd, Nairobi
Contact email: [email protected] | Phone: +254 719 051000
4. Windsor Golf Hotel and Country Club
Windsor Golf Hotel and Country Club is located on Kiambu Road with incredible views of the surrounding landscape and serene ambiance. The hotel grounds are extensive and there are different venue options depending on the number of guests you have and you can choose from several dining options as well. In addition to the lush fairways on the golf course, there is a Garden Pond, a manmade lake and a dam. You get to choose which one you want to be the backdrop of your wedding based on your budget and guests. The location also works really well for photos, and once you are done, you can have your honeymoon night in the Hotel that offers 5-star accommodation.
Location: Kigwa Road, Ridgeways off Kiambu Road, | Contact email: [email protected] | Phone: +254 722 203 361/2/3/4
5. Diani Reef Beach Resort
Beach weddings are honestly a dream for many people, and Diani Reef understands that and strives to ensure that you have the time of your life. Set at the South Coast in Diani, the resort has a beautiful beach where weddings are held amid breath-taking views of the turquoise Indian Ocean waters that extend to the horizon. You will get some of the best Coastal photos in Diani, and you can be sure that the sunset will be picture perfect as well. The hotel's facilities are top notch and the food is amazing, ensuring your guests get only the finest. In addition, you get to take part in activities like swimming during your wedding weekend.
Location: Mombasa | Contact email: [email protected] | Phone: +254-722509998, +254-0734330031
6. Luxury Country House – Mukima House, Nanyuki
For those who would prefer to spend their wedding day in a location with spectacular views of the snow-caped Mount Kenya, Mukima House in Laikipia is an amazing destination. Mukima House is set within the tranquillity and warm climate of Laikipa and the velvet lawns and scenic landscape makes for a great backdrop to any wedding. You have at least 10 spot options for the ceremony, including the lawns overlooking the Dam or by the swimming pool.
Location: Mukima Ridge, Nanyuki | Contact email: [email protected] | Phone: +254 020 3882755; +254 726 332399
7. Fairmont Mount Kenya Safari Club, Nanyuki
Nanyuki's Fairmont Mount Kenya Safari Club is a leading luxury wedding destination in the Mount Kenya region. The hotel is classy and features modern furnishings while the extensive grounds feature lush green manicured lawns and a life size maze that are a popular spot for guests at the hotel. Views of Mount Kenya from the hotel are incredible, and the beautiful gardens and serene ambiance make this Safari club a top wedding venue.
Location: Mount Kenya, Nanyuki.  
8. Rusinga Island Lodge
Rusinga Island lodge, located on the shores of Lake Victoria is another great wedding destination. Have your wedding on the Lodge's expansive manicured grounds that stretch out to the Lake, and enjoy the cool lake breeze and tranquil atmosphere. The Lodge will offer posh accommodation for your guests as well, and you are bound to love the food and complimentary services for the bride and groom.
Location: lake Victoria, Kenya | Contact email:  [email protected] | Phone: +254 716 055924 / +254 734 402932
9. Voyager Beach Resort
Voyager Beach Resort is another amazing wedding destination at the Kenyan Coast that offers plenty of activities and fine dining. Have a memorable wedding by walking down the aisle on the beautiful lawns, or on the shores of the Indian Ocean as you stare into the beautiful blue unending waters. The cool ocean breeze will breathe life into your new union and symbolize a great start to your life together. (In the same family of hotels are the Great Rift Valley Lodge, Mara Intrepids, Samburu Intrepids, Voyager Ziwani Tsavo and Siana Springs).
10. Tafaria Castle and Country Lodge
Tafaria Castle is a posh Lodge set on the foot of the Aberdares, with beautiful views of Mount Kenya and Laikipia Plains. It was built with royalty in mind and the medieval English architecture and beautiful grounds are just the perfect place to live your fairy tale dream wedding.
Location: 65km from Nyeri towards Nyahururu, Kenya | Contact email:  [email protected] | Phone: +254 700 151 480; +254 708 877 244
11. Sarova Lion Hill Game Lodge
Sarova Lion Hill Game Lodge overlooks the picturesque Lake Nakuru and offer guests access to the Lake Nakuru National Park. It is a great destination for couples that want a Great Rift Valley location with a feel of the savannah, complete with tall acacia trees and tended greens. Bird species are in plenty on the site and it would be a favourite for bird lovers.
Location: Lake Nakuru National Park, Rift Valley, Nakuru County | Contact email: [email protected] | Phone: +254 20 2767000
12. Serena Beach Resort and Spa
Serena Beach Resort and Spa is set by the Indian Ocean and in addition to the amazing sandy beach, there are Persian gardens as well as a separate events centre on site. Amenities and services on Serena are top notch and there are beautiful spots where you can have photos taken to crown your dream beach wedding.
Location: Malindi road 1 Shanzu beach, Mombasa| Contact email: [email protected]| Phone: +254) 732125000 
13. Lake Naivasha Sawela lodge

Sawela Lodge is set on the shores of Lake Naivasha, with sprawling lawns and idyllic views of the Lake that extend to the horizon. There are different packages, all out to ensure that you get your happily ever after in the most memorable location and atmosphere.
Location: Moi South Lake Road Naivasha| Contact email: [email protected]| Phone: +254 712 215 434
14. Lake Naivasha Panorama Park
Lake Naivasha Panorama Park is in Naivasha as well, but it is set on a hilly area overlooking the lake, as opposed to the shores of the Lake itself. It offers guests panoramic views of the lake and the surrounding with tranquillity and sophistication and makes a great location for a destination wedding.
Location: Naivasha, Next to Naivasha Police Station and DC's Office| Contact email: [email protected]| Phone: +254 71 209 1777; +254 70 295 1250
SEE ALSO: Top 20 Honeymoon Destinations in Kenya
Have we left out any great destinations? Let us know in the comments section below.