When thinking about travellers and their vehicles, what do we consider to be the all-time favourite? Airplane? Train? How about the Motorcycle? Does the bicycle get a second look? Sure, we cannot travel from continent to continent on a bike, but sitting securely as the number 1 most economic form of transport it deserves some time in the spotlight. Now however, the question is, where should we go to discover the adventures on offer with our new favourite form of getting around? Our list of bicycle friendly cities across the world should help you out! Strap on your helmet, and get reading.
Copenhagen, Denmark
Photo credit: danculture.dk
The number one bicycle city in the world is a great place to start our trip. Come rain or shine (throw some snow in there too) HALF THE POPULATION of Copenhagen are out and about on their bikes. Our favourite part of the bicycle culture is the dedication to making every point accessible. Bridges, bridges, and a more bridges. All, of course, only available for cyclists and pedestrians alike. If for some reason, you had to choose one bridge to see, and no others, head on over to Snake Bridge. An architectural, and artistic, masterpiece, this bridge is a sight to behold. Situated seven metres above the harbour there is nothing better than taking a slow pedal across one of the most interesting bridges on earth for the bicycle lovers out there.
With approximately 480km's of bicycle lane to explore, and bikes to rent around every single corner, there is no excuse to stay inside.
Bicycle statistic: Copenhagen has more bicycles than cars.
Utrecht, Netherlands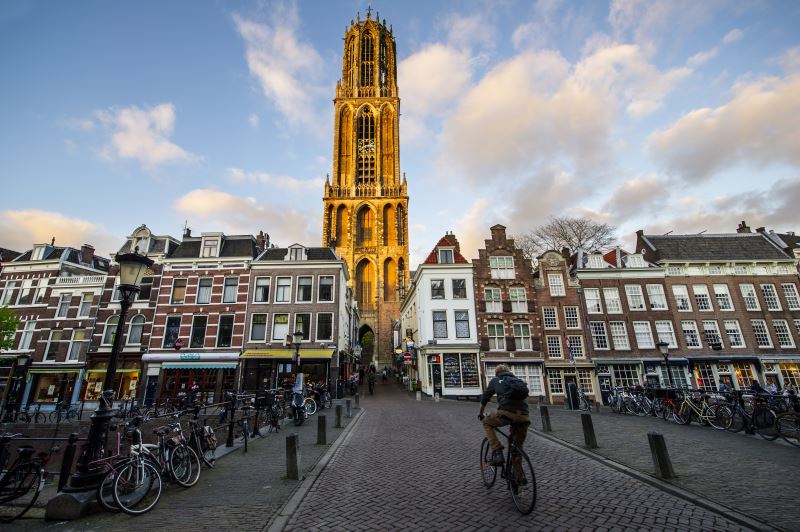 Photo credit: emarketingblog.nl
The Netherlands has a firm grip on the number one spot when talking about bicycles per capita – an astonishing 1.3 bicycles per person. Utrecht is no exception when it comes to the culture across the rest of the country, with their city-centre being zoned as a car-free area, and their outskirts having cycle tracks through their breathtaking countryside. Rolling wooded hills and beautiful lakes make cycling this city an absolute pleasure.
One of the cornerstones of their bicycle development is a system called 'Flo' which is a speed tracking system that advises cyclists to speed up or slow down to catch the next light. Just incredible, well done Utrecht!
Bicycle storage: Utrecht boasts the world's largest bike garage, toppling the previous holders Tokyo.
Amsterdam, Netherlands
Photo credit:  Vimeo America ByCycle
Ah, Amsterdam – what a joy you are!
Comfortably in the top 3 bicycle cities in the world for many, many, years, Amsterdam is an absolute visual feast for travellers and residents alike. The beauty of this city is often overlooked when going by public transport, or any other type of motor vehicle. Our suggestion when planning a trip to Amsterdam is always the same; slow down, take a deep breath, and just keep pedalling.
With over 800,000 bicycles in this city, you'll have to be careful where you ride, but you are always left wondering – where is everyone going?
Bicycle social commentary: There has been a steep rise in scooters across Amsterdam that is being addressed at a political level; such is the influence of the cyclist in this beautiful city.
Strasbourg, France
Photo credit: telegraph.co.uk
Uncontested as France's bicycle capital for many years, Strasbourg is starting to feel a little pressure from the likes of Bordeaux and Paris. However, the spot is still safe for now. With the goal of doubling the number of cyclists in the city by 2025, the powers-that-be have got their work cut out for them. It's easy to see why Strasbourg is so popular for cyclists; it's beautiful, VERY beautiful. Boasting an incredible network of bike sharing known as the Velhop system, you will be shocked at how many rental bikes there are floating around the city.
The city will, however, have to address the uniformity of systems. It can become confusing when entering different parts of town, as you may switch from one style of bicycle system to another. All in all, though, Strasbourg truly deserves its spot in the top 5 of bicycle cities in the world.
Bicycle love: Strasbourg is truly beautiful
Malmo, Sweden
Photo credit: eyesuncloudedphoto
This small city has taken massive steps to ensure the safety of its cyclists and is a stand-out in this list. A game changer for them was the introduction of its driver awareness campaign that included a sensory system that alerts drivers to the approaching of cyclists at intersections. Shifting focus to the safety of cyclists was a smart move and shows encouraging intention to strengthen the cities already growing reputation as a global leader in cyclist safety.
The addition of the cyclist only ferry from Malmo to Copenhagen was another inspired move. Linking your city to the number 1 cyclist city in the world has a definite knock-on effect.
Bicycle statistic: nearly 30% of all trips made in Malmo are done by bicycle.
Antwerp, Belgium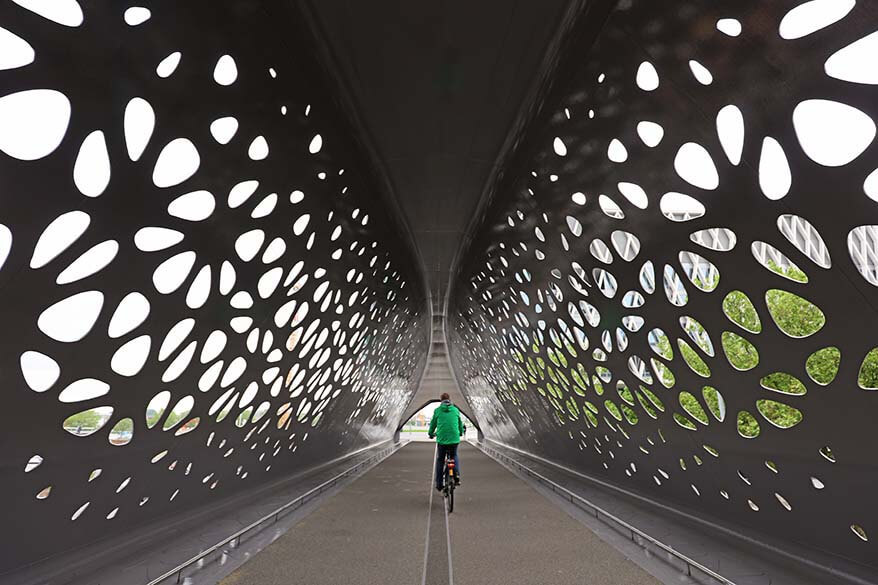 Photo credit: fullsuitcase.com
Antwerp, as the most populated region in Belgium, has done impressive work to establish a bicycle culture within its city centre, and an ever-increasing awareness in the outskirts. With bicycle tracks leading out to the country-side castles, Antwerp has made enormous strides to become a hotspot for the bicycle-loving tourists.
The bike parking at Central Station has signalled real intent to increase the cycling infrastructure throughout the city, potentially spilling over to the rest of Belgium.
Bicycle fact: Antwerp is looking at adding state-of-the-art bicycle parking throughout the city and for use at large events.
Tokyo, Japan
Photo credit: hisgo.co
Stepping out of Europe for the first time, we enter the madness that is Tokyo. With the cycling percentages a lot lower than our European beasts above, it might not look as impressive, but with 14% of the population hopping on their bikes daily it's important to remember just how large that number is. Let's use another statistic to put that into some sort of context. Of the 20 million people that use the railway system daily, 4 million of them cycle to the station of choice.
As for infrastructure available – ample! Taking cycle tours of the city is a fan favourite for travellers to Tokyo, and really is an impressive way to get deep into the city and its culture.
Bicycle observation: it will be interesting to see what Tokyo has in mind for the 2020 Olympics as the hoards stream into the city adding to the already impressive amount of occupants.
Portland, America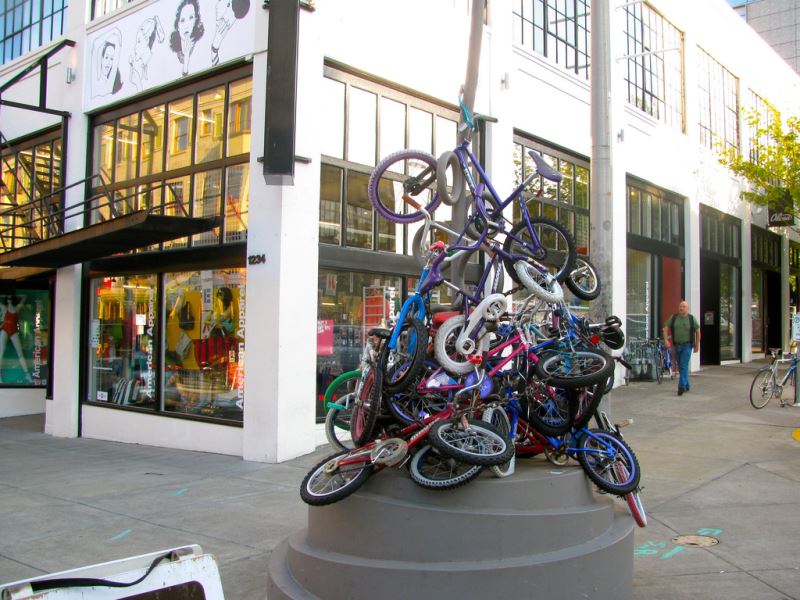 Photo credit: aarp.or
Our pick for the number one vegan-friendly city in the world, we return once more to Portland to congratulate them, but this time, for their bicycle friendliness. Although not in the league of it's European and Asian counterparts, Portland is making massive strides to becoming a world leader in yet another growing industry.
An interesting, yet much-needed initiative being addressed in Portland is the need to offer bike riding lessons. The city has launched a campaign to teach not only the skill of bike riding but the etiquette required when hopping in the saddle. With safety being the number one goal, Portland is making all the right noises, and the competition should be wary.
Bicycle fun fact: the city of Portland has included bike lockers in its campaign model, along with the standard bike sharing.
Montreal, Quebec
Photo 9: peopleforbikes.org
Our final stop on this cycle tour is the second North American entrant, and what a way to end it is. The global leader in bicycle lanes boasting a whopping 600 kilometres of cyclist only track, Montreal recognised the trend early and threw itself at the task vigorously. The cold weather for a large part of the year does put a dampener on the cyclists, but the intent is clear; CYCLE MORE.
Montreal, importantly, plays host to a bicycle festival every year which draws in numerous cyclists of all ages from across the globe. Timing your trip to this magnificent city is important, as this festival is not something you want to miss.
Bicycle awareness: Montreal made the mistake of not including infrastructure which held best practices for bicycles. This, however, is being addressed, and bicycle bridges will be popping up all over the city soon!
That's the end of our recommendations for now. Why not sign up for our weekly newsletter and be the first to take advantage of fast-selling fares to your favourite Vegan destinations? Click here to never miss the best travel deals.
Feature Image Credit: theestablishment.co