Is there anything sweeter than sipping a glass of red wine on a summer evening, feeling the warm breeze of the ancient sea on your skin and watching the relaxing waves of the Mediterranean sea? The Mediterranean breeze carries ancient stories and songs within and if it touches your skin, you can't help getting inspired.
The Mediterranean with its cuisine, variety of cultures, as being the cradle of ancient civilisations provide more than just a holiday. It offers a unique experience to its visitors.
We have made a list to inspire you, let's take a look at it before you add them on your must-see destinations list:
1- Provence-Alps-Côte d'Azur/ France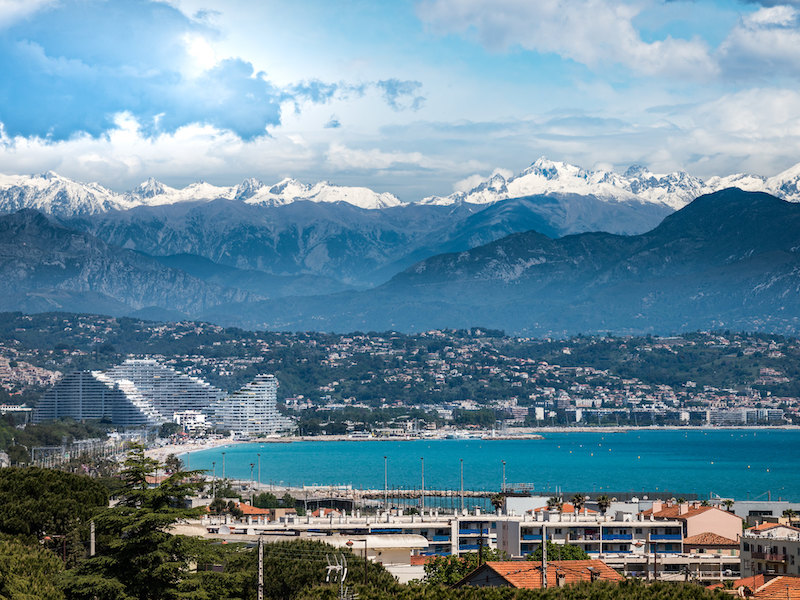 Located in the south of France, its glamour is known all around the world. From the breathtaking beaches of Cannes to medieval villages of Eze, from elegant churches and art deco buildings to the lavender fields of Grasse, there are so many places to explore. You can tour in the back roads and get lost in ravishing scenery: lavender fields, olive groves and the view of crystal blue of the Mediterranean sea will teleport you to a movie scene.
Awe-inspiring religious architecture, contemporary art and Roman heritage – Cote D'Azur is filled with cultural experiences. The cultural calendar is full of modern and unusual holidays; one of the brightest and most awaited festivals is Carnaval de Nice. Avignon became the permanent venue for one of the world's biggest theatre festivals. At the time of the festival, the whole city turns into one huge theatre stage.
This stunning coast of France gained fame even before the Film Festival of Cannes. The region hosted many celebrities, writers and artists including Picasso, Rénoir, Cézanne, Matisse, Francis Bacon, Somerset Maugham, and Aldous Huxley. Elton John and Brigitte Bardot who have bought a house in the region. No wonder one feels like in an impressionist painting absorbing the soft lights of the sunset! Sounds romantic, right?
Food gratifies the soul of French and the cuisine of Cote D'azur is a great example of that. You can try soupe au pistou as a starter. Bouillabaisse is a regional dish that requires a minimum of four types of fresh fish cooked in a rockfish stock with onions, tomatoes, garlic, saffron, and herbs. For an unforgettable gastronomic Provençal experience, don't forget to taste the season's first-press olive oil on a local farm. We strongly advise you to crown your trip with a chilled glass of stunning vintage wine, whenever and wherever you can!
2- Costa del Sol/ Spain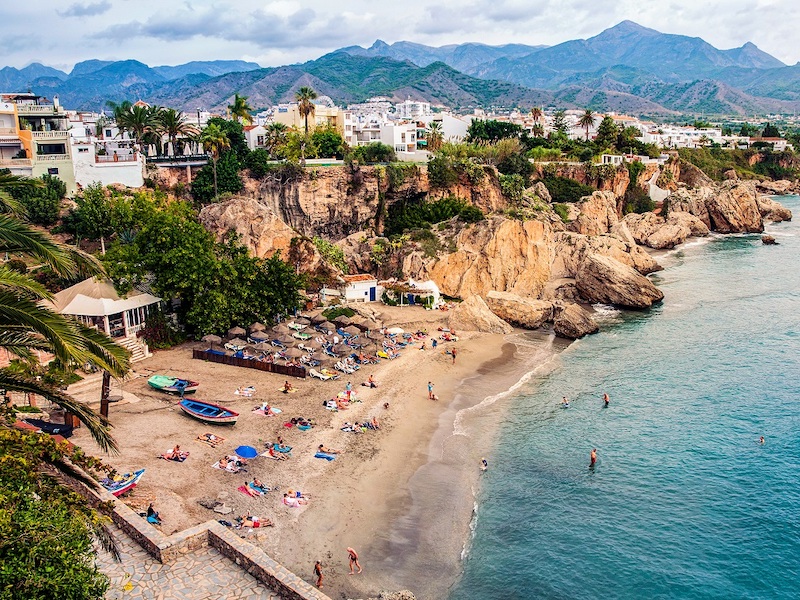 Costa del Sol offers a vibrant culture, from tasty food to colourful festivals, from flamenco to some great museums and galleries. It has developed so rapidly that it is hard to believe this place was once filled with fishing villages. Benalmadena resorts, aquariums, watersport activities, white Andalusian architecture, endless sun are some of the things await you in Costa del Sol.
Costa del Sol is made up of the city of Málaga and a number of coastal towns, including Torremolinos, Fuengirola, Mijas, Nerja and Marbella, all with a rich history that spans nearly 3,000 years. It has 320 days of sunshine a year which makes it an amazing destination for the ones who want to absorb the sun at any time of the year. The Old Town here in Malaga with its stunning architecture and mosaic-cobbled streets is a must-see.
You can take a short drive into the mountains from Malaga and visit some small and rustic Spanish villages sprawl across the Sierra characterised by whitewashed architecture and streets lined with orange and lime trees. As the birthplace of Pablo Picasso, Malaga has always had a strong connection with the arts. Riogordo is a haven of winding streets, characterful locals, with a number of delightful restaurants and bars, it's a great place to experience the true rural Spanish lifestyle. Make sure you don't miss the views across the Sierra at sunset, as the whole village winds up to a summit point, it's a breath-taking scene to witness.
Nerja's retro vibes, Mediterranean beaches, and culture make it a unique place. Quaint, narrow streets and clifftop restaurants with the view of the Andalucian coastline are purely charming.
You can't go back home without trying Tapas and Sangria or watching a flamenco show which you can find in Malaga's Old Town. We advise you to check El Jardin Cafeteria as flamenco shows run there all year round.
3- Aegean Coast/ Turkey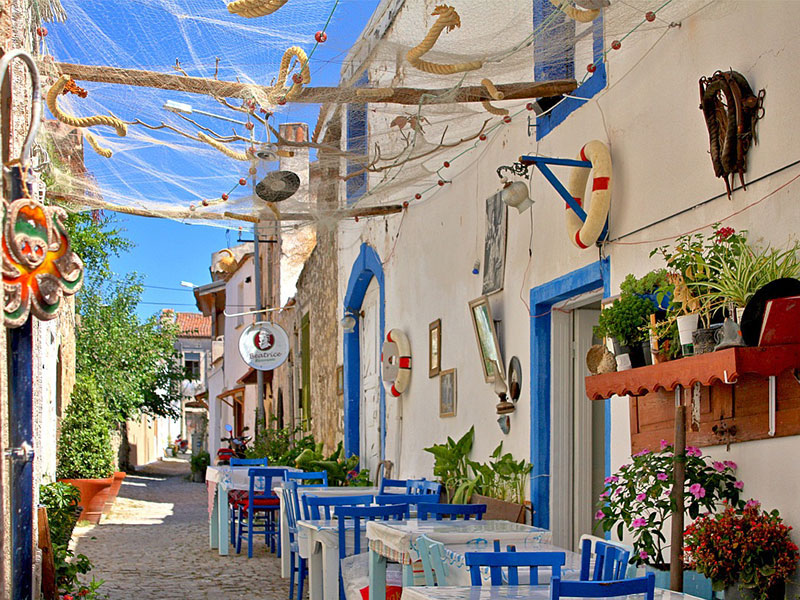 The Aegean Coast of Turkey stretches from the North near Istanbul, down the coastline to the boundaries of Marmaris, and is a great choice year-round with its clear blue skies, dazzling beaches, turquoise water, undiscovered coves, ancient ruins. There are attractive small resorts dotted along the coastline where you can mingle with the laid back locals sipping their teas, playing backgammon, chatting and smoking their shishas at the cafes at every corner. You can sip your drink in the evenings on any rooftop terrace furnished with comfy sofas and share some mouth-watering local food with your friends or family.
Variety is the only consistent feature of this captivating coast with its wild mountain ranges and rugged coastlines with sensational beaches. Life moves slowly, with adorable cats rolling on the streets. There are many little boutiques which decorate the cobblestone streets where you can shop traditional clothing, handmade colourful crafts and souvenirs. Nightlife is very lively especially in the summer months of June, July, and August. To visit Ephesus, the ancient city is an archaeological must for visitors.
Being the cradle of civilisations and a bridge between the West and the East since ancient times makes this coast historically and culturally very rich. While olive trees enhance your sight, local food cooked with refreshing Mediterranean spices and washed down with some freshly juiced pomegranates enhance your taste buds. Tasting fish or calamari at a seaside restaurant, with the warm evening breeze, the smell of the sea, a few musicians playing local songs, some refreshing mezes including eggplant salad, hummus, yoghurt with local herbs, and some Turkish raki describes a Mediterranean evening on the Aegean Coast of Turkey.
Your mouth is already watering, right?
4- Amalfi Coast/Italy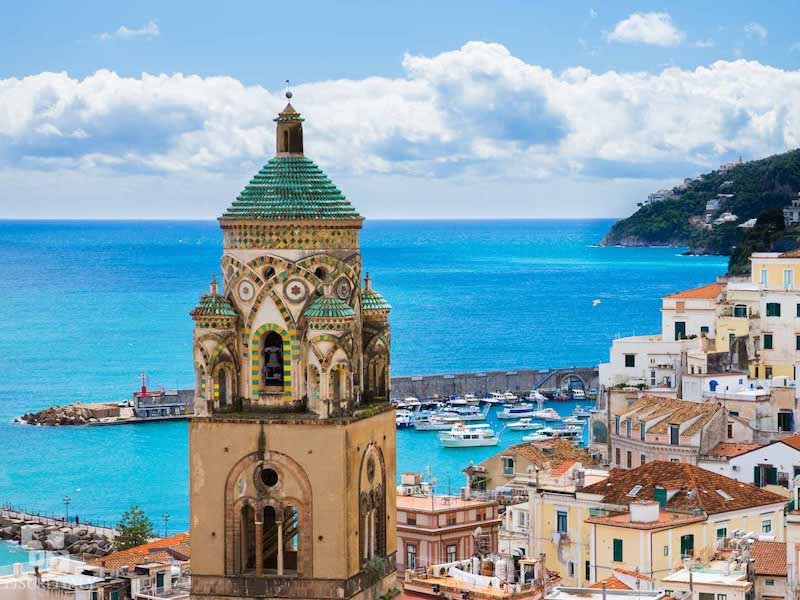 The 50-kilometre stretch of coastline is a UNESCO World Heritage Site and is comprised of dozens of towns, beaches, caves, and cliffs. The most famous of these are Positano, Amalfi, and Ravello.
Amalfi Coastline is a dream destination for many, not only because of its postcard views but for their cultural significance. When said Italy, we remember and imagine healthy pizzas with countless types of tasty sauces drizzled with olive oil, topped with the finest local cheese coupled with some good old red wine and backdropped by historic architecture, stunning greenery, and rustic middle-aged churches and monasteries. For those who would like to experience Amalfi Coast, there are so many options from cooking classes to ancient towns, from ancient monastery homestay choice with a local family, or visiting vineyards.
As Italy has been the centre of art since ancient times, there are a number of inspiring art galleries to visit. In Positano, visit Franco Senesi Fine Art, you can't help stumbling upon laid-back local art galleries as you wander around. In Naples, head to the Capodimonte Museum and National Galleries. UNESCO World Heritage Site of Pompeii is a must-visit. Pompeii was an ancient Roman city destroyed in AD 79 when Mount Vesuvius erupted and covered it with ashes and fumes.
Italy is the world's best destination for culinary enthusiasts and the Amalfi Coast is known for buffalo-milk mozzarella, Caprese salad, homemade pasta with local clams and seafood and sweet sfogliatelle. Wash it all down with some limoncello, a lemon-flavoured liqueur crafted from simple syrup and Sorrento lemon zest.
Jaw-dropping views and tasty cuisine of the Amalfi Coast is a big must-see!
5- Greek Islands
There are 6,000 islands and islets scattered in the Aegean and Ionian Seas, of which only 227 are inhabited. Beaches stretching over many kilometres, sheltered bays and coves, sandy beaches with sand-dunes, pebble beaches, mythological stories, unique archaeological sites, with a distinctive architectural heritage, fascinating local traditions, all to be found on the Greek islands and they have a lot more to offer. With historical sites such as Acropolis, local boutiques in Rhodes town, whitewashed houses, and monasteries, islands are perfect for the ones who want to absorb the Mediterranean culture, or for the ones who are looking for an amazing escapade from the chaos of the big cities.
Greeks are known for their wine, they even had a mythological god named Dionysos for whom they would drink more wine! The tradition seems to continue even today.
Any traveller knows that exploring a place means to also indulge in the delightful tastes and flavours on offer. In Crete, try Dakos salad, made of hard bread (paximadi or rusks, lightly soaked in water so that they are softened), accompanied with tomato pieces, mizithra cheese, and olive oil. Also note down Hohlioi boubouristoi (fried snails), sounds weird but yummy!
After waking your taste buds up, it's time to dive into the deep blue Aegean!
6- Coasts of Malta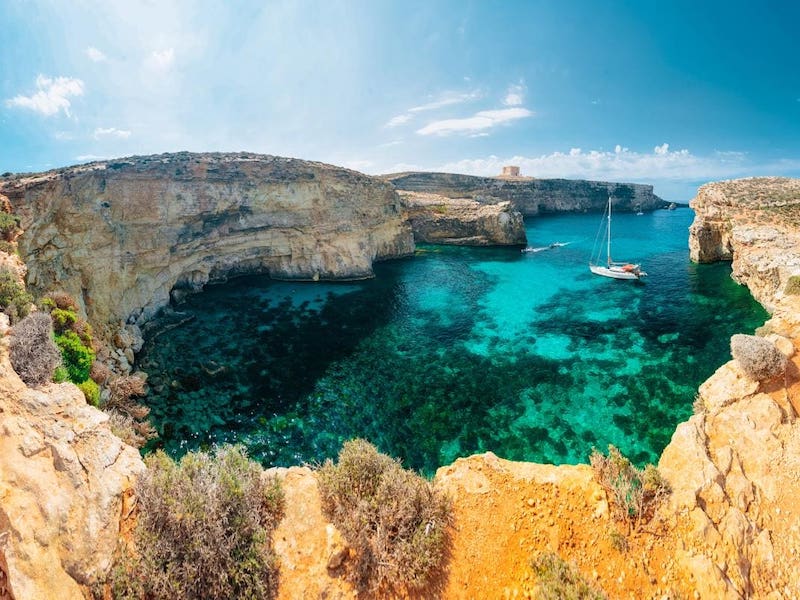 Malta might be small but it will leave a big impact on your memories! It's located in the centre of the Mediterranean and its landscapes are otherworldly, astounding pre-historical temples and hidden coves. The Maltese archipelago has received a lot of attention recently thanks to Valletta, the capital's 2018 European Capital of Culture status.
Mdina, the country's capital from the 8th to 16th centuries BC, is also known as the silent city. This is because most visitors come during the day, leaving the streets cloaked in lamplight and quiet after dark. You can also discover some subterranean cemeteries, with clusters of tombs and ceremonial halls carved into the limestone. Mysterious right?
The best thing about the Mediterranean destinations is that people are unbelievably friendly and hospitable, as in some towns they help you even you don't need any!
Malta is a mix of cultures, yet Traditional Maltese food mixes Sicilian and Middle Eastern flavours while making use of local ingredients such as rabbit and honey.
7- Coasts of Cyprus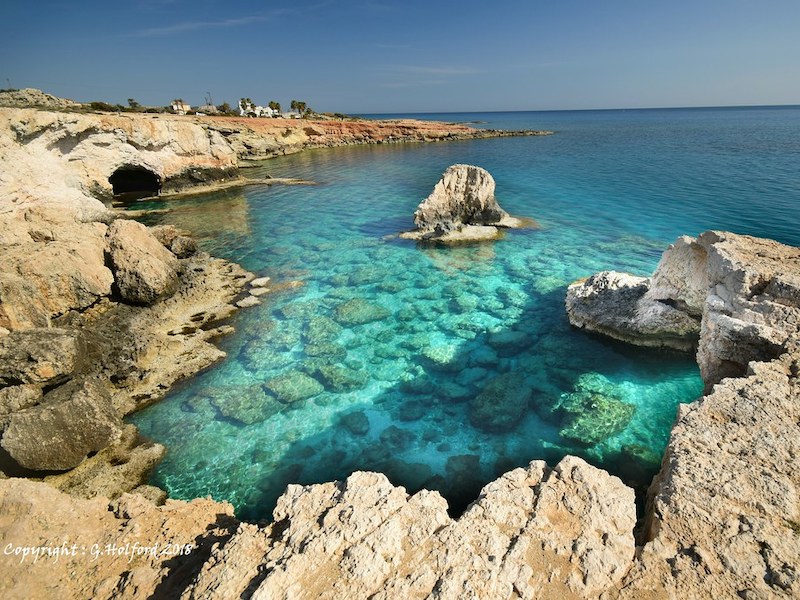 Cyprus is the third largest island in the Mediterranean, located south of Turkey and west of Syria and Lebanon, and northwest of Israel. The island is divided into two, the South and the North. Greek Cypriot and Turkish Cypriot societies are intrinsically different yet incredibly similar, traditional family life and a rich history where food cultures and folk customs have intermingled, but divided by belief.
It's an island of vivid culture, beautiful landscapes, and its multilayered past with the examples of Neolithic dwellings, Phoenician tombs, and Byzantine churches take one's breath away. As you wander around, you can run into and observe the architecture or remnants from the Lusignan, Venetian, and Ottoman periods.
With a rich history and a location that crosses three continents, the island has seen a variety of influences, all of which add to the local gastronomy. Try Halloumi, as its Cyprus's most famous, distinguishable by its mild salty flavour and rubbery texture, the delicacy has become a favourite for chefs across the globe. Kopepia (stuffed vine leaves) and gemista are other delicacies of the island.
We guarantee these coastal regions will satisfy your travel appetite. Book your ticket in advance to get the better flight and accommodation rates for a soul-soothing Mediterranean experience.
Share if you have been to any of these places in the comment section below.