What are your plans for this weekend? No idea? Let us help you with that.
We all know, when you are with friends or family the quality of the time is more important than where you are, but aren't you tired of hanging out at the same places over and over again? But hey, we've sorted out 5 great hidden restaurants in Nairobi for you! Tell your loved ones, it's time to discover your next hanging out place!
Take a look at these five hidden restaurants in Nairobi, who knows maybe you'll find a place that feels just like home to you!
1. Wasp & Sprout
Photo Credit:

yummy.co.ke
Speciality: Sprout Omelet
Opening Hours:
From Monday to Thursday: 08.00 – 17.00
Friday: 08.00 – 20.00
From Saturday to Sunday: 08.00 – 14.00
Bookings: +

254 799 873422
From Tripadvisor, Evaristontour says;

Healthy or naughty, you choose

Best brunch in Nairobi with a surprising and unique menu. A lot of vegan and vegetarian super tasty and original options – you can go back a thousand times without getting tired of it. Relaxed spot perfect to go with friends or alone with a book. Enjoy it!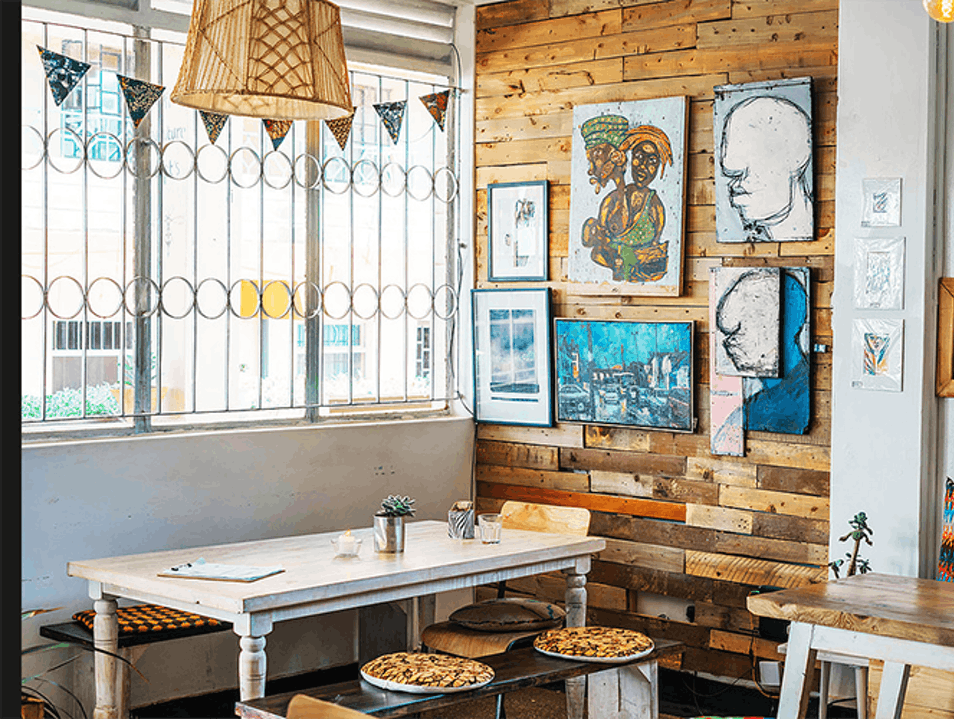 Photo Credit:

afar.com
Wasp & Sprout is an eco-friendly & unique coffee house-restaurant located in Loresho Ridge. It has vegan, vegetarian and gluten-free options. On some days, you can run into an Open Mic Night or a Board Game Night. It is a friendly, simple, transparent and full of green place where you can enjoy a strong and healthy breakfast, quick lunch or even a long & nice brunch with your loved ones. You may also, grab a book from one of the shelves and read while enjoying your coffee on the inside or the outside! While you're there, we suggest you take a sip of their earl grey milkshake! You can also buy furniture and homewares from Wasp & Sprout, they have been a supporter of the concept of fair trading and local artisans by mentoring, training and of course selling their craft works.
2. Petma Restaurant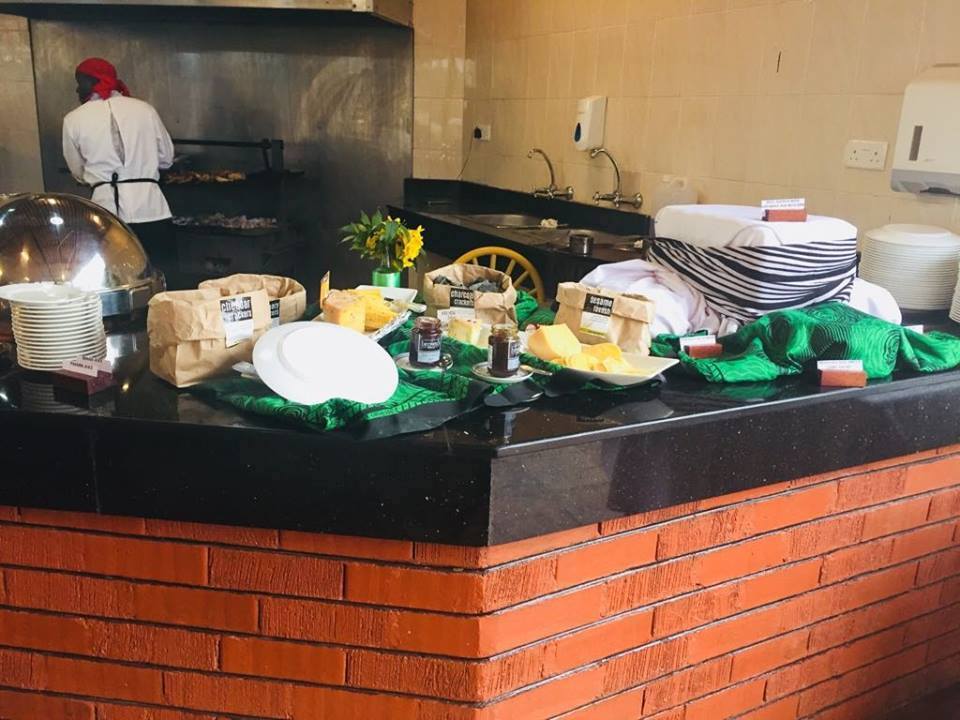 Photo Credit: Facebook/Petma-Restaurant
Speciality: Brik
Opening Hours: Everyday: 06.00 – 22.00
Bookings: +254 721 473721
From Google reviews, Erick Oeri says:

The food is great and affordable. The location is convenient especially if u are using a cab or walking. A great meeting place for small groups.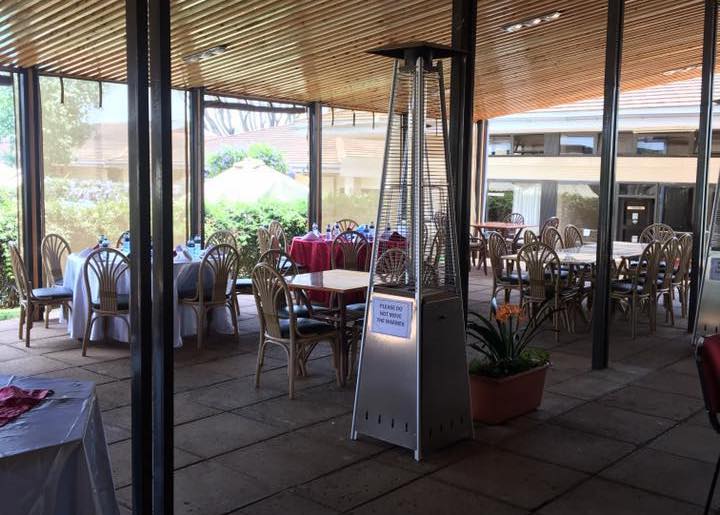 Petma Restaurant is one the best Kenyan Restaurants which is a blend of an extensive menu full of varieties, romantic atmosphere, and chic interior. They prefer to use organic foods as much as possible even when they're catering! If you want to enjoy tasty traditional African food, you can even book for an event such as; cocktail party, a business meeting or a wedding this the right place for you. On a hungover day, please enjoy the delicious hungover soup!
3. The Arbor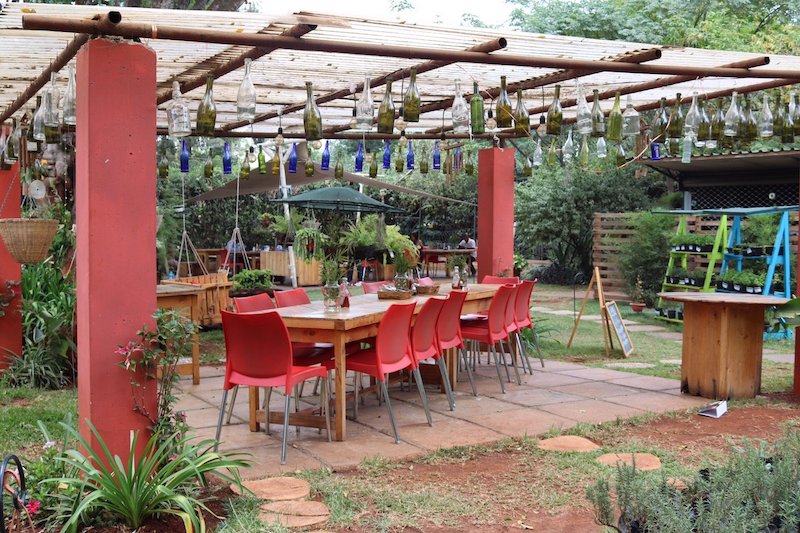 Photo Credit:

binnysfoodandtravel.com
Speciality: Burgers
Opening Hours: Closed on Mondays
From Tuesday to Saturday: 09.00 – 22.00
Sunday: 09.00 – 17.00
Bookings: +254 729 400291
From TripAdvisor, simba432 says;

A lovely lunch

Such a pretty place with flowers and green happy plants all around. The staff is friendly and nice, I had a delicious piece of chocolate cake, salad, and a latte. Super place!
If you like outdoor cafe/restaurants, The Arbor is just the place for you! The Arbor's staff are very friendly and the restaurant is eco-friendly! They call themselves the healthiest restaurant in town which is a courageous thing to say but as far as we're concerned they're right. We suggest you go on a brunch time when there are special offers with amazing flavours. With large portions and affordable prices, you and your friends would love it here with classic cocktails on a peaceful and cosy garden.
4. Tin Roof Café
Photo Credit: afrotourism.com
Speciality:

 

Ottolenghi Salads
Opening Hours: Everyday: 08.30 – 17.30
Bookings: +254 706 348215
From TripAdvisor, Simon H. says;

Colourful, peaceful, good food and drinks.

Set in a peaceful colourful garden with beautiful artefacts.
Good food choices and drinks, very relaxing.
Photo Credit: whispery wind
Tin Roof Café is actually started against the idea of Nairobi's fast-growing mall culture. The owners thought that people need more green places than they ever were. As an outside and green place, Tin Roof Café invites people to have lunch under the sunlight with your friends or kids. This eco-friendly café has vegan, vegetarian and gluten-free options in every section of the menu! They prepare their food with organic produce and don't use plastic straws or any irreversible products. Tin Roof Café also has a twin in Langata with the same point of view against the malls. We think that Tin Roof Café is the best eco-friendly Kenyan Restaurant in Nairobi. If you're a green lover&protector, you may have just discovered your favourite spot in Nairobi!
Tapas Ceviche Bar
Photo Credit: barskenya
Speciality: Tapas
Opening Hours: Everyday: 07.00 – 01.00
Bookings: +254 726 303030
From trip advisor, Juan M. E. says;

Authentic Spanish tapas in Kenya!

Food was excellent, the seasoning was truly from a Spanish grandma's recipe. The service was very good and the ambience unique.
Ready for a chill night out? Well, this is just the right place for a chill night out with friends and where it feels like a real hidden place! Tapas Ceviche Bar has excellent Spanish and Mediterranean cuisines. After a course of a great meal, you can enjoy special cocktails or even classic ones! Tapas Ceviche Bar talks to everyone! You will definitely be comfortable with your friends, family or even in a business meeting! Just try to keep up with those delicious Sangrias.
We can't even choose "the one" from these five, why not give it a try to all and decide which is your new all-time place to go? If you think of better hidden restaurants in Nairobi, please share it with us in the comments below!