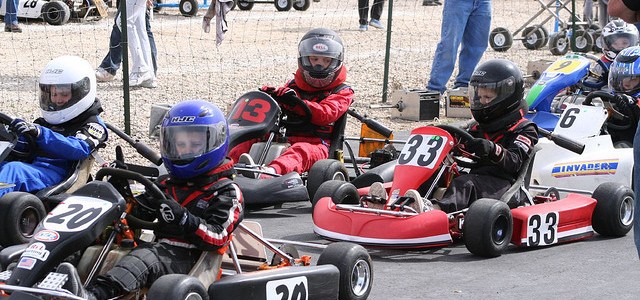 It is a foregone conclusion that Kenya is one of the most exotically beautiful destinations in the world. Millions of tourists fly in every year to experience the wonderful scenery and weather offered by the Coast and to enjoy the warm, neighbourly reception from the locals. Although, Mombasa and most of the coastal region make up for a big chunk of why Kenya is so attractive, the capital city, Nairobi, is a jewel worth marvelling at as well. If you are one for tall skyscrapers and bustling streets, not to mention a voracious night life, then for you, Nairobi is the place to be.
So, once you have had your fill of white sandy beaches and never-ending sunshine, here are 30 fun things you can do in Nairobi when you visit.
1. See Interesting Animals at Nairobi Safari Walk
The Nairobi Safari Walk is a conservation-based recreational facility like no other. Only 7KM from the bustling Metropolis, here you will find a sampling of what wildlife in Kenya has to offer. Not only is the setting exceptionally serene, but you will get a chance to see some of the rarest animals on the planet. These include: the white Rhino, the Bongo and even the Albino Zebra. What this walk offers, is a chance to see most of Kenya's wildlife within a single setting.
2. Shop at the Maasai Market
     Photo Source: The advocacy Project on Flickr
The Maasai culture is perhaps the most renowned of Kenya's ethnicity. As a tourist travelling within Kenya, buying a Maasai culture-based souvenir should, and will be one of the things you want to do. There is nowhere better than the regular open air Maasai markets held in Nairobi. These markets are nomadic and within them, you will find everything from local paintings, curios, drawings, wood carvings, jewelry and East African based Fabrics. However, you have to know where and when they will be held.
3. Visit the Village Market

The Village Market is one of Kenya's leading shopping malls. Not only does it have amazing shopping outlets that carry a wide variety of both local and international trinkets, it also has a wonderful open air food court. Here, you can have a taste of dishes from a wide range of cultures, including local cuisines. It also boasts a well equipped Cinema, a water slide and bowling alley.
4. Dine at the Carnivore

The Carnivore Restaurant on Lang'ata Road is one of Nairobi's, and indeed Kenya's, revered open air restaurants. Dining here is an experience to treasure. The most outstanding aspect of this restaurant is not the fact that the ambiance is world class, but that you get to have your choice of game meat while enjoying that ambiance. Do you feel like having a bit of Crocodile? Maybe Ostrich or Zebra meat is more your style? At the Carnivore, you can have a taste of all these and many other game cuisines. You can also indulge in local and international beers while you are at it.
5. Go Karting on Lang'ata Road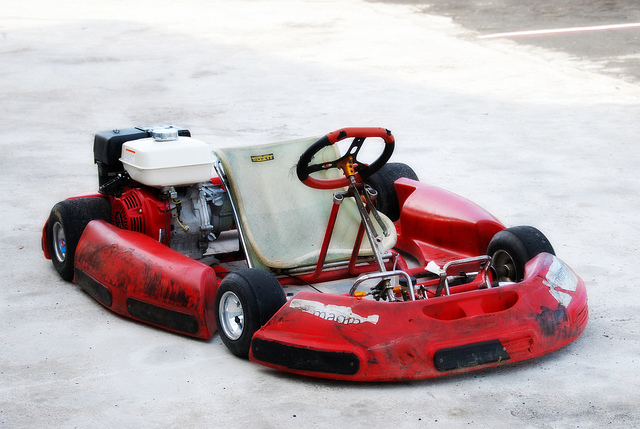 Most of us have thrilling adventures. If speeding is your poison of choice, then you can Go Karting on Lang'ata road when you visit Nairobi. The facility offers you 10 minute sessions of speeding and racing your compadres through a windy track that can be floodlit at night.
6. Go ice skating at Panari Sky Center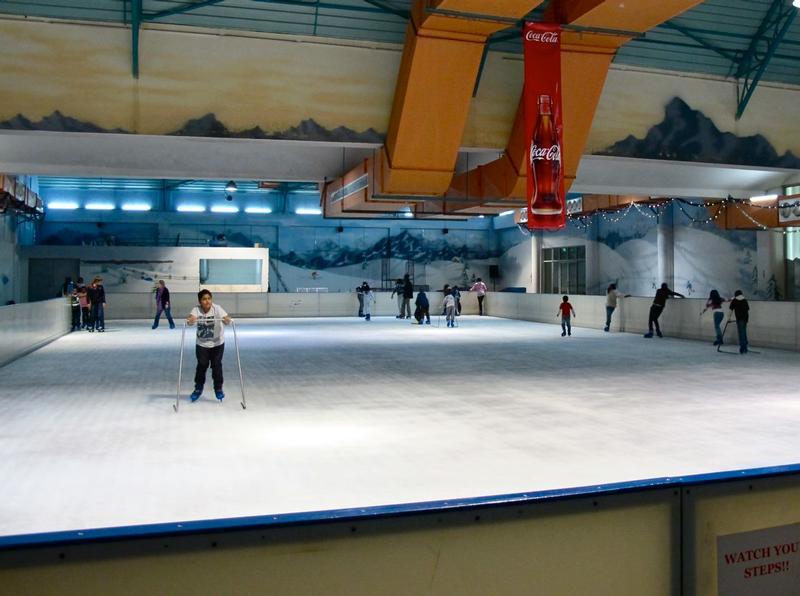 If you want to experience more speed and try out your ice skating skills on East Africa's first ice skating rink. It's a wonderful experience that you get to enjoy within an amazing facility that is only minutes from the Airport. The Panari Hotel is one of the highest rated hotels in the country.
7. Admire Kenyan Art Collections
For those of us who are cultured, a trip is incomplete without gracing the local art scene with our presence. Among the most outstanding and engaging art galleries in Nairobi, is Banana Hill Art Gallery. This is one, among many, of the most comprehensive art galleries featuring East African talent. The stunning sculptures and painting will take our breath away. Just on the fringes of Nairobi, near the Village Market, Banana Hill Gallery is a wonderful place to go and appreciate local artistic talents.
8. Watch Local Plays
      Photo Source: Grace Blue on Flickr
Sticking with arts and culture, the local theatre scene is riddled with outstanding plays every other night. Alliance Francois, Kenya National Theatre and Phoenix Players are some of the most popular theatrical power houses in the country. There are frequent plays, almost every evening, from any of these theatrical giants. Most of the plays are very entertaining with political and marital satire being the main theme.
9. Discover the German Culture at Goethe Institute
As a cultural powerhouse, the Goethe Institute, Nairobi is one of the best places to go to when you want to learn about the local art scene. Here you will find, local music, plays, art, and events that are both entertaining and culturally educating. It is one of the places to go if you want a taste of the local art scene. It also helps that it is right next to Alliance Francois, one of the leading theatre outlets in the country.
10. Visit the Nairobi National Museum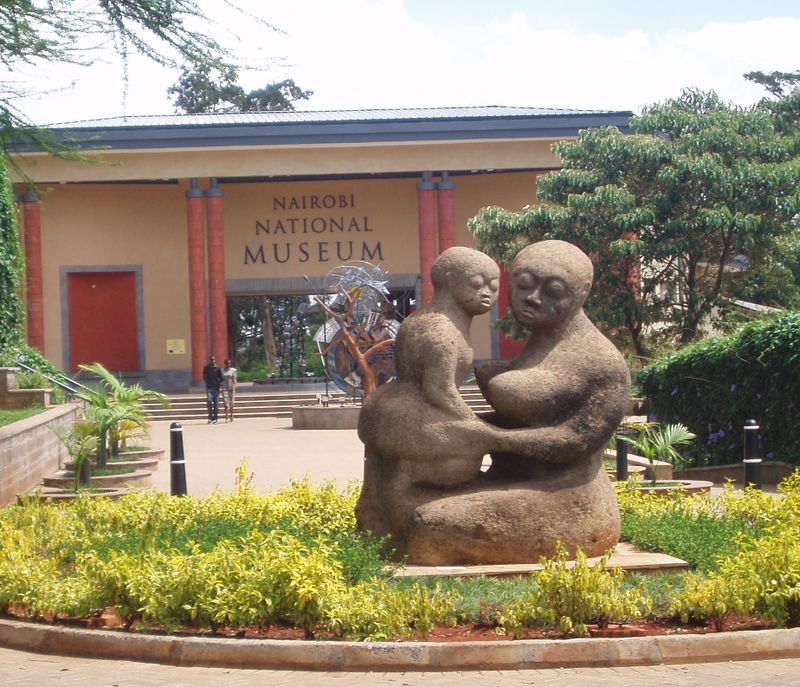 Just as Nairobi Safari Walk gives you a sampling of what the country has to offer in terms of wild life, the Nairobi National Museum gives you a taste of Kenya's heritage. Additionally, you will find wonderful dining facilities, a beautiful botanical garden and eclectic shopping facilities.
11. Have a taste of Kenyan history at The National Archives
For a taste of Kenya's history, visit the National Archives situated right in the middle of the City. Here you will find all sorts of historical records that will help illuminate Kenya's past.
12. Visit Mamba Village
'Mamba' means Crocodile in Swahili. As the name suggests, this is a crocodile sanctuary. Near Karen, you will get a chance to see real crocodiles sunbathing and feeding. You also get to enjoy some of the most exquisite local cuisine the country has to offer.
13. Chill at the Whistling Thorns
This is a beautiful….beautiful place just outside of Nairobi. Only an hour from the city center, this is where serenity calls home. Tented camps, beautiful paths, scenic sunsets and a view of the Ngong Hills worth dying for, the Whistling Thorn will blow all your worries away.
14. See the ageless beauty of Kenya from K.I.C.C Helipad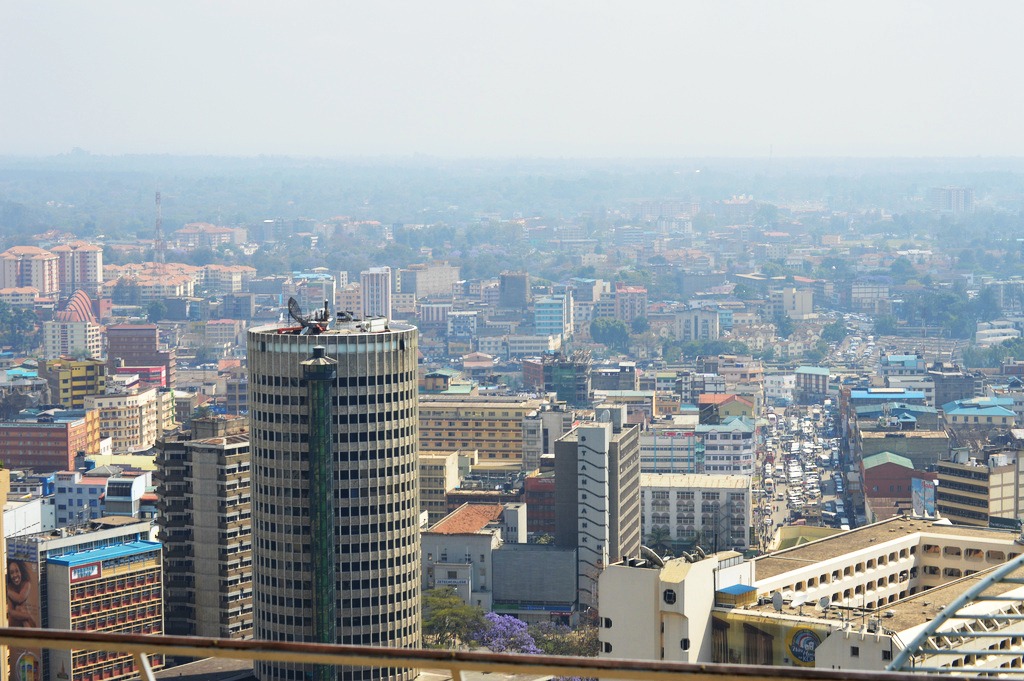 Although this will take some doing, the view from up there is worth it. If you can talk your way into it, going up on to the K.I.C.C Helipad, will give you a grand view of the entire city. You can see the whole of Nairobi and its environs from up there. It is simply breath taking.
15. Dine at Le Palanka
Le Palanka, is an African Cuisine at its best. The ambiance is exceptional, the food is delectable and the service is outstanding. African cuisine has never been wrapped in such wonderful light.
16. Watch local Rugby Matches
Kenya is renowned in the rugby world for its blisteringly good 7's side. Enjoy some of the local matches at the Impala grounds on most weekends and experience where all that talent comes from. These events are always graced by Kenya's wealthy mid-class. This means there is always a party going on.
17. Cross over to Rolf's Place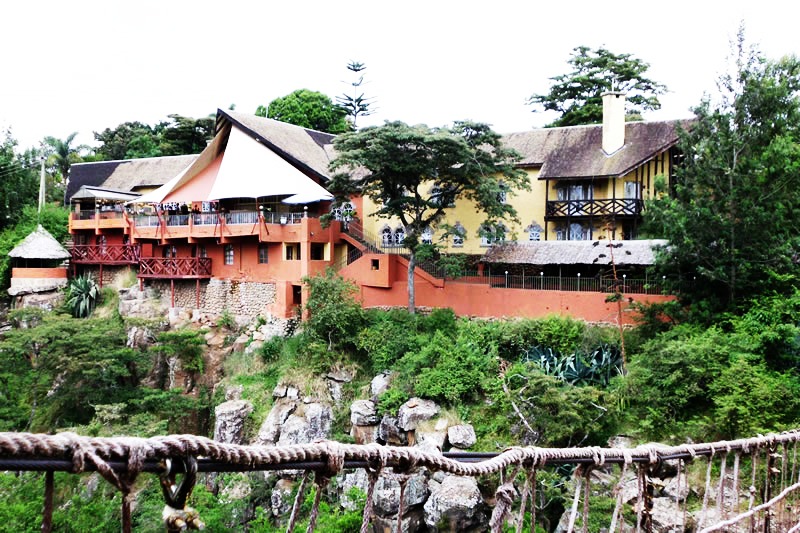 An outstandingly beautiful cliff side resort, Rolf's place is best known for its exceptional tranquillity, the gorge you have to cross over before getting to the restaurant and paint balling.
18. Resurrection Gardens in Karen
Sheer tranquillity! That is all that can be said about this place. When you want to completely leave the rest of the world behind you, head to 'Resurrection gardens' in Karen, and experience serenity at its most tranquil state.
19. Visit The Elephant Orphanage
The Elephant Orphanage in Lang'ata gives you the rare opportunity to have an uninhibited view the majestic giants – Elephants. You will get to experience firsthand just how devastating poaching is in the world. It also gives you hope, for within all that anarchy, there is a sanctuary for the baby elephants left behind.
20. Visit Ngong Racecourse
Ngong Racecourse is the only thoroughbred racing venue in the country and the only horse racing course in the whole of East Africa. The grounds also offer a great deal of entertainments, besides the excitement that comes with betting on race days, you can enjoy other events such as the Concours d'Elégance, Shaggy Dog Show and Beerfest.
21. Splash Water World
This is mainly for the kids. Splash Water World has some of the best and most thrilling water slides in the country. Adults can also enjoy local dishes and beers while their children enjoy themselves.
22. The Maasai Ostrich Farm
Taking a tour of the Maasai Ostrich Farm not only gives you a chance to come face to face with these majestic flightless birds, but it also gives you a chance to ride one of them. There are also some great bird watching facilities as well as an outstanding resort where you can spend the night. You can also order a delicious Ostrich Meat platter.
23. Go to OlePolos
Roughly an hour from the city, OlePolos is known as the goat meat central of Nairobi. Situated on an expansive piece of land, here you get to enjoy scrumptious roast meat and drink some of Kenya's finest beers. It makes for a wonderful family outing.
24. 7D Cinema at Thika Road Mall
We all know of the 3D Cinema phenomenon, now imagine a 7D cinema! You will experience almost everything on and off the screen. You seat will rock; you will see and feel the whoosh of the bats and for all intents and purposes, be part of the movie.
25. Nairobi National Park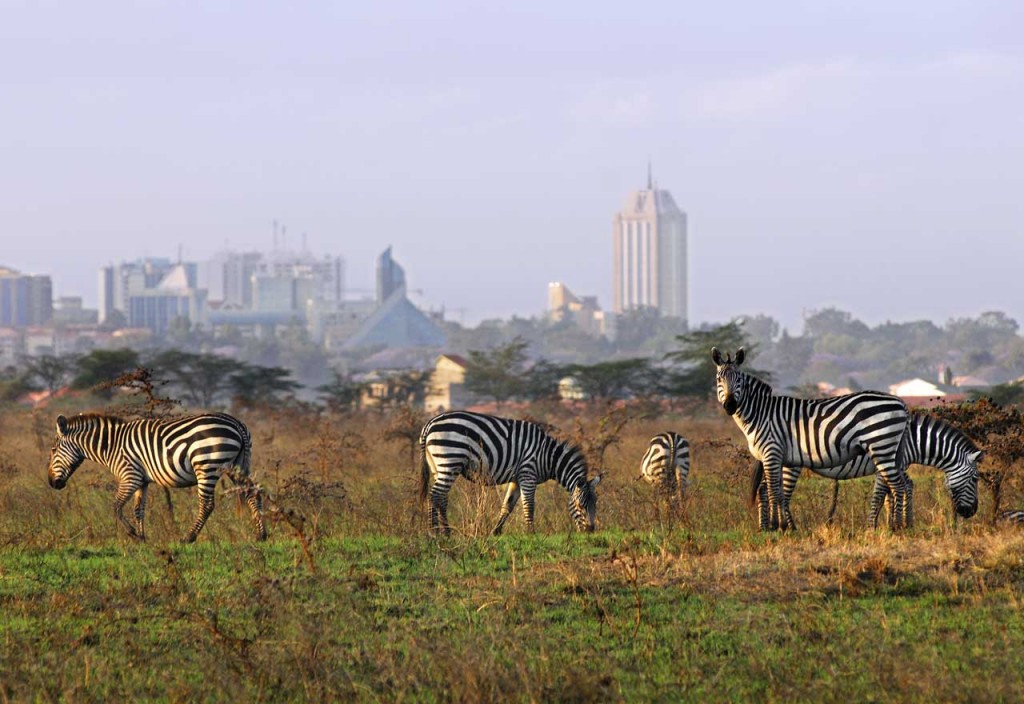 What would a trip to Africa be without at least one sighting of the 'Big Five'? At the Nairobi National Park, just minutes from town, you will find these veraciously wild animals roaming about for your viewing pleasure.
26. Touch the Skies at the Giraffe Center
Pet or feed them and even touch their tongues; at the Nairobi Giraffe Center, you get to be right at home with these incredibly tall and beautiful creatures.
27. Slither to Nairobi Snake Park
View the deadly 'Black Mamba' up close and an assortment of other dangerous and harmless reptiles at the Nairobi Snake Park. Being situated at the National Museum grounds, you can also enjoy the serene environment and dining facilities on offer.
28. Float to the Butterfly Center
Here, you get a chance to see countless butterfly species in this serene environment. It is absolutely beautiful and offers some soft landing after being on the road for so long.
29. Sample locally brewed beer at Brew Bistro
Kenya is well known for its signature brands; Tusker and Pilsner Larger. But that is not all it has to offer in terms of beer. Brew Bistro is one of the country's leading mini-brewers. It offers an assortment of lagers, stout, ale and delicious biting topped off with a wonderful atmosphere.
30. Enjoy the night life
Night life in Nairobi is like in any other metropolitan city, absolutely jumping!! Starting from the city center to the Electric Avenue in Westlands, you will be spoilt for choice when it comes to exceptional bars, restaurants and clubs. You can even go to Nairobi West, where you will find some of the best local bars. Or, you may go to Lang'ata and see how Nairobi's mid-class party!
Nairobi is absolutely outstanding. It is no wonder it's called 'The City In The Sun'.