Since the inception of Facebook, Kenyans have used it as a medium to share information, empower people or market their products and services. With Facebook pages, Kenya stands out in a big way.
We combed through the web to find you 25 great Kenya-based Facebook Pages that you would absolutely love. These pages are awesome and they publish good content to engage their fans.
1. Kenya Nights
Kenya Nights is an event photography service in Kenya; they host and execute world class events in the entertainment industry. They use their Facebook page to engage and entertain their fans.

2. Eat Out Kenya
Eat Out Kenya is Kenya's favourite restaurant guide and booking service. Their Facebook page provides fans with information on the best restaurants to visit in Kenya. They have great combination of valuable and fun posts for their fans.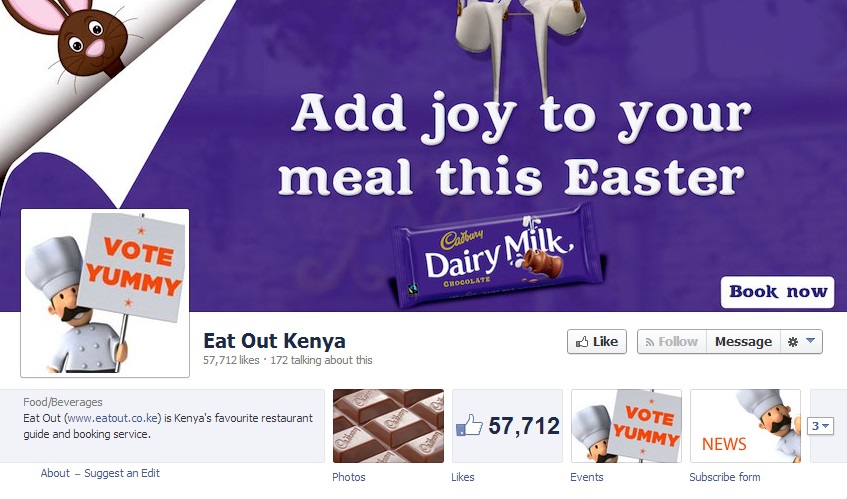 3. MagicalKenya
MagicalKenya Facebook page is the official fan page for the Kenya Tourism Board. They use the page to promote and market Kenya tourism to fans. The page has fantastic engagement with fans.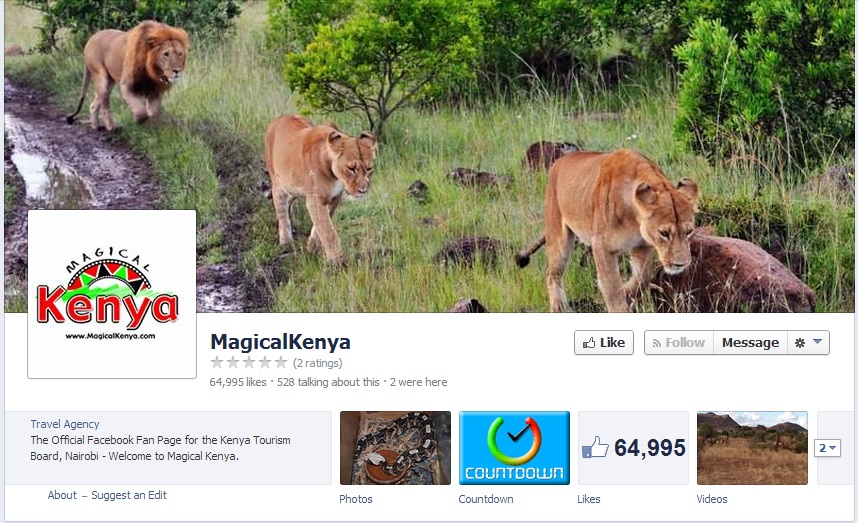 4. Capital FM Kenya
Capital FM Kenya, the official Facebook fan page of Capital FM,  features news and information about happenings in Kenya.
5. Ghafla Kenya
Ghafla Kenya delights fans with entertainment news.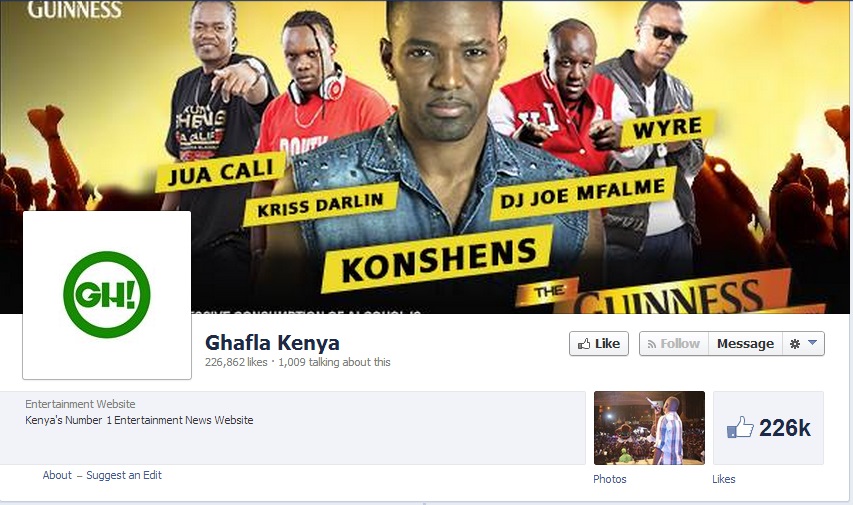 6. Kraziest Kenyans
Kraziest Kenyans is a Facebook page committed to bringing laughter to people's lives. The page provides original and hilarious updates for Kenyans to enjoy.
7. Daniel Churchill
Daniel Churchill is the official Facebook fan page of a Kenyan comedian who hosts the comedy TV show Churchill Live on NTV Kenya.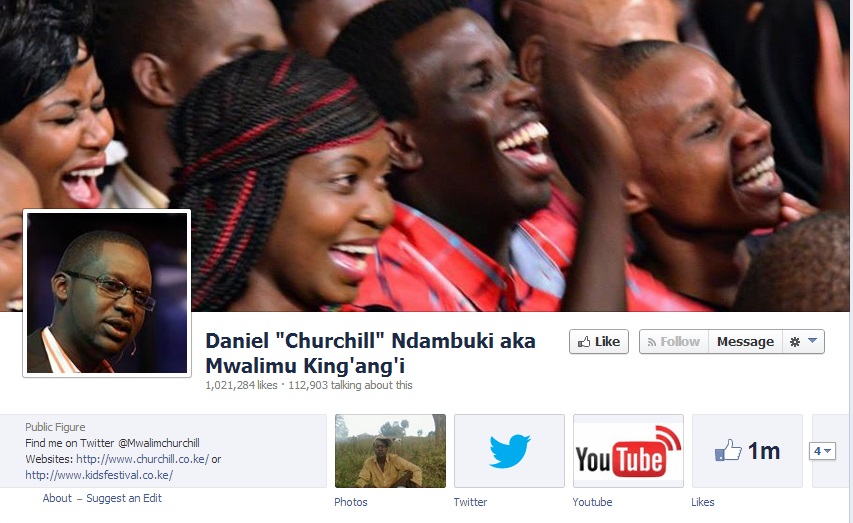 8. The Fashion Notebook
The Fashion Notebook is the official Facebook page of Nancie Mwai blog, a fashion, beauty and lifestyle blog.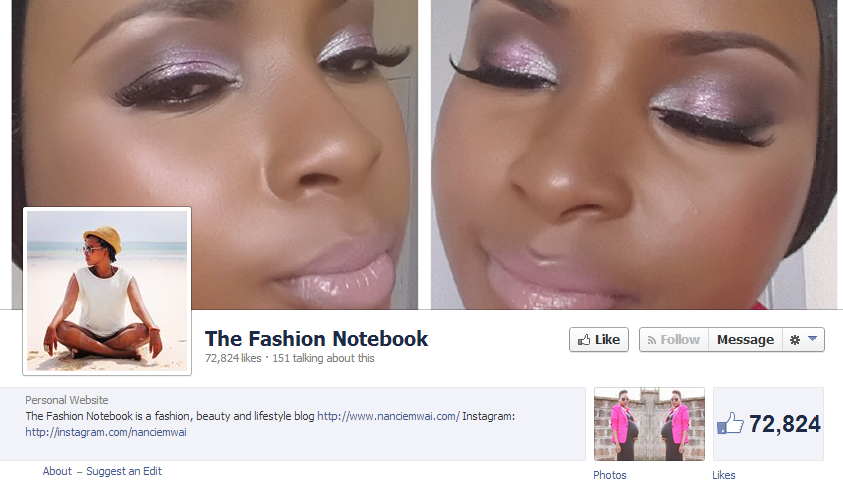 9. ZUQKA
ZUQKA is an entertainment page, which brings fun, fame and party events for Kenyans.
10. The Insyder Magazine
The Insyder Magazine is the official Facebook fan page of Kenyan's coolest magazine for leading youths. The page provides fans with latest entertainment and lifestyle tips, news and information.
11. Niaje
Niaje aggregates entertainment news from all over Kenya and other parts of the world. Interesting and engaging content are posted and shared on a daily basis to entertain their fans.

12. KTN Kenya
KTN Kenya aggregates news and stories from different parts of Kenya.
13. Kenyans4Kenya
Kenyans4Kenya is a Facebook page for Kenyans by Kenyans to build Kenya. The page provides information about activities and events in Kenya.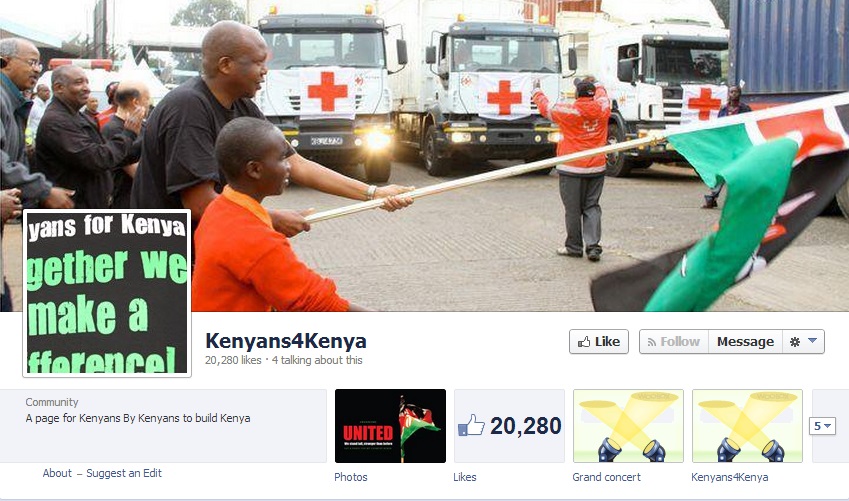 14. Uhuru Kenyatta
Uhuru Kenyatta is the current president of Kenya and this is his official Facebook page.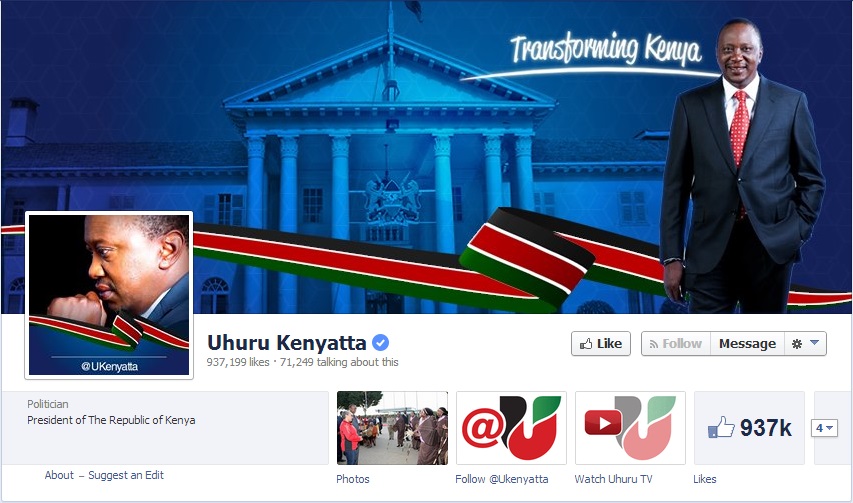 15. Daily Nation
Daily Nation Facebook page is a platform for Kenyans to come together and share their opinions about various news articles and stories.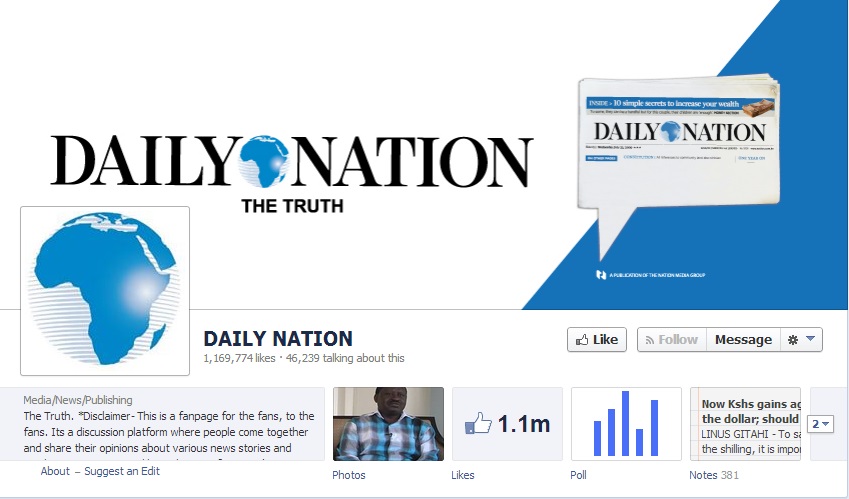 16. Gpange

Gpange,  a Facebook page created to empower young Kenyans to make the right choices and inspire them to live healthy and productive lives.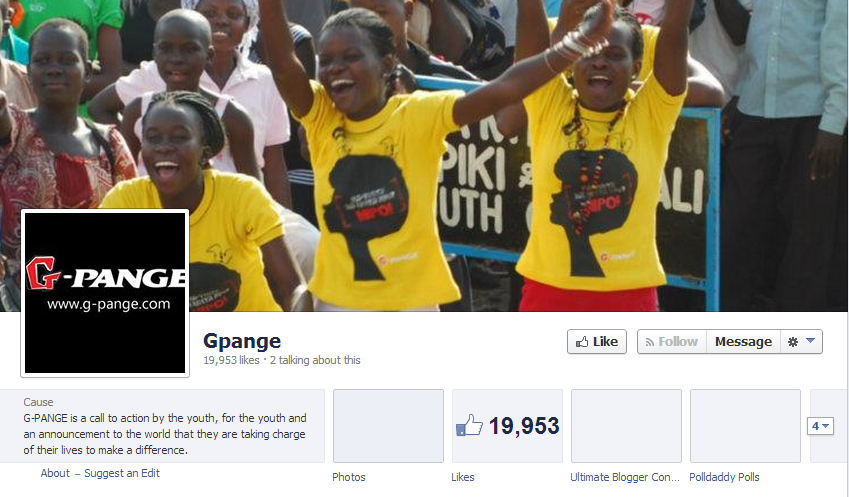 17. Matwana (Matatu Culture)
Matwana, a Facebook page that promotes the Matatu Culture in Kenya. The page promotes the transportation innovation and progress.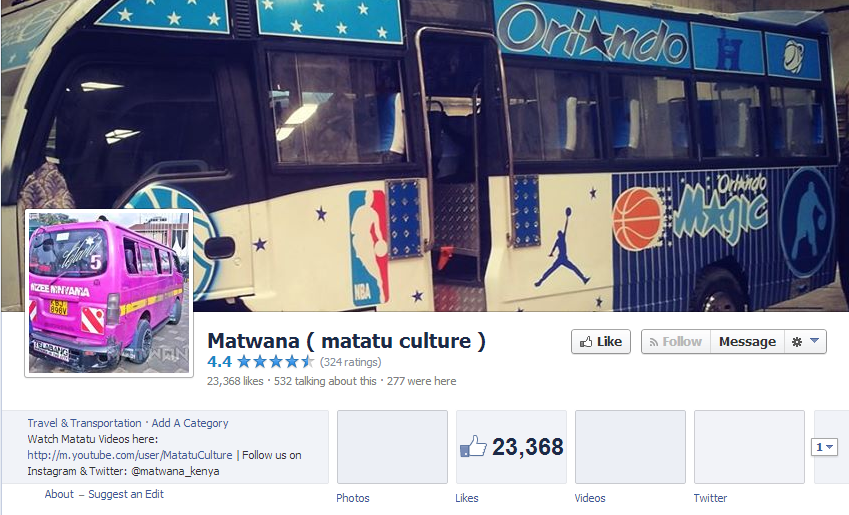 18. Love Matters
Love Matters provide relationship and love tips, advice and it is a platform where fans share opinions and ideas in between.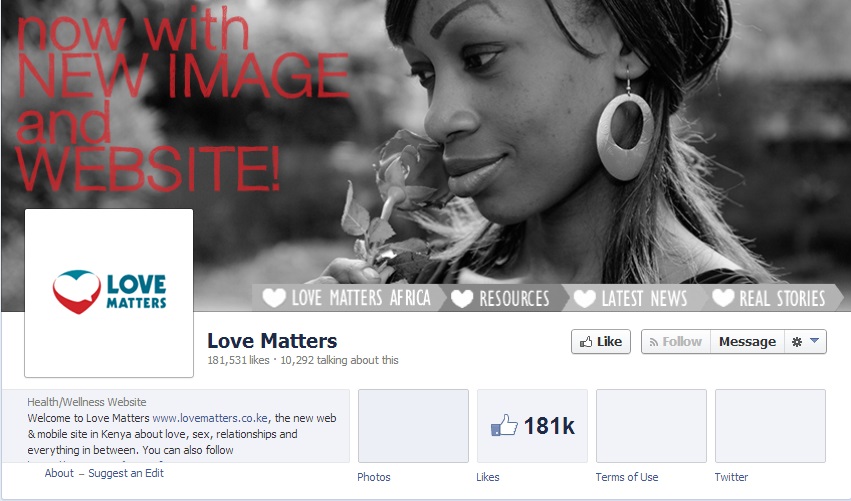 19. Kweli Magazine
Kweli Magazine Facebook page is a multimedia network that provides Kenyans with inspiration, entertainments, latest news and information.
 20. Ministry of laughter and Creativity (Kenya)
Ministry of Laughter and Creativity shares funny jokes and comics with fans. The page is a source of entertainment for Kenyans.
 21. Traveling Kenya
Traveling Kenya is the official Facebook page for Traveling Kenya website, which provides information on beautiful places in Kenya, getaway ideas and destinations.
22. Game Yetu
This is the official Facebook page for Game Yetu, the leading sports newspaper in Kenya.
23. Swahili Hub
Swahili Hub is the official Facebook page for the project of the Nation Media Group company to promote the special language of Swahili. The page provides news, pictures, video, stories and Swahili dissertations.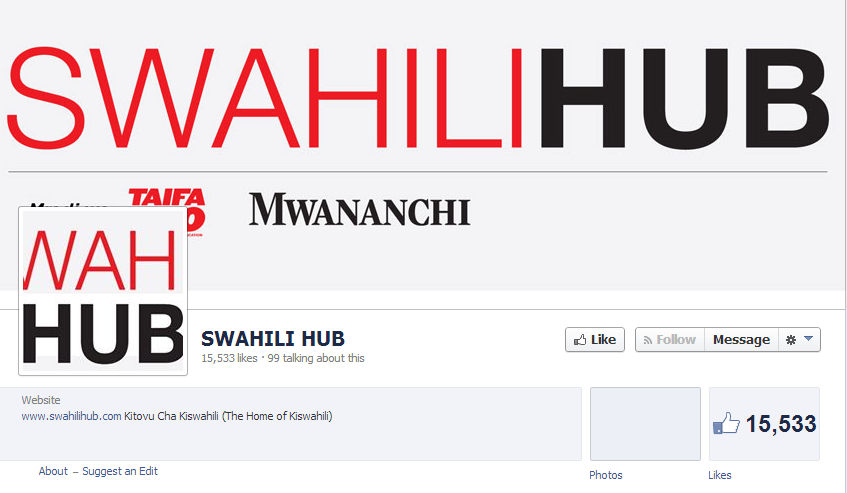 24.  Citizen TV Kenya
This is the official Facebook page of Citizen TV Kenya, the biggest local television station in Kenya.
25. Travelstart Kenya
This is the official Facebook fan page for Travelstart Kenya, the leading online travel agency in Kenya. The page provides travel information, tips and inspiration for fans and followers.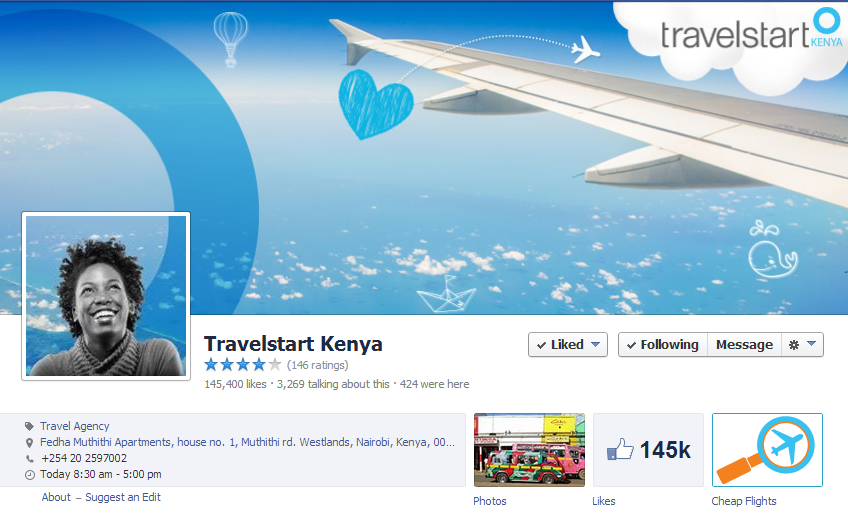 What are your favourite Kenya-based Facebook pages? Share them in the comments below.