"Food is our common ground, a universal experience."
Travelling feeds your soul and mind, do not forget to feed your body! One of the most important things while travelling is food. Alongside discovering the city and the nation, national dishes helps a lot. We all can agree on the best way to enjoy a dish is to taste it in its home. So, gather around food lovers, we have a perfect list of the cities where you can enjoy local and traditional foods.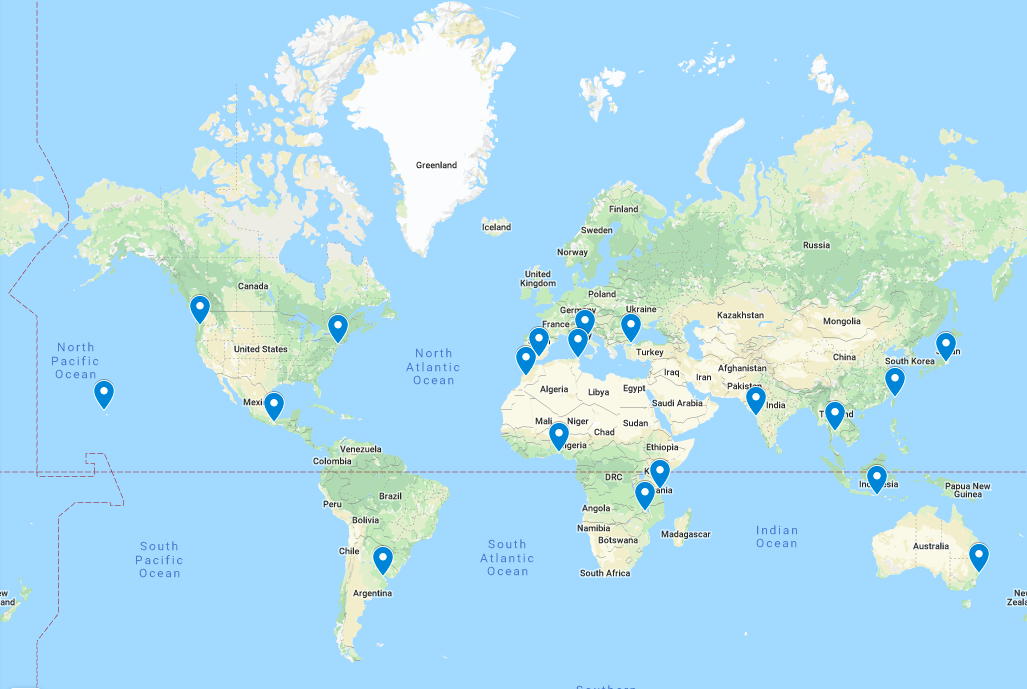 Let's meet at the checkout point to plan the next foodie trip!
7. Bali, Indonesia
Photo Credit: travelalphas.com
Popular Food: Mie Goreng
Visa Free
Review: Samantha Brown
"Traditionally the best Balinese food is ceremonial, with these days some of the best dishes served in streetside restaurants,"
Balinese cuisine comes from the volcanic island of Bali which makes it more and more intriguing. Balinese cuisine includes a variety of spices, fresh vegetables, meat and fish. Rice is the most common thing on dinner tables mixed with fresh vegetables, meat and seafood. Steaming is very common in Balinese cuisine and used with almost every type of meal. Mie Goreng is a fried noodle dish with spices and vegetables with or without meat. A mouthwatering dish from volcanic people to food lovers!
Tokyo, Japan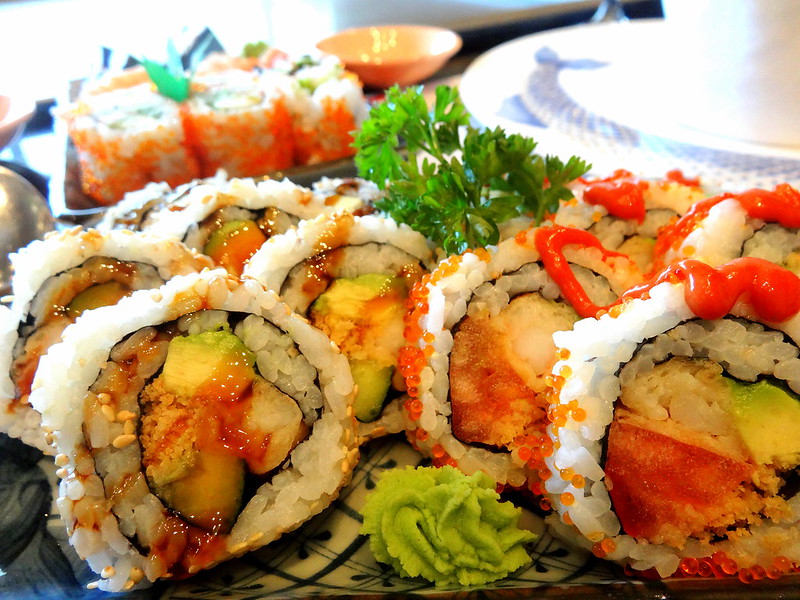 Photo Credit: flickr.com
Popular Food: Sushi
Visa Required
Review: Taro Namekawa
"They are very famous for grilling extremely fresh ingredients in front of you, with special kinds of charcoal that can grill fresh ingredients with high heat quickly to trap all the goodness of them inside."
Japanese cuisine is a very intriguing cuisine. We all are familiar with the rice and fish mixture. Apart from rice, staples include noodles like soba and udon. The seafood is often grilled and served raw as sashimi and sushi. Japanese cuisine is widely known in the western world but let's eat it from the best place, where it comes from!
3. Bangkok, Thailand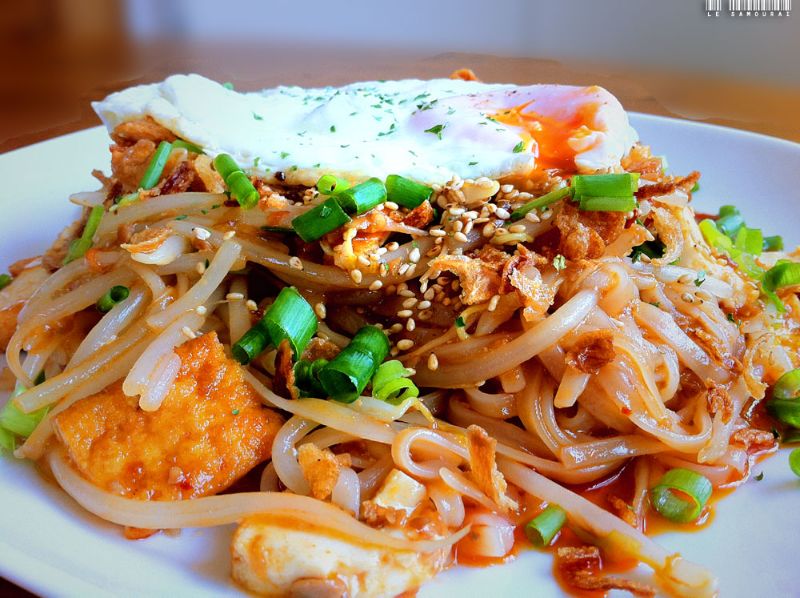 Photo Credit: flickr.com
Popular Food: Pad Thai
Visa required
Review: Shane W. On tripadvisor

"Long queue but worth it

The queue wad very long but the pad Thai was amazing. Honestly well worth it. We had the vegetarian pad Thai and it was next level."
Thailand is a multi-ethnic country and of course, the cuisine is affected by this diversity. Pad Thai is Bangkok's, indeed Thailand's most popular dish. It is made from fresh or dried shrimp, tofu, bean sprouts, seasonings, egg and rice or noodle.
4. Marrakech, Morocco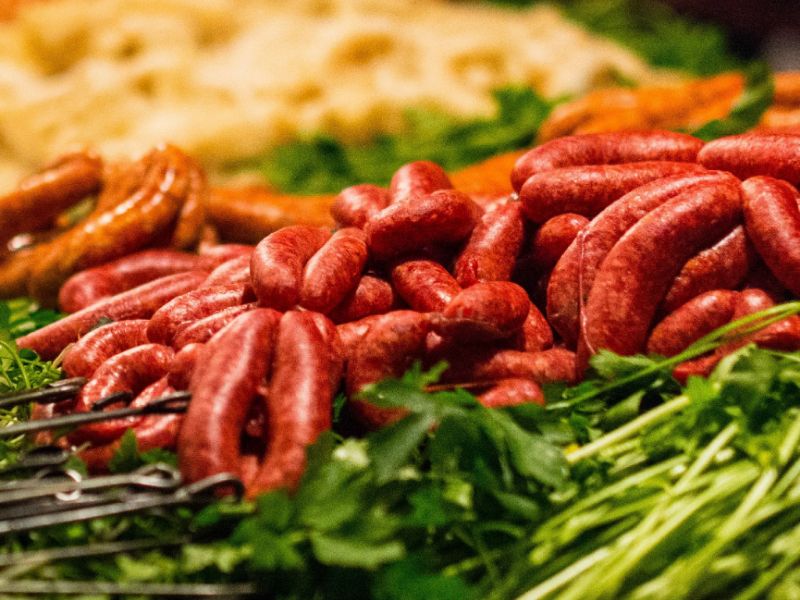 Photo Credit: thespruceeats.com
Popular Food: Merguez
Visa Required
Review: Anna Koblanck

"In the evenings, the city gathers among snake charmers and musicians at the Jemaa el-Fnaa square to taste the incredible spread of Moroccan delicacies that are on offer from the street stalls.
Morocco's cuisine is a delicious combination of mouth-watering tastes, influenced by Andalusian Spain, Arabic and French that makes it unique. In Moroccan food, spices are widely used. A large variety of Mediterranean fruits, vegetables and also tropical ones are produced in Morocco. Merguez is a red, spicy, beef-based sausage and one of the favourite dishes in Marrakech.
5. Taipei, Taiwan
Photo Credit: flickr.com
Popular Food: Beef Noodle Soup
Visa Required
Review: evynoppie on trip advisor;

"Delicious Beef Noodle Soup

Delicious taiwanese beef noodle soup. Well balanced flavour. We ordered the half beef and half
tendon version"
Taiwanese cuisine is a mixture of Chinese, Aboriginal, Hakka and Japanese cuisines. In this culinary city, there are 20 streets dedicated to food. If you define yourself as a total food lover, you might go crazy in Taipei. In Taiwan pork, seafood, chicken, rice and soy are the most common ingredients. Beef noodle soup is considered the national dish of Taiwan. Arrange your trip to Taipei International Beef Festival -which happens every year. Along with beef noodle soup, there are also interesting recipes such as; scallion pancake -green onion pancake-, fan tuan -a burrito rolled of sticky rice.
6. Mumbai, India
Photo Credit: flickr.com
Popular Food: Bhelpuri
Visa Required
Review: Praveen on tripadvisor, for Mom Bay Bhel Puri

"One of the best place for original taste of bhel puri

If you like bhel puri this is the right place for you to stop and try the original taste bhel puri. Good Taste. Rates are reasonable. Overall experience is good. Bombay-style bhel Puri is very crunchy mixed with rice puffs, potato, onions, Masala and chutney."
Mumbai cuisine includes rice, fish & vegetable curries, pulses, chapatis and rotis. One of the favourites Bhel puri is made of puffed rice and sev mixed with potatoes, onions, chat masala and chutney. Mumbai offers both vegetarian and non-vegetarian dishes with special spices. Since Mumbai is a coastal city, there are plenty of seafood options from appetizers to grilled or baked fish dishes.
7. Rome, Italy
Photo Credit: duecucina.com
Popular Food: Pasta
Visa Required
Review: lucreziaborghia on tripadvisor, for Pasta e Vino Osteria

"Handmade pasta and divine sauce.

Stumbled upon this restaurant by accident and it was a pleasant surprise. The service was fast and efficient but more importantly the food was divine! If you want authentic Roman food, this is the place to eat. Best pasta I've had so far…and I'm not saying this lightly, have visited Rome 7 times. Will be visiting this place again next year."
As Italian cuisine is spread over the world, we all are familiar with it. Pasta and pizza is the most popular food in Italy. To be honest, let's learn it from the best and try the local chefs! These Italian dishes are the root of Italian cuisine. The recipes of gorgeous Italian dishes are passed down between generations. We suggest everyone taste delicious Italian lasagna made from sheets of lasagna pasta, meat, vegetables, tomato or béchamel sauce and cheese.
8. Istanbul, Turkey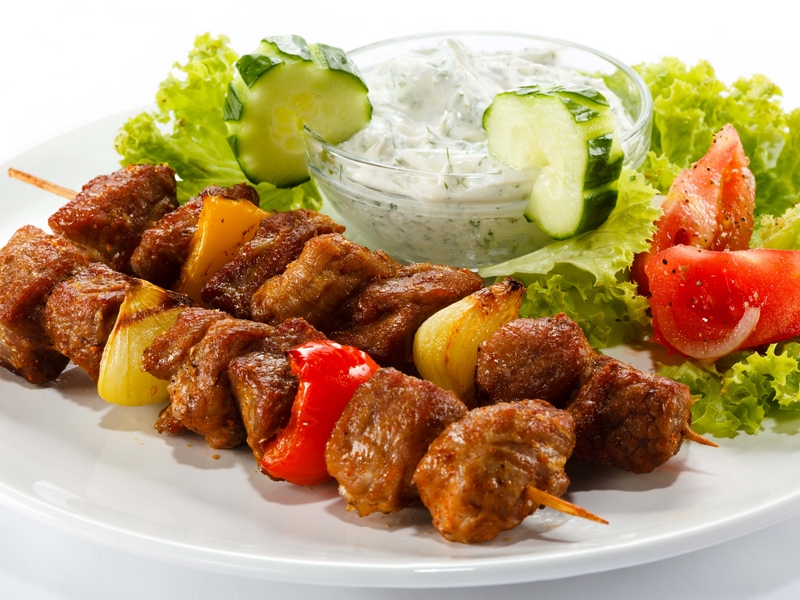 Photo Credit: wallpaperscraft.com
Popular Food: Kebab
Visa Required
Review: Eleanor R. On tripadvisor, for Buhara Ocakbaşı Restaurant

"Excellent kebab in Istanbul

Had the spicy kebab for lunch which was made perfectly. The place was clean and the staff was superbly kind. Also had baklava and tea which was a sweet end to the meal. Highly recommend"
Turkish cuisine is mixed with meat and vegetables. If you are a meat lover, you can taste many amazing dishes in Turkey! Kebab is probably the most known dish and made from lamb or beef that is slowly cooked over the fire and wrapped into a lavash. If you are a pizza lover, you can try Lahmacun which is an only meat version of pizza! What is not to love! We suggest you go on a big dinner with your loved ones alongside with Raki.
9. Sydney, Australia
Photo Credit: chow.com
Popular Food: Chicken Parmigiana
Visa Required
Review: Michael M. On tripadvisor, for Schnitzel House

"Chicken parmigiana

Massive portions with fries stuffed in every which way. Beautiful tender and succulent chicken with a golden crumb. Chips crispy and well seasoned. Washed down with a stein if a good German wheat beer. Unfortunately no room for desert because the pancakes looked delicious."
Australian cuisine has been affected by multi-cultures. As chicken parmigiana may seem non-Australian, it is indeed Sydney's favourite. Chicken Parmigiana is basically a schnitzel to all of us with Napolitana tomato sauce and melted cheese on top. This great recipe is probably more delicious than the other schnitzels alongside Australian wine or beer. If you are a sweet tooth, Sydney might cause you to gain some weight since there are some iconic deserts!
10. Lilongwe, Malawi
Photo Credit: theculturetrip.com
Popular Food: Nsima
Visa Free
Review: DrewMoyo on tripadvisor, for Annie's Lodge Area 47

"…Good food including local dishes like nsima and chambo is definitely something to look forward to and the comfortable rooms summarize it all to make your stay in lilongwe worthwhile. Recommended."
After exploring gorgeous Malawi and the beautiful landscapes, you can not go anywhere without tasting Nsima the favourite of the locals, made from ground corn. We suggest you try nsima along with the Chambo fish which is the locals favourite!
11. Granada, Spain
Photo Credit: flickr.com
Popular Food: Habas con Jamón
Visa Required
Review: DCenMotril on tripadvisor, for Restaurants la Cabana Del Rio

"Great food and drink for a moderate price served by friendly and knowledgeable wait staff. The habas con jamon and cogollos con anchoas were two of my favorites."
Giving the history of Granada, pork is very common in this cuisine. In the times of the Spanish Inquisition, to embrace Christianity, eating pork was a way of proving since it's forbidden Islam or Judaism. This was the step to get pork based Spanish dishes. Habas con Jamón is made from beans, chopped pork, onions, garlic. Why not try a traditional dish while learning about Granada's history!
12. Buenos Aires, Argentina
Photo Credit: flickr.com
Popular Food: Llama Steak
Visa Required
Review:Tgalis on tripadvisor, for El Baqueano

"Wonderful Argetinian food experience!

We were at El Baqueano for dinner yesterday.It was absolutely amazing. The selection of dishes and wine pairings was almost entirely perfect. The llama tartar is insanely delicious. The service is incredible, too. I cannot recommend it enough and I cannot wait to go back."
Argentinian cuisine can be described as a mixture of Mediterranean cuisine as Spanish, Italian and French. Argentinian cuisine is beef oriented. You can taste delicious beef based dishes that came from other parts of the world. We suggest you try Llama steak -a rustic and earthy tone than beef- with the lower fat content, it's much healthier! As it is a mixture of cuisine, you can taste the Argentinian way of pizza, creamy ice cream and milanesa. If you are lucky, you can get the chance of tasting Locro, a national stew made from corn, tripe, red chorizo, beef or pork and vegetables.
13. Stone Town, Zanzibar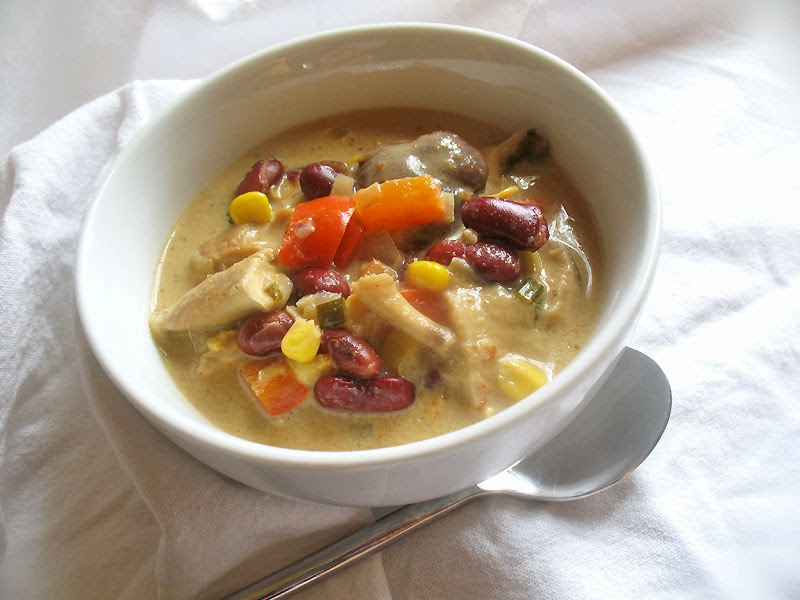 Photo Credit: blogspot.com
Popular Food: Coconut Bean Soup
Visa Free
Review: damnedirishman on bbcgoodfood

"Delicious, and very easy to make in bulk and then freeze extra individual portions for when you want something a bit more warming than instant soups."
Zanzibar, known as the Spice Island, offers an abundance of spices, extracts, herbs and seasonings that are unique to Zanzibari cuisine. The local people spice up their food to create the perfect taste, aroma and colour. Zanzibari food is a feast to your stomach and eyes with an eclectic combination of Swahili, Indian and Arab influences. Coconut Bean soup is made from coconut milk, shredded coconut blended with tomatoes and kidney beans along with the spices.
14. Oaxaca, Mexico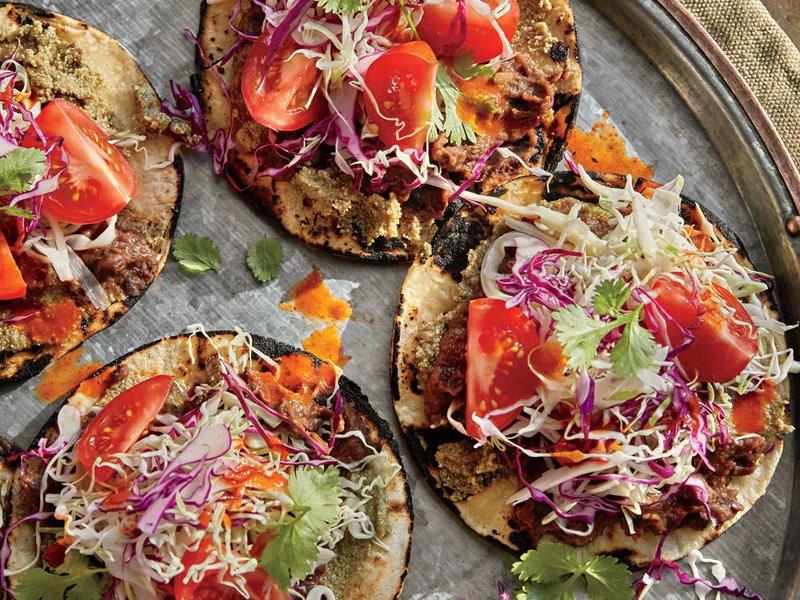 Photo Credit: dietaefectiva.net
Popular Food: Tlayuda
Visa Required
Review: Susan on brooklyntropicali

"Tlayudas in Oaxaca are what street tacos are to Mexico City, or pizza is to New York City. They're the quintessential meal/snack/post-bar grub/hangover food/etc.."
This multi-ethnic country's cuisine includes corn, beans fruit and vegetables. We all might have tried tacos but remember that Mexican cuisine is not just tacos! Tlayuda which is Oaxaca's favourite dish is made from the crunchy tortilla, refried beans, lettuce, avocado, meat, Oaxaca cheese and salsa. Tlayuda is known as the icon of local cuisine and can be found on every corner!
15. Lagos, Nigeria
Photo Credit: blessedbfoods.com
Popular Food: Egusi Soup
Visa Required (on arrival)
Review: Chinedu U on tripadvisor forThe Yellow Chili Restaurant & Bar

"A place for Nigerian Soups

If you want to try Nigerian soups in all its glory, come here. They have a wide variety of swallow. We had the seafood okra and the egusi soup with goat meat. "
Nigerian cuisine is shaped by hundreds of ethnic groups over the years. One can not claim to visit Nigeria without tasting their delicious soups. There is a variety of soups in Nigeria. One of the favourite soups is of course; egusi soup alongside with jollof rice! Egusi soup made from melon seeds, seasonings and meat. Try not to dive in!
16. Portland, Oregon, USA
Photo Credit: ucarecdn.com
Popular Food: Fish Sauce Wings
Visa required
Review: anonymous on TripAdvisor, for Pok Pok Wing

"The best chicken wings you will ever eat in your life!

I love Thai food and I love chicken wings……….even the standard Super Bowl finger food kind……but these chicken wings will slap you upside your head with deliciousness!
Whenever I am in Portland it's my first stop. Two orders of chicken wings."
Portland is known as the best food city in America. In the streets, there are food carts that you can see with your every step. Food lovers, be ready to lose your belt because Portland might fill you up! From deserts to sandwiches, pork to pizza you can easily find anything for your stomach! In this culinary city, be sure to try fish sauce wings. Fish sauce wings is a fried dish made from fish sauce, garlic, chicken wings, cornstarch, mint and cilantro.
17. Honolulu, Hawaii, USA
Photo Credit: glowcation.com
Popular Food: Poke
Visa Required
Review: mervinm on tripadvisor, for Da Poke Shack

"soooooo….GREAT!!!!

Wonderful fresh Poke from a small shop…get there before they run out. Lots of variety and even some gluten free options. Definitely Recommend!!!!"
Hawaiian cuisine is a mixture of Latino, Asian and American cuisines. In Hawaiian food scene, you can easily see the effects of Chinese, Korean, Japanese, Portuguese cuisines. Since the Native Hawaiians planted coconuts, sugarcane, sweet potatoes and yams and fished, many Hawaiian dishes made from these ingredients. Poke is a raw-fish salad which can easily be found around every corner of the state. Alongside with poke, you should treat yourself with a Hawaiian plate that includes rice, pork, pipikaula, loom salmon and ti leaves. For those sweet-toothed people among us; try coco puffs the creamiest puff you can ever taste and don't forget to bring some coconuts!
18. New York City, New York, USA
Photo Credit: pizzainny.com
Popular Food: New York Style Pizza
Visa required
Review: JNYCwriter on tripadvisor, for Pizza Suprema

"Real NYC Pizza As It Should Be

At first this looks like your average nondescript Pizza joint near Penn Station. It is not. The pizza is very flavorful and the sauce alone will bring you back for more. "
Everyone dreams of New York in their own way. For food lovers, New York is like a paradise. You can get anything from every corner of the city. The food scene is affected by a variety of cultures and ethnic groups. Hot dogs might be the most consumed food in NYC since there are two hot dog carts in every step you take. Besides hot dog, the food scene contains Italian, Jewish and Latino cuisines.
19. Tunis, Tunisia
Photo Credit: thumbs-prod.si-cdn.com
Popular Food: Brik
Visa Free
Review: Bayram on tripadvisor, for Restaurant du Peuple

"The food excellent and generous. The grilled calamar was fantastic. They offered us soup, brik, tea and oranges. It was really a pleasure."
In the last years, Tunis' food scene has been growing rapidly. Tunis' cuisine is influenced by Africa, Europe, the Ottoman Empire and the Middle East. This mixture of cuisine can be called as a crossroad of culture. Tunis is home to people from all over the country and the world who brought their local dishes and variations of Tunisian foods. Brik is a deep fried dish consisting of pastry around a filling -most common is an egg.
Feeling hungry? Well, you can pass that hunger by planning a great foodie trip!