"I will honour Christmas in my heart, and try to keep it all the year." – Charles Dickens
Nothing is more likely to get you in the festive mood for Christmas than attending a Christmas market. Be mesmerised by the glittering lights, traditional foods, intricate arts and crafts and plenty of activities.
This article will guide you through some of the best Christmas markets around the globe. Get ready!
1) Gendarmenmarkt
Berlin, Germany
"Best Christmas market

The best Christmas market in Berlin. Admittedly, it costs 1 Euro to enter, but well worth it, with excellent restaurants as well." (johnbcoates, Tripadvisor)
This square is said to be the most beautiful public square in Berlin. The breath-taking architecture of the Deutscher Dom and Französischer Dom which loom over classic wooden huts is simply magical.
You can have some delicious sausages and warm yourself with some mulled wine. You can also try a cup of white chocolate milk, a bite of a fried apple or special cheeses from different parts of the world. Make sure you are around for the nightly concerts, ranging from jazz to carols.
2) Christmas and Epiphany Market
Rome/Italy
"Loved it!

During Christmas time it is packed with activity – from selling jewellery, frames, Christmas decorations, leather handbags to candy… It's beautiful. It's a must if you are visiting Rome!"

(someonefab,Tripadvisor)
The Fountain of Neptune, the Fountain of the Four Rivers and the Fountain of Moro create the magical scene for you to soak up the festive atmosphere. You will also find live music and plenty of local food to eat. Visitors can browse a selection of festive decorations, traditional gifts, arts and crafts, knitwear, jewellery and delicious festive food and mulled wine.
According to the Italian tradition, the Christmas market starts on 8 December and ends with Epiphany, the evening between 5 and 6 January. This evening, grown-ups and children await the arrival of the Befana (an old witch who brings gifts).
3) Bank of America Winter Village at Bryant Park
New York, USA
"Christmas market!

Always a lovely place to shop for great souvenirs and gifts. I love Bryant Park at this time of the year because it reminds me so much of Europe. Nice place to grab a bite to eat, sit outside for a coffee." (Pomerols, Tripadvisor)
It's an open-air market with around 120 custom-designed kiosks where local and international artisans sell artwork, home goods, beauty products and a wide selection of food. In the centre of the park, there's a rink where you can ice-skate and it's the only free ice skating rink in New York! You can warm yourself up with some hot cocoa too. The frozen Josephine Shaw Lowell Fountain surely adds up to the magical atmosphere of Christmas.
4) Toronto Christmas Market
Toronto, Canada
"Toronto Christmas Market

Always a great time!

The atmosphere is like no other. We always go twice a year; once during the day to shop and the distillery district at night for a couple of drinks. The mulled wine is always a good choice." (Wanderlust_Lake, Tripadvisor)
Set in the Victorian era, cobblestone-lined Distillery Historic District, the Christmas Market brings local craftspeople, musicians and artisanal food-makers together for a truly festive experience. It's an enchanting scene with glittering lights, fairground rides, a Santa's Grotto, a giant Christmas tree and beer gardens. The market offers numerous music performances daily, including brass bands, carollers and authentic European dancers. You can sip a Christmas cocktail as you browse through the selection of hand-made ornaments, wood carvings and crafts. A 100-foot long light tunnel has been erected at the market in the last years, adding even more magic to the festivities.
5) Tallinn Christmas Market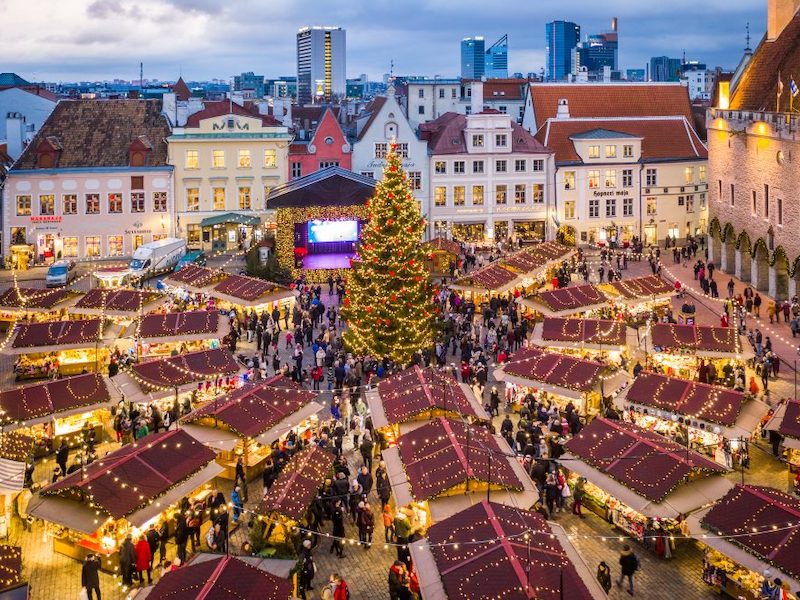 Tallinn, Estonia
"Historical Love

Circle magic in the centre of Old Town and you feel the love in the air especially during Christmas time!" (juksm, Tripadvisor)
Estonia's capital turns into a fairytale during the Christmas season and Christmas market is at the centre of the story. It's held in Tallinn's Town Hall Square and it boasts of huts where you can try a variety of traditional Estonian cuisine and buy handmade gifts.
There's also a winter grotto to visit as well as performances by choirs, poets and dance troupes. Knitted jumpers, Russian military fur hats, beautiful scarves, amber necklaces and bracelets and lots of vodkas create the traditional Christmas atmosphere of the market. The Christmas tree has been set up here since 1441 and it was one of the first to be displayed in Europe.
6) Christmasland
New Tapei, Taiwan
"Lights galore!!

Great spot to take kids and enjoy getting into the Christmas mood with a light spectacular….for free! Conveniently located outside the metro station by MegaCity Mall, New Taipei City. Lots of photo opportunities, twinkling lights, Christmas trees, stage and a small number of vendors. Kids loved it!!" (popko5, Tripadvisor)
Christmasland is a buzzing psychedelic winter playground for people of all ages. A huge urban square transforms into a gala light show that creates a fairytale-like experience out of the country's tallest Christmas trees, fun-packed rides and local vendors. With light bridges, psychedelic 3-D light shows, folk song and dance performances, the plaza is engulfed in a sea of LED lights. This year's theme is 'Santa Bear's Magical Town', with romantic light tunnels, cute animal cafes and a glimmering winter forest light installation. It is held from November 16th to January 1st.
7) Franschhoek Village Christmas Market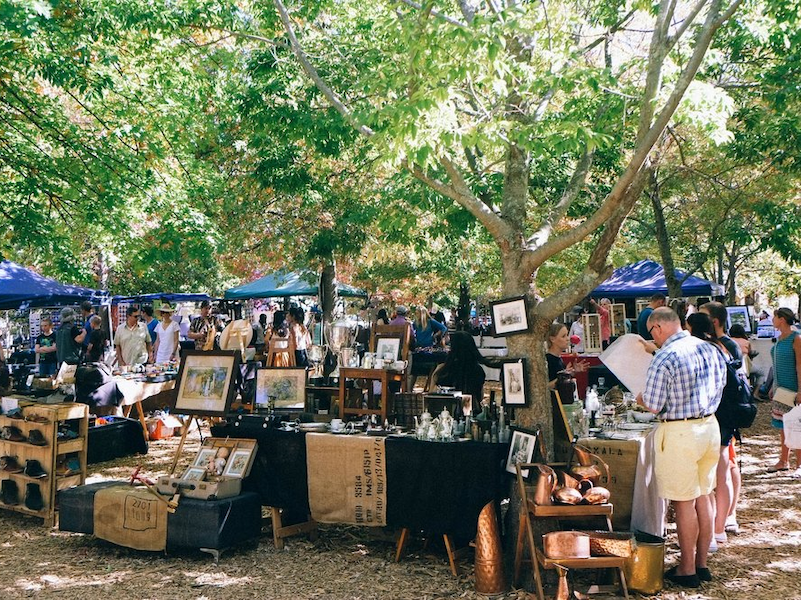 Franschhoek, South Africa
"Absolutely the best craft market

I absolutely love this craft market. All the stallholders are so friendly. Their products are great and very imaginative showing off African creativity at its best. The best value for money of all the markets I have been to in the Cape Town area, plus they're always open to a bit of bartering." (Compass745625,Tripadvisor)
Franschhoek Village Christmas Market is all about good food and drinks, unique arts and crafts, vintage clothing, antiques, an exceptional selection of fresh produce, craft beers and coffee brewers. You can enjoy the festive vibe under the Oak trees located in the old church gardens. Hundreds of locals and tourists come here to enjoy affordable artisan foods paired with the best wines from the region. You can do your Christmas shopping while you listen to some soulful, live music. This market is a must-visit during your visit to South Africa.
8) Santurantikuy Market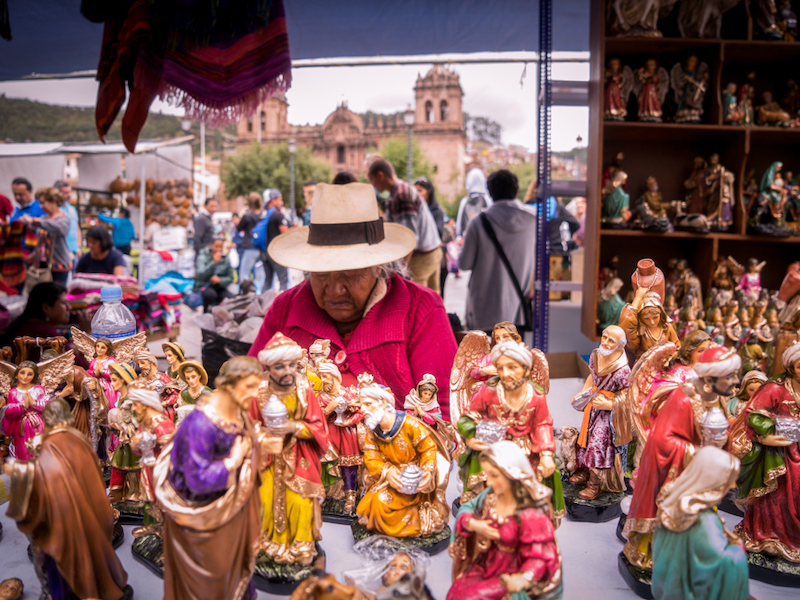 Cusco, Peru
"Dec 24…Santurantikuy!

…You can shop all your Christmas nativities during this market day. It was a great time to visit the plaza which by the way is the only plaza in the world with two churches!" (RedbullBunny, Tripadvisor)
Since the 16th century, Cusco has hosted the Santurantikuy Market on 24 December at the Plaza de Armas. It's one of the largest arts and crafts fairs in Peru, and a treasured tradition. Many artisans come from rural areas. A market is a holy place and you can find many religious products including Andean knits, metalwork, carved wood, stonework, leatherwork and amber jewellery. You can see Niño Manuelito, the Andean portrayal of baby Jesus at every corner. Vendors hawk punches and hot chocolate, others sell fried pork, beef heart kebabs and other street foods.
9) Skansen's Christmas Market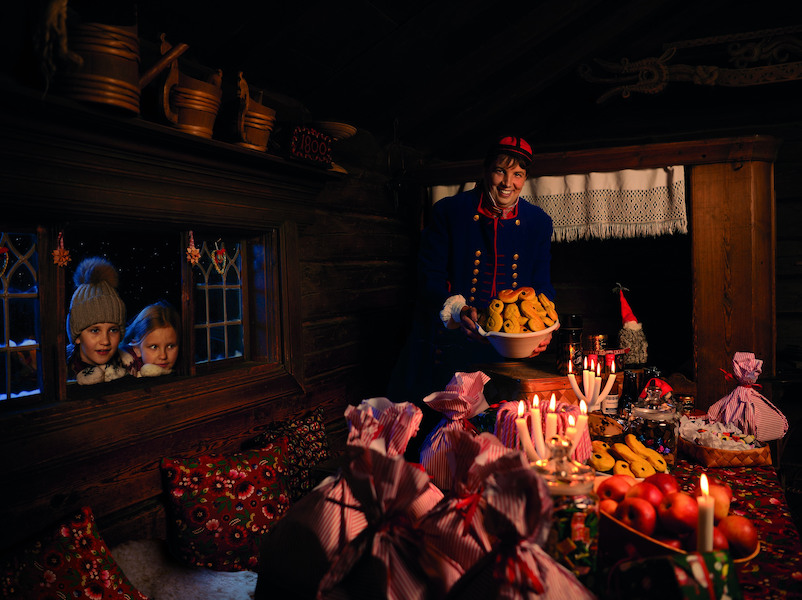 Stockholm, Sweden
"Christmas Market is Incredible

…The Christmas Market at Skansen is incredible with a booth selling traditional foods, crafts and clothing items. Families dance around the Christmas tree to folk music and ride in a horse-drawn carriage. The artisan village has craftsmen demonstrating their best work." (tembo45, Tripadvisor)
The Christmas market in Skansen started in 1903. It's held every weekend from late November to mid-December. The bonfires are lit and the market stalls are filled with traditional sausages, cheeses, handicrafts, Christmas decorations, embroidery, Skansen's handmade mustard, bread, cakes, sugared almonds, jams and marmalades, children's books and many more irresistible items. You can participate in the dancing around the Christmas tree at the Bollnäs Square and learn how to make your own Christmas decorations in the workshops from the artisans. There's also a small zoo with Nordic animals, why not spot some reindeers while shopping for Christmas, right?
10) Winter Wonders
Brussels, Belgium
"Technology is everywhere in the Christmas Market!

The Brussels Christmas Market…uses technology to bring some of the buildings in the area of the markets to light with wonderful projection and light shows." (JellyrollsKaren, Tripadvisor)
This market has been crowned one of the best markets in Europe. Main highlights take place at the iconic Grand Place where the Christmas tree and nativity scene are set up. The lights and colours reflect off the old Gothic buildings of the square. Video mapping, guided tours, carousels, gourmet specialities, fanfares and many more activities are held for young and old. There are over 250 wooden chalets spread across the city where you can taste Raclette, salmon smoked over open fires, mulled wine and delicious boozy hot chocolate.
11) Zagreb Christmas Market
Zagreb, Croatia
Review: "Advent u Zagrebu

The charming beautiful place in Zagreb. One of the places where the Advent in Zagreb implemented a special program of music for the stage musical of the historic pavilion. Beautiful Christmas lighting, decorations in white, stands, tables, just a wonderful atmosphere…" (Ania2011, Tripadvisor)
The whole city is taken over by a festive spirit and the market is spread out throughout the city with incredible lights, an outdoor ice rink, lots of trees and lights, rides for the kids and live music. Great food stalls and local crafts at every corner, you'd want to return to this winter wonderland for a couple of days in a row. Don't miss the huge Christmas tree on Ban Josip Jelačić Square, with its beautifully illuminated fountain and covered conservatory serving festive drinks and snacks. Zagreb Christmas Market came top in Europe by the public vote organised by European Best Destinations, three years in a row!
12) Edinburgh Christmas Market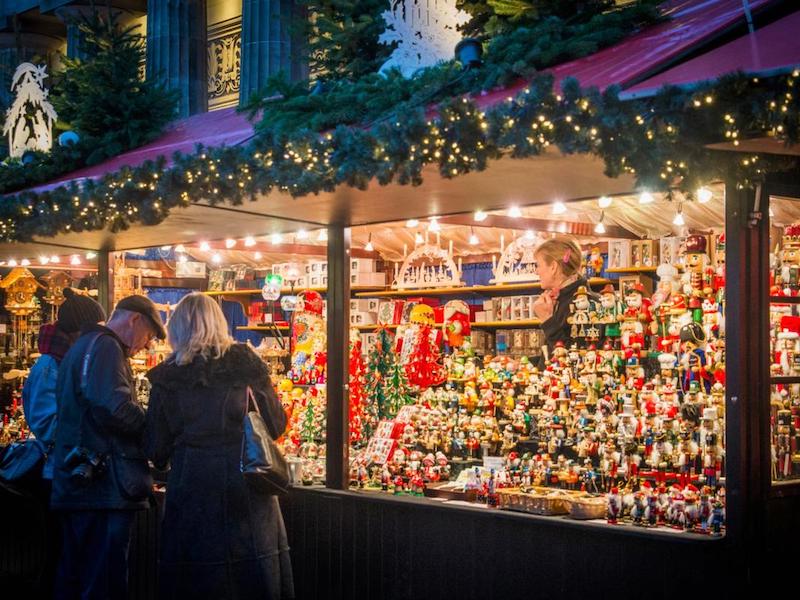 Edinburgh, Scotland
"Edinburgh Christmas Market, Now Amongst The Best in Europe

Edinburgh Christmas Market is up there amongst the best Christmas Markets in Europe. It has everything from a multitude of stalls selling all things to do with Christmas, many food stalls and even a bar or two, where you can get some pretty nice Christmas beers, there are even a big wheel, helter-skelter and various other attractions, which just add to the entire atmosphere." (Scotty102,Tripadvisor)
Nestled in the heart of Edinburgh, the traditional Christmas Market offers something for everyone. It's a magical explosion of twinkling lights, enchanting sounds, mouth-watering flavours and lots of fun and laughter. Edinburgh's Christmas Market offers a range of gastronomic surprises, from sweet waffles, bratwurst to piping hot glühwein. There's also a generous selection of arts and crafts. You can test your skills at the stunning ice-rink nearby.
These are some of the best Christmas markets around the world. Have you been to any of these? If not, do not waste any more time as every second flight get more expensive. Share your experiences below if you know other amazing Christmas markets.