Whilst eateries in Nairobi are many, finding one that offers delectable meals and a variety of drinks and cocktails is always a bonus. When hanging out in a group of friends, family or colleagues, there are always those people who just want to drink or eat, and it helps to have good options for both. Since a list of eateries that locals frequent would be too long, we picked a few that Kenyans love and that visitors would enjoy as well. Here are places where the locals eat and drink in Nairobi, these joints (and many others not listed here) stand out for the variety of cuisines and drinks on offer, striking ambiance and cosiness.
1. The Talisman- Ngong road, Karen
The Talisman is found in Karen, and it is arguably one of Nairobi's finest eateries. The relaxed setting, serene location and artsy interior decor are such a charm, yet they have nothing on the delicacies that await you. The fusion of flavours in the foods is evidence of an art learned and perfected, and the result is always amazing! The variety of foods and drinks is decent and the prices give you good value for money. The pork belly appetizers, feta samosas, fillet steak, seafood, burgers and veggies most times get a special mention. The outdoor sitting space is popular and you may need to reserve a table prior, but you can also sit indoors or at the patio and marvel at the scenic lush gardens. Visit: The Talisman Restaurant
Address: Ngong Road, Karen
2. Carnivore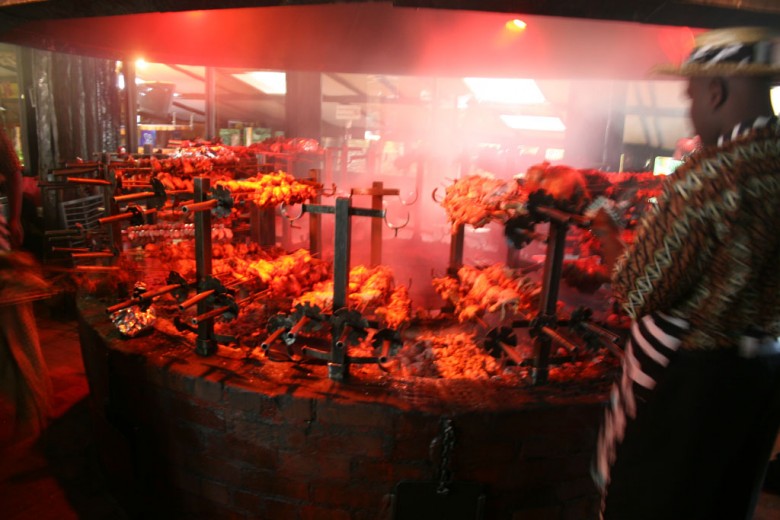 Carnivore, located on Langata road, has been around for many years and it is a renowned paradise for meat lovers and party goers alike. The nyama choma (roasted meat) is cooked over an outdoor open grill as you watch and you get to choose from familiar meats like beef, lamb and chicken to rare ones like crocodile and ostrich.  Cocktails, vodkas, beers and wines are in plenty as well as other foods from the extensive menus at the restaurants. Visit: The Carnivore
Address: Langata Rd, near Wilson Airport, Nairobi
3. Brew Bistro
Brew Bistro is found along Ngong road, at Piedmont Plaza, and it is renowned for its premium brews brewed in house and the urbane, exquisite restaurant that serves gourmet meals. It is an ideal spot, because you get the best of food and drinks in one dainty setting. The relaxed atmosphere and delicious meals are the reason many head there for lunch or casual meetings with friends or clients. A great crowd also makes it in time for happy hour between 5pm and 7 pm to take advantage of discounts on cocktails, mojitos and beers. Visit: Brew Bistro
Address: Piedmont Plaza, 671 Ngong Rd, Nairobi
4. Junction Mall
The Junction mall on Ngong road Nairobi is a popular hangout spot for locals living around that area. The eateries at the Junction are many including Mediterraneo Ristorante, Art Caffe, Big Square, Pizza Inn and Java, so locals get a wide range of the food, drinks and snacks. The Mercury Irish Pub at the Junction is a great place to drink and hang out in the evenings.
Address: Ngong Rd, Nairobi
5. Tamarind
Tamarind is located in the much quieter Karen area, away from the noise of the Nairobi's CBD, and it provides for a first class dining experience. The sea food at Tamarind is delectable, just like the meat and vegetarian meals on the menu. Drinks are in plenty and while you look at the extensive wine list, do sample the signature Dawa drink. Visit: Tamarind Nairobi
Address: Karen Blixen, Karen Road, Karen
6. Havana Bar and Restaurant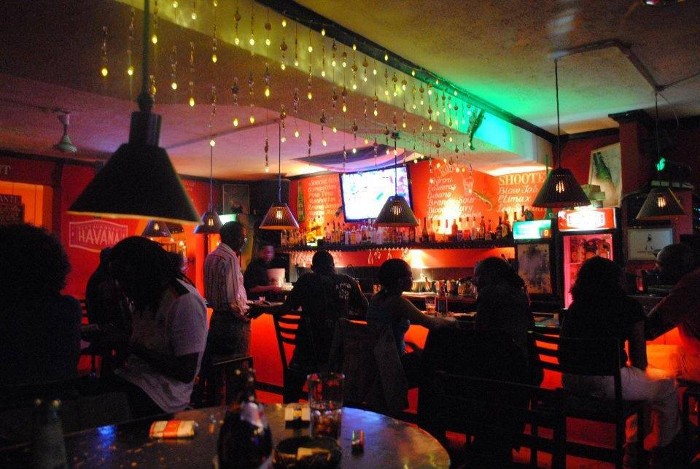 Havana Bar and Restaurant is located in Westlands on Woodvale Grove and it is popular with revellers for the variety of local and international drinks available and the exquisite restaurant. Havana restaurant menu is extensive, with a wide range of reasonably priced meats, soups and salads, and desserts and beverages. The club plays good music and you are bound to enjoy a night at Havana. Visit: Havana Bar and Restaurant
Address: Woodvale Grove, Westlands
7. Thika Road Mall
Thika Road Mall is a popular hangout spot for locals living along Thika Road. There are plenty of cool shopping outlets, lounges and food joints available. The food court towards the back offers a variety of foods, but you can visit other food joints like Pizza Inn, Chicken Inn, Galitos, Java, Beirut and Subway. Saape Lounge and Shabz BBQ are cool and there are many alternatives available for alcoholic and non-alcoholic drinks. There's Cake City and Mr Donut to sort out your sweet tooth cravings. Visit: Thika Road Mall
Address: Roysambu, Nairobi City
8. Village Market
The Village Market Food Court is another great place where locals and expats eat and drink. The place is cozy, options are many although a bit pricey and the atmosphere is relaxing. Usually there is music playing in the background and sometimes a live band entertains diners especially on weekends. Spots at the food court include Revive juice bar, Khazana, Thai cuisine, Taste of Africa, Pomodoro and Orchid. Other spots include Dormans, Seven Sea Food and grill and Tamambo Bar and Grill amongst others, all of which offer amazing food and a wide range of drinks. Visit: Village Market
Address: United Nations Crescent, Nairobi
What other cool places do locals eat and drink? Let us know in the comments section below: