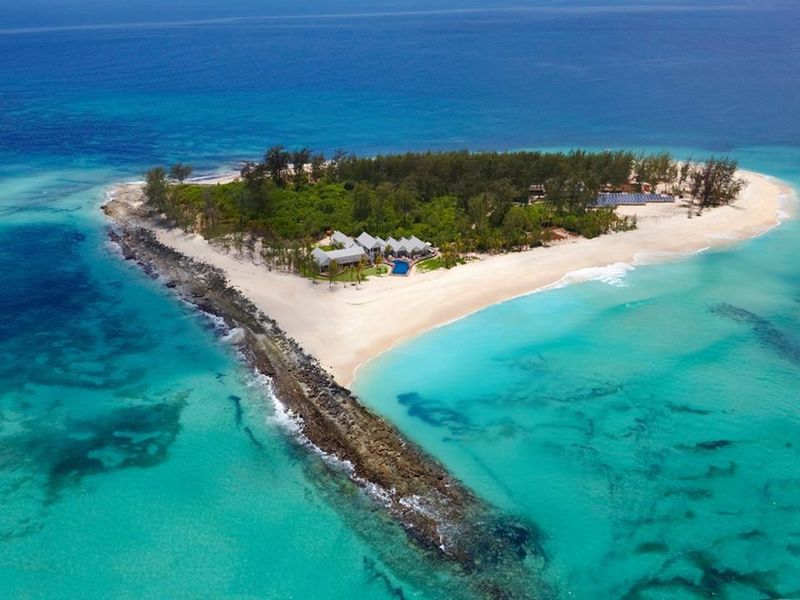 Imagine this, if you can: a luxurious stretch of beach and tropical wilderness somewhere in the Indian Ocean. This beautiful private island is home to no one, apart from you, your family and some friends (10 people max).
You have a professional staff that caters to only you – chef, cleaning staff, wait staff, yoga instructors, snorkelling instructors…you name it! Now imagine this place is surrounded by coral reefs within protected waters that are teeming with sea life including gigantic creatures such as whale sharks, dolphins and several species of dolphin.
The only way to get here is by helicopter or boat from a nearby island which is about 45 minutes away depending on the weather conditions.
You have nothing but pristine privacy in a tropical paradise the likes of which can only be seen on TV.
That is exactly what you get when you visit "Thanda Island" in Tanzania. Africa's leading luxury island for three years in a row now.
Read: Top 5 Island Destinations in Kenya
Where is Thanda Island?
Thanda Island is a beautiful piece of paradise that can be found just off the east coast of Tanzania in East Africa. It started off as a dream for Swedish couple Dan and Christin Olofsson who wanted to find a remote, uninhabited tropical island somewhere off the coast of East Africa.
Nestled within the Shungimbili Island Marine Reserve, which is located between Tanzania's mainland and popular Mafia Island, Thanda Island is the culmination of meticulous planning.
Years of extensive marine conservation and sustainability-minded constructions went into creating what is now Africa's most luxurious private island. It's so private that it can only be booked on an exclusive basis which will set you back about $10,000 or a million shillings a night.
Things you need to know about Thanda Island
The very first thing you need to know about Thanda Island is that it's 20 acres of paradise. There is no escaping that fact. This is a place that is surrounded by beach and ocean waves. The waters around it are warm and teeming with life. The island itself has no road, no other inhabitants except for you, your friends/family and the staff that cater to you.
What about Accommodation?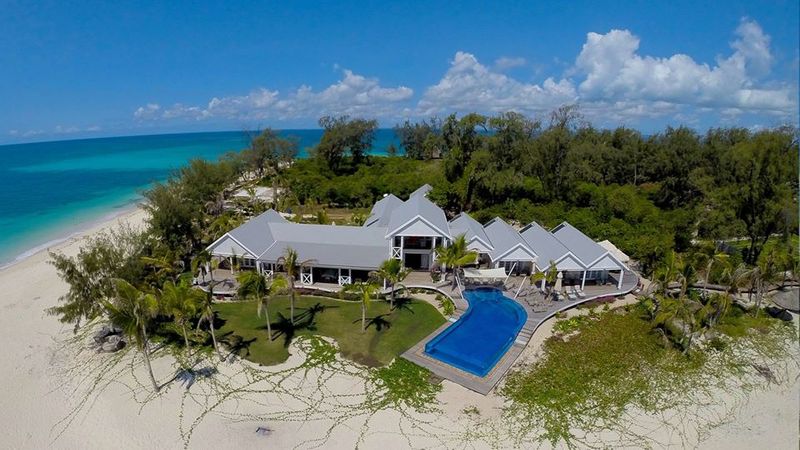 There is only one luxury villa for your accommodation. This beautiful structure is designed to house up to 10 people and comes with five beautifully decorated bedroom suites, all of which directly lead you onto the beach. Apart from the fact that it's very well designed and tastefully decorated, the villa has one unique feature that you will be hard pressed to find anywhere else: a glass rim-flow swimming pool that rises up from the ground.
This swimming pool is as unique as it gets. It has blue mosaic tiles and forms a luminous cube that accentuates the beauty of the deck on which it rests as well as the surrounding white sandy beach and turquoise blue ocean just a few meters away.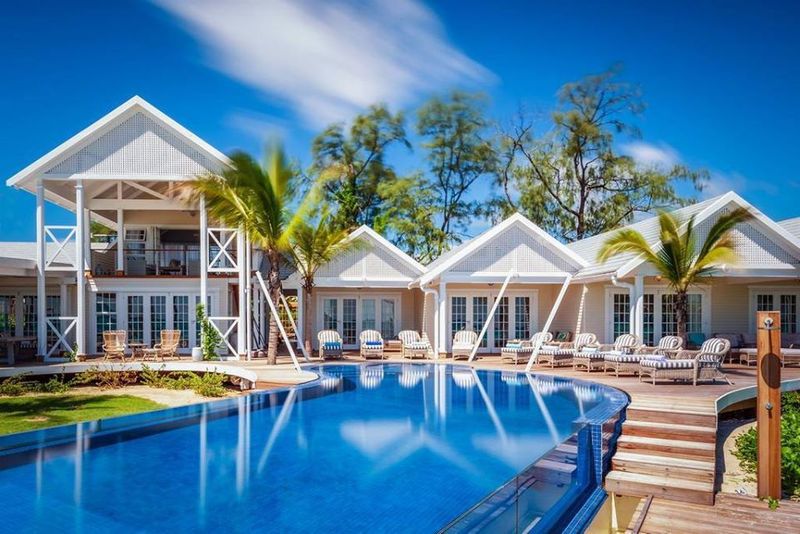 There are additional traditional bandas on the beach just in case you are travelling with older kids or some of your friends don't feel like staying in the villa. These "Beach Chalets" are designed and built right on the sand and give you a more traditional, yet luxurious Tanzanian experience.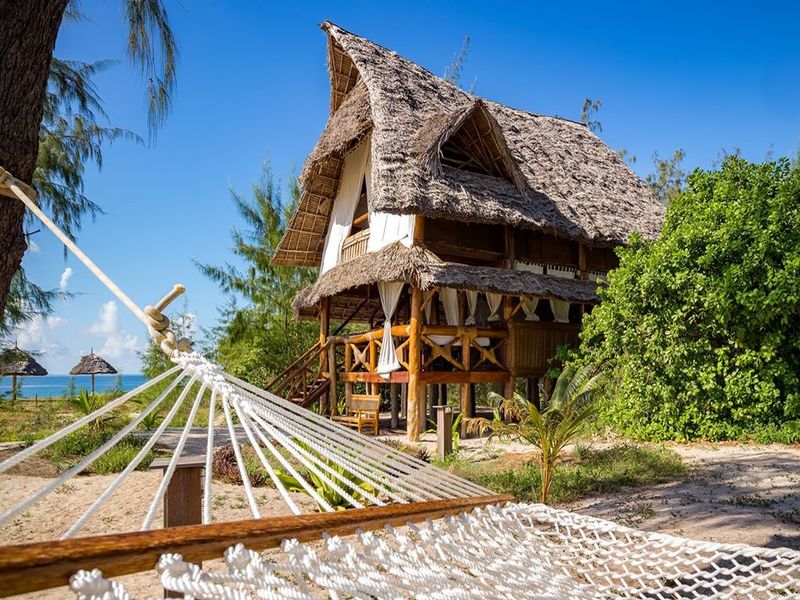 How do you get to Thanda Island?
Getting to Thanda Island isn't as tricky as you would think considering the fact that it's a private island completely detached from the mainland. Your very first step would be to fly into Dar es Salam (one of the largest cities and former capital of Tanzania). Here, there will be a team from Thanda Island waiting for you.
The team will help you get through customs and ensure smooth and speedy access into Tanzania. Once you are through customs, you have two options. Either:
Take a direct, 45-minute helicopter ride to Thanda Island.
Fly to neighbouring Mafia Island using a fixed-wing plane then take a boat ride to Thanda Island (the more scenic route).
Things to do at Thanda Island
Once you get to the island, you will find that there is a host of fun activities to keep you busy throughout your stay (you could always just sit back and enjoy the location as you sunbathe on your own private beach). Here are some of the enjoyable activities available to you at Thanda Island:
Snorkelling in the warm waters of the Indian Ocean

Thanda Island is situated within a marine reserve which makes the waters around it perfect for snorkelling. The fact that it's surrounded by coral reefs is just delightful. On your snorkelling safari, you will get a chance to see rarely spotted marine life such as whale sharks, turtles and even dugongs.
Go on a private cruise
You could also make your experience a bit more inclusive by taking the "Thanda Classic Cruise". Using a sizeable boat named "Over the Rainbow of London", this private cruise will take you on an exploratory journey through the network of islands within the region. The cruise will give you a chance to explore the islands of:
Chole Bay.
Mafia.
Zanzibar.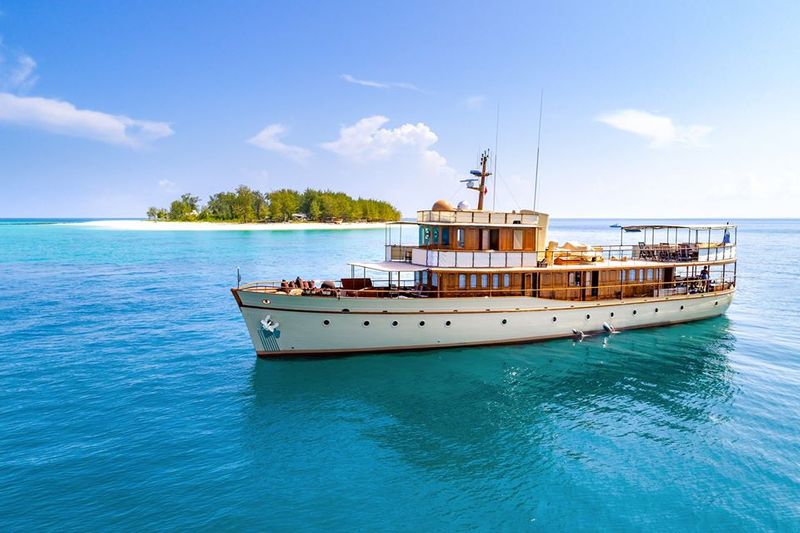 Yoga and a host of wellness activities
Thanda Island prides itself in ensuring that their guests experience a sense of well-being whenever they visit this little slice of heaven. To deliver on this promise, they provide you with healthy yet delicious dining, spa treatments and relaxing yoga sessions (some right on the beach).
Exotic dining experiences
You might not think of this as an activity but when you visit Thanda Island, your dining will be more than just a means for sustenance – it will be an experience in and of itself. From beautiful sunset dinner cruises on a traditional Arab dhow to al fresco lunches on the beach, you will have nothing but the best Swahili dishes and regular royal feasts prepared by the in-house chef.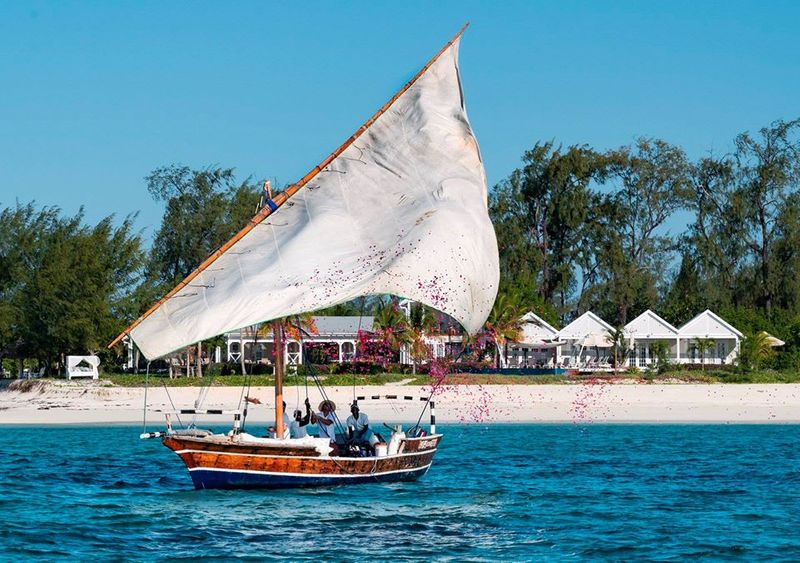 From sea Kayaking to the gym as well as tennis and other games, Thanda Island is not short of activities and excursions that are not only enjoyable but also educational. If you ever wanted to live like royalty, booking a three-night stay (that's the minimum stay) at Thanda Island in Tanzania will definitely deliver that desire.