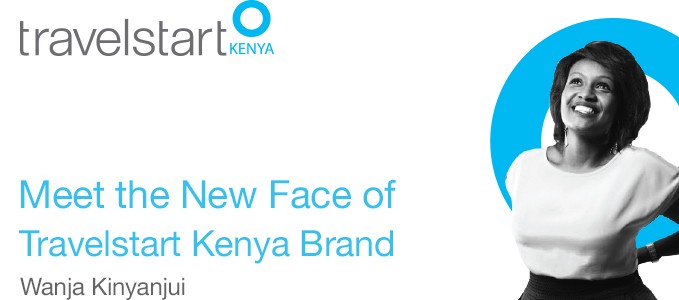 We sat down with Wanja Kinyanjui, – the new face of Travelstart Kenya brand, a Nutritionist by profession and a public health specialist. She shares her travel stories, her passion for travel and how excited she is, to be Travelstart Kenya's brand Ambassador. There's no doubt that Wanja is an amazing nomad. Read Wanja's travel highlights and how she has explored the gap between Kenya and other countries she has visited.
Wanja Kinyanjui recently won the 'face of Travelstart Kenya' in our Facebook photo competition held last month.

What are your full names?
Wanja Kinyanjui (Anne)
How old are you?
Haha really?? I am proud 26 year old female …..
Are you married?
No, not yet… very soon though. There's a happy man out there, he should be (Laughs)
What do you do for a living?
I am a nutritionist by profession and a public health specialist and I have a keen eye on research. However, most of my days have involved in weight management and sports nutrition. But I am also involved in property speculation and brokerage. I can sell and help buy any piece of property and housing.. a girl's got to work..Right?
Where did you study?
I am an old girl of Kahuhia girls High school in Murang'a and The University of Nairobi where I did my Nutrition studies; and thereafter, I got the prestigious Commonwealth shared scholarship to Bournemouth University where I did my MPH ( Master in Public Health).
Where have your travelled to in your short life?
I just started this very recently, since then I have set foot in 12 countries. Holland, England, Bahamas, Grand Cayman Islands, Scotland, Belgium, France, Monaco, Italy, Wales, Botswana and South Africa. I intend to travel more in my 'long life'.
What are your favourite destinations?
I love the Caribbean for the beaches, the food, snorkeling. I loved south of France (Paris was a bit overrated for me, sadly)… 'The French Riviera or Cote d'Azur, the coastline is beautiful and there is a lot of stuff you can do on foot to explore. But I completely fell in love with Italy. My favourite place was the town of Firenze (Florence), the ambience, taking pictures on the Ponte Vecchio bridge, the Lindt chocolate shops, the golden gate bridge, Florence's outdoor San Lorenzo leather market; also, browsing around or just looking at art… (it feels nice to see works of Michaelangelo… though I am definitely not an art connoisseur).
What was the best dish you had while travelling?
I have to admit I did a lot of Mc.Donalds, packed sandwiches, cheese on crackers and apples (student budget), but I appreciate all you can eat buffets in Italy. I particularly had the best pizza in Pizzeria Spontini. They only serve oven baked Margherita pizza found on this street called Corso Buenos Aires (The street name is so cool I had to say it). I had more of English food… One of the greatest tradition of food I really enjoyed was the English Sunday roast dinner served with gravy and all those English deserts.. they do have a sweet tooth.
What is the best piece of travel advice you ever got?
My Uncle advised that I should get good travel insurance. This came in handy when I was stuck in Nice, France. The airport workers decided to go on strike (apparently they do that a lot) and I had a flight out to Italy same day. I ended up taking a bus ride into Italy and my insurance paid me back all my flight money and any inconveniences which was higher than what I actually spent. Tax free works too – keep duty free tax receipts of everything you buy while in a country, get tax refunds at the airport as you leave the country I got £72 pounds back on my computer… and so much more!!!
What was the worst?
You can travel alone, but it's not so cool. Sadly my travel partner and great friend Carole Kamenchu (Mench) couldn't make it to Paris, so I soldiered on alone. I did made friends from America, some hitchhikers too; it was alright, I did my site visits with them, but it is nothing compared to being with Mench, doing lots of people watching and sneaking in a lot of Kiswahili jokes, which not many people understand. I remember when we travelled together, we went to Fontaine de Trevi (Italy), we kept complaining (Loudly in Kiswahili) of how difficult it was to get a perfect picture since the place was crowded…. then this guy (white) turns around and says.. 'Habari yenu, leta niwapige picha' we were shocked!!! We discovered he's one of the Cardovillis.
How did you manage to pay for all your trips?
Travelling is an expensive deal. Early booking of all my flights helped a lot, my travel itinerary was firmed up a month and a half prior to my travels. I even got a ticket for as low as £17 (about 2500 kshs) from Milan, Italy to London!!! I saved up for the trip and a couple of extra hours from my Christmas and summer jobs. Having friends in most of those countries helped loads with accommodation and my hosts were so lovely to show me around. I had a very lovely experience in South of France, Ingrid and David Osborn and their family took time out to host me and showed me around. Some of the best sunny days and also gives you an opportunity to reconnect with great friends.
What is the coolest thing you have seen?
Well, apart from everything…That Westminster Abbey feels like I'm in Hogwarts (Such a harry potter fan). Shopping malls on Oxford Street (England) and all the Christmas decorations in England, so lovely especially at night. (It's also true about what happens on the day after Christmas, people shop like the shops will never open again!). However, being whom I am the absolute coolest thing was:- once I swam in the middle of the ocean with Stingrays (pretty cool huh!) It is believed that if you kiss a stingray, you get 7 years of Luck, I still have 6 years left that was the coolest.
What was the weirdest?
The English Pagan culture and practices. We visited some places with electromagnetic fields strong enough that your watches go wild. Need I say this was all very close to Stonehenge.
Where would you love to travel to but haven't had the chance?
Is that a trick question am I wining another trip.. *winks* Well I am a big island girl. There is so much beauty in islands, so I definitely would want to do the beautiful Island of Santorini, Canary Islands, St. Lucia, Seychelles, Hawaii, Zanzibar too many. I'd also want to go to Oz (Australia) and America eventually, because its America!! In Africa, Morocco and Madagascar. am really hoping to visit Nigeria, I have made some of the greatest friends with the kindest hearts in Nigeria. I would love to visit Nssuka… and Enugu and eat some fresh jollof rice and some well cooked Suya… with my good old friends Chioma, Ejima (twins) Adanne and Adaoga, Somtochukwu, Kemi and Cynthia. Also after reading the likes Chimamamnda Ngozi, Chinua Achebe and Ben Okri, I would want see the place in which the plot of these stories are set.
How did you catch wind of the competition?
One of the contestants sent me a link to like her picture in the contest. Which I did. I decided to check the completion out and I figured, this is definitely my kind of thing… it turns out it is.
What will you do with your new found status?
Wow! Well, I will keep travelling, exploring new places, different cultures and people. I will be interacting more with Travelstart staff (who are so amazing) and travel lovers, and sharing tips on best destinations and making the most of your travel in terms of experiences and budget. I'm so thankful to all those who voted for me, this would have not been possible without the support of friends and friends of friends and strangers on Facebook. Being the new face of Travelstart Kenya has been amazing because it has opened up other avenues to explore in advertisement and even more that I am yet to find out
I hope to get more opportunities to get trips to keep my travelling dream alive. I also want this to be for my children and my family. I want them to strive to see the world, I believe the world is there for us to see, explore and conquer. I hope they get to experience some of the things I shall in all my journeys