Kenya is always a fantastic destination for family bonding. Spending time with the family on weekend is a great opportunity to re-connect and communicate while having fun.
Outdoor activities are perfect for those who want to experience a relaxing and refreshing weekend in an amazing place. Do something fun this weekend and spend worthy time with your family.
For great weekend bonding, we present to you 6 fun outdoor activities for the family. These outdoor activities are great adventures for you and your family.
1. Picnicking
Everyone loves picnic because it can be great fun. Kenya offers many scenic destinations for outdoor activities like picnicking. If you want the weekend to be fun for your family and you too; you should go on a picnic at one of Kenya's numerous parks such as Uhuru Gardens, Oloolua Nature Trail, Ngong Hills, Nairobi National Park, Paradise Lost, Sangana and many other parks and gardens. Picnics are inexpensive activities that will reconnect the family and create lifetime memories. Pack some good foods that everyone loves and head to the park and have some fun.
2. Fishing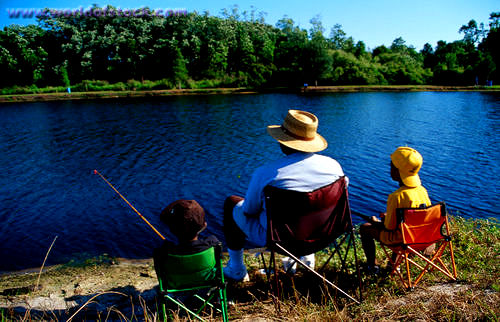 Fishing may be a source of living for some people in some parts of Kenya but it's also a recreational activity. It is an outdoor activity that can help families to bond at the riverside or lakeside. Fishing helps people to relax and it is enjoyed by both adults and children. Kenya has amazing fishing locations where you can actually fish, such as Lake Alice, Diani Beach, Wasini Island, Malindi, Watamu and many others. From experience, Mombasa coast has some of the best fishing activities in the Indian Ocean.
3. Camping
Camping is one of the cheery bonding moments you can have with your family. It's also a smart way to introduce your children to the outdoors. You get to enjoy nature and the company of the whole family. It's even more fun when you pitch your camp tents beside a lake or even lodge on one of the luxury camps or eco-lodges in Kenya. There are many places to go camping in Kenya, from Meru National Park to Laikipia and Chyulu hills. Camping is an amazing experience in Kenya, don't miss such outdoor opportunity with your family.
4. Sailing
If you are seeking an adrenalin-filled adventure for a weekend fix with your family, you should opt for sailing. It's an ideal way to see many beautiful places in one momentous trip. There are many sailing destinations in Kenya such as Naivasha Yacht Club, Mombasa Yacht Club or you could go Dhow Sailing if you are in Lamu. If you want get an adrenaline-pumping rush for the weekend, with your family, sailing in Kenya is a must.
5. White Water Rafting
You may think white water rafting is too extreme for family bonding. We don't think so, especially if you have grown-up children. You could embark on such adventure, which is exhilarating and fun. The perfect place to rafting in Kenya is in Sagana. Tana River, Mathioya River, Athi River, Malewa River and many others offer a combination of nerve-racking adrenaline adventures and of course scenic views of the wilds. Don't forget to wear a life jacket, breathe deep and paddle hard .
6. Beach Activities
Going to the beach is undoubtedly one of the best activities for an exciting weekend. Kenya has some of the most beautiful beach destinations in Africa, from Malindi to Mombasa. Beach outing is a great way to relax, unwind and spend some time with the family. For a great weekend bonding with your family, you visit the beach to hang out with your family and indulge in delightful coastal activities like diving, snorkelling, camel-riding, swimming, windsurfing and kite-surfing.
If you are looking for things to do for an exciting weekend with your family, you should choose one or two of these options. What do you think? Share your comment with us in the comment below: