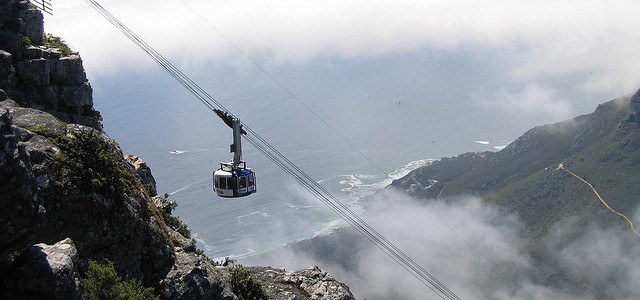 Although, Johannesburg is a beautiful city; Cape Town is magically stunning and exciting. The first thing that naturally comes to mind when you think of Cape Town is the majestic Table Mountain that backdrops the stunning city. Although this is one of Cape Town's major attractions, this metropolitan town has a whole lot more to offer in terms of tourist attractions.
Not only is the weather here absolutely enchanting – if you go at the right time; the vast diversity that the Edwardian and Victorian buildings bring is in league with no other town in the whole of Africa. Cape Town has wonderful high-rise office blocks, serene parks, swashbuckling waters and friendly people as beautiful as the place itself.
If you intend to visit South Africa any time soon, here are 15 reasons to visit Cape Town if you have been to Johannesburg:
1. Cable up Table Mountain
Photo Source:

Irene on Flickr
Of course, there is no visiting Cape Town without going up the famous Table Mountain. There are quite a number of ways through which you can do this: for the thrill seekers, you can use the cable car up and then abseil down 112 meters of rope. For the hikers, you can take a scenic walk through the many trails that lead up the mountain. There is even a tented trail that takes you about five days to complete. Table Mountain is one of the best ways to have a bird's eye view of the city bowl.
2. Swim in hidden waters
Photo Source: Damien du Toit on Flickr
Cape Town has some of the most beautiful beaches you can find in South Africa. But if a noisy and busy public beach is not your cup of tea, then you can visit a few other 'less crowded' waters that provide absolute tranquillity. Ask your tour guide or taxi driver to take you to either one of the following places: Tietiesbaal, Oudekraal, Smitswinkelbaai or Beta Beach.
3. Suit up with the jackass penguins
 Photo Source: Don Brubacher on Flickr
At Boulder's Beach, there is a colony of penguins that simply cannot sing. They get the name 'Jackass Penguins', because their singing sounds like the braying of jackasses. They are still quite beautiful to watch though.
4. Take your thirst to the Cape Winelands
Photo Source: Lollie-Pop on Flickr
About an hour's drive outside of Cape Town, are some of the most scenic patches of land you will ever see. From beautiful mountains, large private farms and lush vineyards, these are the Cape Winelands. Cape Town just so happens to be home to some of South Africa's finest wineries. The best part is that almost all of them offer wine tasting tours. So bring your thirst and a designated driver.
5. Curate the local art scene

SMAC Art Gallery, Cape Town"| Photo Source:Maljevicmaja
What was once a no-go zone for almost 'anybody' due to its gang ridden streets, is now a stretch of some of the most visited art galleries in the country. The former tattered suburb of Woodstock, at the foot of Devil's Peak is now full of intriguing galleries, and some of the most beautiful art pieces you will see in Cape Town.
6. Party like the locals
Photo Source: Mallix on Flickr
Cape Town has a host of wonderful bars, night clubs and restaurants that serve liquor. If you want to party like the locals do, ask the bartender to give you some 'Karate Water'. This is a cocktail made of Brandy and coke. This cocktail has a variety of names, from 'klippies and coke' after the local brandy, Klipdrift to 'Karate Water', for its local reputation of inducing drunken bravado.
7. Buy diamonds at a bargain
Photo Source: Dmitriy Fomenko on Flickr
Although Cape Town has a lot of jewelry stores and destinations, there is one street that is known as the 'Jewelry Avenue (at the corner of Hout and Burg Street). This Avenue has more than 20 stores that carry from Afro-chic items to custom made diamonds that come at a very good bargain.
8. Get your 'Bourgeoisie' on at Camps Bay
 Photo Source: Bertrand DUPERRIN on Flickr
There is a Cove in Cape Town that has been dubbed 'St.Tropez of Cape Town – Camps Bay This is because it has nothing but rarefied air. From Yachts to Riviera style palm trees and some of the best dressed people you will ever see, this is not the place to bring your worn out sandals and T-shirt. Everyone has a perfect tan and the restaurants are nothing short of the Ritz. If you are feeling a little fancy, then spend a day down at St.Tropez and see how the other half lives or simply mingle with your own kind.
9. Have some of The best seafood you'll ever taste
Tuna fish simply love the South African shores. The restaurants in Cape Town get the freshest Tuna, right before they are shipped off to the orient. You want to order your fresh Tuna seared. This brings out the best flavour. You can also get some delectable prawns at just the right price. The locals advise you to order your prawns 'peri-peri'.
10. Get a dose Of South African history
Photo Source: Hannah Swithinbank on Flickr
Cape Town is home to Robben Island, District Six Museum and other museums that tell us more about South African history. Robben Island is where the Late President Nelson Mandela was imprisoned and District Six Museum will show you the true face of apartheid, the plague that Nelson Mandela fought so hard again and that gripped South Africa until 1990.
11. Touch a shark in the face
Photo Source: Martin Farrington on Flickr
South Africa has about 1/4 of the world's shark species in its waters. 98 species rule its shores and 40 of those call Cape Town home. If you have the guts for it, take a drive to Gansbaai, also known as the 'white shark capital of the entire world', and shark cage dive. Just don't try to touch the sharks in the face. They are not particularly fond of that!
12. Have you ever tasted the best afternoon tea in the world?
Naturally, you would expect England to hold this title, but there is a little Pink Palace in Cape Town called 'Mount Nelson Hotel' that boasts the best afternoon tea in the entire world. This claim is supported by some of the world's most renowned foodies and travel writers.
13. Experience an unbelievably romantic horseback ride
You might be wondering, what is so romantic about a horseback ride? Have you ever seen those beautiful scenes in the movies where the muscle bound hero takes his lady for a romantic horseback ride on the beach during sunset? Well, that could be you. At Noordhoek Beach, you can actually do this! All you need are the muscles and the lady. They bring the horses, the beach and the sunset.
14. Gain some much needed surfing skills
At Muizenberg Beach, there is a host of professional surfers who are willing to show you the exquisite art of surfing. These guys simplify their lessons so much that you may actually be surfing with the pros and impressing your friends in no time at all.
15. Ride a camel in Kommetjie
For those of us who simply can't deal with any more car, boat or horseback rides, how about riding a camel instead? At Imhoff Farm in kommetjie, you can ride some of the friendliest camels in South Africa and gain an experience that you will not soon forget.
South Africa as a country has way too much to offer its visitors. The attractions in Cape Town simply have to be at the top of your list when you visit the city. If you have visited these places, share your experience with us in the comment below.
Related articles across the web