"To travel is to live.
To travel with coffee in hand is to live like a queen amongst the people."
Just like the best friends in real life; coffee and travelling! Gather around coffee lovers, we have listed amazing coffee products for you!

To enjoy your trip in the best way; stay up, pay attention. Basically, just consume lots of caffeine! The caffeine is probably everyone's essential in a casual day or while travelling! As coffee lovers, we can't live without caffeine. While travelling might be a little exhausting to find the best coffee place. We thought; "why don't we make our own coffee on the road?!" We listed 14 best coffee products for different ways of brewing coffee.
Make your route, pack your coffee beans, order the best product that is suitable for you and your trip!
1. Kuissential SlickDrip Collapsible Silicone Coffee Dripper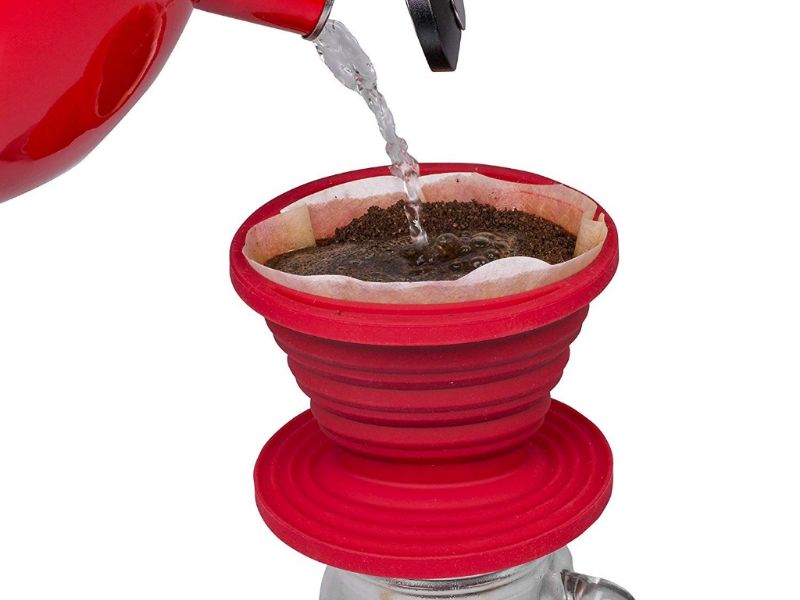 Photo Credit: Amazon
Price: $12.99
Review: anonymous on Amazon

"This collapsible filter is perfect for travelling! I like to brew my own coffee in hotel rooms so I can enjoy my favourite flavours of ground decaf. I have travelled with a plastic filter cone for years but always wished it didn't take up so much space in my bag. This product is exactly what I needed."
Kuissential's collapsible coffee dripper is basically the easiest way to make your own coffee while travelling! The SlickDrip is made from durable silicone. All you need is a filter, mug, hot water and of course; coffee! If you like to travel with a light case or a backpack, treat yourself with a Kuissential's SlickDrip.
2. H2JOE
Photo Credit: tomsfinds.com
Price: $133,279
Review: Cheryl Wong on Kickstarter
"I'm so keen to get my bottles, this is the fantastic idea!"
Are you tired of carrying two bottles everywhere you go? Well, this is probably the handiest invention for coffee lovers! While going out or travelling, instead of carrying one bottle for coffee and one for water, you'll only have to grab one! H2JOE mug is so practical! While keeping your water cold in the upper pane, your coffee stays hot in the lower pane.
3. The Dripster Cold Brew Dripper
Photo Credit: Amazon
Price: $55,73
Review: Sepo Galumbi on Galumbi Drinks&More

"The result is very aromatic in taste (also or especially compared to the less aromatic cold brew process), is regarded as more digestible than brewed coffee and emphasizes fruity and chocolaty nuances in the coffee."
The Dripster is the perfect tool for cold brew lovers! This light cold brew dripster is very handy, all you have to do is get some ice and your favourite coffee blend and you are ready to get your cold brew! The Dripster is available on Amazon, get yours now!
4. The Coffee Brewer By Growers Cup
Photo Credit: the-coffeebrewer
Price: €9.95
Review: Brian on gearweare

"Well it looked good, smelled good and tasted fine and surprisingly there were no grains in the bottom of my cup when I finished -which implies there is a built filter mechanism in the bag"
The Coffee Brewer is so cool! It even comes with your favourite coffee blend! Reusable packages and easy brewing are two things to die for! Are you strict about your coffee?  The Coffee Brewer is easy to carry and all you need is hot water. After 2-4 minutes you get your delicious coffee!
5. Coffee Gator Pour Over Coffee Maker
Photo Credit: coffeegator
Price: $29.99
Review: chereview on Amazon

"This travel, pour over coffee maker was exactly what I was looking for. I like the freshest coffee possible and this allows me to make a great cup at the office or when I'm away. It is solidly constructed and perfectly sized…plus the logo is cool."
This pour over brewer allows you to make your favourite coffee available wherever you go. Coffee Gator's Pour Over Coffee Maker is made from stainless steel mesh filter. All you have to do is add your favourite ground coffee then pour the hot water to make your homemade drip coffee. Pour Over Coffee Maker ends the paper filters and on the plus side; you don't have to use a different cup, you can easily use your comfortable coffee maker.
6. Go Cubes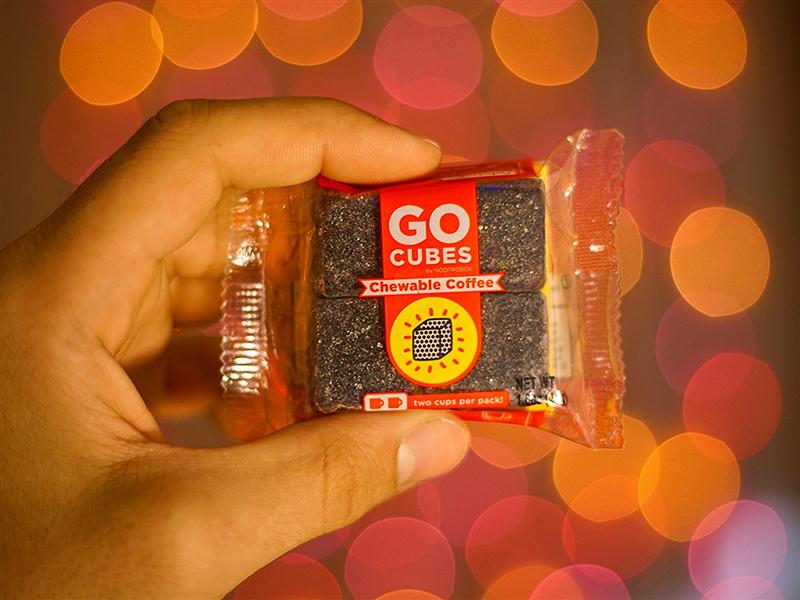 Photo Credit: Poppaganda
Price: $39.00
Review: Rilodile on amazon

"Need energy? These are the real deal. If you are sensitive to caffeine, I'd walk on by. Otherwise, get ready to get stuff done! Recommended!"
This latte and mocha flavoured chewable cubes are perfect for caffeine lovers! Every GO Cube contains half a cup of coffee's caffeine amount (50mg), along with the relaxation of green tea. If you can't have hot water while travelling, just eat one of the GO Cubes. There is also a plus side of this product that it helps you to stay focused for 4 hours.
7. Cafflano Classic
Photo Credit: Coffeebeaner
Price: $99.90
Review: Andy M. May on Amazon

"Fantastic device! Makes great coffee on the road. I'd recommend to anyone who needs the portable coffee capability."
Cafflano Classic is all you need to brew your coffee! It's perfectly designed for travels, compact and lightweight. This award-winning product is a coffee grinder, stainless filter dripper, and a tumbler. The all-in-one pour over coffee maker is all you need to enjoy your coffee!
8. Coffee Joulies
Photo Credit: majalah.ottencoffee
Price: $49.95
Review: Michael Balk on Amazon

"These keep the coffee warm longer. Things to note: The larger the volume, the more 'beans' you need. I use 3 for an average size coffee."
Are you tired of burning your tongue every time you get that first sip of your coffee? Well, Coffee Joulies is polished stainless steel designed to absorb the heat and to keep it perfect. When your coffee reaches the perfect temperature (60°C), it uses the energy that absorbed to keep it perfect. Joulies are also in the shape of coffee beans and comes with a carrying pouch.
9. Nomad Espresso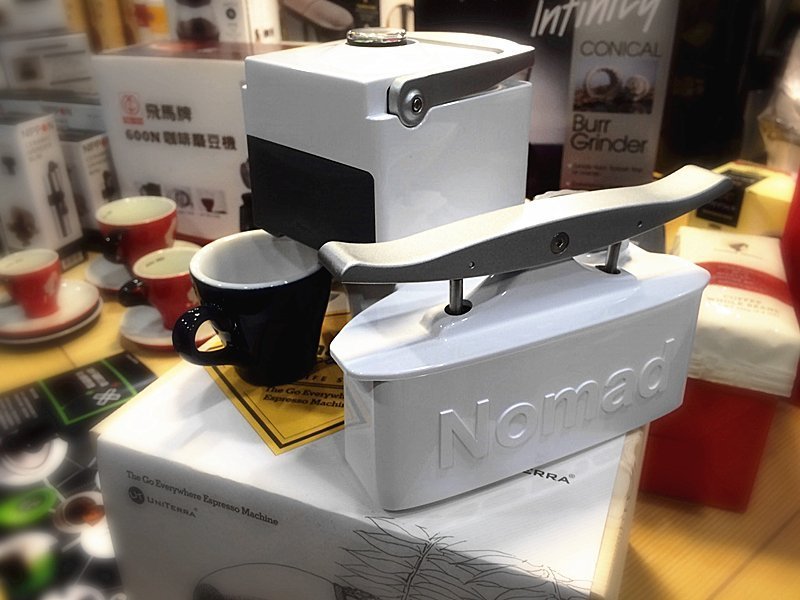 Photo Credit: unittera-nomad
Price: $259.00
Review: W. on amazon

"I have been using this coffee maker once or twice per week for almost 2 years and it still works as well as the day I bought it. I do clean the machine occasionally with soap and water but that is all. I still love it and highly recommend it."
With UniTerra's portable espresso machine Nomad, you can brew a cup of Joe in everywhere! This environmental espresso machine doesn't need any electricity or batteries. All you need is hot water and coffee to make amazing espresso just like a cool barista!
10. Stanley's Classic Legendary Bottle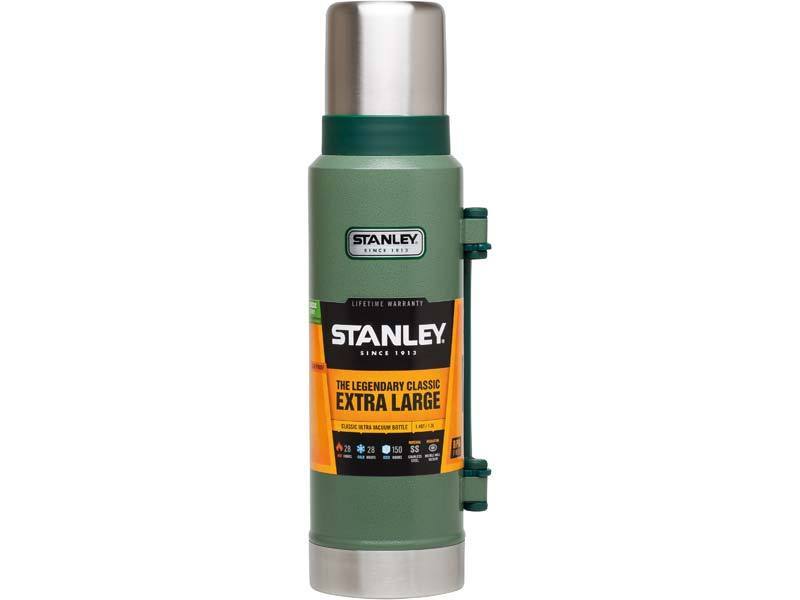 Photo Credit: ebay
Price: $45.00
Review: anonymous on Amazon

"Awesome, just awesome thermos. I put ice water in this for a long car trip. Arrived 2 days later forgot all about it (it was in the back seat floorboard). Remembered it and opened it 2 more days after that (4 days total). The water was still ice cold and most of the ice cubes had not melted at all."
No travel would go on without the perfect bottle. Stanley's Classic Legendary  Bottle helps you to keep your coffee hot or cold! It allows you to keep your coffee hot for 45 hours or cold for 48 hours. If you can manage, it allows you to keep it cold 8 days with ice. Stanley's Classic Legendary Bottle is perfect for travelling, camping
11. Bodum Travel Press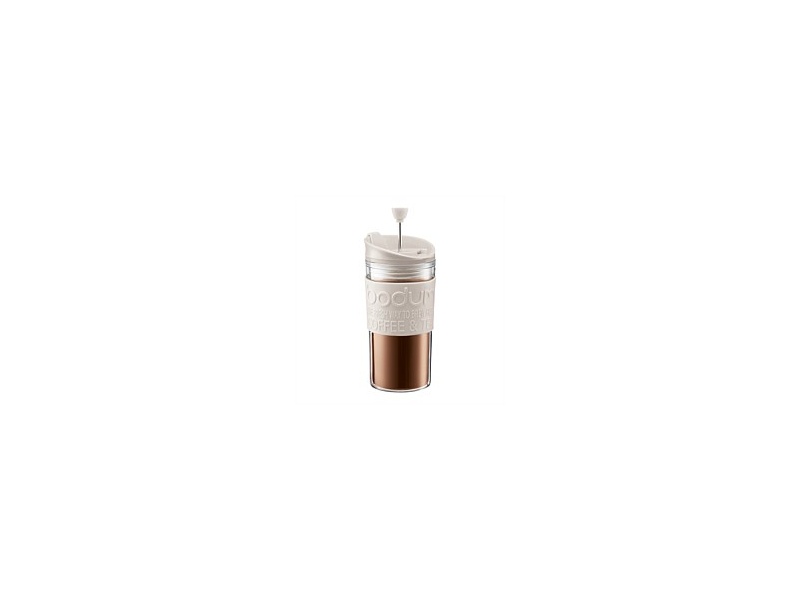 Photo Credit: lasoo
Price: $29.99
Review: Alice J. Capen on Amazon

"This coffee press is perfect for home and travel, and it keeps the beverage hot for two or maybe three hours and still warmer than luke-warm after that, as long as you keep the top closed."
This easy to use, portable French Press is also good for coffee lovers who don't like carrying heavy mugs. With Bodum Travel Press, you can easily brew your coffee no matter where you are as long as you have hot water and ground coffee! Stainless steel double wall design and a vacuum seal keeps your cup of Joe hot and fresh. Add some ground coffee, hot water and then press down the plunger after 4 minutes to make your day better!
12. Handpresso Pump Set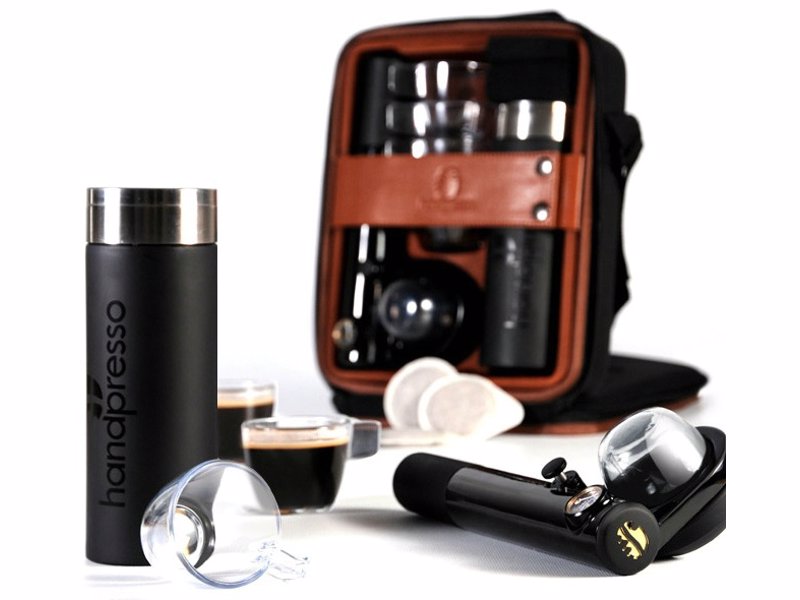 Photo Credit: expertlychosen
Price: $201.47
Review: anonymous on Amazon

"LOVE this!! I have one at home and one at the office. Makes a great and simple espresso. Have travelled and camped with it too, but I love it so much I use it all the time!!!!"
Handpresso Pump is the first ever portable espresso machine. It was launched in 2008 and designed in France. As this portable espresso machine works manually, it allows you to get a creamy espresso no matter where you are. It works like a bicycle pump to build up a 16-bar pressure. Handpresso Pump comes with a bag, 4 unbreakable cups, 1 Handpresso Pump, 1 thermos and a napkin! All you need is your favourite ground coffee and hot water to enjoy the moment!
13. GSI Outdoors Java Mill
Photo Credit: packgeargo
Price: $29.99
Review: anonymous user on GSI "I have been using this grinder for about two years now. I use it to grind my morning coffee so it's had almost daily use. After hundreds of uses, I can say with assurance that it is a fantastic grinder!"
Java Mill has Copolyester build with a ceramic burr grinder for years of service. Silicone handle affords a sure and comfortable grip. Because it is portable, you can enjoy your coffee everywhere.
14. AeroPress Coffee Maker
Photo Credit: androidcentral
Price: $29.95
Review: Karoline on Amazon "Are you kidding? I freaking love this thing. Get one. I have literally saved like $100 from this thing already from just one month. I can enjoy a nice latte without leaving my house and forking out cash to coffee shops."
AeroPress Coffee Maker is a good choice for coffee lovers who want to enjoy a cup of fresh coffee easily. It is small in size, portable and has a simple use.
Craving coffee already? Why don't you treat yourself with one of these amazing products?