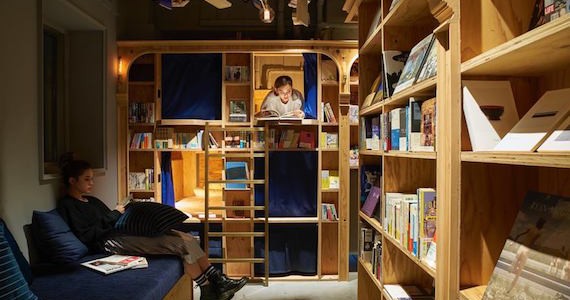 Do you remember the movie that takes travel dreams and turns them into nightmares? The masterpiece that leaves us wanting to never leave home: HOSTEL 🙂
Gladly, the perception of hostels have changed over time. Hostels are the choice for; people traveling on a budget, free-spirits, social butterflies, and those that choose life over the comfort of their own home. When the secret of cheap hostel living finally got out, the industry took off.
Living in a hostel is like staying in a big house, with no rules, and strangers who become life-long friends. You'll find pools, bars, and board games. They'll have libraries of books and DVD's. A wonderland for the adventurous traveller. In this article, you can find some cheap and amazing ones in Nairobi.
Don't be misguided into thinking that all hostels uncomfortable, dirty, and cold at times. This selection of 10 hostels are anything but uncomfortable.
With imagination being the only limit on what a hostel can offer, some have stood out in the crowd.
Are your ears burning Eli Ruth?
1- A JET EXPERIENCE WITHOUT JETLAG: JUMBO STAY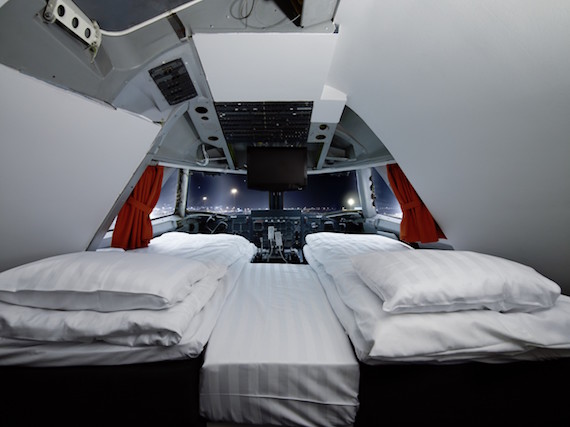 Our first stop is Arlanda, Sweden. Business man Oscar saw a Boeing 747 on sale and grabbed the opportunity with both hands. He created Jumbo Stay Hostel with 33 rooms and 76 beds. The hostel has a cafe and bar and plays host to corporate meetings which are in need of something more than just boring PowerPoint presentations.
 Room prices start from 450 SEK, or $53.
2- TAKE THE SUSPECTS TO THEIR CELLS: CLINK
London, England. When you combine; an old court house, with some prison cells, and a touch of British madness, the results are not surprising. The punk band 'The Clash' once stood trial here, and this old court house, turned hostel, has a popular bar named after the famous anarchists: ClashBAR.
Room prices start from £17, or $21.
3- A PRISON YOU DON'T WANT TO RUN AWAY FROM:  CELICA
The country is Slovenia, the city is very hard to pronounce. Ljubljana plays host to an old prison building which was transformed into an art gallery after a hundred years, and now, a hostel. The owners are quoted as saying; "A place that used to divide and categorize people according to different opinions and believes, has grown into a true social centre and a melting pot of ideas".
Room prices start from $17.
4- FOR THE NIGHT-FLOATERS: ARKABARKA THE FLOATING HOSTEL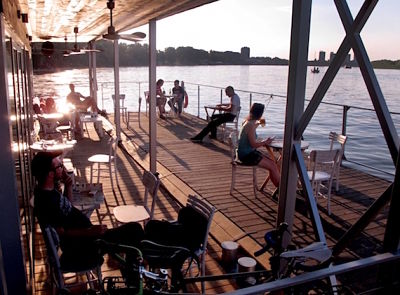 Instead of a river view, why not request to stay on the river itself? If you plan on visiting Belgrade, the floating hostel, Arkabarka, is a must. You will see why when you eat your breakfast on the hostels epic terrace.
Room prices start from £16, or $19.
5- INVADING THE WATER PIPES OF THE CITY: DASPARK PROJECT
This hostel offers guest a quirky and unique accommodation option. One day you wake up and see the water pipes of your city in the park, as hostel rooms! The idea is amazing. There are environmental benefits, but the best part is; you pay as much as you want. These rooms have a reservation system and you can only stay for 3 days max, and pay whatever you want/can afford when you leave. Utopic, right?
5- FOR THOSE WHO LOVE FALLING A SLEEP WHILE READING: BOOK AND BED
As a child, many are guilty of reading books with a flash-light under the blanket. This hostel wishes to recreate your childhood memories with this unique accommodation option. This hostel is heaven, for fellow bookworms. They have a very basic motto; "offering the greatest moment of sleep". They want you to experience it, not with comfy pillows and beds but, sleeping in the middle of the books.
 Room prices start from $35.
7- CARAVAN ROOMS: LUCKY LAKE
25 vintage caravans next to a river. And so the story begins. A caravan is the vehicle of every traveller's dreams. The idea of staying in a caravan is very exciting for the traveller who doesn't own one. If this sounds like you, Lucky Lake is your heaven. 30 mins outside of Amsterdam, Netherlands, you'll find a caravan that you dream about.
Room prices start from £19, or $22.
8- A HUMBLE CRUISE: RED BOAT MALAREN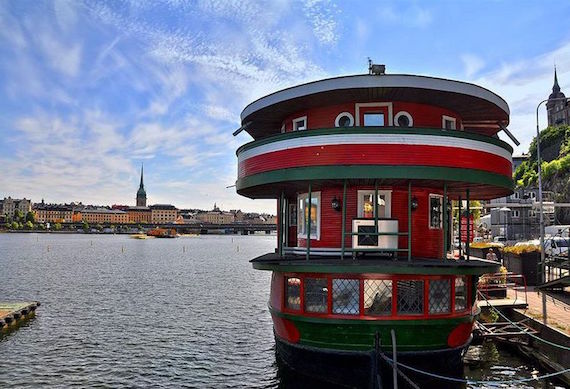 Introducing Stockholm's prettiest hostel; the 'Red Boat Malaren'. In this hostel, the Captain has the last word!
Room prices start from $42.
9- THE ONLY HOSTEL THAT YOU CAN SAY: LET'S DRIVE TO THE BEACH! THE NOMAD BUS
Val and Tim are a European travelling couple. One day, they asked themselves; "Why shouldn't we travel with our own bus around Europe?" and here they are. The Nomadic Bus has 6 beds and an amazing terrace. Yes the bus has a terrace, because why not? (And the view changes every day).
10- A SPACE EXPERIENCE WITH GRAVITY:  MET A SPACE POT
Another concept hostel that allows you to experience space travel with gravity and make your childhood dreams come true: Met a Space Pot.
Like if you love Star Wars, fav if you love Star Trek.
Do you experience any other creative hostels? Let us know in the comments below, tweet us, or tell us on Facebook