Either you are a tender beginner or an expert, there's something for everyone in Europe for skiing enthusiasts. Incredible views of the Alpine, miles of pistes, fantastic slopes call for the adventurers all around the year. If you've been thinking about where to go skiing for a winter holiday, here are some magical destinations in Europe to consider:
1) Chamonix-Mont-Blanc, France
City: Chamonix
Best time to go: Mid-June until mid-September
Temperature: 10℃ – 15℃
The traditional alpine village of Chamonix is the capital of snowboarding and mountain-skiing for experts. Located near the junction of Switzerland, Italy and France, this resort area is the highest summit in the French Alps. The first Winter Olympics was held here in 1924 and its vast size makes it a highly preferred skiing destination. The 4,807m altitude and the glaciers around assure the best snow conditions in Europe.
To conquer Chamonix is the dream of many climbers. Many mountain guides and ski instructors come here to qualify and experience the legendary 17km Vallée Blanche off-piste. This piste is a must-try for intermediates too. If you are a beginner or travelling with your family, you can prefer Le Brévent – Le Flégère areas where you can find slopes for all skiing levels, and enjoy the trails with mind-blowing scenery. Balme-Vallorcine area and Les Houches are other options if you are with a group of people, these areas have the most beautiful views in the Alps. The slopes lined with pine trees and trees under the snow are must-see for an unforgettable experience. Finding cable cars to several nearby peaks such as Aiguille du Midi is easy. You can also take the funicular to Mer de Glace glacier and see the famous cave with ice sculptures.
There are different ski passes you can get according to your itinerary. It's a great option especially when you don't have much time as your adventure gets a little more organized. If you make your reservations in advance you can find good deals on tickets, transportation and accommodation.
Chamonix is filled with charming restaurants and bars where you can enjoy your evening after a day of skiing. Snow-sports clothing and hardware shops, bookstores, souvenir shops, and cafes ornament the river Arve's torrent. Chamonix hosts an electronic festival in March full of DJs, parties and events at jaw-dropping venues. Why not add some fun to your day to crown your holiday, right? There are also yoga and jazz festivals held throughout the year. Keep an eye on the website's event calendar.
2) Zermatt, Switzerland
City: Zermatt
Best time to go: Between June and September
Temperature: 12℃ – 25℃
Zermatt, located in southern Switzerland's Valais canton, is ranked among the best and most luxurious ski resorts in Europe. Zermatt is a renowned mountain resort that is chosen by many ski lovers, adventurers and nature lovers for its beautiful Alpine panorama. The town lies below the iconic mountain peak of Matterhorn at an elevation of 1,600m. There are approx. 400km trekking and hiking trails, and more than 350km well-kept pistes with spell-bounding scenery below mountain peaks.
Wolli's Park is perfect for the less experienced skiers. Theodul Glacier is open for summer snowboarding and skiing. By skiing over Theodul Pass you are skiing both countries as the Matterhorn one side faces Italy. The best part about this town is that you can take panoramic train journeys. The second highest open-air railway in Europe after Jungfrau is the Gornergrat Railway. This train links the resort village of Zermatt to the summit of the Gonergrat. You can also take the Glacier Express from Zermatt to the Alps to St. Moritz for a mind-blowing train journey.
The main street of Bahnhofstrasse is where you find the après-ski scene with cafes, restaurants around. You can also find public skiing here.
3) Soelden, Austria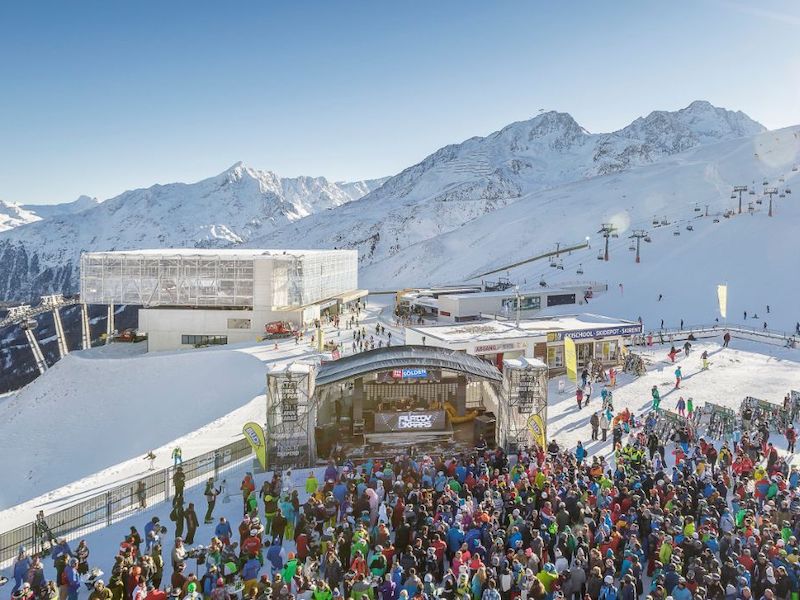 City: Tyrol-Soelden
Best time to go: Between June to September
Temperature: 15℃ to -15℃
Soelden is located in the Ötztal Valley and is a charming Alpine skiing resort for intermediate skiers. It's quieter when compared to its neighbour Obergurgl but offers a lot of fun. Its beautiful traditional Tirolean style houses and snow-sure scene due to its altitude makes it an attractive destination for ski lovers. 2015 James Bond was shot here which made it known around the world. The views from the glaciers are simply stunning and you can also visit the exhibition about James Bond movies. If you want to learn more about skiing, do not hesitate to take some classes from the professionals.
Soelden has countless bars, pubs and clubs and a great night scene. Music does not stop until the morning. Every week there's a DJ performance in this magical atmosphere. It's a great option for luxury lovers too as you can find saunas, pools with slides, gym and bowling and many more options which promises a great holiday.
4) Zugspitze, Germany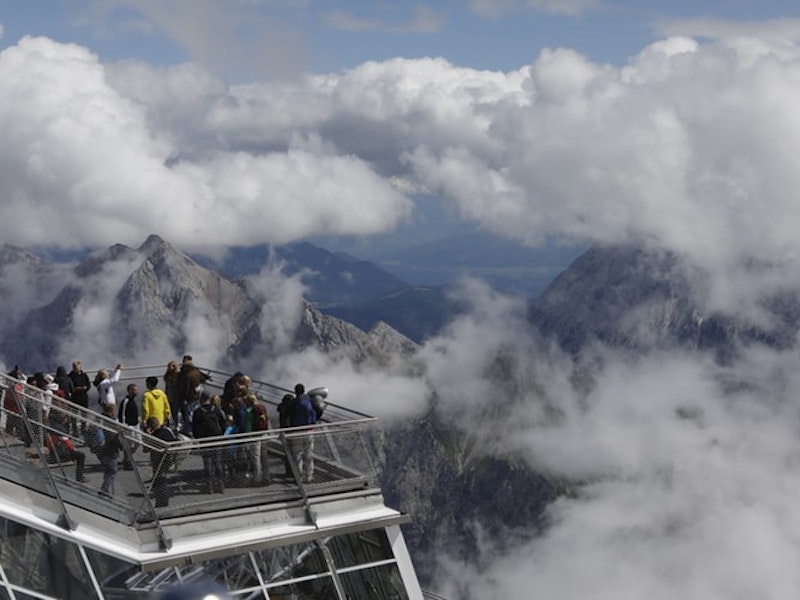 City: Bavaria
Best time to go: June to September
Temperature: 5℃ to -5℃
Germany's highest mountain Zugspitze is another destination famous among the skiers. You can use the cable car to reach the summit and also enjoy the charming town of Garmish-Partenkirchen at its foot. You can ski the glacier, with the altitude of 2,700 meters, and with the clouds covering the valley, it feels like you are skiing above the clouds! It is the experience of a lifetime. The Ice Stadium that is now open to the public skating was used for the 1936 winter games. You should add this destination on your bucket list.
Book your flights and accommodation at the best price guaranteed in one of the best ski resorts in Europe. Early birds are always the winners!