Did you know Nairobi was voted amongst the cities that love to party? The glitz and glamour of Kenyan nightlife are experienced best on weekends, from open-air terraces to DJs spinning beats that send you into a trance, there are plenty of options for the night owls looking to have some fun. As the sun goes down, the character of the city transforms into a sprawling city offering loads of adventure, food, fun.
We have made a list for you to experience an excellent night out in Kenya.
Let's take a look:
Kiza Restaurant & Lounge
Nairobi
Do you like a classy night out? Kiza being a new, fresh and modern Afro-fusion Restaurant and Lounge is a great place to spend your evening or to grab a refreshing cocktail after work with your friends. The partying crowd usually ends up here after midnight. There is either a live band playing or DJ's depending on the day of the week. It's better to check and learn about the events or special theme nights on their website. Kiza is an amazing option with a classy ambience if you want to have a business meeting or organise a birthday party for your loved ones.
The pan-African themed menu consists of a selection of popular dishes from across the continent. If requested, a la carte menu options are available as well. If you just want to grab a bite, you'll find a variety of tasty quick bite options on the menu.
Security is very strict which is important for a decent crowd. Clubbers want to be safe and comfortable, especially when they don't want to think about anything else but sipping a drink, listening to some good music and relaxing. The dress code is smartly casual. Guess what? You might run into any celebrity here, who doesn't want to get a selfie with celebrities to colour up the Instagram feed, right?
There are VIP and VVIP sections for those that need kind of privacy with specific entry and exit points where you can walk in and out of the club without being noticed. Don't forget to make your reservation beforehand.
Z Lounge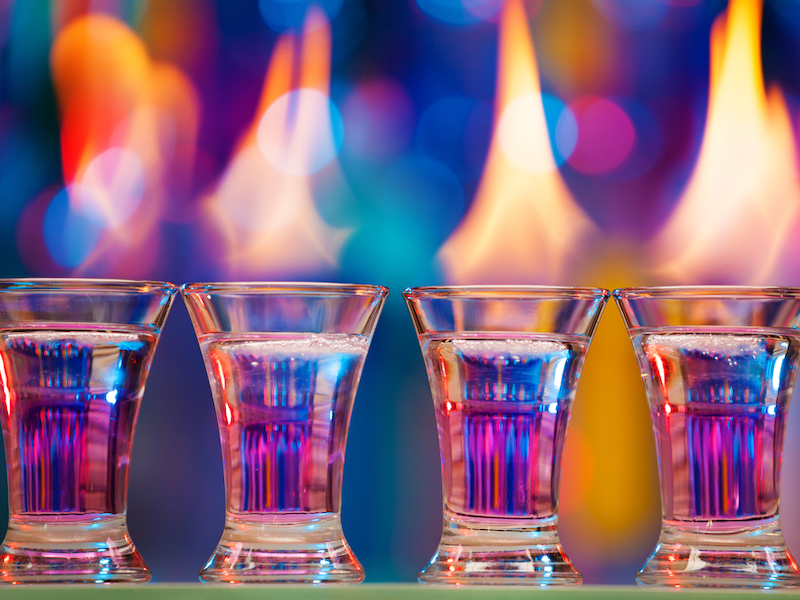 Mombasa
Being a pioneer of Kenya night clubs, Z Lounge never disappoints its guests. It is the place to be for a fun evening, to catch up with friends, to meet locals and foreigners who come from all around the world. Z lounge has a high-end open-air bar on the rooftop with a chilled-out ambience where you can sip your drink and watch the coastal sunset of Mombasa. After watching the sunset you can move into the clubbing area to continue your evening, trying varieties of cocktails and listening to some good music.
We recommend you to try Flaming Lamborghini Cocktail, it sounds fancy right? It is, totally out of this world.
Friendly service, well served and tasty food, mature crowd, good music, what else does one need to have a mind-blowing Kenyan nightlife experience?
It's open from 11:00 am to 2:00 am during the week, and from 11:00 to 04:00 on weekends.
Moonshine Beach Bar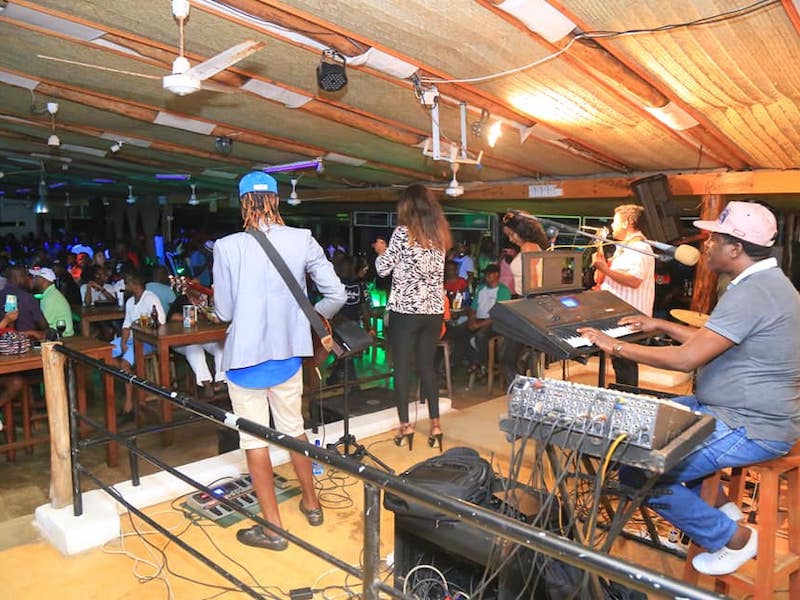 Mombasa
Moonshine Beach Bar shines with its bohemian vibe and it is one of the best and most popular bars in Kenya. It's an open bar, there are no windows or doors, so the breeze from the ocean blows right through the bar tables. If you are there in the daytime, you can see the ships floating into and out of Mombasa, fishermen sailing, the parade of clouds, kite-surfers dancing with the waves of the Indian Ocean, as you enjoy your delicious lunch.
Cocktails are reasonably priced, you'll find live band performances, Bollywood nights, huge beach parties, Karaoke on Tuesdays and stay tuned, as they're so many more events. The crowd is mixed with locals, expats, and tourists. The view is breathtaking, especially if it's the day of a full moon. If not, stars are always there to make the sky and your evening magical. After 5pm live band performance starts, shifting your attention from the waves to the band performing tunes from the 60s to 90s. They do Les Wanyika's Sina Makosa & Afro, Mbilia Bel's Nakei Nairobi, Westlife's Soledad and many more. After 7pm, DJ takes over and then the bar gets completely packed. If you are going after 7-8pm, you might not be able to find a chair.
A bohemian beach bar where you grab a beer or a bottle of fine wine, feeling the warm breeze on your skin, watching the waves of the Indian Ocean, having a long chat over an interesting topic; just like a painting, isn't it?
Shakatak Disco
Diani Beach, Ukunda
Why not head to Diani Beach to have some refreshing cocktails and dance to the tune of brilliant African beats? Shakatak hosts many international guest DJs most of whom promise an unforgettable night. You can have a nice dinner or hog on delicious finger food, secure a VIP lounge or opt for its deck lounges. Shakatak is famous all over Kenya for its ambience and great lighting that puts you in a trance mode. The mixture of local and international artist blast from the great sound system and is coupled with an eccentric and friendly crown. As Shakatak is known for being the best in Diani Beach, it's the place to go for a classical Kenyan experience. Do not be shy and get involved on the dance floor. Make sure you've had enough drinks to perform your best moves with ease.
B Club
Nairobi
We have saved one of the best for last. B Club is also known as the "Billionaires Club". If you are a Nairobian and you have a social life, you must have heard of this club, right? The charming and exotic ambience of this club is just irresistible. The long stretch of a beautiful long red carpet that ushers you in and adds a touch of elegance to the whole experience. The club hosts many top celebrities, musicians, and socialite. Drinks are in plenty and priced on the higher side with a bottle of champagne going for as much as 20.700 KES (USD 200). Make your reservations in advance, put on a nice suit or a nice fancy dress and prepare to spend some good amount of money.
Put on your dancing shoes, we are going for an unforgettable ride. A classy evening at a fancy club or a chill night by the beach, take your pick and save your seat at earliest.
Share your experiences with us in the comment section if you have been to any of these places.