When was the last time you went to the beach? What did you do there? If you are anything like this writer then you probably dabbled a little in the ocean, stuck your toes in the sand and took in some sun then headed right back to the hotel or restaurant. Well, maybe after taking a few selfies just to document that memory (and of course show it off on Instagram).
Did you know that there is more you can do at the beach than just sunbathe and take selfies? Yes, with a little creativity you can make a day of it. Don't be afraid to bring the kids – they would love some of these activities too. With that being said, here are some of the most exciting and fun activities to do at the beach.
Fun Activities for the Beach
1. Play Beach Volleyball or Football
Have you ever tried playing an active sport at the beach? First of all, you need to know that the sand goes everywhere – and we mean EVERYWHERE! However, that's not the problem; it's not even a problem if you shower right after or take a dip in that big salty swimming pool-looking thing right next to you called "The Ocean". Secondly, you need to know that it's a lot of fun. Here is why:
Usually, only a normal field or court, your skills will come into play because those areas are specifically designed for that sport. So if you…have no skills, you can't blame it on the playing field.
That is SO NOT the case when playing at the beach. That sand just makes it impossible for anyone to show off any footballing or volleyball skills whatsoever. The way it shifts underneath your feet with every rapid step you take makes it all a great deal of fun. You should try it. You will fall all over each other as you try to execute a Messi-like freekick that we guarantee will not work!
2. Make a Barbecue Party of It
Barbecues are always fun. Now try having one at the beach. All you have to do is find a spot (somewhere not in the middle of the crowds). You know, like on one of those secluded beaches in Watamu, Kenya. Bring a few friends, a grill, some beers and of course, the meat to be grilled.
You can go all out and even make it a seafood only grill. That will not only give you a chance to hang out with your friends and get some food in you but it will give you a chance to learn how to perfectly grill a red snapper.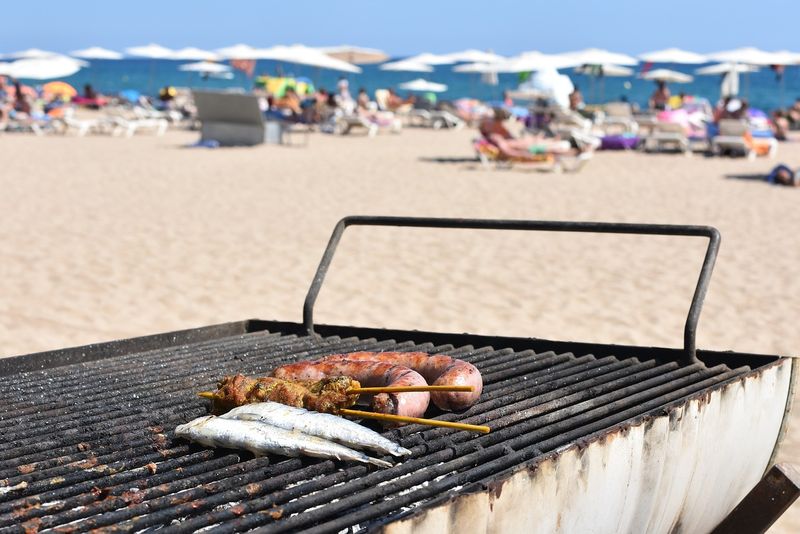 P.S: There are some beaches that don't allow barbecues, however, this is not an issue in Kenya.  Although you might have to ask when it comes to some of the most popular public beaches such as Bamburi Beach.
3. Fly a Kite with the Kids
Do you know how to build a kite? If not, why not go to YouTube and make it a family learning experience? If you have kids, learning how to build a kite will guarantee that they absolutely remember that trip. Plus it will give them a chance to learn a skill and put their creativity to good use. Once you are done building kites, you can fly them around the beach. Tire those kids out so you and mom can have a chance to enjoy the next part…
4. Have a Romantic Dinner Just for Two
The beach is not just meant for sand castles and picnics. With the right connections (just talk to your hotel concierge…they'll set up something for you. Be sure to tip big) you can have a romantic dinner set up for two at the beach – complete with tables, roses, wine and everything. You can even have a violinist serenade you guys as you dine.
5. Learn a New Sport
There are so many different types of sports you can learn at the beach:
Surfing.
Sail surfing.
Hoverboarding.
Kite surfing.
You could even learn how to jet ski and see whether you can break the sound barrier out there in the open water.
6. Bury Each Other in the Sand
No…none of those dark, morbid thoughts allowed here! We are talking about the fun kind of burying someone in the sand…up to their necks. You can do this, make funny shapes and takes pictures for posterity (or Instagram).
7. Build and Tackle an Obstacle Course in the Water
Now, this will take some level of creativity but with the right minds and attitude, it can be done. The obstacle course can consist of any…well, obstacles you want. Just make sure it's mostly in the water. That makes it a lot more fun and a little bit more challenging. For example, you could divide yourself into two teams and do the classics such as:
Run a relay: Start a relay race where one person runs, the next swims, the following person limbos and so on. Make the different stages of the race as exciting and as fun as you can create.
Pass the water: Form a line with empty cups where the person at the end tries to pass water from their cup to the next person without spilling it.
Building the right kind of obstacle course will take some research and that's okay. It will give you guys a chance to work on something together as you try to come up with the ultimate "Ninja Warrior Challenge".
8. Have a Picnic and Play Some Boardgames
You could decide to have a laidback time and play some board games. It's doesn't even have to be classic board games such as chess or snakes and ladders. You could mix things up and play other games such as charades. The idea is to have a relaxed while slightly mentally stimulating time with your friends.
Having fun at the beach can go either way. You could decide to go "Full Moon Beach Party" like they do in Thailand or you could decide to be a little chilled and laidback. You know, none of that crazy stuff that will have you nursing a hangover into 2022. Either way, that combination of the sun, the sand and the big old ocean make for an amazing atmosphere that begs to be enjoyed in the company of loved ones.
Do you have a favourite beach activity? Share it with us in the comment section below.