Precious jewels are hidden in Kenya and we call them safari camps. Our country's irresistibility has grown stronger with abundant wildlife and nature, exciting safari adventures, and luxury camps. Many foreigners and locals who like amazing outdoor and wildlife activities are aware of camping adventures and the luxury that comes with them. Kenya has made camping in the wilderness, a luxurious and an amazing experience; unlike traditional camping where you get to stay in the backwoods like a caveman.
There are a wide range of luxurious camps to stay while on a safari adventure in Kenya. These places will give you cosiness, pleasure and contentment. The camps are stylishly furnished with cultured fixtures, sophisticated interiors and the managers provide impeccable services.
SEE ALSO: Great Places To Go Camping in Kenya
For plentiful rendezvous in the wilds, it is better to stay in one of Kenya's luxury camps. Comfort and wellness are the ultimate amenities at these luxury camps. Here are 13 of the prettiest luxury safari camps in Kenya, in no particular order. If you want to go on a safari adventure in Kenya, lodge in any of these luxury camps – be comfortable while camping.
1. Lake Elmenteita Serena Camp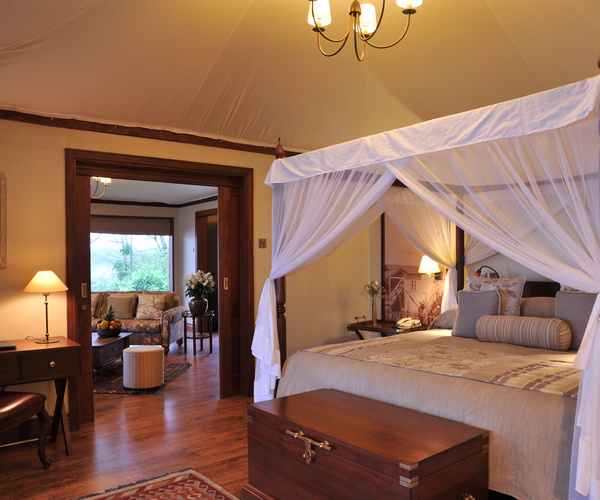 Photo Source: Serenahotels.com
Lake Elmenteita Serena Camp is sitting serenely on the shoreline of Lake Elmenteita, which is home to thousands of bird species and other rare species of animals. The lake is just two hours' drive from Nairobi and located close to Lake Nakuru. The camp features countryside sophistication, impeccable service and contemporary amenities such 24 luxury tents, restaurant, lounge and bar. Each tent is elegantly furnished and has private balcony, wireless internet, mini-bar, electronic safe and telephone. The most exquisite room is the Flamingo Suite, which has an additional facility such as an expansive lounge, Jacuzzi and prime lake view. Lake Elmenteita Serena Camp is a backwaters hideaway where you can relax in sumptuous rooms; explore the wilderness and wild array of wildlife, glittering sunsets and amazing lake views no matter where you go. Visit: Lake Elmenteita Serena Camp
Contact: cro@serena.co.ke | +254 020 2842400
2. Mahali Mzuri

Photo Source: Virginlimitededition.com
Mahali Mzuri is Sir Richard Branson's safari camp located in Masai Mara environment. The luxury camp combines exquisite beauty and comfort with adventure for every guest. Mahali Mzuri will introduce you to unending opportunities for game viewing especially during the Great Migration. The camp's 12 exclusive tents with ensuite bathrooms and private deck, dining room, friendly staff and spectacular views of the wilderness make it a safari experience you've never had before. The luxury camp is ideal for complete relaxation with grand access to abundant wildlife. Visit: Mahali Mzuri
Contact Email: enquiries@virginlimitededition.com
3. Cottars 1920s Mara Safari Camp
Photo Source: Cottars.com
Cottars 1920s Mara Safari Camp has a track record of excellence as it offers ultimate in luxury camping service. Here, your safari adventure is truly unique. Cottars 1920s camp is located in a serene habitat, just 1 Km from Masai Mara. This is the best place to reconnect to nature and explore the wilds. The camp features 10 luxury tents with en suite bathrooms, swimming pool, and safari bath set up in the savannah and amazing games. The luxury camp provides a completely wilderness experience for everyone. Visit: Cottars 1920s Mara Safari Camp
Contact:  bookings@cottarsafaris.com | +254733773378
4. Ashnil Samburu Camp
Photo Source: Ashnilhotels.com
Ashnil Samburu Camp is situated in the refreshing natural environment of Buffalo Springs Game Reserve, which is divided by Ewaso Nyiro River from Samburu National Reserve. The luxury camp is a place where you can indulge in wilderness goodies and pleasure without any distractions. Featuring 30 luxury tents with amazing facilities, restaurant, Lounge bar, souvenir shop, swimming pool, and business centre and conference room, Ashnil Samburu Camp lets you enjoy impressive views of bush life in a wildlife setting.  Visit: Ashnil Samburu Camp
Contact Email: sales@ashnilhotels.com 
5. Sarova Game Camp

Photo Source: Sarovahotels.com
Let the beautiful natural setting around Masai Mara create a relaxing safari getaway for you in Sarova Mara Game Camp. Indulge in wilderness activities, such as bird watching, golfing, fishing and nature walk. The camp features more than 50 tents – standard, family and club tents, well-designed and furnished for a comfortable stay and relaxing retreat. Sarova Mara Game Camp also offers fine dining, food from "Kitchens of the Sarova" and exquisite wines at their restaurant and cellar. This is the safari retreat you've been looking for! Visit: Sarova Mara Game Camp
Contact Email: sarova.mara@sarovahotels.com | +254 20 276 7000 
6. Sweetwaters Serena Camp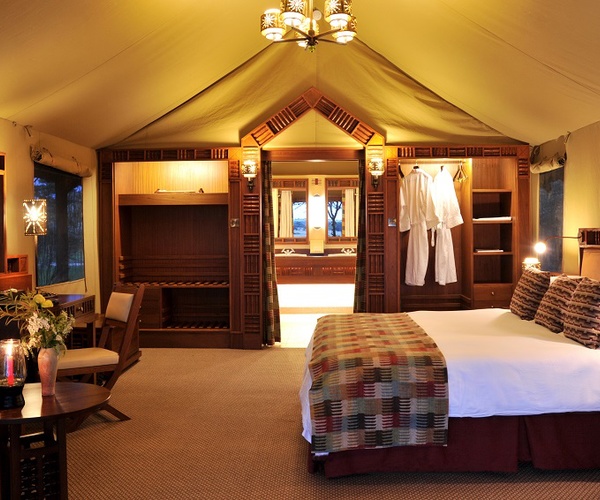 Photo Source: Serenahotels.com
Set on the plains of Mount Kenya, Sweetwaters Serena Camp is a cozy oasis of tranquility, bunched around a natural waterhole and located in Ol Pejeta Conservancy. The camp blends with the wildlife setting in the conservancy. The camp has a restaurant – central rhino restaurant, lounge and bar, 39 luxury tents with each tent having its own private veranda overlooking the natural waterhole. It also offers amazing views of Mount Kenya, abundant wildlife – the Big Five, Rhino sanctuary, Chimpanzee sanctuary, exciting bush activities and many more. Sweetwaters Serena Camp's charm is in its luxury and assurance of thrilling adventures. Visit: Sweetwaters Serena Camp 
Contact: (+254) 202842000 or 6232409
7. Mara River Camp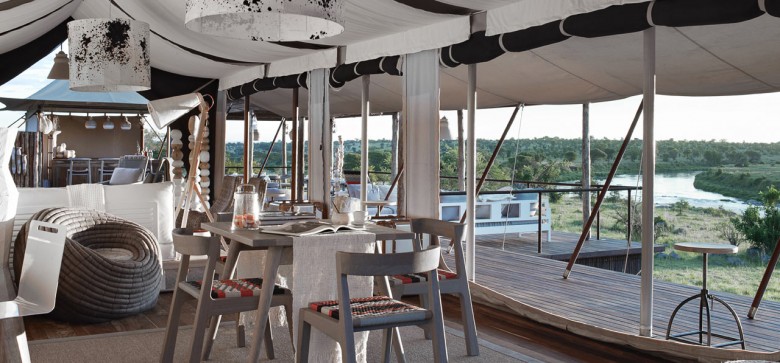 Photo Source: Singita.com
Mara River Camp has moulded the true spirit of safari retreat for visitors and locals who want to explore and enjoy the biggest game in Kenya. Located on the North West boundary of Masai Mara, on the scenic woodland bend of the Mara River, and set at the foot of the Oloololo Escarpment, Mara River Camp is one of the prettiest luxury safari camps in Kenya. The camp features about 22 tents – 19 superior and 3 deluxe tents, plus 1 two bedroom en suite log cabin with private dining facilities. Each tent has its own patio that offers amazing views of the Mara River and game views.  Experiences and memories made here are simply unforgettable! Visit: Mara River Camp
Contact: info@mararivercamp.co.ke | +254 732 30 22 77
8. Elephant Bedroom Camp, Samburu
Photo Source: Porini.com
Elephant Bedroom Camp is located along the banks of the Ewaso Nyiro River, in Samburu National Reserve environs, a perfect location for spectacular scenery of the wilderness. The luxury camp features plunge pool on the deck, 20 roomy tents, well-furnished with colourful African touches,  bush dining, guided nature walk, game drives and other exciting activities and modern amenities. The best indulgence here, ensures you a perfect safari adventure and a holiday, where you are pampered in style. Visit: Elephant Bedroom Camp
Contact Email: reservations@atua-enkop.com | +254 20 4450035/6
9. Olare Mara Kempinski
Photo Source: Kempinski.com
Olare Mara Kempinski is a luxury safari camp in genuine African style with magical setting. Located in the Olare Motorogi Conservancy, set on the banks of the Ntiakitiak River, this luxury camp provides modern comfort for safari lovers. Olare Mara offers amazing cuisine, plunge pool, and lavishly-designed tents with remarkable views of the Mara plains, Ntiajitiak River and the conservancy wildlife. Here is where you will truly get a luxurious camping experience you can never find anywhere. Visit: Olare Mara Kempinski
Contact: +254 703 049 000
10.  Jambo Mutara Camp Laikipia
Photo Source: Jambochesterhotels.com
Jambo Laikipia is an elegant safari camp located just west of Mount Kenya, North of Aberdares Forest. The camp is the only accommodation you can find in the Mutara Conservancy and it offers the best of safari accommodation in a luxury style. The camp has luxury tents with en suite bathrooms which are stylishly designed with modern furnishings and amenities. Each tent has its own private deck showcasing the beauty of unending Kenya surrounded by amazing wildlife with resonances of the wildness. Visit: Jambo Mutara Camp Laikipia
Contact: reservations@jambochesterhotels.com | +254 (0) 20 264 7794/5/6
11. Beyond Bateleur camp
If you have seen the movie – "Out of Africa" you will know how appealing Beyond Bateleur Camp is. Located in Masai Mara, the camp features 18 roomy tents with spacious en-suite bathrooms and private balcony; each tent has its own private butler who pampers and caters for guests' needs. If you want to have a comfortable yet sophisticated safari holiday, you should lodge in Bateleur Camp.Visit: Beyond Bateleur Camp
Contact: contactus@andBeyond.com | +27 11 809 4300
12. Sanctuary Olonana Tented Camp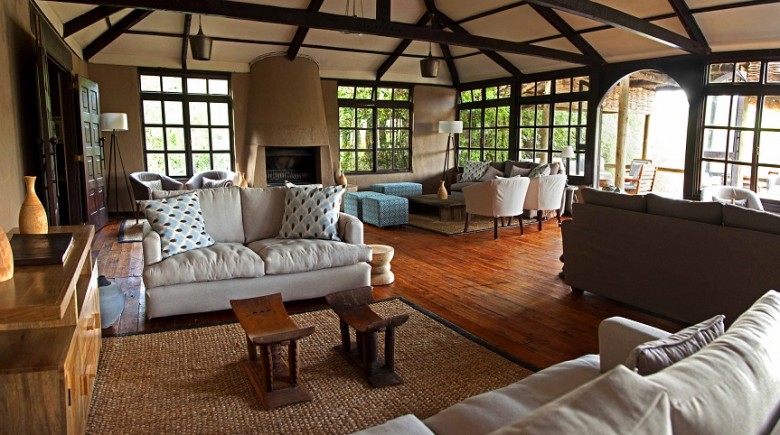 Photo Source: Sanctuaryretreats.com
Sanctuary Olonana is one of the prettiest luxury safari camps in Kenya. Set along the stretch of Mara River in the Masai Mara Game Reserve. It offers a serene safari getaway for those who wish to relax and enjoy personalized services. The camp has 12 oversized – spacious tents with en-suite bathrooms and private verandas; the tents are well-furnished with contemporary furnishings to blend with the African wildlife setting. Exciting activities and thrilling adventure awaits you here! Visit: Sanctuary Olonana Tented Camp
Contact: reservations.kenya@sanctuaryretreats.com | + (254) 20 248 7374
13. Sand River Maasai Mara Camp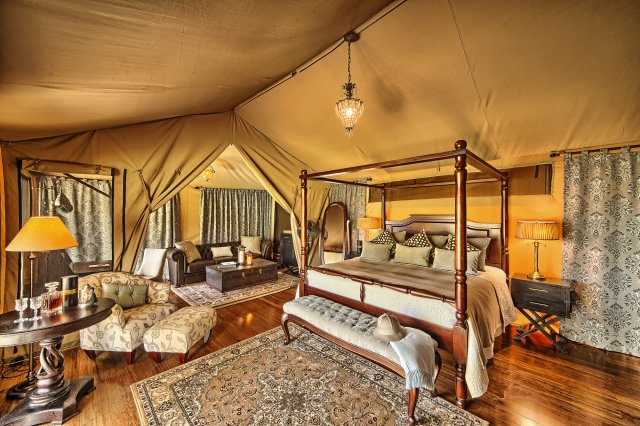 Photo Source: Elewanacollection.com
Situated in Masa Mara Game Reserve, the most famous game reserve in Kenya, Sand River Masai Mara is a captivating blend of luxury and recreation, of sophistication and the wilds. The camp comprises of 16 tents including a family tent with each having its own dining area, providing guests with privacy.Visit: Elewanacollection.com
Contact: reservations@elewana.com | +254 20 600 6482
SEE ALSO: 15 Of The Most Beautiful Lodges in Kenya
Did we mention your favourite camp? We know there are a number of luxury safari camps in Kenya but we can't list them all here.  if we didn't mention your favourite, please share with us in the comment below: