What would we do without the little 'guilty pleasures' in life? We would live a miserable life, that's what! There are very few things quite as rewarding as sitting back at the end of a long day and digging into a piece of your favorite cake as you stretch your legs and watch TV. That baked goodness simply washes your troubles away, albeit temporarily. Pastry lovers know what we are talking about.
In Nairobi, and indeed the rest of the country, there are way too many wonderful pastry shops that cater to the abundant local sugary needs. We are a country plagued with the 'sweet tooth fever' and we indulge our taste buds with no apologies. With that in mind, here are our favourite bakeries for your daily bread in Kenya. These fantastic bakeries offer some of the creamiest; most moist and absolutely delicious pastries within Nairobi and the country as a whole.
Artcaffe Coffee & Bakery (Nairobi)
This is where your sweet tooth comes to meet style. The decor at Artcaffe Coffee & Bakery is simply astounding. Any one of the many branches is the perfect place to have a cup of coffee with friends and to enjoy some of the most awe striking chocolate cakes within the city. If you are one for chocolate cakes, you are advised to order the 100% chocolate, you will not regret it.
Artcaffe.co.ke | Tel: 020 233 0772 / 0716472162
Alexandre Bakery and Pastry Shop (Nairobi)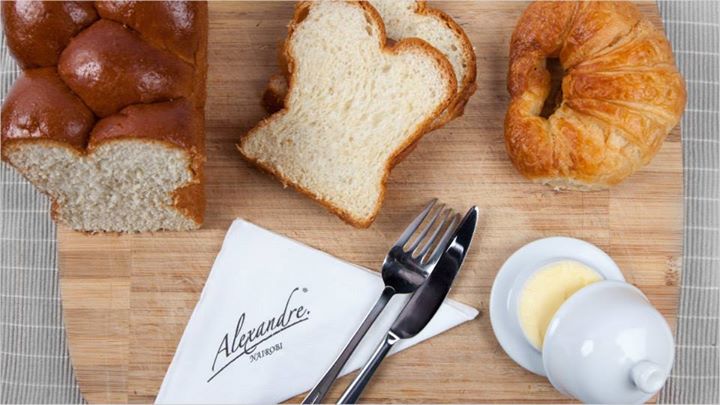 Alexandre Bakery and Pastry Shop offers freshly baked goodies that are prepared from scratch every morning. They have some of the finest and tastiest chocolate croissants known to man. You can also try the Danish, cookies and muffins. They pay attention to detail and only serve the best to their customers.
Alexandrebakery.co.ke | Tel: +254 713 957876
Paul's Bakery (Nairobi & Eldoret)
Almost every pastry loving Kenyan is familiar with Paul's bakery. Located in Eldoret and Nairobi, Paul's Bakery has been in existence for quite some time now. They are well known for their bread, which graces many breakfast tables within the country and for their devilishly delicious chocolate chip cookies. Paul's Bakery not only offers you quality, but they also offer you freshly baked goodies that will drive you wild.
Tel: +254 715 440949
Valentine Cake House (Nairobi)
Valentine Cake House prides itself on being the one cake house in the country that is daring enough, as far as cake baking is concerned, to bring different flavors and designs to the people. Guided by a well-known pastry Chef, Valentine Cake House continues to provide the market with the most delicious, originally designed and flavored birthday and wedding cakes known to the region.
Valentinecakehouse.co.ke | Tel: 0702586821, 0721266635, 0789399810
Vasilis Bakery (Nairobi)
Imagine enjoying a mug of your favorite coffee as you savor the taste of the tastiest warm muffin you can envision. That is what Vasilis Bakery offers. This wonderful bakery brings you some of the freshest baked goodies to be found within the city. The decor is stylish, the coffee is hot and full of flavor, the cakes are divine and the desserts are so good they should be contraband.
Baker's Inn (Nairobi)
This is perhaps the most famous pastry shop within Nairobi. The thing about Baker's Inn is that it caters to the people. You will find a store at nearly every corner and they will always have something for everyone. From freshly baked bread, to wonderfully creamy pies, cakes, croissants, coffee and even juice. The best part is that you get served immediately.
Tel: +254 720 993000
Cake City (Nairobi)
With a name like 'Cake City', you best believe these people can bake! You can find all types of delicious cakes here, from special occasion cakes to birthday cakes or simply little slices of heaven that you can have on your lunch break. They even have eggless pastries that taste just as good.
Cakecity.co.ke | Tel: +254 732 444111
Fayaz Bakers Ltd (Mombasa)
Fayaz Bakers Ltd has well over two decades of providing the residents of Mombasa, and indeed the rest of the country, with wonderfully baked bread and an assortment of pastries. Fayaz Bakers Ltd specializes in well over 100 different types of biscuits, cakes, ice creams, pastries and so much more. This family owned business is as serious about their baking as they are about their good name.
Fayazbakers.com | Tel: +254 728 193105 
Cakes of Kenya (Nairobi)
This is a wonderful bakery run by the friendliest soul in the market. The owner prides herself on being a people's person and providing only what her clients want. Cakes of Kenya makes some of the tastiest cakes available in the market today. Being customer-centric, they are happy to customize your cakes in any shape and form you desire. Their cup cakes, pies and rolls are simply divine as well.
Cakesofkenya.com | 0718770846
Supermarket Chain Bakeries (Country wide)
Nakumatt, Naivas, Tusky's and Uchumi Supermarkets all have indoor bakeries now. This allows them to give their clients a wide variety of baked goods as part of the goodies on sale within the premise. From their bread, to their cookies, pies and rolls, these supermarket chain bakeries ensure that they only serve the freshest and tastiest baked goods. Couple that with the fact that you can also get in your weekly house hold shopping and you have the perfect one stop shop.
Whether you like them dark and creamy, or you like them white and moist, the bakeries within the country are well equipped to provide you with wonderful pastries that will send your palate into a frenzy. The best part is that many of these establishments have 'walk-in' facilities that will have you sited and served in a matter of minutes. However, you can also place custom orders whenever the need arises.
Do you have a favorite bakery that simply fulfills all your sweet tooth desires? Share your experience and favorite delight with us in the comment section below.