Anyone who loves to party knows what a task it is to find the perfect bar. As much as we all want a restaurant and bar with the right kind of music, variety of drinks and awesome food or bar snacks, other details like décor and ambiance make a big difference. When your favorite hangout joint has all the above, and it is set on a rooftop allowing you picturesque views of the city in the night, then you know you have a winner. A good number of establishments in Nairobi have invested in bars and restaurants on rooftops and terraces. We present to you 8 best rooftop restaurants and bars in Nairobi. If you haven't been to any of these rooftop bars, its time you did. You just might find your new perfect joint.
1. Sarabi at Sankara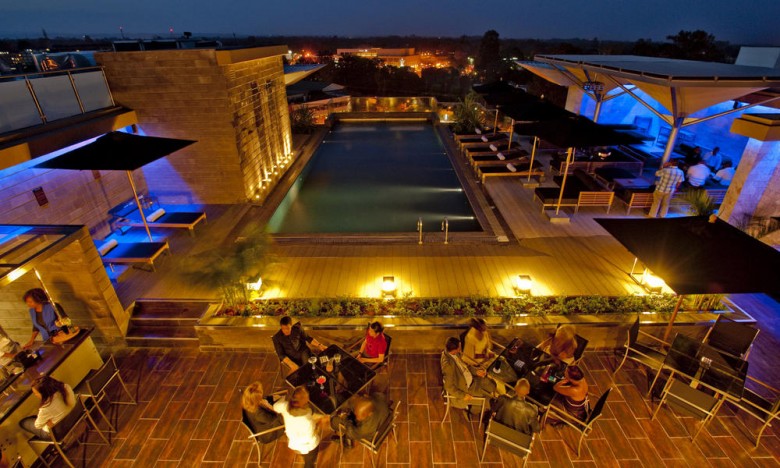 Sankara hotel is a luxury hotel in Westlands and it has a lot of facilities that places it above the rest. Foodies get the best of local and international foods in the restaurants and those who love their drinks are spoilt for choice. The luxurious furnishings and embellishments all around confirm that no expense is spared to ensure that guests at Sankara get only the finest of amenities.
You will find Sarabi restaurant and Supper club on the rooftop of the building that hosts Sankara, right adjacent to the swimming pool. The atmosphere at the lounge is calm and relaxing, the décor is chic, and there's a cool breeze that seems to breathe life into the place. Views of the city from the rooftop are spectacular especially in the night; the kind that help you forget your worries, albeit for a moment.
Those who frequent Sarabi are mostly the business types, both young and old but mostly affluent. The Champagne bar features an eclectic list of champagnes and there's a decent selection of wines, whiskies and cocktails to choose from. The awesome music, sometimes from live bands, only adds to the things that make Sankara's rooftop one of the best nightlife spots in the city. Visit: Sarabi, Sankara Hotel
2. The Nest at Tribe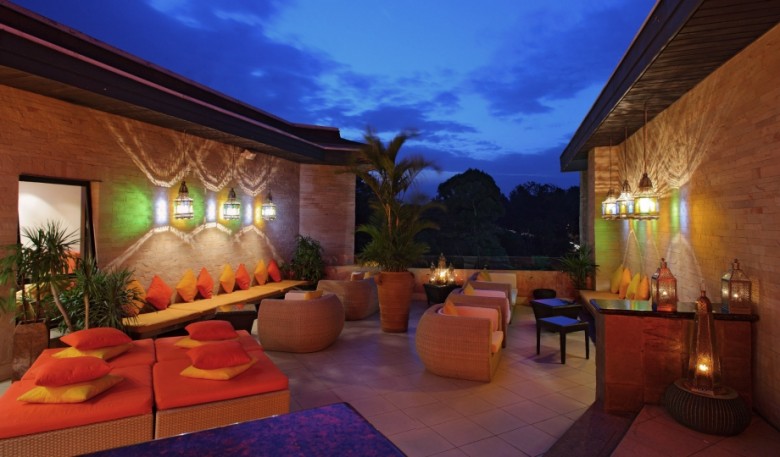 The Nest, located at Tribe hotel's top floor is another amazing spot to spend your evening. The Nest comes highly recommended from those who frequent it, with a wide selection of food and drinks available at fair prices. Shisha is available and the martinis at the NEST are arguably the best. The exclusivity makes it a great place to host parties for small groups. Visit: Tribe Hotel
3. Level 8 at Best Western Premier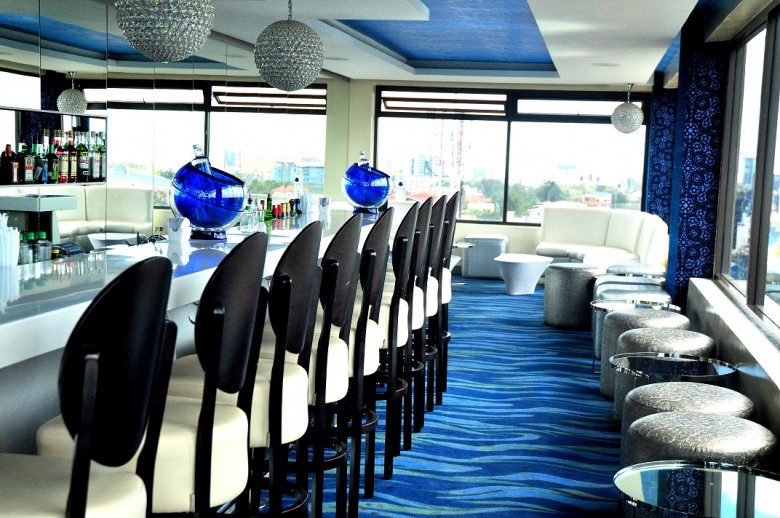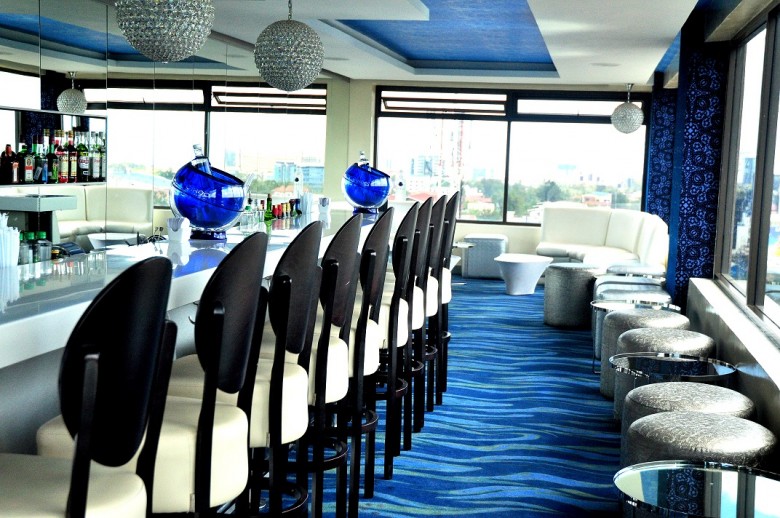 Level 8 Ciroc Bar is located on the rooftop of Nairobi's Best Western Premier Hotel. It is small but swanky, and its location by the pool brings an aura of relaxation. The views of the city are outstanding as well, as is expected of any rooftop bar, and many working types drop by after work to take repose. The music is good, the volume is just right, and the variety of drinks and food is decent.  The signature cocktails, especially the Ciroc bases ones, are a must try. Level 8 has hosted some awesome parties and events in the past. Visit: Best Western Premier
4. Tambourin Rooftop Lounge & Bar at Villa Rosa Kempinski Nairobi 
Villa Rosa Kempinski is one of Nairobi's best luxury hotels and it is located on Chiromo road in Westlands. The Tambourin Rooftop Lounge & Bar adds to the list of food and drink joints at Villa Rosa, with the others being 88, LUCCA and Cafe Villa Rosa. Tambourin is a perfect place to relax after work as you munch on scrumptious snacks and down your favourite cocktails. It is posh, and there's enough space to host large groups for parties and events. Visit: Tambourin
5. Clarence House Nairobi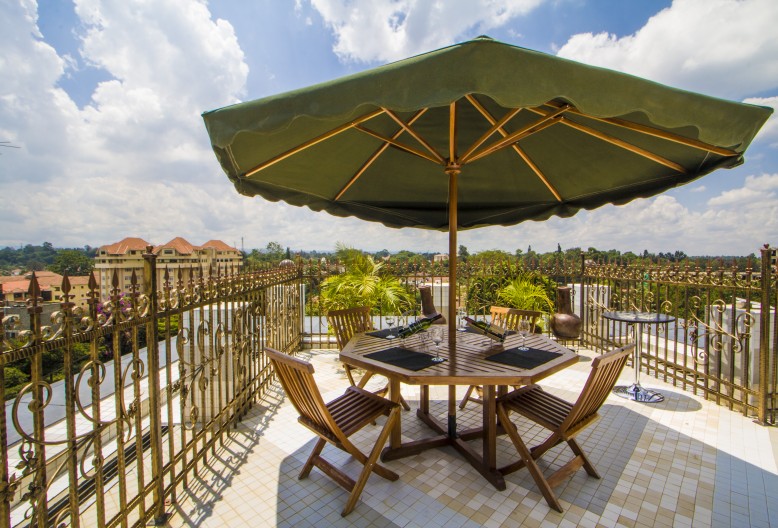 Clarence House is located on 8 school lane Westlands and the hotel has an elegant rooftop lounge that is ideal for cocktail parties.  Cloud Nine restaurant, the rooftop restaurant is set beside the swimming pool and diners get to enjoy amazing views as they have their meals. The bar is well stocked, the food is good and the ambiance is serene. Visit: Clarence House
6. La Maison Royale

La Maison Royale is a business hotel in the Westlands area that has a rooftop bar with breathtaking views of the city. The bar is a great entertainment venue and a cool spot to hang out with friends and family or host small parties. Unlike many other rooftop bars, this one can be used even when it rains since there are canopies. The restaurant at La Maison serves African, French and Mediterranean cuisines so food is in plenty and the selection of drinks is decent. Visit: La Maison Royale
7. Khweza B&B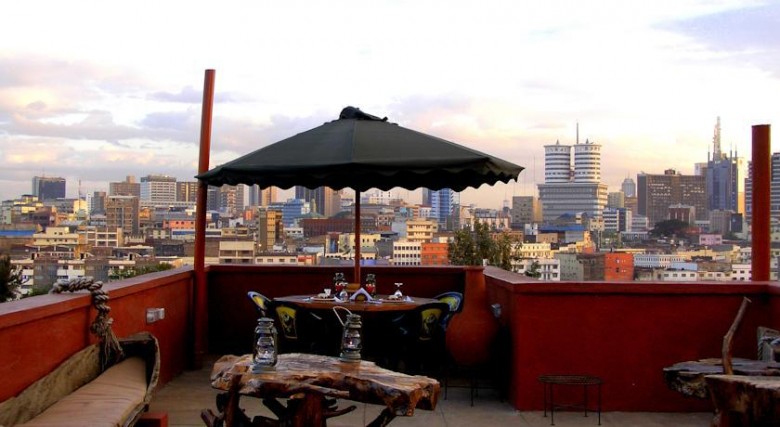 Khweza Bed and Breakfast is located on Ngara road and it has a modest rooftop bar and restaurant that is frequented by locals. There are great views of the city from the rooftop and a wide range of food and drinks can be enjoyed while there. Visit: Khweza Bed and Breakfast
8. Cloud Hotel and Suites
Cloud Hotel & Suites in Nairobi also has a cool rooftop restaurant. Breakfast can be  served at the rooftop restaurant by the pool on request, and the morning breeze and breathtaking views make for a great start to any day. Drinks can be served at the rooftop as well. Visit: Cloud Hotels & Suites
Have we left out any great rooftop bars? Do let us know in the comments section below.