The wonders of the world from Pantheon to Haghia Sophia. How many of these are in your bucket list?
Architectural works in the form of buildings are symbols of culture, works of art and heritage of humanity.
Some buildings, ancient or modern, are renowned for their beauty and unique designs, and they easily make their seats in our memory. They become inspiration, landmarks and a meeting point in which we connect to history, science, art. Buildings tell us a lot about the country we visit, about the people who live there and their ability to be harmonious with nature or their interest in showing the grandiose of their traditions and culture.
Let's take a look at some of the most interesting buildings around the world.
1) Pantheon
Rome, Italy
Date: 113–125 AD (current building)
Architect: Trajan
"Best preserved monument and it's free.

A most striking building. The dome is an engineering wonder. It looks practically brand new. Don't forget to pay your respects at the tomb of Raphael. Be sure to arrive early. It's busy all day during the summer."

(Frank H, TripAdvisor)
Pantheon is a Roman temple dedicated to all gods of pagan Rome. With the arrival of Christianity, the Pantheon was turned into a church and the front part with columns was added. The greatness of the building comes from its mighty dome, still, the biggest brick dome ever built. The painter Michelangelo said it was the work of angels, not men.
2) Nasir-Ol-Molk Mosque
Shiraz, Iran
Date: 1888
Architects: Muhammad Reza Kashi Paz-e Shirazi, Muhammad Hasan-e-Mema
"Fabulous!

You must visit this place if you go to Shiraz. Absolutely the best place in Shiraz but if you want to go to this place you should go on a sunny day and you will see the shining lights dance on the carpet."

(Reza, TripAdvisor)
Known as the Pink mosque where worship and light intertwine. The vibrant culture of art and craftsmanship mingle with a rich history and creates this gorgeous rainbow of colours. It looks just like another Iranian mosque from the outside, but the interior hides an impressive piece of architecture and design. Once you step in, you feel like you are in a kaleidoscope. With dazzling stained glass, thousands of painted tiles on the ceiling and Persian rugs covering the floor, the pink mosque is a magical experience.
3) Sagrada Familia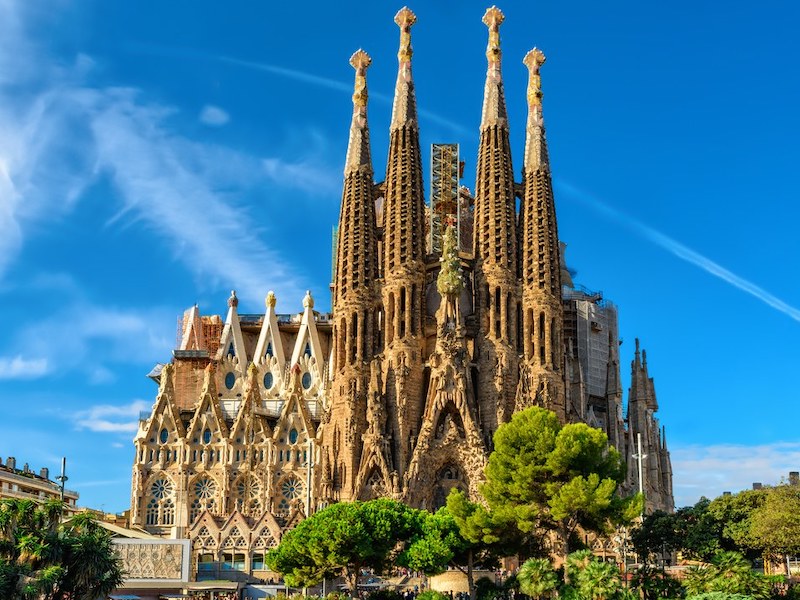 Barcelona, Spain
Date: 1884
Architect: Antoni Gaudi
"Blown away… WOW!

Not really into art but I was blown away by the works of this man. Gaudi's works and visions are amazing! A must-see for anyone who is visiting or living in Barcelona. Can't wait to hopefully see the finished product in 2026."

(CarloandCrez, TripAdvisor)
Despite being unfinished, La Sagrada Familia is one of the most famous monuments in the world and the most emblematic of the city. Gaudi's unique architectural and engineering style combines Gothic and curvilinear Art Nouveau forms. Gaudí devoted the remainder of his life to the project, and he is buried in the crypt. The interior of the church looks just like a magical forest!
4) The Crooked House
Sopot, Poland
Date: 2004
Architects: Szotyńscy & Zaleski
"Sight-seeing

This building is unusual, looks like something from a fairytale. Right on the main street surrounded by cafes and shops, you have to go see this when you visit Sopot."

(921emmad, TripAdvisor)
Krzywy Domek, Polish for "crooked house", is a quirky building that was inspired by the fairytale illustrations and drawings of Jan Marcin Szancer and Per Dahlberg. It looks like something went wrong when designing! This mind-melting building is a great material for photography lovers. Don't forget to have a coffee at the cafe shop before leaving.
5) Kek Lok Si Temple
Penang, Malaysia
Date: 1904
Founder: Beow Lean
"Amazing.

We love going to see Kek Lok Si when we visit Penang. The Goddess of Mercy towers above making you feel very small. What a must see do when in Penang."

(Lyn L, TripAdvisor)
This temple is the largest Buddhist temple in Malaysia and an important pilgrimage centre for pilgrims from all over Southeast Asia. Mahayana and Theravada Buddhism, as well as traditional Chinese rituals, blend into a harmonious whole here. The temple's pagoda has three layers of different architectural styles including Burmese, Thai, and Chinese. During Chinese New Year or other Buddhist celebrations, the temple is lit with countless lights and displays a great scene for the visitors and worshippers.
6) Hagia Sophia Museum
Istanbul, Turkey
Date: AD 537
Designers: Isidore of Miletus, Anthemius of Tralles
Review: "Fantastic experience.

Fantastic experience. Really a quite astonishing place to visit. I would definitely recommend doing it with a guide to get an overview of the fascinating history behind the place and the architecture."

(alvarogeleijns, TripAdvisor)
The former Greek Orthodox Christian patriarchal cathedral, later an Ottoman imperial mosque and now a museum. It is considered the most important example of Byzantine architecture and is said to have "changed the history of architecture".
7) Great Mosque of Djenné
Djenne, Mali
Date: 1907
Architect: Ismaila Traore
"Incredibly beautiful mosque

This mosque is one of the highlights of Mali. It is a stunning example of Malian mud mosque architecture, a style of architecture which to my mind, is straight out of some amazing fairytale…"

(Janev_Australia, TripAdvisor)
This mosque is considered by many architects to be one of the greatest achievements of the Sudano-Sahelian architectural style. As one of the wonders of Africa, and one of the most unique religious buildings in the world, the Great Mosque of Djenné is the largest mud-built structure in the world. It has become the epicentre of the religious and cultural life of Mali, and the community of Djenné
8) Dancing House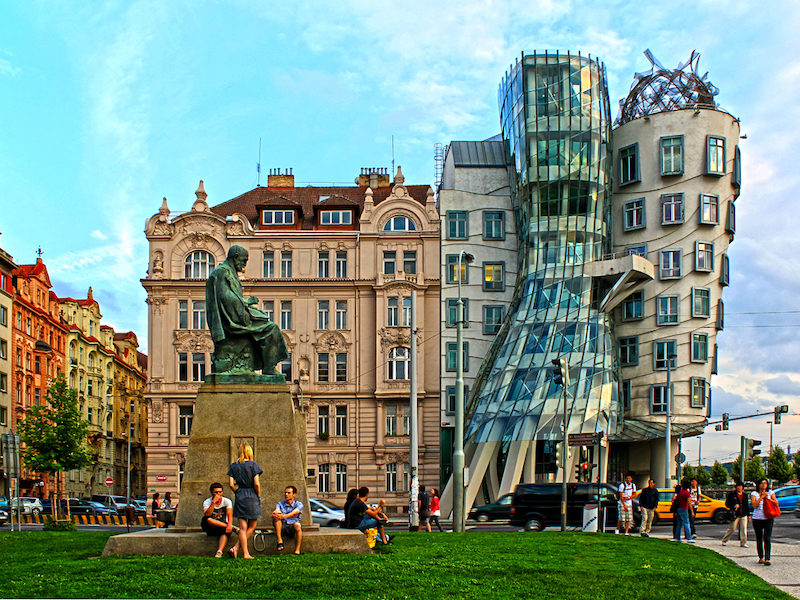 Prague, Czech Republic
Date: 1996
Architects: Vlado Milunić, Frank Gehry
"Art at the highest.

Crazy art, I like the shape of it and it gives the city a reputation. Cities now at days are competing on art to attract people from all around the world. I think they have managed to do it."

(RAncuta, TripAdvisor)
This highly original building is inspired by two dancers – the immortally famous duo of Fred Astaire and Ginger Rogers. There is a sightseeing terrace on top of it, from which you can overlook the breathtaking panorama of Prague. It's an example of the deconstructivist architectural style.
9) Harmandir Sahib
Amritsar, India
Date: 1604
Designer: Guru Arjan Sahib
"Amazing atmosphere – beautiful surroundings

Everything about the Golden Temple is mesmerizing. The people, the sights, the smells from the kitchen and communal dining halls. It is a great place to relish being a human being and to realize what it means to belong to a true community."

(glen07, TripAdvisor)
Also known as the Golden Temple as it is plated with gold, Harmandir Sahib is a place of assembly and worship for Sikhs. It is also a symbol of human brotherhood and equality. Many people from all around the world come here to seek spiritual solace and religious fulfilment without any hindrance. This amazing building represents the distinct identity, glory, and heritage of the Sikhs.
10) Potala Palace
Lhasa, Tibet
Data: 637
Founder: Songtsen Gampo
"Magical

We visited the Palace with our tour party and it was just incredible. The rich heritage and history of the Palace are amazing and we were lucky to have a very knowledgeable tour guide too…"

(staffie97, TripAdvisor)
Potala Palace was 14th Dalai Lama's residence until he fled to India in 1959 and it is now a museum. It symbolises Tibetan Buddhism and its central role in the traditional administration of Tibet. The palace is a masterpiece of Tibetan art. The beauty and originality of the architecture, rich ornamentation and harmonious integration in a striking landscape make it one of the most amazing buildings in the world.
11) Angkor Wat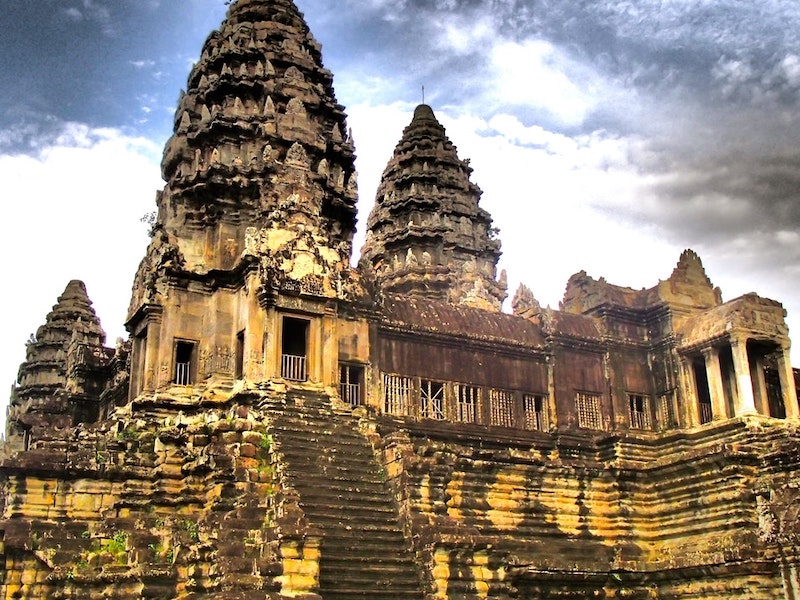 Siem Reap, Cambodia
Date: 12th century
Designer: the Khmer King Suryavarman II
"Glorious!

Loved every minute of our visit here! We will definitely be back one day soon to visit it again. So glad we came when we did."

(gonetravelin79, TripAdvisor)
Angkor Wat is a temple complex and it's one of the largest religious monuments of the world. It was originally constructed as a Hindu temple dedicated to the god Vishnu for the Khmer Empire, it was gradually transformed into a Buddhist temple towards the end of the 12th century. It consists of scores of temples, hydraulic structures as well as communication routes.
12) St. Basil's Cathedral
Moscow, Russia
Date: 1561
Architects: Barma and Postnik Yakovlev
"Impressive!

Like a fairy tale come true. Red Square is one of the most impressive places in the world, and the Cathedral is in it! You have to live it!"

(OKCM, TripAdvisor)
This amazing building, now a museum, Moscow's most famous artistic work of architecture and it was built by Ivan the Terrible. Cathedral consists of nine separate chapels, each capped with its own individually shaped and coloured dome. There are stories and myths about Ivan's raging temper and one of which involves him purposefully blinding the cathedral's (unnamed) Italian architect so that its design could never be replicated. Other legends state that the architects were a pair of Russians named Barma and Posnik, or that they may have been one person.
13) Sydney Opera House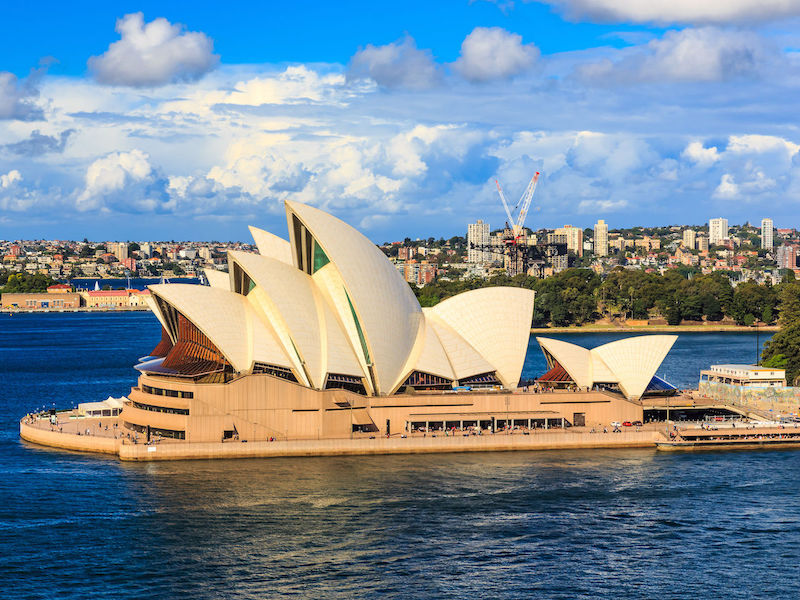 Sydney, Australia
Date: 1959
Architect: Jørn Utzon
"Picture perfect

Perfect place to visit if you are in Sydney. Do not forget to walk through the botanical gardens too. We enjoyed the place taking nice pictures too."

(chandimalp, TripAdvisor)
The Sydney Opera House is a multi-venue performing arts centre. It's a great architectural work that brings together multiple strands of creativity. This amazing building comprises three groups of interlocking vaulted shells which roof two main performance halls and a restaurant.
14) Fasil Ghebbi
Gondar, Ethiopia
Date: 17th century
Founded by: Emperor Fasilides
"IMPRESSIVE ANCIENT CASTLE"

This afternoon we visited the 17th-century castle in Gonda. It is the only castle in Africa. We also saw some impressive looking royal baths which are like a large swimming pool."

(PPPEssexEngland, TripAdvisor)
The Royal Enclosure was the residence of the Ethiopian emperor Fasilides and his successors. Its unique architecture shows diverse influences including Nubian styles. It includes Fasilides' castle, Iyasu I's palace, Dawit III's Hall, a banqueting hall, stables, Empress Mentewab's castle, a chancellery, library and three churches.
We presented you with some amazing buildings, from the ancient to modern, from religious artworks to the quirky works of mad artists! Wherever you go, architecture is one of the aspects that make you feel the place. Countless lives, dreams, arts are absorbed by those buildings as you wander among them, they whisper their stories into your ears. You might think they are not alive, well they very well are! You have to open up your senses wide and they will tell their secrets to you.
If you think of more amazing buildings around the world, please share it with us in the comments below!