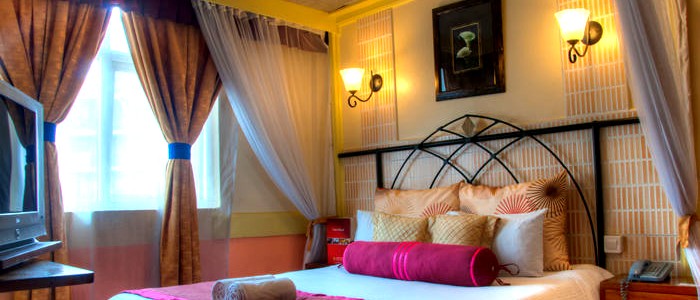 Many travellers think getting a good night's sleep in Nairobi is pricey. On the contrary, there are a wide range of cheap hotels in the city that can be a fantastic experience. Budget and cash-conscious travellers can get a good night rest in an affordable hotel and still feel at home.
We know it can be tiring when you arrive without a hotel destination in mind. Besides, comparing hotel rates across the streets of Nairobi is unreasonable too. That is why it is better to save yourself some trouble and some money, by making a hotel reservation with Travelstart before you leave home.
We explored the city of Nairobi for best budget hotels that have amazing facilities and are comfortable. Here are 12 cheap hotels in Nairobi:
1. Kahama Hotel
Kahama Hotel offers unique accommodation and amazing amenities at affordable prices. With warm hospitality and friendly atmosphere, this hotel has attracted many foreigners. The rooms are colourful and stylishly designed and they provide cozy accommodation. The hotel offers amazing cuisine at its eateries – Lawinos Kitchen and Glassy Bar & Grill.  Visit: Kahama Hotel
Rate: For as low as $50
Location: Muranga Road, Nairobi
2. Delta Hotel
If you want to enjoy Nairobi without spending much money on hotel accommodation, you should check yourself into Delta Hotel. The hotel offers simple and comfortable rooms and all the basics including flat screen TV. The hotel has an in-house bar and restaurant – Fontaine Hotel – where you can enjoy a la carte menu. Visit: Delta Hotel
Rate: For as low as $47 per night
Location: Moi Avenue, Nairobi City, Kenya
3. Hotel Kipepeo
Hotel Kipepeo offers an exclusive experience better than the ones offered by many budget hotels. The prices may be a bit pricey but it is a favourite among budget travellers. The standard and modern accommodation in the hotel makes this hotel a nice place for your stay. The rooms are simple and perfect clean. The location is very convenient, friendly staff and impeccable services. Visit: Hotel Kipepeo
Rate: For as low as $60 per night
Location: River Rd, opposite Bank of Africa next to Eastmatt, Nairobi
4. Nomad Palace Hotel
With modern facilities, friendly service and a great location, Nomad Palace Hotel offers a great value. The rooms are elegantly furnished and decorated, the bathrooms are radiantly clean. Along with great amenities like Flat screen TV with Satellite TV channels, Electronic safe box, Wi-Fi, bar and restaurant, this unusual hotel offers visitors the opportunity to have a good night rest for a token. Visit: Nomad Palace Hotel
Rate: For as low as $53
Location: General Wairungi Street, Pumwani district, Nairobi
5. Kenya Comfort Hotel
Kenya Comfort Hotel offers guests a warm welcome to Nairobi. The hotel is a perfect place to stay if you are budget conscious. The rooms are plain and clean but have all the basic amenities including bedside fridge and lamp. Great location and friendly services make the hotel a first choice for budget travellers. Visit: Kenya Comfort Hotel
Rate: For as low as $50
Location: Monrovia Street & Muindi Mbingu, Nairobi
6. Jupiter Guest Resort
Jupiter Guest Resort is a stylishly decorated hotel located in a tranquil area. The rooms are basically furnished but they have modern amenities. The hotel is prominent for its splendour and friendly service. It's an interesting choice for every traveller especially the ones on budget. Visit: Jupiter Guest Resort
Rate: For as low as $47 per night
Location: Monrovia Street & Muindi Mbingu, Nairobi
7. Bermuda Garden Hotel
Bermuda Garden Hotel is a standard cheap hotel with modern facilities, garden and natural habitats. The rooms are simple and comfortable accommodation. Reasonable rates and great location; the hotel is a good pick for budget travellers. Visit: Bermuda Hotel
Rate: For as low as $30
Location: Between Forest Rd & Muranga Rd., Opp. Nairobi Gymkhana
8. La Jardine Hotel 
La Jardine Hotel is located within close proximity of City Hall and City Market. The hotel is committed into providing guests with comfortable accommodation at an affordable price. This hotel provides guests with modern amenities such as flat-screen TV with Satellite channels in the rooms, complimentary Wi-Fi, Spa and premium facilities. Visit: La Jardine Hotel
Rate: For as low as $40 per night
Location: Ngara Road, Nairobi
9. Blue Hut Hotel
Blue Hut Hotel is a unique blend of casual comfort and elegance. The rooms boast TVs and complimentary wireless internet access. Start your day by sampling the hotel's delicious buffet breakfast and have authentic African and continental foods for lunch or dinner. The hotel offers a counter bar, conference facilities and other modern facilities. Visit: Blue Hut Hotel
Rate: For as low as $47 per night
Location: Monrovia Street & Muindi Mbingu, Nairobi
10. Hotel Central Park Nairobi
Hotel Central Park appeals to travellers that have tastes for contemporary style. The rooms are fully equipped and elegantly furnished. The hotel has extensive amenities such as health facilities, conference and meeting facilities, lounge, business centre, hotel shuttle and parking facilities. This is a great place to find a comfortable and cheap room without forgoing style. Visit: Hotel Central Park 
Rate: For as low as $51 per night
Location: Sheikh Karume Road, between Ronald Ngala St. and Luthuli Ave.
11. Upways Hotel
Upways Hotel is noted for its warmth and simplicity. The hotel features modern amenities including a spa and an outdoor pool. The rooms are well-furnished and equipped with all amenities. To dine and savour delicious foods, visit the hotel's in-house restaurant for your breakfast, lunch and dinner. The hotel also offers laundry and dry cleaning services, safety deposit boxes and 24 hour room services for their guests. Visit: Upways Hotel
Rate: For as low as $25 per night
Location: Upways Hotel Building, Thika Road, Nairobi, Kenya
12. Glory Palace Hotel
Guests are welcomed by friendly staff at Glory Palace Hotel. The quaintness and charm of the hotel is very appealing. The hotel offers many extra facilities such as complementary Wi-FI, AC, 24 hours electricity and Laundry services. It is a moderately inexpensive hotel in a good location. Visit: Glory Palace Hotel
Rate: For as low as $40 per night
Location: Murang'a Road, Nairobi.
Did we miss your favourite budget hotel? Or have you visited any of these hotels? Please share your experience with us in the comment below: