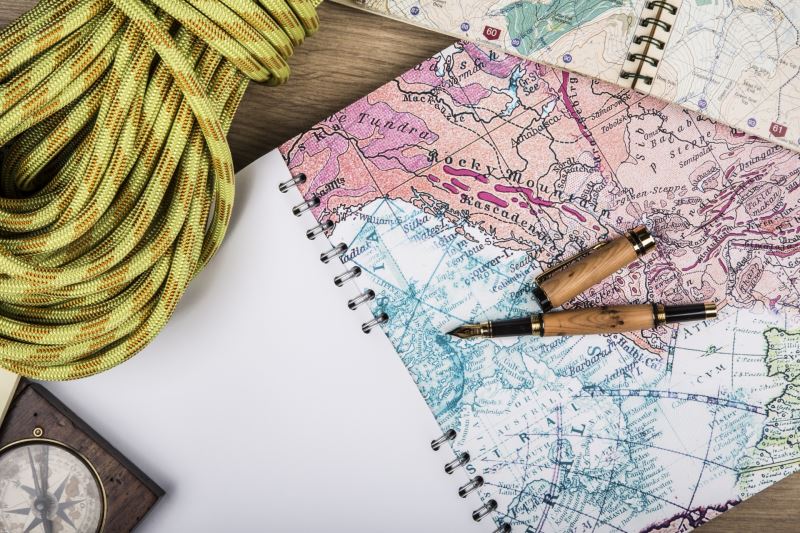 New Year. New Goals. New travel resolutions?
When you close your eyes, where do you see yourself this year, the year that began with such high hopes? Turquoise oceans, green forests, sitting under starry skies, bungee jumping, some other crazy adventure?
Too often travel is looked at as a pipe dream that will never fit into our crazy schedule, but remember nothing is achieved without taking the first step. It might seem like a leap, but with a few simple life hacks, or travel hacks, everything is within your reach.
In 2018, let us get you there with 11 simple tips that make achieving your travel resolutions a reality!
1- Make a plan
When making a plan, we need to do so efficiently. 2018 Annual leave. Official Holidays. Budget. All crucial aspects of a well-organised travel calendar. Big mistakes we come across, regularly, are travellers starting too small. Be bold with your travel dreams. Break your trips down into days of annual leave available, and how many you would like to do during the year. Have your calendar on the wall in plain sight; staring you in the face, reminding you, not of where you are, but where you want to be.
2- Open a new account that you won't use other than traveling expanse
Humans are creatures of habit, with one of those habits being spending any, and all, money we have in our bank accounts. Opening a second account in 2018 allows you to shift funds from your daily life to your dream life. Creating automatic payments to this account is a useful budgeting tool, making travel far more achievable.
3- Sign up for mileage programs
Knowing is half the battle! Every flight company has it's own mileage program. And these programs are always easier than we think, but it's important to read about what it is you're gaining. Saving miles is an incredible way of adding an extra trip to your calendar – one that couldn't be budgeted for. With seat upgrades and VIP lounge access on offer as well, it's about time we all got involved!
Using a credit card that allows you to earn miles linked to the above mentioned travel expense account suddenly brings everything together. See how we did that? Clever us!
4- Book your flight early
The early bird catches the worm. Or in this case, the extremely "cheep cheep" flight! Booking your flight makes it real; VERY REAL. However, research tells us that booking two months in advance. Using our pro tip for setting your annual leave around official holidays, it follows that a few people will be doing this. Check ticket prices regularly, and commit in 2018.
5- Party at home on weekends
A massive shift in mindset, but limiting yourself when out with friends or family is a huge boost to any travel fund. Our society is a very social one, a society that loves going out and enjoying life. Consider, however, the opportunities and experience traveling brings, and compare that to one more night out – a week. To pretend that sacrifices don't need to be made is silly, but to consider the outcome not being desirable is also silly.
Party less to party more (wait what?).
6- Less clothes, more fun
Travel light if you are not a fashion blogger 🙂 Being able to travel with only hand luggage is a superb way of saving on costs. Most flight companies add extra charges for the 2nd piece of hand luggage or anything over 7 kg. Fill your suitcases with memories, not clothes.
7- Couchsurfing
An app that has changed the travel game for good. A community of people hosting travellers from across the globe, with the goal of learning about their language and culture, while making new friends from different walks of life. The app has a built in comment and rating system, allowing travellers to make decisions based on other experiences. Effectively reducing accommodation costs should always be a priority, and boy has this app gone a long way to doing this. Get your 'free spirit' pants on, and go meet the world.
Hostels. Farms. Non-Government Organizations. Just a few working opportunities offered by Workaway for the travellers looking to add an experience while cutting accommodation costs. A paid subscription is the only thing between you and working on a wine farm in the south of France, or a hostel in Sri Lanka, or an animal shelter in Brazil.
A few hours of graft a week is all it takes to have an experience of a lifetime.
9- Become a Housesitter
The next of our paid apps is the TrustedHousesitter app. A fairly self-explanatory app that connects people looking for a house sitter, and those looking to do some housesitting. The moderators of the app do ask for quite a bit of personal info in order to vet both sides of the transaction, but it's well worth it.
Let's be honest, staying in a house for free, just to feed one or two fish? Err… YES PLEASE!
10- Do not be a tourist, be a traveller
Avoiding tourist hotspots completely is impossible, but popularity should not be your only criteria when experiencing what a country has to offer. Listen to the locals, they know best. "Immerse yourself" is a phrase thrown about quite liberally, but no truer words have been spoken, make friends, go to free beaches, picnic at the parks, eat where the locals eat, make friends again. You will never feel the heart of a city as an outsider looking in.
Time to sing our own praises! Here at Travelstart, we scour the web for cheap prices, so you don't have to. Efficiency is how we started, and efficiency is how we're ending. Up-to-date flight prices combined with superb support? Sounds good to us.
Happy Travels!
That's the end of our recommendations for now. Why not sign up for our weekly newsletter and be the first to take advantage of fast-selling fares? Click here to never miss the best travel deals.
Photo Cred:
6 – Less clothes, more fun:  ownbyfemme
11 – Do not be a tourist, be a Traveller: wikihow