How weird is normal and how normal is weird? Sometimes what we find weird is normal for others or vice versa. What is normal in this part of the world might shock the ones who live on the other side.
We travel to be shocked, to be baffled, to simply look around, and have no idea about what's going on. This is what makes travelling sweeter, doesn't it? Each country has its peculiarities, strange culture, weird rituals, and funny words. That's exactly why we travel, to discover their weirdness! Art is mostly weird, sometimes grotesque, sometimes pleasant and by being unique it changes your perspective.
Museums are the best examples as they are the capsules of art, and also time, culture, nature. There are such unusual museums that can satisfy both your thirst for knowledge and your hunger for entertainment.
Here is a list of unusual museums all around the world to brighten your day.
1. Salvador Dalí's Theatre-Museum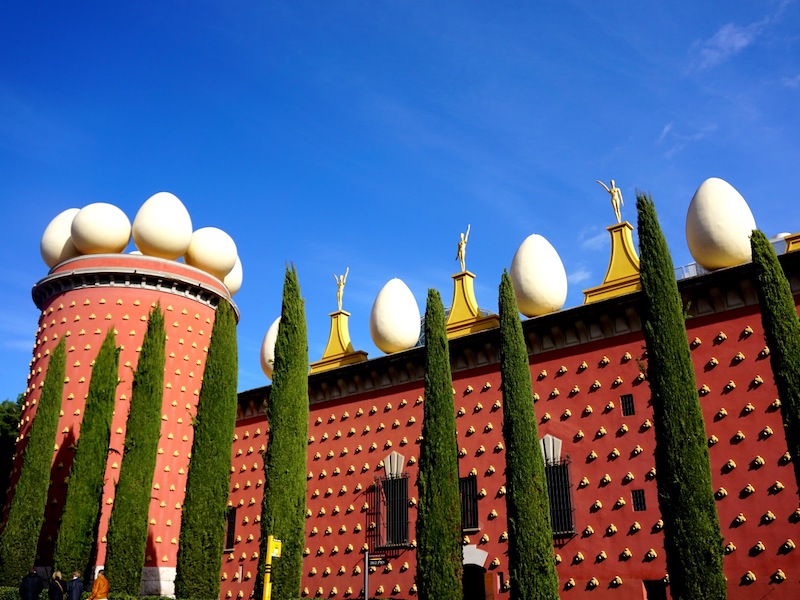 Figueres, Spain
Entrance Fee: Adult: $25, Children: $10
"I want my museum to be a single block, a labyrinth, a great surrealist object. It will be [a] theatrical museum. The people who come to see it will leave with the sensation of having had a theatrical dream."

Salvador Dali
Instituted in 1974, this museum was built on the remains of the former Figueres Theater and features a broad range of works of Salvador Dalí, who was a prominent Spanish surrealist painter. He designed it in the last few years of his life, down to the last detail. A bizarre yet amazing mix of the weird and wonderful creations from the mind of Dalí can be found everywhere in the museum. It is an extremely fun museum to explore for all the family and all ages. Book your ticket in advance to avoid queues.
2. Museum of Bad Art (MUBA)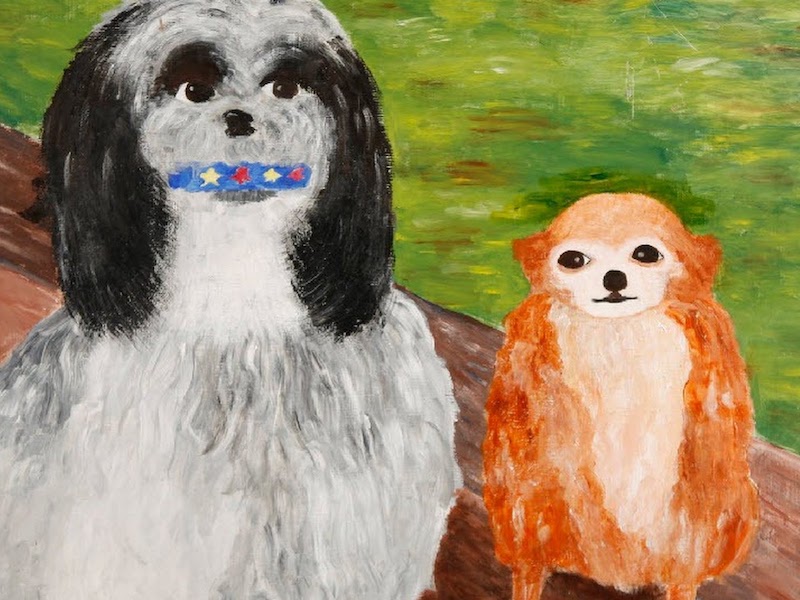 Boston, Massachusetts, USA
Entrance Fee: Free
"Art too bad to be ignored."
Aren't you tired of flawless works of great artists? What about making art more eccentric and fun?
This museum is the first institution dedicated to bringing "the worst of art to the widest of audiences". If you think they accept any bad painting, you are wrong. It's very difficult to meet the museum's law standards. Let's value imperfection and celebrate the artist's right to fail!
3. Teddy Bear Museum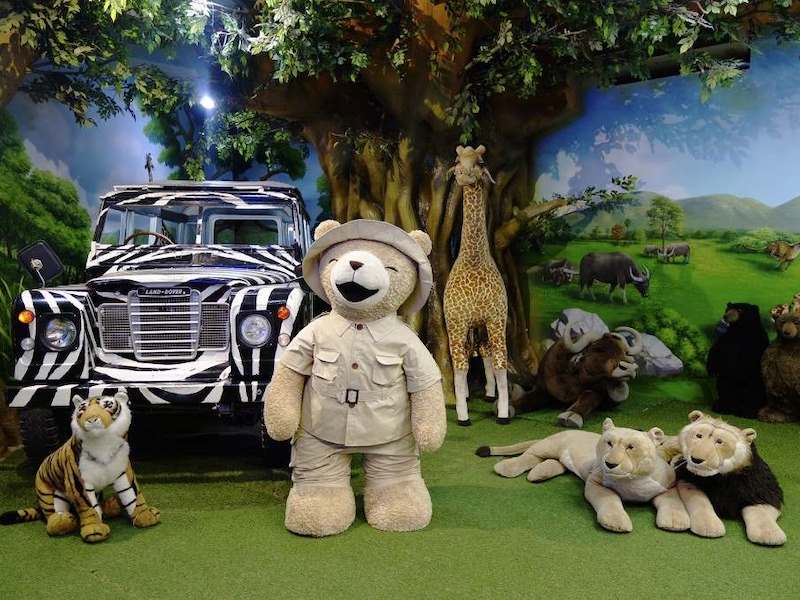 Pattaya, Thailand
Entrance Fee: 500 Baht for adults, 300 baht for children
This unique museum is a great choice for an extremely fun family experience. The museum hosts around 2,000 stuffed animals on an unexpected journey through history and fantasy. There are 12 picture zones such as Dinosaur Zone, Fossil Zone, Africa Zone, Fairytale Zone, and more. Teddy Bear Museum is the first of its kind in Southeast Asia. Especially children fall in love with this place, and undoubtedly they are encouraged to visit more museums after their experience here.
4. Museum of Miniatures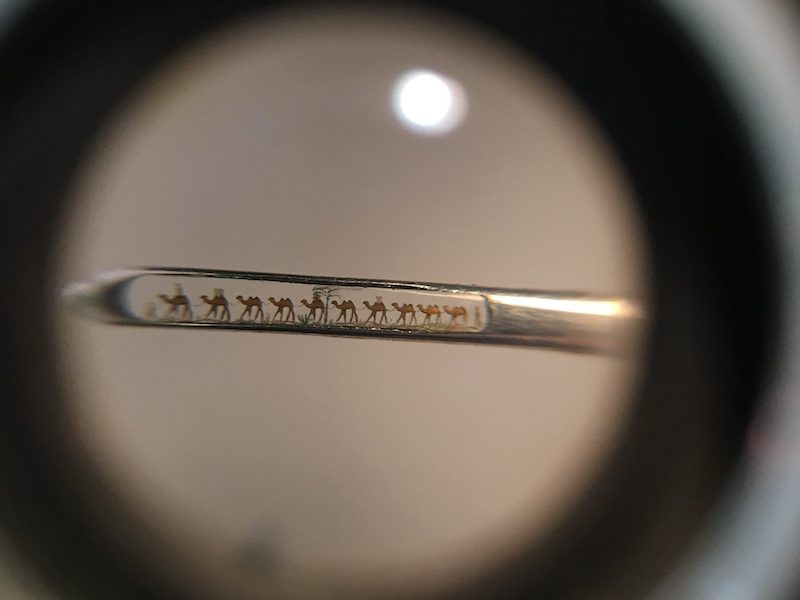 Prague, Czech Republic
Entrance Fee: Adults: 130 Kč
Students, kids:70 Kč
"The most difficult part is the blood pulsing in the fingers. A microminiature must learn to work in between heartbeats."
This museum has one of the biggest collections of microminiature art in Europe. You need a magnifying glass or microscope to view these miniatures. There is no school to learn this unusual art and every artist must produce their technology and instruments. Mostly every microminiaturist starts with the classics such as writing an inscription on human hair, on a rice grain or a pinhead, a camel train in a needle ear, or a shoed flea.
5. Museum of the Holy Souls in Purgatory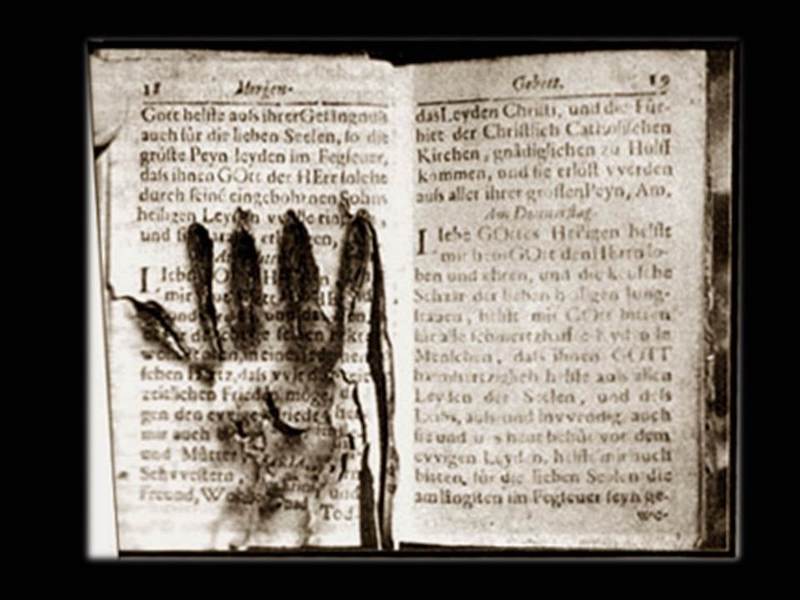 Del Sacro Cuore del Suffragio Church, Rome, Italy
Entrance Fee: Free
The location of this unusual museum is the sacristy of the ancient Del Sacro Cuore del Suffragio church. There are different exhibits presented in the museum, each of which is connected with the interesting legend or the narrative about the ghosts. These are the clothes with imprints of the ghostly hands, the floorboards with the soles of the soles, and the books on which the strange imprints and signs were once made.
In 1897 a fire broke out in the chapel. Father Victor Jouet saw behind the altar a sad, melancholy human face, which came about as a result of the fire. He thought it was the face of the dead, sentenced to Purgatory, who was trying to contact the living. This event was the beginning of the museum.
6. Cancún Underwater Museum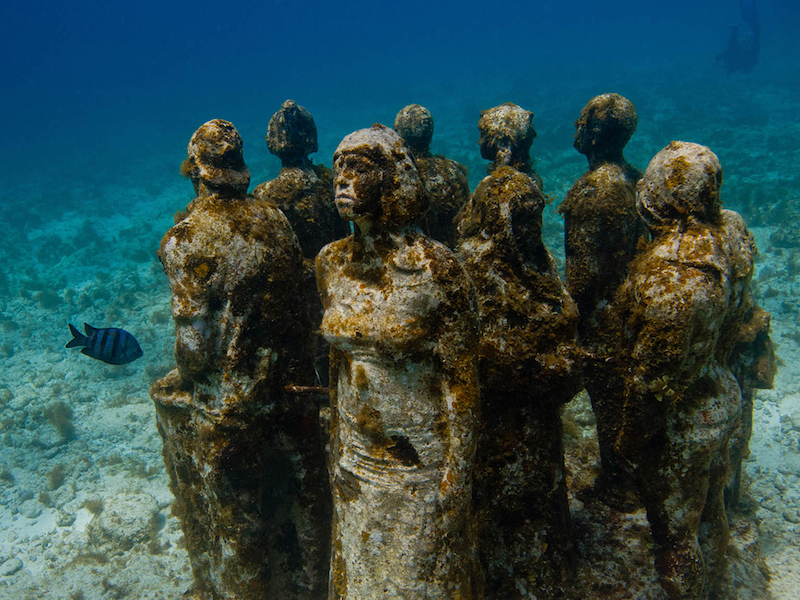 Cancún, Mexico
Entrance Fee: 195 USD
Why not dive or snorkel through a unique underwater art exhibition? This unusual museum is formed by a series of sculptures carefully placed within the National Marine Park of Yucatan Peninsula and it spreads through the coastline of Cancun to Isla Mujeres. You can have this unusual experience to appreciate art in a whole new way while conserving natural corals and the ecosystems that they bring to life.
7. Museum of Black Civilizations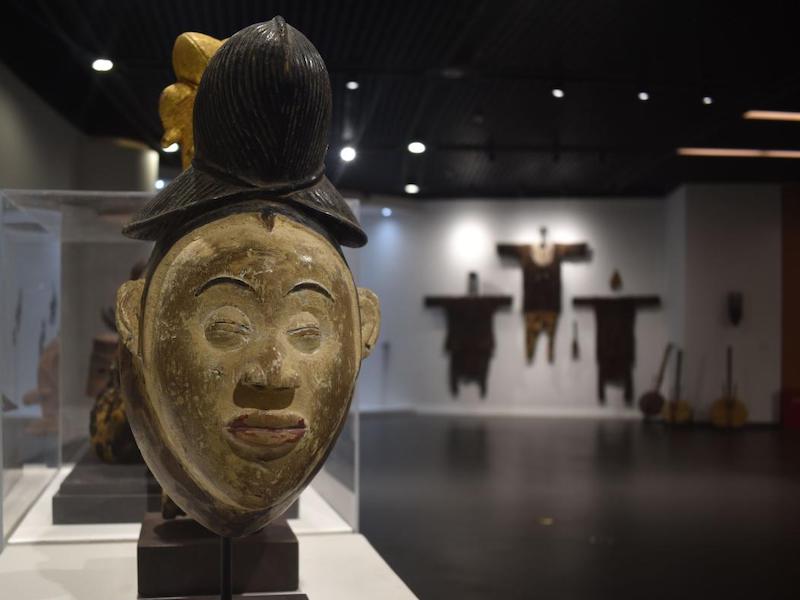 Dakar, Senegal
Entrance Fee: $3
This revolutionary museum opened in December 2108. It started with 700 exhibits and currently has 1,300 with the expectation that there will be between 4,000 to 5,000 exhibits on display by the end of 2019. Senegal calls France to return art it looted during the colonial era. African artefacts currently held in European institutions are being sent back home.
"This museum is a response to the aspirations of African children to better understand their memory and other cultures," Ernesto O. Ramirez, assistant director-general for the culture of Unesco, said during the museum's opening ceremony. "It is also an important step towards the realization of an Africa with a strong cultural identity: a common heritage, values, and ethics."
"The museum will not be a commemorative monument, but rather a creative laboratory to help shape a continent's sense of identity."
8. Chez Galip Hair Museum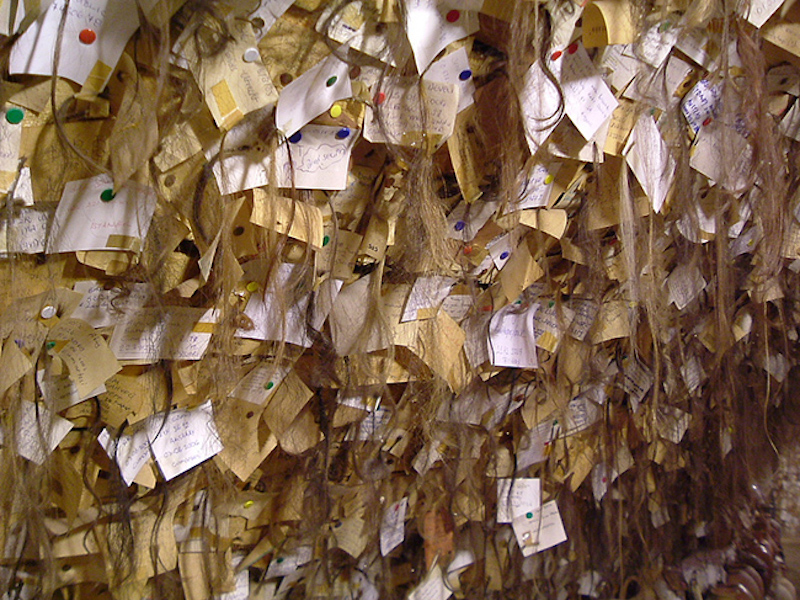 Avanos, Nevşehir, Turkey
Entrance Fee: 3TL
Housing a collection of more than 16,000 locks of women hair in different colours, hanging loosely in varying lengths, this place offers a strange sight.
Turkish potter Galip Körükçü met a French woman at his shop 35 years back and they had an emotional bond in between. When she was moving away from Avanos, Galip was very upset. French woman cut a lock of her hair and gave it to him for remembrance. The potter being a true romantic decided to pin this lock of hair on the wall and started to share this story with his visitors. Touched by the tale, every woman who came by his shop offered him a lock of her hair as well. Eventually, the gallery made it to the Guinness Book of World Records.
9. Chocolate Museum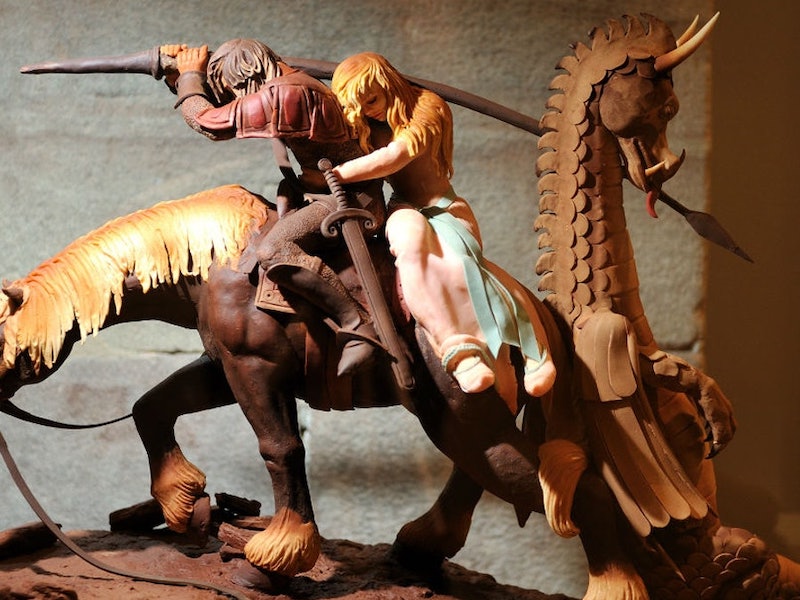 Barcelona, Spain
Entrance Fee: Adults: € 6,00 €
Reduced: 5,00 €
Free admission for children up to 7 yrs.
The alluring smell welcomes you at the door. Here you can see the history of chocolate in Europe: its origins, how it got to us and how it was traded as an element between myth and reality, between medicine and food or as an aphrodisiac. It also shows the manufacturing of chocolate, from the cocoa bean up to industrial production processes. The museum regularly offers events, tours, and workshops on the subject of chocolate. For example, you can learn how to make sculptures from chocolate. How amazing is that? If you bring your kids with you on your trip to Barcelona, this museum will probably become their favourite.
10. Sulabh International Museum of Toilets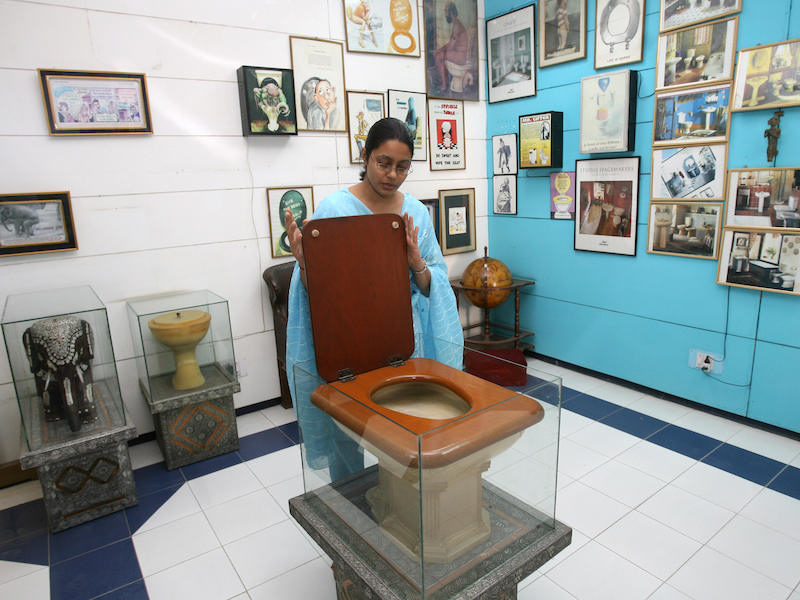 New Delhi, India
Entrance Fee: Free
Ever wanted to learn about the entire evolution of toilets throughout human history? This unusual museum provides a chronological account of developments relating to technology, toilet-related social customs, toilet etiquette, prevailing sanitary conditions and legislative efforts of different times. It has an extensive display of privies, chamber pots, toilet furniture, bidets and water closets in use from 1145 AD to the modern times.
11. Meguro Parasitological Museum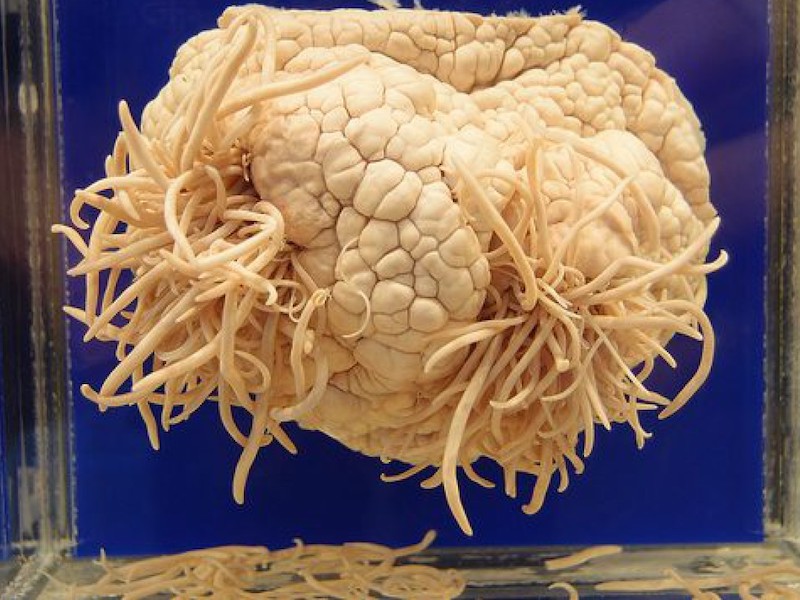 Tokyo, Japan
Entrance Fee: Free (donations are accepted)
This quirky museum has over 45,000 immersed and prepared parasite specimens in its collection. It's the only museum in the world dedicated to parasites. If you are looking for something truly out of the ordinary, this museum is a must-visit. Here you will see the world's longest, record-breaking tapeworm measuring 8.8 meters (as long as a bus) as well. There is also a gift shop if you need to purchase any parasite-themed items. What about a keychain with a real parasite embedded into acrylic?
Did you know the word "museum" comes from the Greek word "Mousa" meaning "a temple or shrine of the Muses"? Muses are the goddesses of art and sciences; they are the sources of inspiration and divine guidance. If museums are not the places of exciting discoveries and inspiration, where else? Are you ready to have an unforgettable travel experience coloured with a little art, a little oddity?