Nairobi has amazing weather all year round; towering skyscrapers with mesmerizing lights; beautiful parks that allow the residents to unwind and take in a bit of nature and the rest of the world is always just a click or a flight away. Yes, Nairobi is a beautiful city.
But, it can be argued that any city in the world is a 'beautiful city' if all you look at are the infrastructures. In fact, the beauty of a city really is a matter of perspective. So, to get an 'even keeled' perspective as to why a given city, like Nairobi, is the best place to live, you have to look at certain factors that determine whether or not it is a suitable destination. Factors such as social amenities; infrastructure, of course; cost of living; housing; business opportunities; the people around you and, let's face it, whether or not the city qualifies as a 'hot spot' when it comes to entertainment.
So, with all that in mind, here are 12 reasons why Nairobi is better than Mombasa, or any other Kenyan city for that matter:
1. It's the Capital and crown jewel of Kenya
This fact alone sets it apart from any other city in country. Being the Capital city, Nairobi is far more developed than any other city or town in Kenya. Of course, there are cases in the world where other cities are bigger and better than a country's capital, but that is not the case in Kenya. Nairobi is the one place that anything and everything is possible. Bright lights, trade, ambition and the sheer will to succeed is rife in this city. Also, being the Capital, it receives a lot of attention from the central government and, indeed the rest of the world. Which means it has better chances of developing and catching up with the her 1st-World counterparts much faster than any other city in the country. This in turn makes Nairobi the greatest 'opportunity hub' in Kenya.
2. Great weather all year round
Photo Source: Xiaojun Deng on Flickr
Being that Kenya lies in the tropics, Nairobi enjoys wonderful, temperate weather all year long. It experiences sunny days with cool evenings that are often star-lit. Although it does get quite a bit of rain and sometimes, the temperature drops to well below 17 degrees Celsius, the general feel of the city is quite essentially…summer! You can let your hair down and wear those flattering clothes that colder, harsher weather would never allow.
3. It has an amazing culture and it's a cultural hub
Photo Source: Angela Sevin on Flickr
Nairobi is one of most visited cities in East and Central Africa and it's a place where many multinationals and international bodies such as the UN have chosen to build their headquarters in Africa. There is a wonderful potent mix of people from all over the world. People with different cultures, languages, cuisines, tastes and social influence meet and mingle within the city. Nairobi also has a host of museums, art galleries, theatres, libraries and musical diversity. Really, if you are one for culture and you seek a vibrant social life, then all you need to do is be in Nairobi and chances are you will experience it all at some point.
4. Fine dining
This stems from the fact that Nairobi has a great number of national cultures coming together in one central location. From Mediterranean, to international; Asian, Japanese, Chinese, Seafood and best of all, local cuisine, Nairobi is a melting pot (pun intended) of wonderful tastes from all over the world. The best part is that most of these dishes are served in restaurants that have the highest standards when it comes to decor, service and ambiance.
5. Magical parks
Nairobi is an utmost urban destination with magical parks. The city's parks are places you can go and just breathe for a period of time such as Uhuru Park, Jeevanjee Gardens and many others. The parks are plush and serene part of the city, ingeniously incorporated into the cityscape. Drop into one of these parks for sights of the city's most peaceful side, where people come to chill, reminisce and relax.
6. Nairobi is Kenya's 'business central'
Nairobi has it all. Big office building skyscrapers; multinational companies; small business enterprises; an industrial area that simply won't stop churning out the necessary goods and high speed internet connection to the rest of the world. If there is ever any place in Kenya where you can be whatever you want to be, that place will be Nairobi. Dreams have come true and fortunes have been made here. All you need is the right mix of intellect, ambition and drive. Nairobi will provide you with the opportunity and the infrastructure to make your dreams come true.
P.S Nairobi is the one city in Kenya with a 24 hour economy atmosphere.
7. Shop till you drop
Shopping in Nairobi is always colourful. There are plenty of places where you can shop in this beautiful city – street and flea markets, shopping malls, African markets, department stores and food markets. The markets offer great shopping experiences and opportunities including incredible bargains.
8. Friendly and neighbourly people
Kenya is generally a nation full of very friendly and neighbourly people. In Nairobi, you never know what kind of connections you will make; be it business or social. For that very reason, almost everyone is very friendly towards everyone else. They are ready to smile, ready to assist (mostly with directions) and always up for a party.
9. Most celebrated nightlife experiences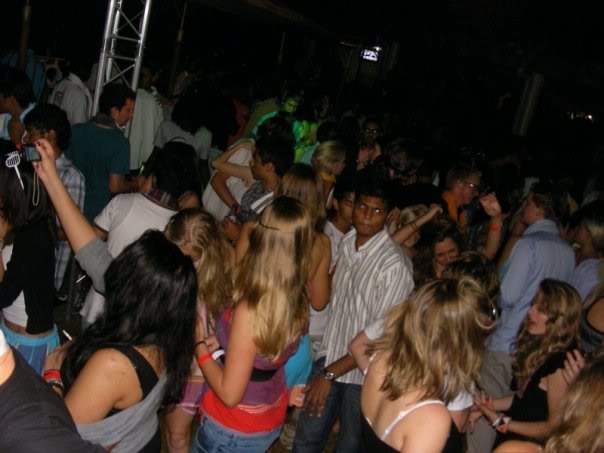 There are corners of Nairobi where the party only ends when you fall asleep. This is a city with exceptionally hardworking people. And to that effect, they need some sort of social release, which they find in the nightlife that the city offers. From high-end bars and clubs in Westlands to secluded retreats and restaurants in Lavington and Karen, Nairobi has no shortage of wonderful places where you can go to unwind.
10. A city with a wildlife
Photo Source: Anne Roth on Flickr
Nairobi is one of the very few cities in the world where there is an actual game reserve/national park within the city limits. In fact, Nairobi National Park is the world's only protected ecosystem this close to a capital city. Only 7KM from the city center, Nairobi National Park is teeming with lions, cheetahs, rhinos (the whole Big Five crew) and a host of other game animals that can only be seen in Africa. Nairobi is the only city in the world that offers you the opportunity to see these animals in their natural habitat without requiring that you travel for miles on end.
11. Outstanding housing facilities
Nairobi has some of the most beautiful houses you will ever see. Although the housing isn't as cheap as it is in most other Kenyan cities, most of the houses in Nairobi are built with the international community in mind. This means that some of the best and most glamorous high-rise houses meet the most stringent of international standards as far as aesthetic and safety values are concerned. Simply put, Nairobi has the best housing facilities in the country.
12. Always fast-paced
They say time is the most precious commodity that we do not have enough of. They also say that time is money. It therefore stands to reason that we should do everything in our power to use what little time we have to better ourselves. Nairobi has an atmosphere that will not allow you to waste any time and neither will it waste yours. Everything in Nairobi moves really fast. Be it business, traffic (sometimes) or life in general. In Nairobi, you can get a lot more done within the time you have. Isn't that what progress is all about?
Whether you want to gaze at the bright city lights or you want to take a walk in the park, Nairobi has it all. The city will whisk you away to different ends of the world without you having to move an inch. It is cultured, friendly, cut-throat, expensive, cheap, hectic, peaceful and absolutely gorgeous, all at the same time. Nairobi is indeed the best city in Kenya, if not East Africa.
Do you think Nairobi is better than Mombasa? Share your opinion/experiences with us in the comment below: