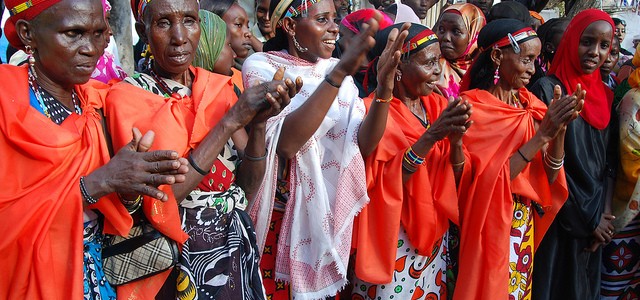 With over 70 different tribes in Kenya, the rich diversity of cultures makes every community unique in its own way. Kenya has long been a migratory land passed through by wave upon wave of people from all over Africa and later on from the Middle East as well. There are various cultural events that give one a chance to experience Kenyan culture.
We present to you the top cultural events you wouldn't want to miss in Kenya;
1. Lamu Cultural Festival
Every year Lamu comes to life during the Lamu Cultural Festival, as Kenyans come together to celebrate both the past, future, the beliefs and traditions that are the heart and soul of this community in the lovely enchanting island of Lamu. An ancient Swahili township, Lamu is a World Heritage site and the cultural festival offers an insight of how life in the old days was in terms of architecture and lifestyle. The event is usually held annually in November, with exciting activities such as traditional Swahili poetry, henna painting, donkey races and dhow sailing, culminating with a traditional Swahili wedding and a chance to enjoy various Swahili dishes. This annual festival gives one a chance to experience the traditional beliefs that are very deeply engraved with the locals and learn more about their simple and peaceful lifestyle.
 Photo Source: USAID_IMAGES on Flickr 
2. Lake Turkana Festival
The uniqueness about this annual festival that is usually held around May is the fact the festival helps to overcome stereotypes and creates a mutual understanding of different cultures and promotes peaceful coexistence. The event features unique performances and demonstrations of ten different ethnic communities which live in the Lake Turkana region. With traditional dances and a chance to taste various foods from these communities as well as being able to visit their unique huts and get a taste to experience life in Loiyangani in Northern Kenya. The presentation of the customs and living conditions of the ten tribes, their spectacular traditional costumes arts and crafts, dances and music is a fascinating experience that leaves one with a positive perception of the Lake Turkana region.
Photo Source: EU Humanitarian Aid and Civil Protection on

Flickr 
3. Mombasa Carnival
Mombasa Carnival is apparently the most popular festival in Kenya. The festival features numerous traditions and ethnicity in Kenya. It is a lively festival takes place in November in Mombasa. Mombasa, known as the major cultural hub in East Africa, depicts both the Arabian and African cultures in a unique way. The festival features multicultural floats, music, dance performances and colourful parades with people in amazing costumes. Tourists who visit Mombasa during the festival have the opportunity to shop for souvenirs and enjoy delicious Kenyan dishes in the food stalls set up on the streets of Mombasa.
4. International Camel Derby Festival
Held every year in the northern region of Kenya in Samburu, the Camel Derby is slowly becoming a spectacular festival packed with a variety of events that draw visitors from all over the world. The Derby attracts contenders from all over the world since it started in the early 90s with camel races, cycling races for both amateurs and professional races alike. Each year the Carmel Derby brings colour and action to the streets of Maralal as the finest camels gather for the big race. Maralal is a haven for nomadic cultures and the town is a popular stopover for travellers looking for some form of adventure in the great unspoilt wilderness areas. With difficult routes running through the semi-desert regions, the Camel Derby is such an exciting event for anyone wishing to compete and a chance to experience culture, colour, action and adventure firsthand!
5. Maulidi Festival
Lamu annually hosts the Maulidi historical festival which has become a permanent feature of Islamic activities. The Lamu Maulidi celebrations bring together thousands of Muslims across East Africa, Middle East and other parts of the world as they celebrate the birth of Prophet Mohammed which is a long celebration in every third month of the Muslim calendar. Since the 1990s the National Museum of Kenya has sponsored the event in Lamu and organized various community building competitions such as swimming, dhow and donkey races, henna competitions and tug of war. The uniquely Swahili music, dance and culture in Lamu are unlike any other, since this island is rich in culture, history and traditions hence why East African Muslims choose Lamu to visit and observe this special time. It's a wonderful experience as one gets to see the colourful and energetic procession and crowds reciting qasidas prayers together.
 Photo by Rogiro on Flickr 
6. Safari Rally
For all car buffs, the Safari Rally is one of the most popular events in the Kenyan calendar with both the young and old alike. Since its onset in 1953 in honour of Queen Elizabeth, the KCB Safari Rally is an internationally acclaimed event and a significant part of Kenya's history. It is a sport loved by the Kenyan people and draws attention of people different ages and cultures both locally and internationally. A fast paced race through the wilderness of Kenya where drivers have to negotiate through rough terrains and assortments of wildlife. The Safari Rally is one sport that attracts many visitors alike and has become a part of Kenyan culture.
 Photo Source: East Africa Safari Rally on Pinterest
Whatever event you choose to attend, you are always guaranteed true Kenyan hospitality as you get to experience the uniqueness that comes with various cultures.