Travelstart Unveils Top Regional Travel Destinations for Kenyan Travellers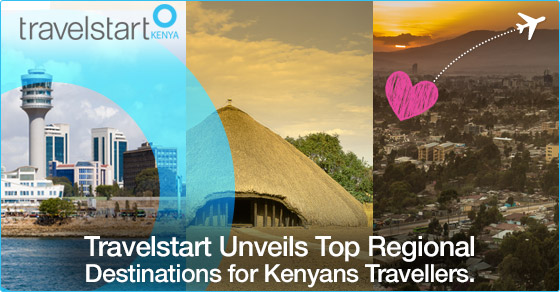 8 May 2014, Nairobi
–
Travelstart.co.ke
, Africa's leading online travel agency, today identified the top regional travel destinations for Kenyan travellers. According to Travelstart flight booking report, the demand for regional travel is clearly increasing as Kenyans choose to spend their holidays in destinations closer to home.
Dar es Salaam ranked #1 as the top regional travel destination for Kenyan travellers, while Addis Ababa and Kampala emerged as the second and third most preferred regional destinations respectively. It is no surprise that Zanzibar is the fourth most visited destination as the city is best known for its attractions. According to the Revolutionary Government of Zanzibar, "Tourism has increasingly become a leading economic sector in Zanzibar". Zanzibar Tourism Board has been thoroughly focused on increasing tourism and making efforts to make the island more appealing to tourists with its exotic beaches and cultural scene.
On the other hand, Dar es Salaam, the largest and richest city in Tanzania, has attracted Kenyan travellers with its top-notch attractions. While Dar es Salaam, Addis Ababa, Kampala and Zanzibar continues to be the top 4 popular regional destinations for Kenyans, destinations such as Kigali (#5), Bujumbura (#6), and Harare (#7) are fast catching up.
"Regional travel has increased steadily and It is not surprising that Kenyans choose to travel to these destinations because they offer everything you'll want from a successful vacation and more." said Bryan Kariuki, Country Manager.
Rounding up the top 10 regional destinations for Kenyan travellers are Lusaka (#8), Maputo (#9) and Mauritius (#10), according to Travelstart flight booking report.
Most of these destinations issue visas on arrival and Kenyan travellers have embraced the flexibility and convenience of this visa procedure. These regional destinations are all-inclusive and perfect for every traveller as they seek romance, family travel, food and wine, adventure, luxury travel and beach, thus improving travellers' experiences.
Regional travel for Kenyan travellers is more accessible as all the destinations are within East Africa. From vibrant atmosphere of multi-ethnic Dar es Salaam to the unspoiled beaches of Mauritius and Africa's finest coffee blend produced in Kilimanjaro. These regional destinations offer something for everyone especially East Africa's strong indigenous history and culture.
*The 10 most popular regional destinations are based on flight bookings made on Travelstart.co.ke from January 1, 2013 to April 30, 2014.
###
Travelstart is the largest and fastest growing online travel agency in Africa, providing independent flight comparisons between low fares airlines as well as all major international airlines. Travelstart's mission is to make air travel easier for the customer in the aspects of searching, comparing and booking flights. In addition customers can also compare prices and book hotels, car rental and holiday packages. Travelstart is available in South Africa, Namibia, Tanzania, Kenya, Turkey, Egypt and Nigeria.
Contact:
Byran Kairuki | Travelstart Kenya Country Manager
---
Share the news