What makes a place Instagrammable? Is it just popularity? Or is there something unique in those places? Some of them are wonders of mother nature, some are man-made, some are just Instagrammable for being original, some ignites your curiosity with their mysteries. Find your own reasons. What makes you feel like going to a place and share it with others? If you are an Instaholic, you already know the answers to these questions. We feel you.
We have made a list for Instaholics, check whether you have been to any of these or not. If you have, check how many of them you have been, if not so, how come!? Let's go, like, right now!
Let's take a look at some of the most Instagrammable spots in Kenya that will make your moments memorable:
1- The African Heritage House
Location: Mlolongo
The most photographed house in Africa! Located in a cul-de-sac at Mlolongo just outside Nairobi, The African Heritage House is owned by American designer and Architect, Alan Donovan. Its design was inspired by the Grand Mosque of Djenne. Its pre-colonial architecture and its great view looking at the national park call so many visitors here every year. African art collection here is nowhere else to be found. The stunning exhibition house of African art, Alan Donovan explaining to you about it all sounds like a very Instagrammable experience to us! You can accommodate here and watch the sky at night from the terraces. There are couples who got married or planning to get married here. Being probably one of the most Instagrammable spots in Africa, The African Heritage House is a jewel, especially for art lovers!
2- Chyulu Hills National Park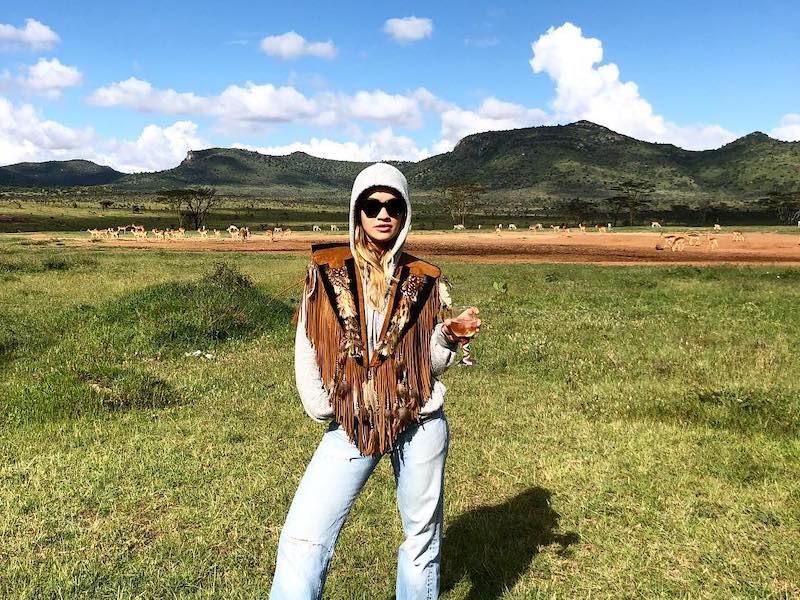 Location: Makueni County
Ernest Hemingway described them as "Green Hills of Africa". There are so many activities to do here for adventure lovers. You can discover the Kisula Caves complex, go hiking and catch the view of Mt. Kilimanjaro, horse riding, bird watching and so many other outdoor activities.
Did you know English singer Rita Ora came here to visit in 2017 to celebrate her birthday? She said: "I've never sung a song like this for my birthday before. I went to a beautiful Masai Village and they were so welcoming and my energy and soul will never be the same again. Thank you. Best birthday ever!! Thank you!"
She didn't share much on her Instagram during her trip and the reason was probably she was busy with experiencing nature and wildlife, and taking more photos to share later!
3- Mombasa Old Town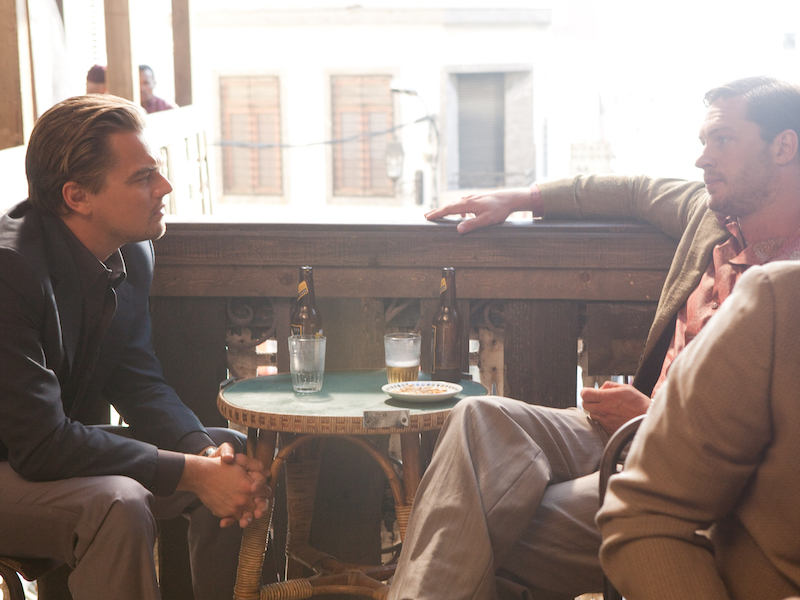 Location: Mombasa
Old is always gold.
Mombasa was a trading centre because of its strategic location. Once you take a walk through the streets, you'll see both Portuguese and Islamic architecture, some of the buildings dating back to the 16th century. Discovering antique shops in the narrow streets, beautiful wooden balconies, the first hotel in Kenya, many more to hunt for the curious souls.
The old part of a town, be it all around the world, with its rustic, vintage feeling and pastel colours never disappoints its visitors. You can catch the essence of the city, and its history if you get lost and feel how life still runs through the streets just like it used to many years ago. Old towns are always great for the ones who give attention to details, who can listen to the ancient walls exhaling their stories. You can capture the greatest moments if you can really dive deep into them.
Try some delicious Swahili food and keep your phone or camera right by your side!
4- David Sheldrick Wildlife Orphan Trust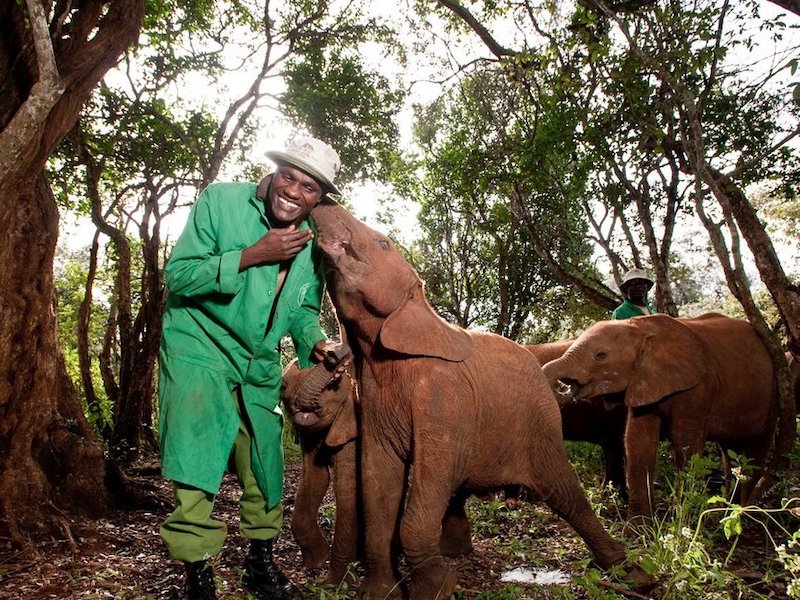 Location: Nairobi
Is there anything cuter than baby elephants eating and playing around? David Sheldrick Wildlife Orphan Trust is a nursery in Nairobi National Park for rescued baby elephants. Until the age of 2-3 they are taken care of here, go through rehabilitation and then released back to the wild. It is an amazing and heartwarming experience to see how well these baby elephants are treated, and you can have close contact with them, you can feed them, play with them and meanwhile catch some greats shots for memories! Once you visit them, no doubt you will want to visit them again and again. Yes, we can choose these adorable babies and this touching place as one of the most Instagrammable spots in Kenya.
5- Nairobi Railway Museum
Location: Nairobi
In the heart of Nairobi, Nairobi Railway Museum gives you a train ticket back in time. This hidden gem is positioned behind the old Nairobi Railway Station. Learning comes first, fun comes later, or they come together. So you can visit the exhibition inside first and then walk out to see the trains and locomotives. One of the trains was used for the American film 'Out of Africa', so you'll meet that famous locomotive, excited huh?
You can climb and explore inside of them as there are no restrictions. Yes, you can take as many photographs you like too. This museum is amazing for history lovers, or just to click some amazing shots for your Instagram. Who doesn't want an amazing 1800-1900s background for a vintage selfie? There is also an area where some local artists work and sell art. Artists never leave such good material alone, do they? Such places are food for your imagination. Don't forget to buy a souvenir!
6- Giraffe Centre
Location: Nairobi
Who's up for a close experience with giraffes while supporting conservation?
This place protects the endangered Rothschild Giraffe, it has a peaceful atmosphere and it also offers enjoyable activities. Here you can hand-feed these unbelievably cute giraffes, learn about them and experience how gentle they are. You can get a kiss from one of these beauties if you are lucky enough, and make your girlfriend/boyfriend, wife/husband jealous! A giraffe kiss is like no other, you know, it rocks your world! This place is one of the most Instagrammable spots, so make sure you click enough photographs as they will be the most amazing ones. Such intense experiences worth sharing!
7- Ngong Hills
Location: near Nairobi
It takes some effort, a bit of sweat, and determination to have the greatest view, yes? It takes some trekking up to the summit to see the breath-taking view of Rift Valley, and it always worths it. This dream-like place is where you can touch the clouds, clear your mind, amaze at nature, inhale some good fresh air, do a picnic, or even fly kites if you like! This one day trek is 30 minutes from the city and is a must for the ones who want to enjoy the greenery of Kenya. It's a safe outdoor activity to enjoy with your family, connect with nature and click some amazing photographs. It's one of the most Instagrammable spots in Kenya as the view from the summit is spectacular!
8- Gedi Ruins
Location: 94 KM North of Mombasa Town
Gedi was inhabited by Swahili people on the coastal region on Kenya, it was a town built entirely from rocks and stones. It dates back to the 13th century and ruins can still be seen and visited today. Some excavation work has been done on this historic town and pillar tombs, a mosque and a palace were revealed. There's a lot more to discover. Even the idea of discovering an old town that is hidden in the forest gives us thrills. Do you feel the same way? Does the idea of an abandoned city hidden in a tropical forest, and maybe filled with ghosts, tickle your imagination? Did you know some ghosts can be captured in photographs? Gedi ruins stay as one of the mysteries of Kenya and one of the most Instagrammable spots. How nature cuddles this town and hides it in her bosom is mind-boggling. Take as many photos as you can and watch them well, maybe you'll discover some of Gedi's mysteries!
9- Kitengela Glass Art
Location: Nairobi
Something is missing in your life? Magic, perhaps? Meet Nairobi National Park's neighbour Kitengela Glass. With glass art, sculptures, mosaic pathways and the funky cottages, this place is the magic itself. Nani and her husband Eric dedicated their lives to help the artisans to make a living with their abilities, to promote renewable energy sources and to limit waste. There are so many recreation activities to brighten your day such as horse riding, swimming and glass mosaic classes! Such a magical place filled with extravagant murals, majestic chandeliers, colourful lights, furniture of crushed ice. Some inspiration for the eye and satisfaction for the soul. Can this place be one of the most Instagramabble spots in Kenya? Let's vote for it. We say a big YES!
10- Watamu Marine National Park and Reserve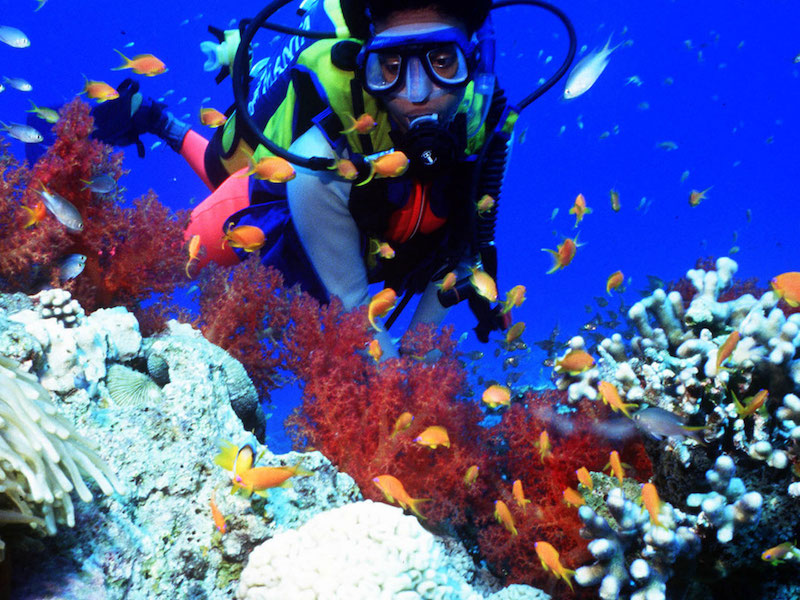 Location: Watamu
Underwater pictures are always top-notch ones. How did they have that special camera for underwater shooting? There is something mesmerising about an underwater world picture, with colourful fish and different types of turtles and many other sea creatures around. This park is one of Kenya's first marine parks. It's known with its spectacularly diverse aquatic ecosystem with over 100 types of coral, 600 fish species and many other marine creatures, making it a favourite underworld destination for snorkelers and divers. Exciting right?
11- Lamu Island
Location: Lamu Archipelago
Filled with history, intriguing architecture, donkeys chilling around, narrow streets and vibrant culture, beautiful beaches, Lamu Island offers a tranquil atmosphere for its visitors. It was founded in the 14th century which makes it one of the oldest and best-preserved Swahili settlement in East Africa. Arab, Chinese and Indian effects mix in together. In 1960, hippies hailed Lamu as Africa's Kathmandu! Its remoteness calls for curious souls. "Pole pole" meaning "Slow down" in Swahili can be felt everywhere on the island. What is it with islands and this chillness? We will never know until we live on one. Kenya's Lamu is one of the most storied corners of the earth, and one of the most clicked. Forgetting your camera behind would be a lifetime mistake!
12- Lake Nakuru National Park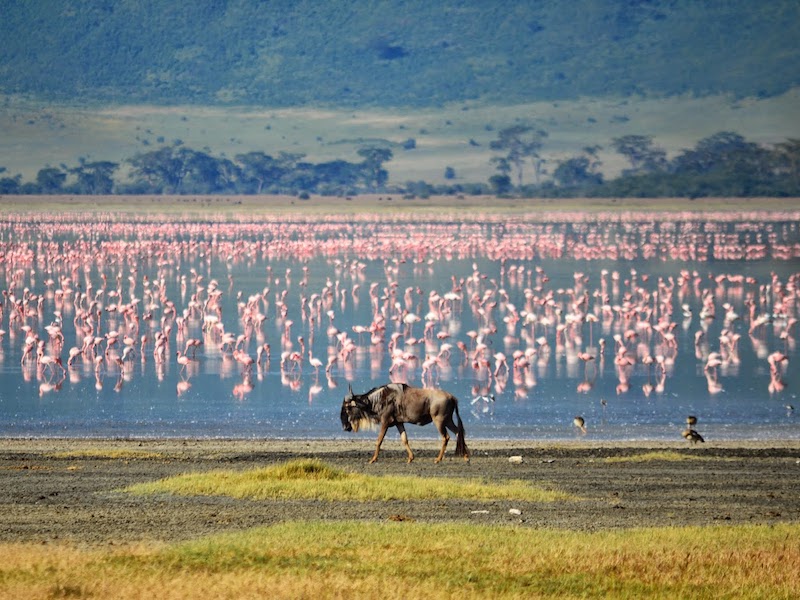 Location: Rift Valley
Looking for a paradise? You got it! A bird lover's paradise. Lake Nakuru is a sea of pink flamingos. It is one of the greatest shows of mother nature you can possibly witness. The colours of the lake and the birds create an incredible painting. You know when words are of no help right? This place is one of them. You will find an array of birdlife from pelicans, cormorants, kingfishers, ostriches, storks, storks, herons, eagles. and much more. The scene is always colourful and exciting here. Giraffes, rhinos, hyenas, there are countless animals to observe. You have to get your camera and stand stable somewhere and start clicking. Do nothing else and the movement in this place will provide you with enough Instagram pictures for the ten years!
We mentioned a bunch of spots but every corner of Kenya is Instagrammable. It also depends on how you see and understand your surroundings. It all comes down to perspective – what might be dull and boring for one person can be utterly sublime to you. Well… it's true some places have mind-blowing material, but beauty is also in the eye of the beholder!
Simply dive into the moment and let your camera lead you to the most beautiful corners of the Kenya. Let your camera be your companion and your guide when you are chasing after great moments. The result? The result is amazing stories, memories and Instagrams photos to share!