Kenya takes pride of its lodging scene. The country is well-known for offering enjoyable hospitality, trailblazing architectural styles and amenities to its guests. The refinement and warmth found at Kenya hotels and lodging houses boost its appeal. Whether it's discovering nature, exploring wildlife, or going for a luxury stay, genuineness is the basic amenity of these hotels and safari lodges.
See Also: 15 Best Nairobi Hotels
We present to you Kenya's 7 hottest lodging Scenes – Exclusive African Treasures, which are diverse, traversing land and water, and offering guests the elusive values of travel. These lodging options provide guests with an opportunity to explore Kenya and revel in its enriching experiences.
1. Lantana Galu Beach, Galu, Diani Beach
Lantana Galu Beach is a beach-front paradise hidden on Kenya coast and overlooking the stunning Galu beach. Having visited quite a few luxury resorts in Kenya, this Galu property is our favourite due to its stylish suites and villas, excellent services and delicious food. Lantana Galu is an idyllic retreat for those looking for outstanding service and privacy in a picturesque beach setting. You will love everything about Lantana Galu. Many guests who come to Lantana are after sea, sun and luxurious relaxation.
Lantana Galu features a choice of 46 sprawling beach suites – (20) 3 bedroom villa beach-front with ocean or garden views, (10) 3 bedroom ocean or garden view suites, (2) 3 bedroom garden bungalow suites, (10) 2 bedroom suites with garden or ocean views, (4) 1 bedroom penthouse junior or senior suites. The suites on the ground floor are our favourite because you can have unswerving access to front garden and lounge in the sun.
Each suite and villa is well-decorated and well-appointed with contemporary Swahili furniture, equipped with modern amenities such as flat screen TV, Free Wi-Fi, refrigerator, coffee and tea utensils. Each suite has a roomy living room, spreading out to an out-sized terrace. Other facilities include swimming pools, restaurant and bar – Le Café, coffee bar, gym and spa, business centre, private chefs and a convenience shop.
Apart from the delicious food served at Le Café restaurant, another highlight is free wireless connectivity; you will be able to stay connected with the outside world, in the privacy of your suite.
There are a wide range of exciting activities to keep you occupied during your stay at this resort such as diving, cycling, deep sea fishing, windsurfing, kite surfing and quad biking. They can be arranged locally if you won't mind.
Life's beautiful luxuries are present here at Lantana Galu Beach Resort.  We came, we saw and we stayed overnight…
Visit: Lantana Galu Beach | Location: Diani, Kenya | Contact Email: [email protected]
2. The Majlis, Lamu Archipelago
The natural coastline of Manda Island in Lamu archipelago is as picture-perfect as it is mesmeric. The Majlis is a stylish and magnificent hideaway, a privately owned luxury hotel offering a perfect beach front setting, overlooking Shela Village and Ras Kitau Bay with amazing views. This jewel is a very stimulating and attractive dwelling, and we think it is wittingly designed for lovers. It's a perfect hideaway for honeymooners! It is also a perfect choice for guests who value privacy, luxury living and relaxed vacation.
The Majlis has 3 beachfront villas, which comprise 27 superb rooms and suites. All rooms and suites are airy and spacious, vibrant and calm, designed luxuriously with beautiful Lamu furniture. Each villa features a private lounge and modern amenities such as air conditioning, safety deposit box, hair-dryers, mosquito nets, mini-bar and more.
The island offers a wide variety of activities such as water skiing, snorkelling, fishing, kayaking, dhow sailing, mountain biking, windsurfing and many more. This elegant retreat truly offers everything you can ever imagine for your vacation. The Majlis promises a memorable island experience for everyone.
Visit: The Majlis Resort | Location: Ras Kitau Bay – Manda Island | Contact Email: [email protected]
 

3. Vipingo Ridge, Kilifi, North coast
Vipingo Ridge is nothing like any other luxury hotel in Kenya we know; this is the finest golf resort in Kenya. This stunning hotel is a masterpiece of design, an exclusive estate with an 18 hole championship Golf Course designed by David Jones, a board member of European Tour and former Kenya Open Champion. The scores of the golf courses dot latitude and longitude coordinates of the estate and the courses offer good golf. Golf fanatics, honeymooners and sports enthusiastic or travellers who are just looking for a relaxed and pampering holiday with definitely fall in love with Vipingo Ridge.
If you are looking for golf accessories, you want to change into your golf gear or you simply want to relax, you should check out the Club House. It offers an assortment of golfing accessories – Pro Shop, cutting-edge changing rooms with built-in safe cabinets – lockable and other amazing facilities. Our favourite place in the Club House is the rooftop terrace bar with stylish sitting place that provides guest with an all-round view of the entire estate. You can relax; sip cocktail while you enjoy the amazing views in front of you. You need to experience this!
The 69 rooms which are divided over 22 villas at Vipingo Ride are contemporary in design, spacious with extravagant touches throughout. In the rooms, expect to see fans and air conditioners, TV and bedside lamps, luxurious bathrooms. Each villa has an upstairs rooftop terraces that provide impressive views of the natural surroundings including the Indian Ocean.
Vipingo Ridge is also a top venue for ideal conferences. The conference centre has four indoor rooms which are well-appointed with standard conferencing facilities – Wi-Fi enabled, fully air conditioned and well-furnished. If you are planning your annual general meetings, banquet dinners, wedding reception and other events… this is your best bet!
After a day on the course, come back to the Club House Restaurant, which offers a superb dining experience with a wonderful selection of à la carte options. For beach lovers, you will find the beach club located just 5 minutes from the main gate. Vipingo Ridge provides a complimentary shuttle service for guests who want to relax on the beach, take a stroll along the beach sand or take a dip in the ocean to calm down.
Life is beautiful at Vipingo Ridge – the retreat hit the spot for those looking for a weekend getaway, long vacation and honeymoon destination.
Visit: Vipingo Ridge | Location: 30 km north of Mombasa on the Mombasa—Malindi Highway | Contact Email: [email protected]
4. Royal Mara Safari Lodge, Masai Mara
Royal Mara Safari Lodge, on the banks of Mara River is the perfect location to witness the wonderful natural phenomenon – The Great Migration. The lodge is located in one of the ultimate wildlife reserves on earth – Kenya's Masai Mara, directly on the Great Migration route. Royal Mara is an exclusive safari lodge well-known for their devotion to luxury, privacy and impressive services. Masai Mara offers an unspoiled surrounding for this lodge to give you a grand experience.
The Royal Mara main lodge is at the peninsula of Hippo Bend Lagoon and this is where all guests are received. The lodge consists of 8 river-front tented chalets built on raised mahogany platforms, each chalet is exclusively decorated with creatively hand-crafted furniture, and its perfect attention to detail makes the lodge extraordinary. The chalets have a wide open veranda where you can relax and enjoy the riverside scenery. Each en suite bathroom and toilet has everything you need. On the whole, the décor is countrified but luxurious with attractive colours.
Dining at the Royal Mara is not something you will forget in a hurry, it's full of varieties. You can enjoy your breakfast at the riverside under a tree shade – quite magical. Lunch and dinner may be enjoyed in the dining area or in your suite – depends on what you want. However, a wide variety of delicious meals are served here. The experience here is quite amazing. You can take game drives into the wilderness and explore or relax by the pool.
Visit: Royal Mara Safari Lodge|Contact Email: [email protected]
Location: Masai Mara Ecosystem: Approximately 6 hours driving time from Nairobi. To nearby airstrips Mara North (15 minutes) by air      
5. Mutamaiyu House, Laikipia
Mutamaiyu House is a hilltop paradise that offers true luxury in Kenya. The lodge offers panoramic views of Mugie Wildlife Conservancy in Northern Kenya. The lodge offers modern amenities to provide a relaxed retreat for guests.  This is an amazing place to embark on thrilling adventures in the savannah. This stunning lodge has its own golf course – a 6-hole established in the heart of Kenya.
Mutamaiyu House has 6 en-suite luxury cottages offering spectacular views of the savannah. Each cottage is decorated with luxurious modern furnishings. The lodge features a lavish sitting room, large dining room, a comfortable lounge, a bar with a fireplace and an infinite swimming pool.
Dining in Mutamaiyu is amazing. Delicious meals are served. The bar is fully stocked with wines, beers and soft drinks. You can venture into the savannah for day and night game drives, have a guided bush walks or visit the Mugie School. It's a never-ending fun here, you don't have to go back home!
Visit: Mutamaiyu House| Location: Mugie, Laikipia Plateau | Contact Email: [email protected]
6. Chui Lodge, Naivasha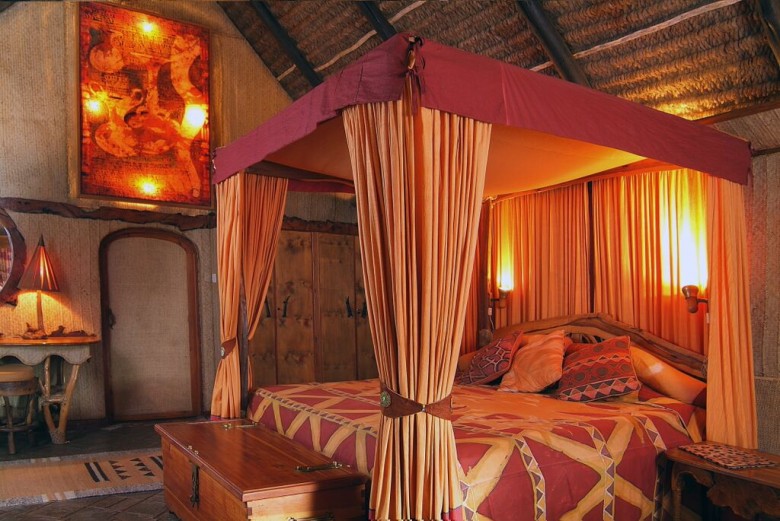 Chui Lodge is a secluded haven, above the shores of Lake Naivasha, set in a private 18000 acre Oserengoni wildlife sanctuary, within the Great Rift Valley. The lodge sets standard for luxury and service in Kenya and promises a unique and timeless wildlife experience. If you are looking a relaxed vacation, this is your best bet! This is where you can feel the chill of privacy, have a refreshing time on your own without any distraction.
Chui Lodge has just 8 luxury cottages, recently refurbished to give guests a magical feeling of seclusion and privacy. Each room has a fireplace, a fascinating veranda with spectacular views and en-suite bathroom with modern facilities. 3 deluxe cottages feature a comfy living room where guests can relax after a tiring day.
Chui Lodge also features a lounge, dining room and a full-stocked bar which features paintings and African carved pillars, making the place look like an art gallery. Dining at Chui Lodge is a unique experience, featuring intercontinental and African meals, prepared by Chef Richard Langat and his catering assistants.
Visit: Chui Lodge| Location: Moi South Lake Rd , Oserian Wildlife Sanctuary, Naivasha| Contact: +254 722 200 596; +254 707 645 630/1
7. Kiangazi House, Naivasha 
Kiangazi House combines sophisticated interiors with a countryside swimming pool with views of Lake Oloidien and the water hole. Hidden away in the country side, Kiangazi House has beautiful natural surrounding and the laid-back nature that charms the guests. This country house is a perfect escape for those who want to relax and unwind, and also enjoy spectacular view of the savannah.
Kiangazi House is home from home!  The country house has 4 double rooms located some minutes from the main house. The main house has 2 double en-suite and one twin bedroom. Each room is well-furnished and filled with antiquated charm and has every modern comfort you could imagine. The main house features a private lounge, bar and a library with fireplaces.
There are plenty of personalized experiences and activities to take part in here, from game viewing drives to guided tours. Oseregoni Wildlife Sanctuary is exclusive to guests of Chui Lodge and Kiangazi House. The Sanctuary features a wide variety of animals such as Leopard, Giraffe, Buffalo, Cheetah, Oryx and Zebra.
Guests also have the opportunity to explore the Oserian Flower Farm, which is the World's largest producer of cut flowers. Here, you will discover new flower varieties that you have never seen before…
Visit: Kiangazi House| Location: Oserian Wildlife Sanctuary, Naivasha| Contact: +254 722 200 596; +254 707 645 630/1
These exclusive African treasures provide guests with a memorable experience of Kenya. Have you experienced luxury at thesehidden hideaways? Share your experience with us in the comment below: