Some are tired from all the travelling and wish to relax and chill, some are completely recharged and full of energy after spending a joyful and heart-warming Christmas with their families and loved ones, some are still mesmerised and are in Christmas mood carrying smiles on their faces.
Whichever you may be, Nairobi welcomes you back to its bosom like a mother. It is totally fine if you have spent all your money on travelling expenses, on Christmas gifts and on drinks (a lot of drinks, right?). We have made the perfect list for you to enjoy the first month of the year without spending a single penny!
Here are the free events Nairobi offers:
1)    Three Exhibitions in One Basket
Location: Red Hill Art Gallery, One Off Contemporary Art Gallery, Circle Art Gallery
Living in a city is no easy. It comes with a lot of cultural responsibilities. Well, let's polish your art-taste buds quickly so that you can enjoy some good art throughout the year!
You can visit Samuel Githui's "One" exhibition at Red Hill Art Gallery. It's from 1 – 15 Jan. Red Hill Art Gallery also hosts the works of Michael Musyoka, Samuel Githinji, Churchill Ongere, Justus Kyalo, Jessica Atieno & Morris Foit.
"Still in Motion" by David Thuku accepts its visitors at One Off Contemporary Art Gallery until 12 Jan. The latest works of Olivia Pendergast, Anthony Okello, Peter Ngugi, Peterson Kamwathi, Timothy Brooke, Beatrice Wanjiku Njoroge, Harrison Mburu and Florence Wangui are also on display.
"Heaven Can Wait" by Michael Soi can be visited at Circle Art Gallery until Jan 10th. Soi's satirical commentary on Kenya's social, economic and political life has made him well-known worldwide.
Please note: The gallery will close for the holidays from Dec 21 to Jan 2nd 2020. During this time it will be open by appointment between 11 am and 3 pm.
Call +254 (0)790 289-991 to book an appointment, and please give at least 24 hrs notice.
2)    Mama's Late-Night Jams with Mari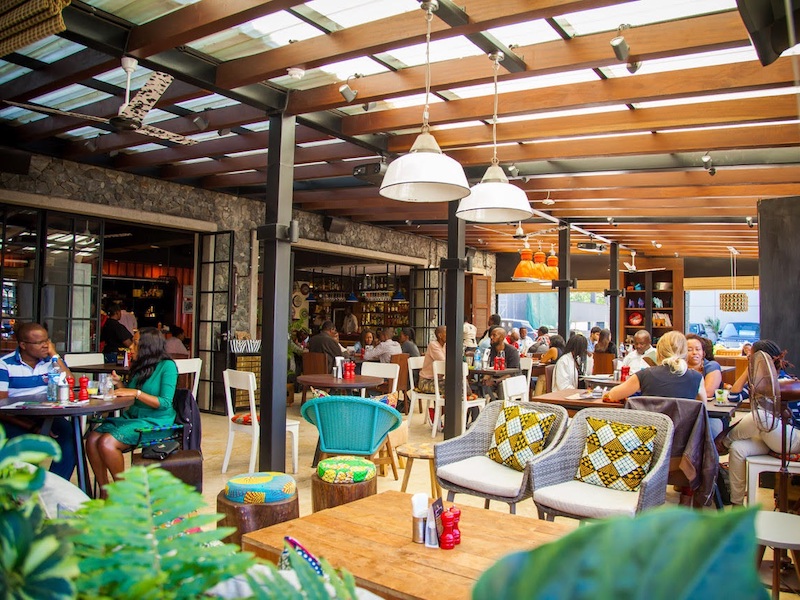 Location: Nyama Mama Delta
Talented Pop/R&B singer-songwriter Mari is guiding your night on the first Friday of the new year. He has been performing in some of Kenya's most prestigious venues since 2009 and he has recognised both locally and internationally. With his conscious songs, one can relate to everyday life experiences, Mari is a rising star.
Come and have great a lot of fun with Mari while enjoying happy hour specials. The event is on 3 Jan, on Friday. It starts at 8 pm and the happy hour is from 3 pm to 8 pm. Don't be late!
3) Reggae Sundays Live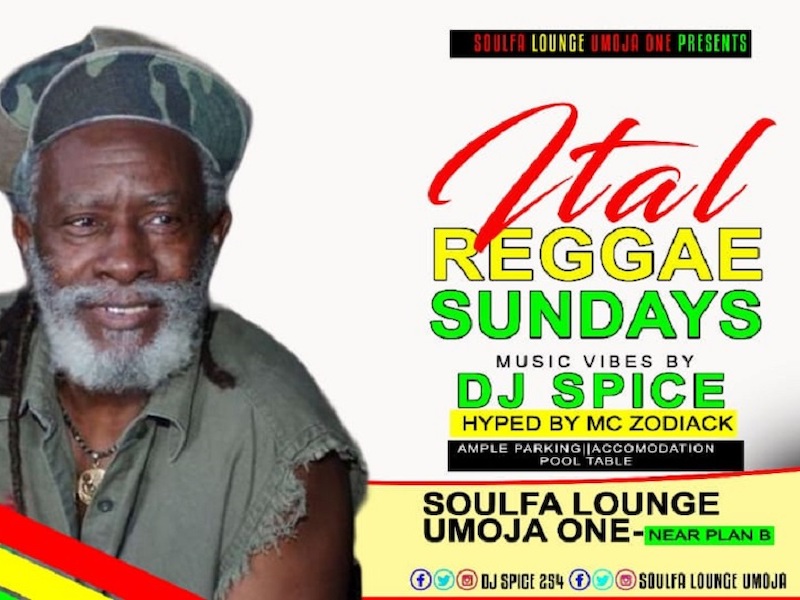 Location: Soulfa Lounge Umoja (Near Plan B)
Reggae lovers unite! What are the most chill words of all times? Reggae and Sunday, right? Put them together and you have the best Sunday ever. If you haven't been to this event yet, don't worry about it, "every little thing is going to be alright". It's a brand new year and all your previous mistakes are forgiven. Come and enjoy the music vibes by DJ Spice, hyped by MC Zodiack. Starting from next Sunday, this can be "the Sunday event" to listen to music, chill with some friends and just enjoy the good vibes of the atmosphere.
4) Soul Train Xtra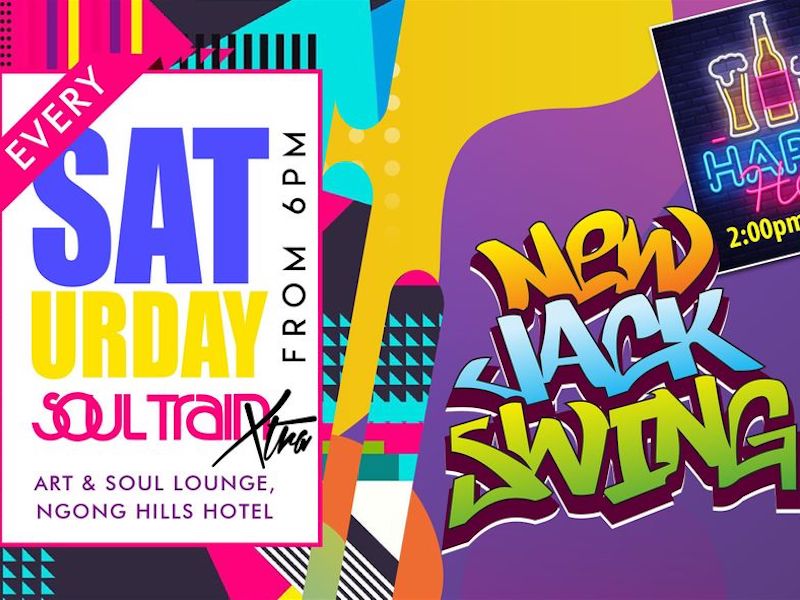 Location: Art & Soul Lounge, Ngong Hill Hotel
How about some old school, New Jack Swing&90's vibe to enjoy with a mature crowd for Saturday? You can tell your friends now that you are meeting them here to catch up with them. Be classy and get smartly dressed. You never know what the new year brings. Happy hour is from 2 pm to 9 pm and the event starts at 6 pm.
5)    Have a Picnic in Central Park
Location: Central Park
Central Park is a major destination of the city especially during lunch breaks and in the afternoons. It's one of the places in Nairobi where one can run to relax and to have a picnic. The cool and peaceful atmosphere of the park is just perfect to relax. It's a child-friendly zone with swings and other playing materials, with face painters and hawkers. Picnicking here is one of the most favourite pastimes for Nairobi residents. Don't you need a recreational event for your tired body and soul? You should gather your family or friends to enjoy doing nothing here.
6) Pregnant and Mom Nairobi Get-Together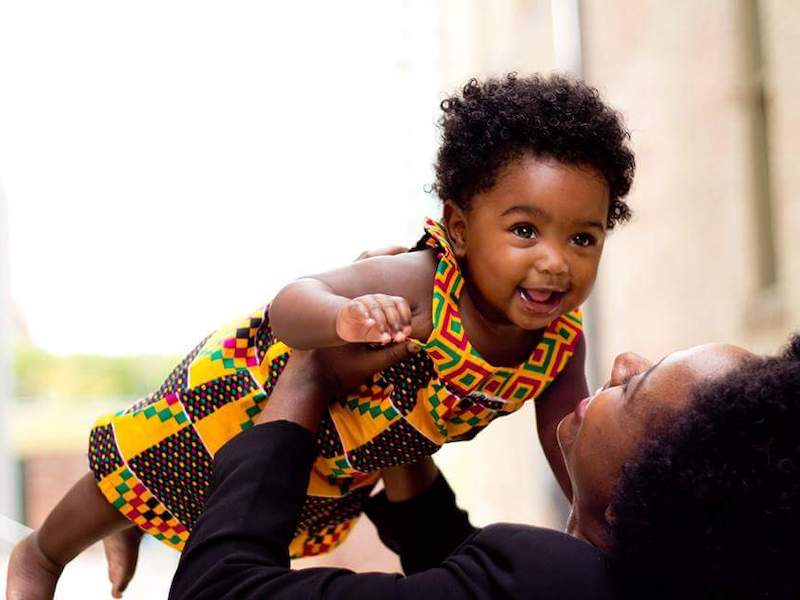 Location: Eden Bliss Gardens
Pregnant and Mom is a community of moms and mom-to-be. They organise this get-together and all moms, pregnant women and babies are invited. It's a great meet-up for moms to interact and share. How about becoming a famous mom & baby for a change this year? They take some photos during the gathering and if any company wants to use your photos for their adverts, they can pay you for that (of course with your permission). You can join this event on 11 Jan, on Saturday. There's space for vendors if you want to display and sell your products but you have to pay 5000 KSh registration for that.
7)    Jan 2020 Book Club Meetup
Location: Sarit, TBC Flagship Store- New Sarit Wing
Bookworms of the town, this event is made for you. January 2020's book club meeting brings together like-minded bookworms who are addicted to books. If you are not a regular reader, but reading more is one of your new year resolutions, it's high time you started! The TBC Book Club has chosen "I Do Not Come to You by Chance" by Adaobi Tricia Nwaubani for this month. The event is on 11 Jan, on Saturday, from 10 am to 12 pm.
8) Lake Nakuru Park Clean Up
Location: Lake Nakuru National Park
Lake Nakuru Park is gorgeous year-round and it has great biodiversity. You can see white rhinos, lions, leopards, hippos and endangered Rothschild's giraffes here. Unfortunately, the beauty of the lake is veiled with pollution. A GYNB cleanup exercise will be carried out at the community areas on 18 Jan, on Saturday, from 8 am to 4 pm. You can join this event as a conscious city dweller who respects mother nature.
9)    Garden City Toy Drive
Location: Santa's Grotto, located on the ground floor, next to the Apple store
You usually go to Garden City to buy things, but have you ever gone to give something? This is your chance to have a meaningful start for a new year. The contentment one feels when giving and sharing is so deep and beautiful that there are no words to express it. You can donate a book or a toy and support the children with various physical, mental and visual disabilities. Light and Hope Centre for Disabled Children is receiving donations of all kinds for children until 6 Jan. A small book or a toy goes a long way in supporting their therapy and training sessions. Helping others who are less fortunate brings good luck and a great year full of happiness.
10) Hike to Mt. Suswa
Location: Mount Suswa
Mount Suswa is one of the most spectacular mountains of the Rift Valley. It's an extinct volcano where you can observe a vast network of obsidian caves and a variety of animals and plants. It's a 3 hours drive from Nairobi and is perfect for nature and wildlife lovers. The gradual slopes of the mountain are comfortable especially for beginners. It takes around 4 hours to the summit and back.
Nairobi has something for locals and tourists alike, it offers relaxation for tired or laid back souls and entertainment for others. It's like a lover who tires us the most and comforts us the same. Don't forget to note these events on your calendar. If living in Nairobi, better enjoy it to the fullest, right? Have you ever been to any of the mentioned places? If you haven't, make your reservations now and visit Nairobi to experience its spirit fully.