Love is in the air and we can see it everywhere. There's always plenty to do in Nairobi but the city has started buzzing with Valentine's Day approaching. As your life is getting busier and faster, you might not be spending enough time with your sweetheart or friends. Valentine's Day is the greatest opportunity to make our loved one feel special. Why not surprise your lover with an adventurous camping experience under the stars, or with a candle-lit dinner in a mesmerizing atmosphere?
What plans do you have to keep the flames of love burning?
Here are 14 romantic ideas to help you decide where and how to spend your Valentine's Day in Nairobi this year:
1) Harvest Restaurant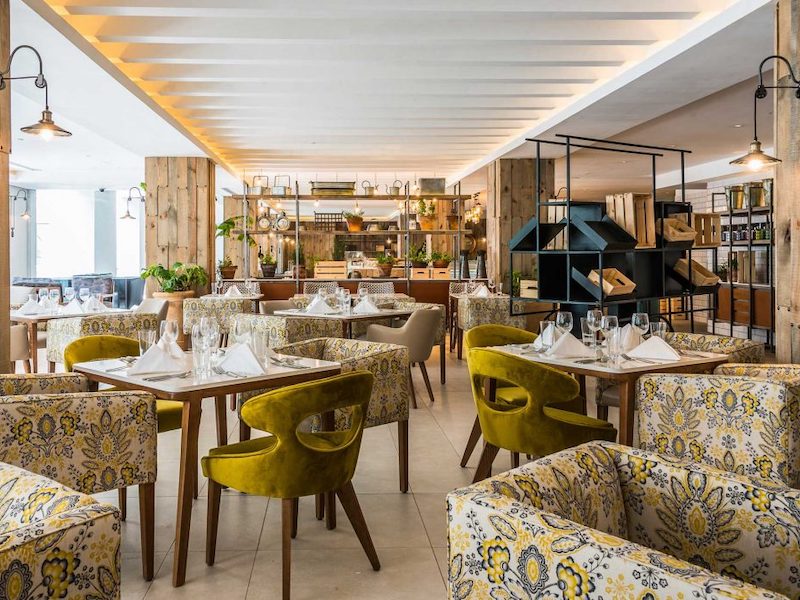 Address: Trademark Hotel, Limuru Road, Village Market, Gigiri, Nairobi
Opening Hours: 07:00 pm onward, 13 Feb, Thu
"I loved the vintage concept that they applied, but most important what I was impressed with was the standards, the food was excellent (loved the presentation) the services were not like any other hotel in Nairobi…" (Harrykim305, Tripadvisor)
With romantic music played by renowned Spanish artists in the background, sipping your wine and enjoying the food, you are also supporting a good cause. As proceeds will go towards fundraising free cataract operations for Kenyans who do not have access to this operation. Santiago Juan-Violinist and Vicent Ballester-Guitarist are performing Kenya's Ghetto Classics at this beautiful event. Isn't it great to steal your loved one's heart with such a beautiful, romantic and meaningful gesture?
2) Tambourin Rooftop Lounge & Bar (Villa Rosa Kempinski)
Speciality: Arabian Buffet Dinner
Address: Villa Rosa Kempinski, Chiromo Road, Nairobi
Opening Hours: 7:00 pm onwards
Bookings: [email protected], Phone: +254 703 049 000
"The decor is middle eastern, the ambience is perfect and the food is delicious. I sat in the open part of this rooftop restaurant and lounge." (Girija199, Tripadvisor)
In an exotic Middle Eastern ambience, with delicious food with extensive Arabian Buffet Dinner and live entertainment, this rooftop restaurant and lounge is simply breath-taking. The lanterns casting warm light, the city view under your feet, sparkling wine or a fresh cocktail and your lover in your sight, this place guarantees an evening of magic. There's also a belly dancer who twirls a few times during the night which enhances the cultural intensity of one of the best rooftop places of Nairobi. Tabbouleh, hummus and blueberry cheesecake are must-try here.
3) The Brasserie at Hemingway's
Speciality: Spiced Hemingways Daiquiri
Address: Hemingway's House, Karen Official Park, P.O Box 146-00502, Karen, Nairobi
Opening Hours: 06:00 am to 22:00
Bookings: res[email protected], Phone: +254 (0) 711 032 204/205
"This place just feels luxurious. Great for a romantic dinner. Great wine list the food is amazing. The portion sizes are just right but are ready to share your dessert. Biggest portion sizes I've ever seen. The apple pie and Creme brûlée are huge. Definitely worth every penny." (Wambui Ndungu, Eatout)
This Brasserie is the answer to the question of "How do I impress my soulmate?". With a Hollywood themed décor, with its warm and elegant ambience, it is a blend of sophistication and romance. The Brasserie offers a wide choice of dishes from European to South Asian flavours and a great selection of drinks. For a special evening in Nairobi, this place is one of the best options to convince your valentine that being in love with you is just like being in a romantic movie.
4) Langata Botanical Gardens
Address: Langata South Road, Karen, Nairobi
Opening Hours: 8:00am – 7:00pm
"Well-manicured lawns. Very good landscaping and relaxing vibes at the site." (Daniel Ngumba, Foursquare)
Langata Botanical Gardens is a recreational garden which inspires romance with its greenery and its pretty lake. Taking a stroll here in a refreshing atmosphere brings more harmony to your relationship. Isn't walking hand in hand with your lover while connecting with nature, away from the distractions of the city beautiful? There is a restaurant in the Garden, where you can enjoy a romantic meal in a naturally relaxing environment. Treat your valentine with a delicious and healthy range of vegetarian dishes and cakes.
5) Ultimate Single's Pool Party at Mezze
Speciality: Chicken wings, hummus, mezze platter
Address: Four Points by Sheraton, Argwings Kodhek Rd, Hurlingham
Opening Hours: 6 pm to late
Bookings: +254 20 2927000
"Firstly, I love rooftop restaurants so I was already in love with the ambience. Chef Shaun knows his culinary business &whipped up some very delicious Mediterranean dishes! I would recommend Chicken wings, prawns& calamari starters. For mains: The Salmon& Mezze platter are total winners oh & shawarmas! Bon Appetit!" (Samantha Kendy, Eatout)
Valentine's Day is not only for lovers, you can also enjoy this event with your brother, sister, friends and who you love and value the most. This classy restaurant with a mix of royal blue hues and matte black has a breath-taking view. You can enjoy the city view, refreshing breeze and the pool while dancing to the hip hop beats of eclectic DJ. Who knows, maybe the love of your life will be there too, telling her friends after a few cocktails that Valentine's day is just a day like others! Perhaps it is, until he/she meets you…
6) Friday Soul Train Feat. DJ Addams (The Legend) at Art&Soul Lounge
Address: Ngong Hills Hotel, Next to Uchumi Ngong Rd.
Opening Hours: 6 pm onwards
Bookings: 0777 906 297
"Artful interiors, serene outdoor, picturesque upper deck…Art & Soul Lounge is the social spot in town that's absolutely good for your soul" (Muraghia Macharia, Facebook)
Are you up for a soul-stirring journey through the '80s? Well, this is your party. Romance is fueled by the legendary DJ Addams Deejay. Happy hour is from 5 pm to 9 pm. Come early, bring your valentine or friend, and do not miss the chance of spending an insanely romantic night. DJ will be playing two sessions of blues (slow dancing) music at midnight and 3 am. Doesn't it sound like the perfect moment for a kiss? There are more surprises and treats for valentines.
7) Valentine Jamboree Concert at Uhuru Park
Address: Uhuru Gardens
Opening Hours: 6 pm onwards, 16 Feb
Bookings: Sharp +254 799 470 799 and Bruce +254 792 816 253
A night to celebrate with music, dance, comedy, games and love where people from all around the world get together with a good spirit. This concert hosts Kizz Daniel from Nigeria, artists such as King Kaka, Sailors, Nandy; many DJs from all over Africa like DJ Kaywise, DJ Malaika, DJ Lisney; international dancers like Poco Lee; your favourite comedians to crack you and your valentine up from Nigeria, Uganda and Tanzania. Uhuru park offers lots of entertainment and is a great option for Valentine's day in Nairobi.
8) Lovers and Friends Redfourth Chorus Valentines Concert
Address: Rosslyn Riviera Mall
Opening Hours: 7:00 pm-09:00 pm
Do you enjoy songs and poetry about the joy of love, nostalgia, heartbreaks? This concert is open to couples, singles and friends who enjoy love songs from African love classics to Old School RnB. A musical celebration of love by Filah-Philip Tuju, artists from #RedfourthVox, #Kala and a live band. The venue is the food court of the Rosslyn Riviera Mall.
9) Camping at Mt. Kenya National Park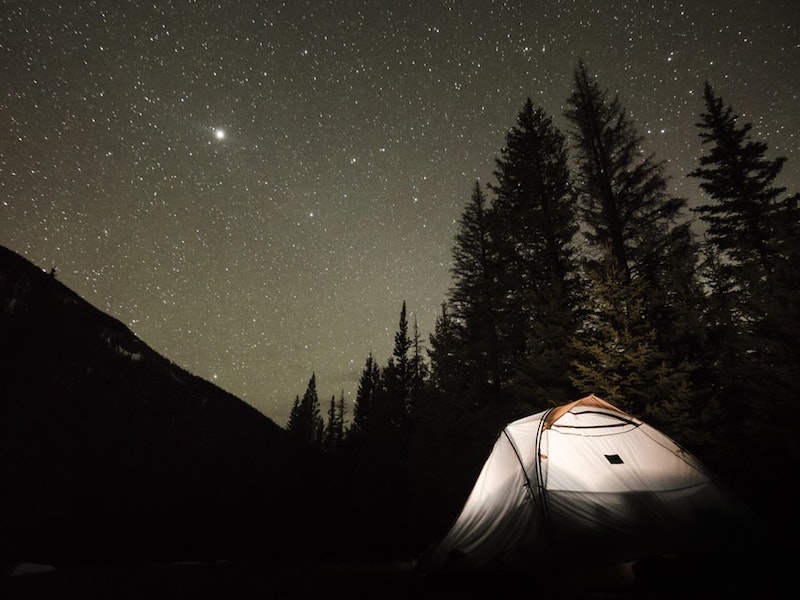 Address: Mt. Kenya National Park, Mathenge Campsite
Opening Hours: 12:00 PM – 06:00 PM, 14-16 Feb
Bookings: [email protected], Phone: +254 20 2626 090 / +254 720 385 177
If you and your valentine are nature and adventure lovers, you'll fall in love with this event. This three-day event includes camping, canopy walk, games, hiking, rock climbing, entertainment and more. Is there anything more romantic than spending Valentine's day under the stars? Money raised from this event goes directly for wildlife conservation projects. Yes, you are already her/his hero.
10) The Hotel Emerald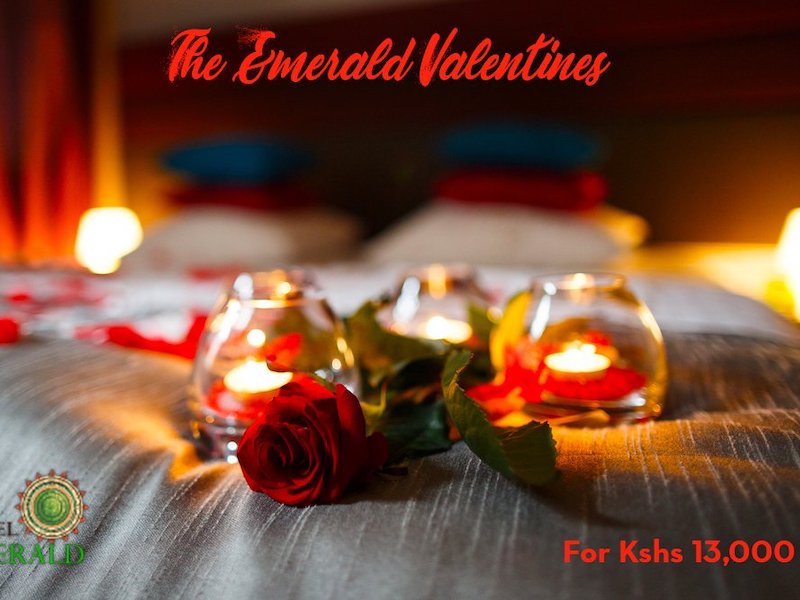 Address: 7th Floor Krishna Centre on Woodvale
Opening Hours: 06:30 PM – 11:30 PM
"I was given 5* service and I would definitely recommend this beautiful hotel to all my family and friends, as well as revisit the next time I come to Nairobi. I would once again like to thank everyone for making me feel so relaxed and being so caring during my short stay." (19raj62, Tripadvisor)
The Emerald Hotel has two package options: The Dinner and The Room. A romantic candle-lit four-course dinner, a rose for the lady and a delicious glass of wine is included in The Dinner. If you wish to extend this luxurious and fancy evening, you can go for a beautifully decorated Deluxe room. A bottle of wine and chocolates are served to your room. Continental breakfast served in the morning is complimentary. Why not spoil yourself and your valentine at times?
11) The Mayura Valentine's Masquerade Affair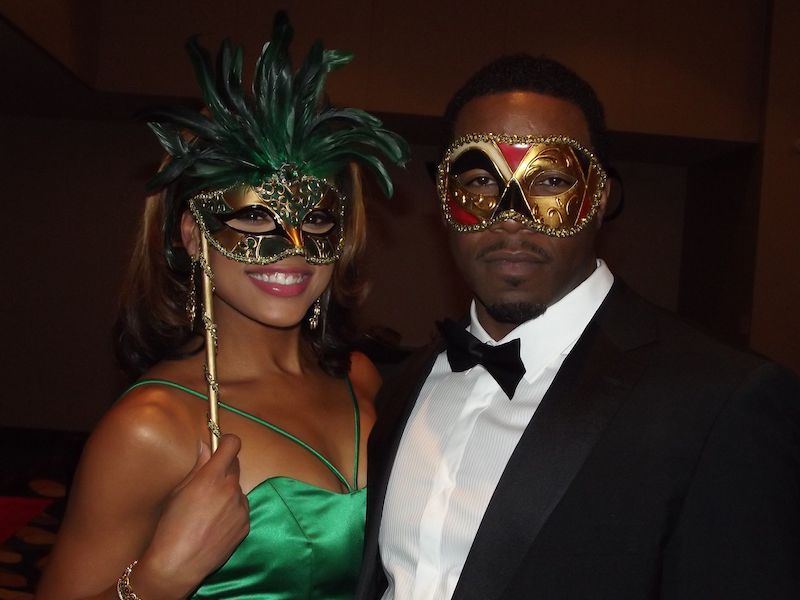 Speciality: Indian cuisine
Address: Kenrail Towers Westlands
Opening Hours: from 06:00 pm to 11:30 pm, Fri 14 Feb
Bookings: +254 732 224 422
"We had an absolutely lovely time. The food was great and I would absolutely come back. If not for the food, then for the service." (Wamuyu Mwangi, Eatout)
Love has mysterious ways, right? Let's spice it up a little by choosing a masquerade party for Valentine's day. Bring your sweetheart or friends to this mysterious occasion. You can enjoy the music by DJ Happy, a splendid dinner menu and a wheel of love for you to win something special. It's free entry and masks are available at the venue.
12) Nairobi Tented Camp
Address: P.O. Box 388 – 00621, Village Market
"What a great choice!! It was absolutely the best place to stay in. The only thing I can fault this property is that they fed us way too much delicious food. The tents were clean and spacious. They hired us a cab to take us around to the sights we wanted to see. At the end of the 3 days, I did not want to leave." (Carrie, Tripadvisor)
Nairobi Tented Camp offers a truly authentic and romantic tent experience. You can enjoy the romance of candles and lanterns, a bottle of sparkling wine in the forest. Your lunch is being served under an olive tree, dinners of the tender beef fillet under the starry sky. Everything here is homemade and is cooked with special care and love. Being with your valentine in this tranquil, serene atmosphere and share quality time can add to the quality of your relationship.
13) KWS Safari Walk
Address: P.O. Box 40241 -00100
Bookings: +254 (0)20 500 622 and +254 (0)20 60080
Opening Hours: from 8:30 am-5:30 pm
"An amazing wildlife experience

KWS Safari Walk is a warm welcome if you want to sample what Kenya's parks have to offer. Whether you are an individual or as a the experience is worth your time. As a passionate birder on more than one occasion, I have visited for birding and I have never been disappointed at all" (Tachwa, Tripadvisor)
For a romantic walk, KWS Safari Walk is the best spot to take your lover in Nairobi. You don't have to do much as nature sets everything up for you. If you take a late afternoon walk, warm lights of sunset and fresh air make it purely magical. You and your valentine can discover Kenyan wildlife, stop for a picnic or simply stroll through this beautiful landscape. The walk takes around 1-2 hours depending how much time you take discovering the animals like albino zebra, antelopes, white rhino…
14) Sirocco Aqua Bar at The Heron Portico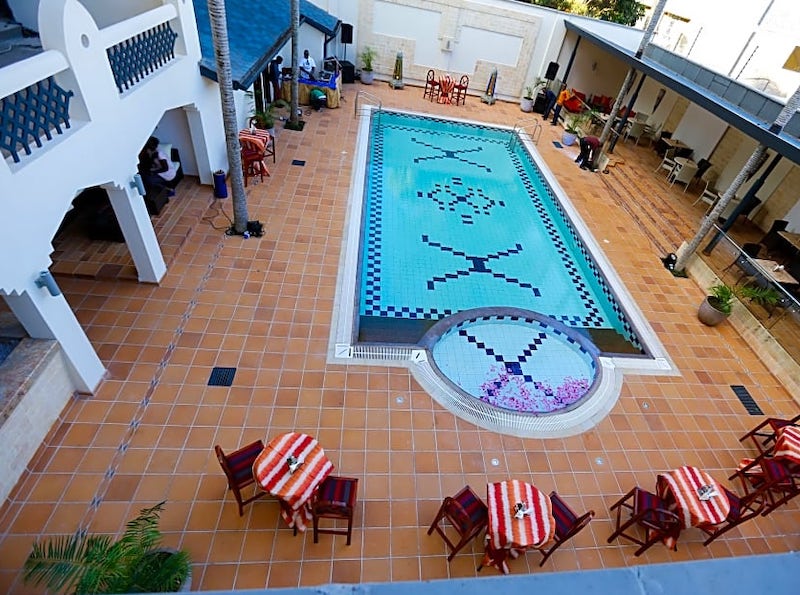 Address: The Heron Portico Hotel, Milimani Road
Bookings: +254 731 888 100
"The cocktails at the poolside

The bar by the poolside is value for money! It's our second time here and the staff responds to our requests immediately and gives us the best deals so far! You must try it…" (Syokau M, Tripadvisor)
You can surprise your lover this Valentine's day by taking her/him to this bar for a dinner or a refreshing cocktail. This new restaurant offers an intimate and cosy setting for couples to celebrate their love. Many activities are organized here and the most famous is "Tango to Thai" where you dance with your lover while experiencing live Thai cooking. What a divine option to express your love!
Valentine's day is a celebration of love and it's the time to truly reconnect with our loved ones. Love makes our lives meaningful and we should not miss any opportunity to make our special ones feel loved and cared. The more we give love the more we receive. There are countless options to celebrate your Valentine's Day in Nairobi. Hopefully, we gave you some inspiration! Happy Valentine's Day!