With excellent weather for golfing during most months of the year, Kenya's golf courses provide a superb golfing experience. The courses are usually well maintained and hardly ever crowded since golfers in Kenya are not too many. Thanks to refurbishing, some of the golf courses from the 20th Century are still in good shape and they have great adjacent hotels or clubhouses. If golf is your thing, here are top 10 Kenyan resorts for excellent golfing, and be sure to inquire about membership, traditions and dress codes beforehand.
1. Baobab Course at Vipingo Ridge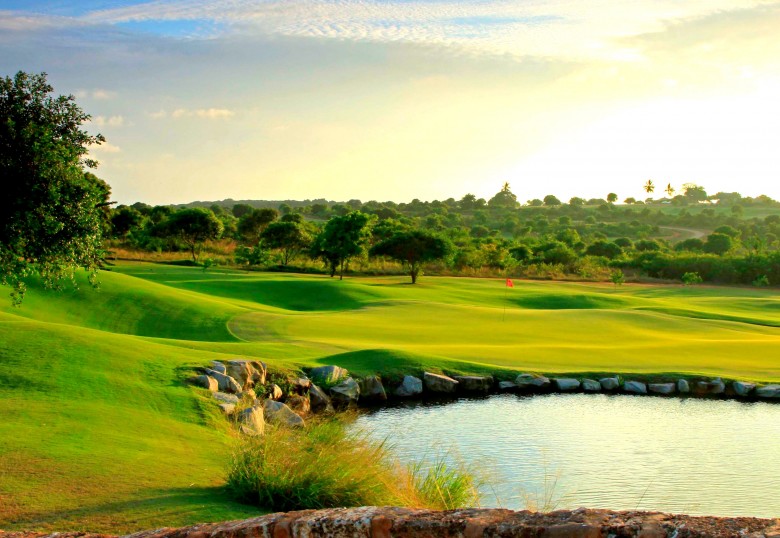 Vipingo Ridge is a posh, residential golfing destination at the coast with an 18-hole golf course dubbed Baobab course. The Vipingo Ridge is a combination of flora and fauna within a world. It has become a treasured vacation destination and one of the best Kenyan golf resorts for excellent golfing experience, with a stunning range of exciting activities to do. The location is tranquil and the golf course with streams cutting across is designed to provide the ultimate golfing experience. Guests staying in the luxurious golf villas have access to the clubhouse, and with a private beach club and airstrip, the location is an excellent destination for golfers. Visit: Vipingo Ridge
2. Windsor Golf Hotel and Country Club
Photo Source: Windsor Golf Hotel on Flickr
Windsor Golf Hotel and Country club has one of Kenya's best and toughest golf courses. The Hotel overlooks the course and guests get to enjoy the spectacular views of the beautiful landscape and lush fairways. The serene ambiance makes for a great repose and the golf course attracts some of Kenya's most prominent golfers. The striking 18-hole, championship standard golf course is known to be challenging, with blind greens, unforgiving roughs and over 70 sand bunkers. The uneven terrain on some areas and the water hazards around make the course a true test of skill. Visit: Windsor Golf Hotel and Country Club
3. Muthaiga Golf Club
Muthaiga Golf Club is situated in Muthaiga on the edge of the Karura forest, and it is renowned for its elite membership and modern 18-hole championship course. It was recently renovated and it features spectacular greens and landscaped bunkers, plenty of trees and water spots. Club facilities include a sports bar, a specialized golf gym and a Pro shop where one can purchase golf equipment. Visit: Muthaiga Golf Club
4. Karen Golf & Country Club
The Karen Golf course is located near Karen Blixen museum and across Karen Blixen's old coffee plantation. It is a beautiful course with well maintained courses and flowering fauna around. It is a favourite for the affluent residents of Karen who play golf, and members are generally well connected. There is also a clubhouse where players get to rest after a game. Visit: Karen Country Club
5. Limuru Country Club
Limuru Country Club has beautiful natural scenery, with tea plantations and farmlands visible from the club. The golf course is set on high altitude so it is chilly especially in the morning and evening and golfers are advised to dress warmly. The tough 12th hole hardly goes unmentioned but the overall golfing experience at Limuru is superb. Games like tennis, swimming, squash and cricket are also available in addition to golf and there is a bar and restaurant and library as well. The club has membership packages for individuals, corporate and expatriates. Visit: Limuru Country Club
6. Royal Nairobi Golf Club
The Royal Nairobi Golf Club is a well maintained testing course along Nairobi's Ngong road. The course is somewhat flat on one side with a stream cutting across the layout and Ngong Hills can be seen from various parts of the course.There is a squash court and swimming pool next to the clubhouse and golfers, and the bar and restaurant offers delicious meals. Visit: Royal Nairobi Golf Club
7. Great Rift Valley Lodge & Golf Resort
The Great Rift Valley Lodge is one of Naivasha's luxury lodges with an 18-hole golf course that saw it get awarded 'Leading Golf Resort in Kenya'. The views from the course are spectacular and the layout is one of the longest in the country. The lodge on site offers excellent accommodation and food and it is close proximity to Lake Naivasha. Visit: The Great Rift Valley Lodge on Facebook
8. Mombasa Golf Club
Mombasa Golf Club has a 9-hole Links golf course that is located next to Kilindini Harbour and overlooking the Indian Ocean. The views of the ocean and beaches are simply breathtaking! The club hosts various golf tournaments throughout the year and offers various classes of membership. Visit: Mombasa Golf Club
9. Sigona Golf Club
The Sigona Golf Club is located in Kikuyu, off the Nairobi- Naivasha road. The course has beautiful fairways and its location provides for a serene atmosphere. In addition to golf, the private members club offers meals and there is a children's playground and a swimming pool. Visit: Sigona Golf Club
10. Leisure Lodge Golf & Beach Resort
Leisure Lodge Golf & Beach Resort is located in Diani Beach, Mombasa. The 18-hole golf course at the club is quite challenging with unforgiving bunkers and water features but the game is still fun. Leisure Lodge Golf & Beach Resort is a definitive revitalization, enrichment and relaxation. This resorts displays golfing as an expedition for fulfilment and pleasure. The resort has great facilities and offers top notch accommodation and food. Visit: Leisure Lodge Golf & Resort
Have we left out any golf resorts that you frequent? Do let us know in the comments section below.