Tokyo, the capital city of Japan is well-known for its wide variety of traditional Japanese cuisine, complemented with atmosphere of fine dining. No visit to Tokyo is complete without a taste of traditional Japanese dishes such as Sushi, Tuna Salads and fresh seafood. People travel to Tokyo just to have a taste of their traditional cuisine, but now, you can actually eat authentic Japanese dishes in your backyard.
Japanes Food Outlets at BUGIS | Photo Source: William Cho on Flickr
It's really amazing to find a place where you can find an enjoyable comprehensive menu that offer delicious Japanese foods, served in a stylish dining space in Kenya. Renowned for its opulence and timeless elegance, The Heron Portico – Sarovar Hotels has made a name for itself amongst several exclusive and luxury hotels in Kenya. Every room and suite in the hotel articulates comfort; they are oasis of tranquillity, providing visitors with the best in comfort. However, luxury is simply not confined to the rooms and suites; the hotel offers the utmost level of culinary indulgence at its restaurants. The hotel marks its exclusivity by offering diverse world cuisines.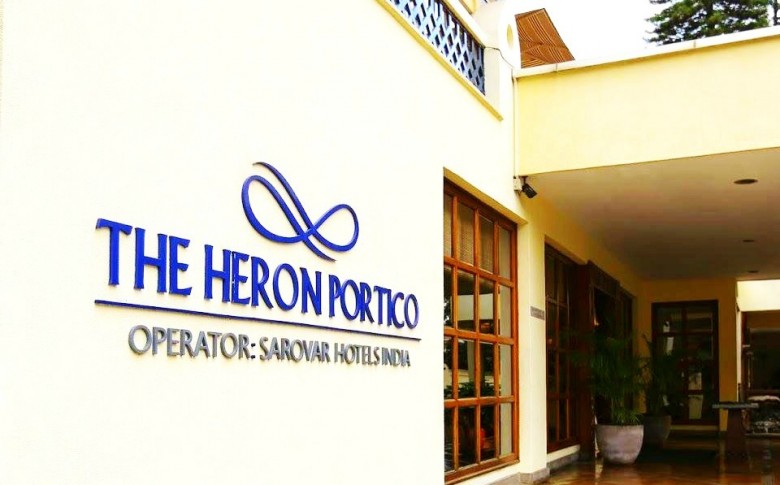 When it comes to food, The Heron Portico creates delicious cuisines that are enjoyed by guests. A peek into the hotel's grand kitchen reveals how the chefs go out of their ways to create something special for their guests. I had an amazing dining experience on my first visit to the Heron Portico Hotel, at Mdalasini Restaurant and I knew I was going to go back for more … and I did, only this time around, I had the best Tuna Salad I've ever had in Nairobi.
There are very few restaurants and hotels in Kenya that offer a wide array of Japanese foods. You can imagine how delighted I was when I discovered that the Heron Portico Hotel is one of the best places to get delicious sushi and Tuna Salad in town. Recently, I got a chance to interview Chef Jackson Mnjama, who is responsible for creating the delicious Japanese dishes and he shared his 'secrets'  and inspiration with us.
It's been a lifetime love affair with Japanese food for Chef Jack, he displays passion for his Japanese craft and he kind of look like a Japanese. But, he is a native of Mombasa; he grew up there, on the coast, where he developed his love for seafood.
I had a chat with Chef Jack for you:
How does Heron Portico create the delicious foods enjoyed by guests?
It is consistency and creativity! We are consistent with our standard of cooking; we impress guests with amazing menu – delicious foods cooked with the finest and freshest ingredients. We work as a team in the kitchen, we try to be creative and we love experimenting with food.
Each of the Sarovar Hotels properties have their own unique elements which make them special, what do you think gives Heron Portico its individual character?
Well, Heron Portico Hotel has a resilient reference to our culture here in Kenya, while holding on to a stylish and opulent feel. In the kitchen, what makes us different and special is our menu; we are very creative with our food speciality. It's very hard to find them in any hotel in Kenya, even if you do, the taste will be the different from ours. We change our menu at least two times in a year. The Heron Portico Hotel is unique in every way; we are bound by distinction.
Can walk me through different dining options in the Heron Portico Hotel. What's the signature dish from each of them?
We have four dining options, Bashada, Casbah Lounge Bar, Mdalasini Restaurant and Sirocco Aqua Bar. In Bashada, we serve seasonal foods from diverse cuisines in the world. Mdalasini Restaurant serves intercontinental dishes, Swahili and fast foods. Casbah Lounge Bar serves a wide variety of wine, well-crafted cocktails, while the restaurant serves delicious meals. The Sirocco Aqua Bar is a restaurant by the pool, we serve guests with Swahili food specials and Moroccan cuisine.
What are your favourite ingredients?
Mainly Japanese! Seaweed, Sesame seeds, Soy sauce, Wasabi, Seafood – Tuna, Salmon, Red Sinapa Fish and Calamari.
Who are the most memorable people you've cooked for?
I have cooked for the Former Prime Minister of Kenya, Raila Odinga. He loved my cooking and he even compensated me.  We usually have a lot of notable Japanese guests in the hotel and they love our Japanese foods.
Kenya is a popular tourist destination in Africa, what do you think is unique about the country?
Kenya is a beautiful country with many opportunities.  I think what is unique about Kenya is our cultural mix. Though, Kenya has a diverse of ethnicities and cultures from different countries, and they all add their own flavours to ours… however, the true tastes of Kenya is incomparable.
---
My interview with Chef Jack included a step by step demonstration on how to make some delicious Japanese foods. Chef Jack and Chef Titus were kind enough to show me. Impressive huh? Chef jack's creation set the standard in the art of Japanese cuisine. He prepared Tuna Salad, Califonia Raw, Tuna Sashumi and Vegetable Rice with Stir-fried chicken for me to sample.
Japanese cuisine is one of the most fascinating, enjoyable, and nourishing dining experience you can ever have. The dishes do not only whet your appetite, it is also an art for the chefs. The foods are arranged in fine mishmash of colours and taste. When you are served with Japanese foods, you will see a delectable and satisfying recipe with an enticing aroma. The foods can be made in just few minutes, easy to make with few ingredients and they taste so delicious.
Tuna Salad – Ingredients
Avocado
Tuna
Soy Sauce
Chives
Wasabi
Sesame Oil
Radish Oil
Celery Oil
Tuna Urai-maki – Main Ingredients
Avocado
Tuna
Steamed Rice – Sushi Rice
Sushi Vinegar
Seaweed
Sesame seed
California Raw – Main Ingredients
Cucumber
Sesame seed
Steamed Rice – Sushi Rice
Salmon Fish
Carrot
Tuna Sashimi- Main Ingredients
Cucumber
Sinapa Fish (Fresh Fillet)
Sushi Vinegar
Vegetable Rice and Stir-fried Chicken – Main Ingredients
Boneless chicken
Garlic cloves (Fresh Fillet)
Sesame oil
Steamed Rice
Garlic cloves (Fresh Fillet)
Teriyaki sauce
carrots, onions, cucumber
Garlic cloves
Teriyaki sauce
Chef Jack's originality and novelty reflected in these Japanese foods. He described his cooking as "simple, nourishing and satisfying" with Japanese influence.
Apart from Japanese cuisine, The Heron Portico Hotel provides a festivity of amazing world class cuisine. I met with Chef Ali and Chef Jared who also create intercontinental cuisine, crafted in an envoy of complementary savours, seasonings and spices. In a nutshell, the hotel offers a unique culinary experience for guests. Visit The Heron Portico Hotel for a taste of Tokyo in Nairobi. Come, eat and see for yourself!