Every city has that unique nightlife that makes you embrace the darkness of night; Mombasa offers unique places for the night lovers.  From unique dinner cruises to dancing the night away, there are lots of choices in Mombasa.  The city offers different types of clubs depending on atmosphere and music genre. If you like eating out at night, there are several places that offer unique dinner for special occasions or just for a unique dinner experience. We present to you 12 nightlife spots in Mombasa:
1. Tapas Cielo
Tapas near Naivas supermarket is the club to be if you're seeking to drown in drinks with a couple of friends or maybe just relax after a long tough day. The food is nothing short of a masterpiece; simple dishes but with an exotic twist to it. Various dj's diplay their exclusive playlist that will keep you dancing all night long. Visit: Tapas Cielo
Address: Nyali Centre, Links Road, Mombasa
2. Tamarind Dhow
To experience the city from a different angle, you can take a dinner dhow cruise that goes around the city while enjoying a live band on board. You view the city lights as the dhow cruises slowly giving you time to explore the uniqueness of the town. In addition to the various sea food offered, others even cooked on board.
3. Mubins
Photo Source: blog.brazenbraden.com
Known for the best mshikaki in town, Mubins is only open after 7pm giving you the unique night experience.  Best place to have dinner with family or friends, as the outdoor setting offers the coolness of the night. Apart mshikaki, Mubins offers tikka and other various asian-fusion cuisine.
Address: Opposite Memon College, Kisauni Rd, Mombasa, Kenya
4. Hashmi Barbeque
Hashmis offers the star gazing dinner experience, located in the heart of Mombasa offering Indian cuisine.  An amazing place to take your loved one to enjoy the dinner as the breeze eases in and the open sky engulfing the night.  Offering spicy and delicious food, Hashmis is popular for the barbecue Tikkas and Tandoori. Visit: Hashmi Barbeque
5. Yul's
A Relaxed dining at Yul's is all about palm trees while toes in the sand that creates a relaxing and romantic setting for the couples looking for an exceptional evening. Enjoy tropical cocktails and fun foods served in a lively beachfront atmosphere, waves crashing in and the calm swish of the palm trees. For the young men and ladies looking to party Techno and Progressive House music style, every weekend at Yul's is party time. Let the Dj blow you away with the most electrifying dance mixes. Visit: Yul's
Address: Mombasa-Malindi Road, Mombasa
6. Makadara Street
After having dinner a quick stroll to Makadara Street to enjoy various varieties of Ice cream offered along the street.  Unique ice cream parlor offer different ice cream flavours including Mango, passion and other fruity flavours.
7. Bella Vista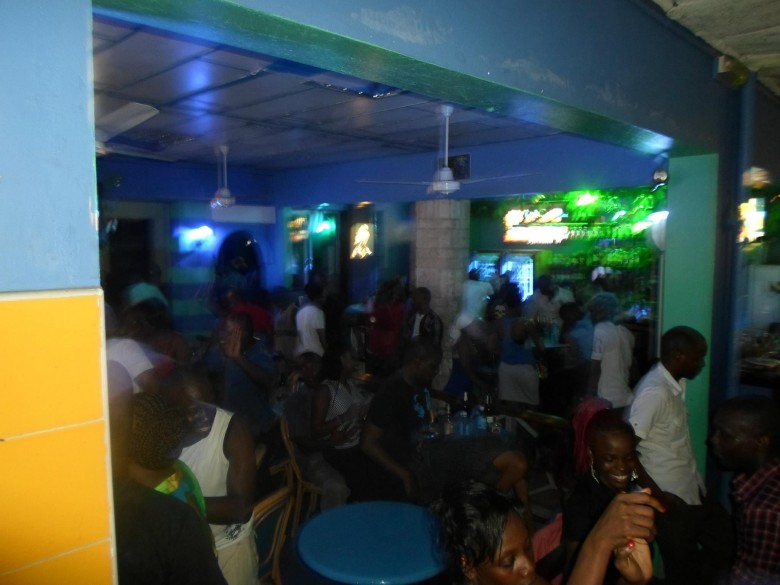 Photo Source: Bella Vista on Facebook
Bella Vista located in the heart of the CBD. It served as the ultimate chill point for revellers who love to dance their shoes off and also because of its convenient location just in town. For those who fancy sports action there is a projector on the garden to show all the football matches.
Address: Digo Rd, Mombasa
8. San Valencia Inn
If you love partying and dancing all night long then the San Valencia Inn is your place to be. Located just adjacent of the CBD, it's like a library from the outside but step in and you're ushered into a world of absolute fun. Visit: San Valencia
Address: Haile Selassie Rd, Mombasa
9. The Thalassa Restaurant and Lounge
Photo Source: Thalassa Restaurant & Lounge on Facebook
The Thalasa restaurant and Lounge just after Nyali Bridge is tailor-made for those looking to relax and whisk away their sorrows through the cool chill music that plays along. The breeze from the ocean makes everything seem right complemented by their exquisite fine dining. Visit: Thalassa restaurant and Lounge
Address: Near Nyali bridge, along Nyali Highway, Nyali Rd, Mombasa
10. Pa Pweza
For those with exotic tastes in fine jazz music, Pa Pweza is the place you need to be. Listen to some good old Frank Sinatra and Ella Fitzgerald to calm your nerves down and show you what real 'feel good' music is. Then dine and wine in some well cooked seafood dishes that will leave you begging for more. Visit: Pa Pweza
Address: Off Mombasa Malindi Highway, Opposite Bamburi Police Station
11. Sheba Lounge 
Sheba lounge next to Citymall is a haven if not paradise. They are equipped to serve you with the best liquor in the world while you seek comfort in the chill music that oozes right past your senses. Parties at Sheba lounge never cease to amaze and the dance floor is as tempting and inviting like nothing you've ever seen before.
Address: Near Guptas Complex, Nyali, Malindi Rd, Mombasa
12. Mama Ngina drive

Located at the kilindini harbor, Mama Ngina drive offers distinctive nightlife spot. Stretched three kilometres long, Mama Ngina drive is a great place to end a busy day.
You can take a quick stroll along the walkway as you enjoy the evening breeze, or do a brisk walk after a heavy dinner.  The place is safe and secure, as people go in and out of the drive.
You can take away food from the town and park at the drive for a dinner in the car as you watch ships harbour into the port. Ideal for families with kids as it is a great conversation spot for the inquisitive minds.
Several benches have been placed on seafront side of the drive to give an exclusive view as the ships harbour into the port. Several hawkers sell Madafu (coconut ) and cassava chips to give the complete Mama Ngina drive experience .In addition,  the benches near the ferry offers  a unique view of the ferry movement as well as passengers embarking and disembarking the ferry.
If you have explored some of the best nightlife spots in Mombasa, share your experience with us in the comment below: